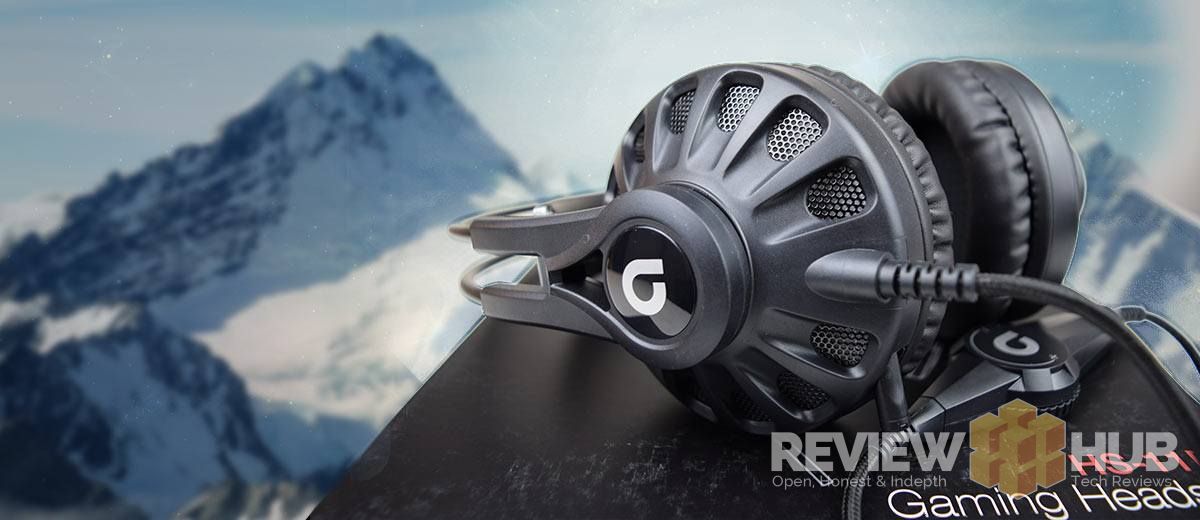 The Avantek AudioMX 7.1 Gaming Headset provides 'Big Style' for a 'Low Price'
The Avantek AudioMX Gaming headset combines style, comfort & great sound in an affordable yet polished package. When I first saw the overwhelmingly positive reviews on Amazon for this headset, I had to get my hands on one and see whether it was all hype.
I've been reviewing the HyperX Cloud Revolver headset at the same time as the AudioMX, so let's see if it can hold it's ground against the gaming headset giant costing less than half the price.
Check out the Pro's & Cons below before I go in-depth looking at the Design, Build-Quality, Sound Quality, Microphone, Comfort & Tech-Specs.
AudioMX Gaming Headset starts at… UK : £39 | EU : €54 | US : $49
[column size=one_half position=first ]
Pro's
Decent Sound Quality (50mm Drivers)
LED lighting
Hidden extendable microphone
Comfortable Headband
Build-Quality
Braided Cable
Plug'n'Play
[/column]
[column size=one_half position=last ]
Con's
USB Only
Software is lacking features
LEDs not customisable
Controller is large
[/column]

Design & Build Quality
The AudioMX gaming headset hits the nail on the head in terms of design and build-quality. The glowing orange LED design looks great giving the headphones a futuristic fusion-powered look. Although it's an almost all plastic affair, the headphones are sturdy, lightweight and feel fairly premium.
If LEDs aren't your thing then you'll be pleased to know you can easily switch them off via the inbuilt controller. You won't have as much look with the microphone LED as this lights up when active but, due to its length, it doesn't show up in your field of view.
A benefit of the plastic design is that it helps to keep the headset weight down. The 50mm drivers are covered by a metal mesh which not only protects but adds to the LED effect (all good fusion reactors use safety mesh). The headphones also uses twisted steel to connect the headband connects to the earcups which will help with durability and prolong the life of the headset.
[column size=one_half position=first ]
The extendable microphone is a great addition, allowing you to easily pull it out when needed and keep it tucked away when not in use. The tip of the microphone lights up when it's active so you won't get caught out slandering your team mates during online play.
[/column]
[column size=one_half position=last ]
the extendable microphone is awesome
[/column]
A slight drawback, for me, is that the headphones are USB only, which is understandable as the AudioMX is being marketed as a gaming headset… but… it would have been nice if included was a 1.5mm headphone jack between the headphones and controller.
Often gaming headphones can go overboard with their intentions to look the most cutting edge but Avantek has managed to create a balance, somewhere between Beats headphones and a gamer headset which, for me, works well.
Overall, you are getting real value for money with the AudioMX headset. The design and build-quality are more in-line with a higher priced pair of headphones.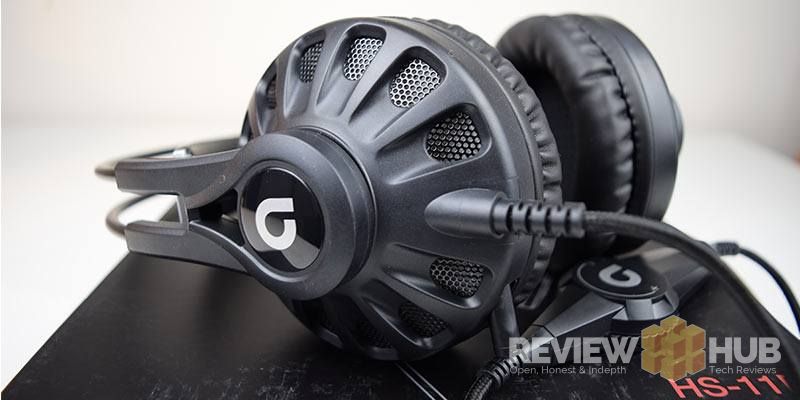 Comfort
Comfort is another area where the AudioMX 7.1 gaming headset excels. The clamping force of the dual plastic bar is light enough to go unnoticed but firm enough to keep external noise to a minimum.
[column size=one_half position=first ]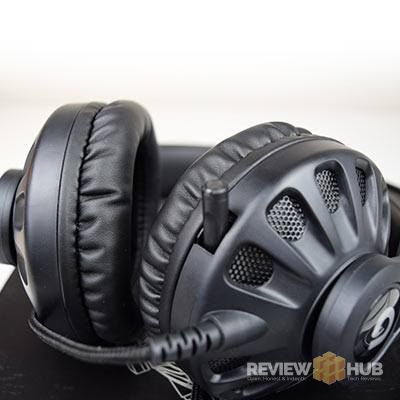 [/column]
[column size=one_half position=last ]
The soft & luxurious headband is secured by steel thread and moulds easily to the contours of your head. If you've read my HyperX Cloud Revolver review, you'll know the trouble I had to go through to get them to fit comfortably. The AudioMX is a great fit straight out of the box.
The leatherette used to cushion your ears is super soft and after 2 hours of gaming I had no issues with pressure. The headphones are on-ear with each cup being able to rotate slightly on a 360-degree axis. This left me with minimal adjustment needed to achieve a snug fit when taking the headphones on and off.
[/column]
Everyone's head-size is unique (mine rather big) and we all have different preferences when it comes to headphone comfort, but, with this in mind, the ergonomics of the AudioMX headphones should make them a comfortable fit for most.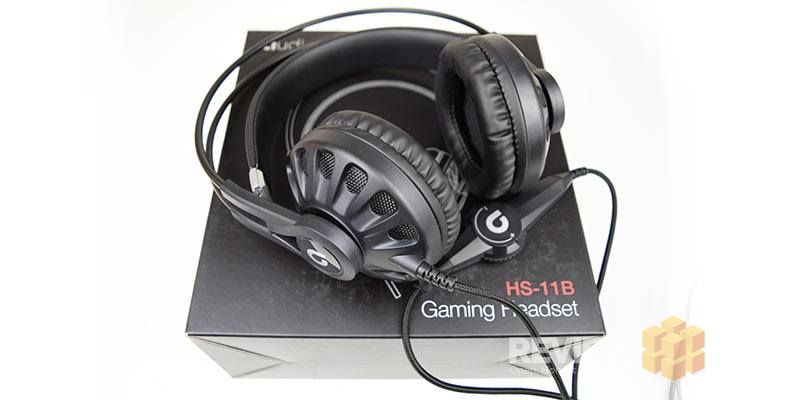 Sound Quality
For the price of £40 (EUR 54.99 , $49.99), the AudioMX Headset really delivers on both the gaming soundstage and for general music listening. They don't reach the clarity and immersion of the recently reviewed Cloud Revolvers but they're less than half the price, so I'm not complaining.
For gaming, I tested the headset with its own 7.1 Virtual Surround Sound Software (comes on a CD), Razer's 7.1 Virtual Surround Sound Software & with my onboard PC sound driver.
Gaming Overall
[column size=one_half position=first ]
Straight out of the box, the AudioMX is lacking in the earthy guttural bass you'll often find on more expensive headsets. That's not to say there's a lack of bass, far from it, it just doesn't manage to reach the lowest levels of bass which you want whilst gaming. Luckily you can easily tweak this using Razer's free 7.1 Virtual Surround Sound Software.
[/column]
[column size=one_half position=last ]
Razer 7.1 + AudioMX = Gaming Heaven
[/column]
Whilst I wouldn't describe this headset as crystal clear, overall it produces a good gaming soundstage that will satisfy most games. It also delivers well on the music side, although lacking 1.5mm connectivity.
AudioMX 7.1 Virtual Surround Sound Software
This software comes on a CD inside the box and supports Windows XP, 7, 8 & 10. The downside is that this software looks ugly and lacks features with only volume & preset equalisers to choose from (Gaming not being one of them).
In fairness after turning on the 'Movie Mode', the software did enhance the bass enough during testing to produce a much more realistic experience. But we can do better than that.
Let's move on.
Razer 7.1 Virtual Surround Sound Software (free version)

After quickly uninstalling the rather unimpressive AudioMX software and installing the tried and tested Razer Virtual Surround Sound software the headset really came its own.
The difference was instantly noticeable with the entire sound-stage feeling enhanced from deep bass explosions to the high pitched 'whir' of bullets flying past your ears. All-in-all the software created a much more immersive surround sound experience.
Razer 7.1 Virtual Surround Sound – free edition.
Music
The AudioMX gaming headset was a pleasant surprise in the music department. I played a variety of high-quality FLAC tracks on YouTube and overall felt the headphones produced a well rounded sound.
Microphone Sound Quality
[column size=one_half position=first ]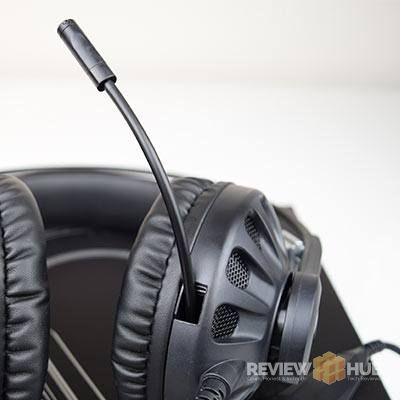 [/column]
[column size=one_half position=last ]
The microphone design and placement on the AudioMX headset is fantastic. It's easy to find, extract and return without having to take the headphones off. The cable bends for easy on the fly adjustment.
Overall I found the sound to be a little flat. A small amount of ambient noise was picked up during testing although you could clearly hear the keyboard when typing.
[/column]
One downside for me was that the microphone volume drops quite rapidly the further away from your mouth it becomes. Having it too close, meant that it picked up the odd pop and hiss noise.
Microphone Cover on eBay
AudioMX HS-11B Microphone Recording
This recording was made to represent what a complete weirdo average human being would sound like on the headset.
 
For the Geeks
Technical specifications.
Brand: AVANTEK
Drivers: 50mm
Cable Length: 59cm to Controller, 150cm from controller to USB
Microphone: Yes, retractable, LED
LED Lighting: ON & OFF.
Headphone Weight: 296 grams
Dimensions: 25.6 x 24.2 x 11.4cm
Model Number: HS-11B
Compatible: PC, PS4
What's in the box?
The Avantek AudioMX headset comes in a rather understated box for a gaming headset. Inside you'll find the headphones with USB controller attached, the AudioMX software (you won't be needing that) and some simple instructions.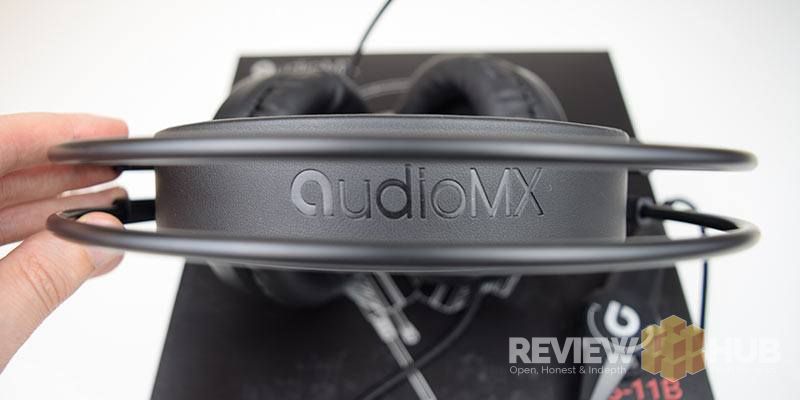 Final Thoughts
I've been really impressed with the Avantek AudioMX Gaming headset. The design and build quality is excellent and when combined with the Razer 7.1 software you have yourself a really immersive and comfortable set of gaming headphones.
Should you buy the AudioMX HS-11B? For the price it's an absolute steal, if you've got a bit more twice as much to spend then check out my Cloud Revolver review.
Where could the AudioMX improve? I think a 1.5mm jack that attached to the controller would be a great addition and enable these headphones to be music friendly.
Overall, YES, just YES, at this price you won't regret it!
AudioMX Gaming Headset starts at… UK : £39 | EU : €135 | US : $145