The Ulefone Paris is a good all-rounder but it's got some hot competition from the China phones market
You can't always please everyone but the Ulefone Paris does a good job of pleasing most with its handsome good looks. Its design is borrowed heavily from a certain fruit based brand but on this occasion, it's a good thing. The Paris isn't going to win any awards for innovation but this is okay because Ulefone decided to make the Paris as a showcase of how you can manufacturer a decent, good-looking smartphone for less than £100.
The device is well made and has a premium feel, add to this it only weighs 128 grams and it's a big thumbs up to Ulefone for creating such a sleek phone.
So with everything seeming so positive so far, surely Ulefone must have cut corners somewhere? Read on for the full review covering Design, Screen, Software, Hardware, Battery, Camera & Connectivity.
Ulefone Paris starts at… UK : £99 | EU : €130 | US : $139
Let's take a look at the Pro's and Con's of the Ulefone Paris.
[column size=one_half position=first ]
Positives

Build Quality
Crisp Screen
Design
Performance
Dual SIM
Dedicated SD Slot
Backlit Buttons
Notification LED
[/column]
[column size=one_half position=last ]
Negatives

No compass

Small Battery
Average viewing angles
No double tap to wake
[/column]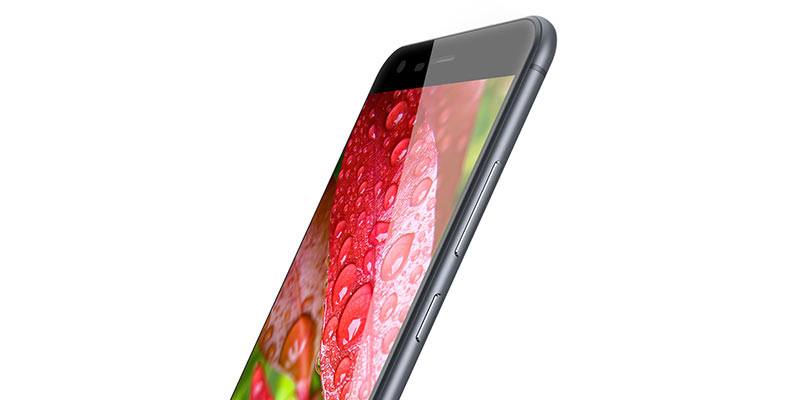 Screen & Design
The Ulefone Paris performs really well in the design department making the most of its CNC metal frame and soft curved edges with everything coming together to create a lightweight premium device. At only 8mm thick and weighing in at 128 grams Ulefone have done a good at keeping the Paris away from fatty features and hardware that can often leave phones in dire need of a weight-watchers subscription.
Powering the Ulefone Paris screen is a 5 inch IPS OGS display that looks crisp and sharp considering it isn't full HD with a resolution of 1280×720 giving it a total PPI of 294, not bad. The screen also has 2.5D curved edges that recess into the phone giving the subtle bubble effect which is very popular at the moment among Chinese phones. One downside is that the screen doesn't have the best viewing angles, when not looking directly at the phone you start to see brightness and colour degradation but overall the display performs well.
On the rear of the phone, you'll find a removable plastic back cover (with removable battery) and a slightly raised camera socket. The front of the Ulefone Paris is simple and elegant with the main attraction being the glowing halo home button. I'm a big fan of the Ulefone halo's futuristic look and it really helps to distinguish the Paris from the competition. To the left and right of the Halo, you'll find two more backlit buttons although the lights behind these are quite dim being much easier to see at night.
Colours Available: Grey, White & Gold editions
Screen Tech Specs: 5 inch, IPS OGS, 1280×720, 294PPI, Capacitive, 2.5D, Corning® Gorilla® Glass 3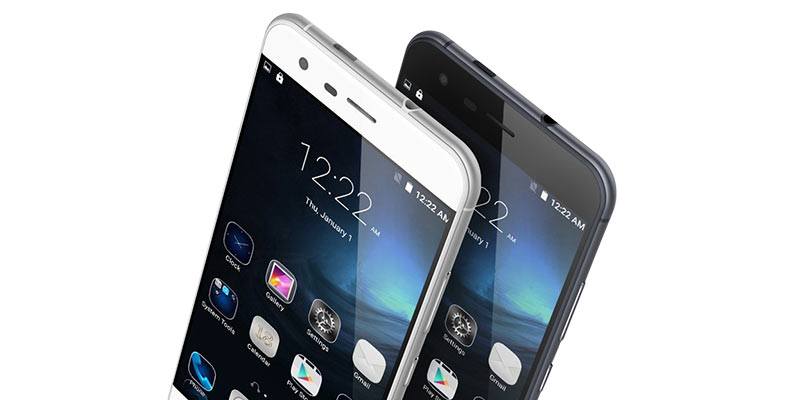 Software
The Ulefone do a good job of keeping their software as close to stock Android as possible and the Paris follows the trend with an almost bloatware-free Android 5.1 Lollipop pre-installed out of the box. What you do get is two custom launchers to choose from as well as the option to download and install new themes using U-Launcher.
The phone also features support for air & action gestures allowing you to create your own actions based on set swipe gestures or for example turn the pages of an e-book by waving your hand in front of the camera. A novelty but a fun one at that.
Other features include: air gestures, action gestures, U-launcher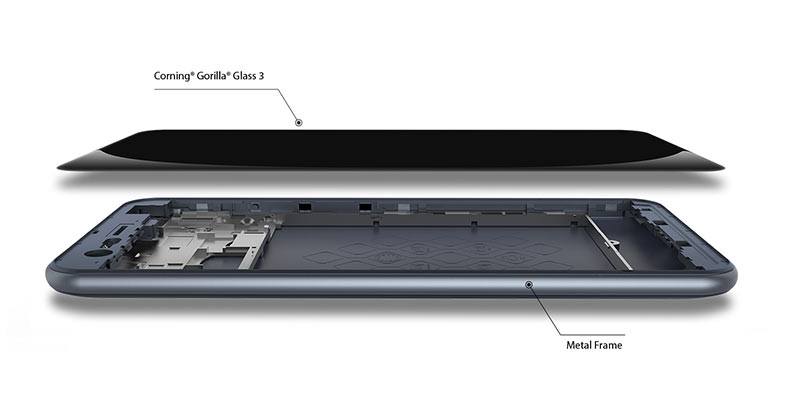 Hardware
Ulefone knows their business with a history of making smooth and responsive Android phones. They haven't let the team down with the Paris either supplying it with just enough grunt to keep everything running seamlessly and still keeping the costs down. Overall they've opted for some respectable mainstream hardware inside the slim lightweight body.
CPU
Powering the Paris is the MediaTek MT6753, which runs at 1.3GHz on all 8 cores. This is a decent mid-weight offering from MediaTek and had enough power to keep the Paris fast and responsive during my testing. The chip also has 4G support and fast 3G speeds built-in.
Geekbench Score:
Single Core Performance: 631
Multi Core Performance: 2929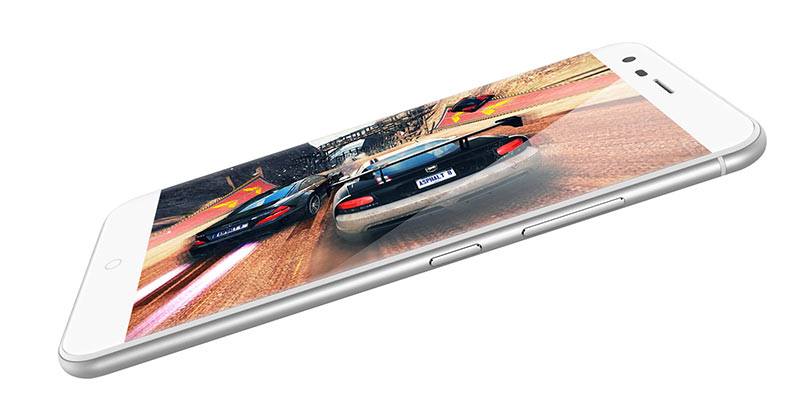 GPU – Gaming Performance
Inside we find the power efficient ARM Mali-T720, a favourite among Chinese smartphones. During testing this handled Clash of Kings, Candy Crush & Temple Run smoothly without any stuttering or lagging from the device.
The Ulefone Paris when put through the AnTuTu Benchmark receiving a respectable score of 34674.
RAM
The Paris comes with 2GB which is good considering the low starting price. Although 3GB is likely to become the standard in 2016 as the competition between Chinese manufacturers heats up.
Internal Storage
There's only one option to choose from with regards to the internal storage of the Ulefone Paris and this is the 16GB model. The good news is that the Paris comes with a dedicated memory card slot that takes cards up to 128GB.
Speakers
I found the external speakers to be reasonable loud with a some bass and a nice touch is that Ulefone haven't opted for the fake second speaker grill at the bottom. Ulefone made a big deal about the sound being massively improved on the Paris but don't get your hopes up too much as I found the speaker quality to be average. If you're coming from a £300+ handset you'll notice the tinnier and weaker sound but it's not fair to expect premium sound quality from a budget device.
There is good news and this is that you can tweak the sound through the pre-installed equaliser which gives you plenty of options including bass boost and virtual surround sound.
Tech Specs: MT6753 CPU 8-Core 1.3GHz, 64bit, ARM MALI-T720 GPU, 2GB RAM, 16GB Storage, 128GB expandable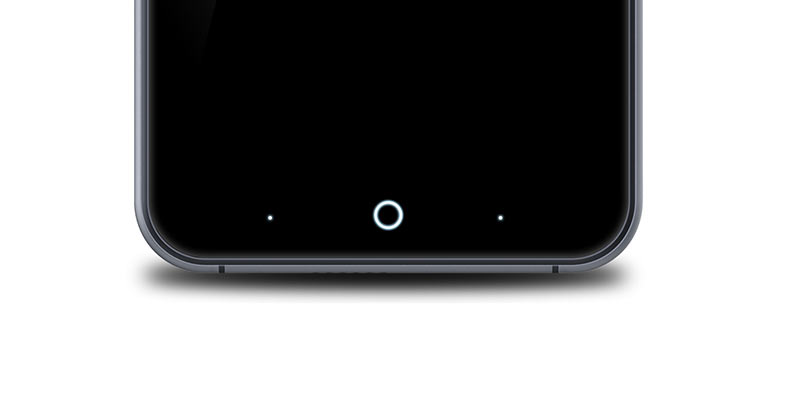 Battery
The battery on the Ulefone Paris is a bit of a weak point with it just lasting a full day with light-to-medium use. It features a 2250mAh Sony battery that is removable so you do have to option to carry a spare or opt for a portable charger.
It's unfair to think of this as a deal-breaker as a larger battery would mean increased weight and thickness which are two of the Ulefone Paris' best features
GeekBench Battery Score:
Time: 7h 53m
Score: 3124
Battery from 100% – 1%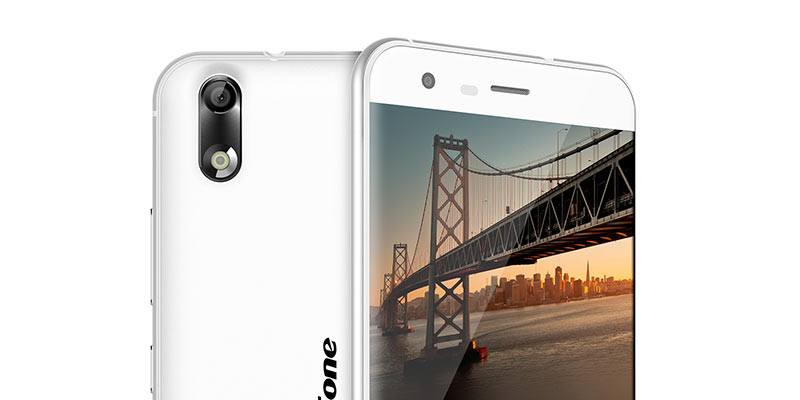 Camera
I was really impressed with the rear camera of the Ulefone Paris with it taking sharp vibrant photos in good lighting and outdoor settings. The only downside I noticed was the focus could be slow at times when used indoors.
Camera Features: Panorama, White Balance, Scene Mode, Face Detection, Timer, HDR, Beauty Mode, Live filters
[column size=one_half position=first ]
Back Camera:
[/column]
[column size=one_half position=last ]
Front Camera:
[/column]

Connectivity
We have good 4G support, GLONASS GPS and all the basic sensors needed plus a hall sensor for the magnetic case.
Frequencies Supported: – GSM 850 / 900 / 1800 / 1900MHz, WCDMA 900 / 2100MHz, FDD-LTE B20 (800MHz) / B3 (1800MHz) / B1 (2100MHz) / B7 (2600MHz)
3G: YES
4G: YES
Bluetooth: 4.0
GPS: GPS, A-GPS, GLONASS
Sensors: Accelerometer, Light sensor, Proximity Sensor, Magnetic (Hall)
USB OTG: YES
USB Type: Micro-USB
SIM support: Dual Micro SIM
WiFi: 802.11b, 802.11g, 802.11n
Will the Ulefone Paris work in the UK?
3G – YES
4G – YES
The Paris has 4G support for LTE Bands 1 (2100MHz), 3 (1800MHz), 7 (2600MHz) & 20 (800MHz). The active 4G LTE bands in the UK are 20 (800MHz), 3 (1800MHz) & 7 (2600MHz).
If you'd like more on this please read – Will a Chinese smartphone work in the UK
What's in the box?
Depending which version you buy will depend on whether or not you receive the Ulefone Paris peek case. Check with the supplier as to whether it's included before you buy and if it's not you pick one up cheaply on-line.
Wall charger, USB cable, instructions / guide, screen protector, earphones

Is the Ulefone Paris right for you?
The Paris is undeniably a great looking phone and it has some good curb appeal with its soft curves & metal frame. Android on the Paris feels responsive with all 8-cores and 2GB of RAM performing well. If you're looking for a budget lightweight phone, decent camera with a premium feel for around the £100 mark then YES, the Paris is a good option.
Got a little more to spend then check out the Cubot X17 or UMi Iron Pro neither have the same amount of curb appeal but perform really well.
Ulefone Paris starts at… UK : £99 | EU : €130 | US : $139
Let me know your thoughts on the Ulefone Paris in the comment below. Feel free to share.