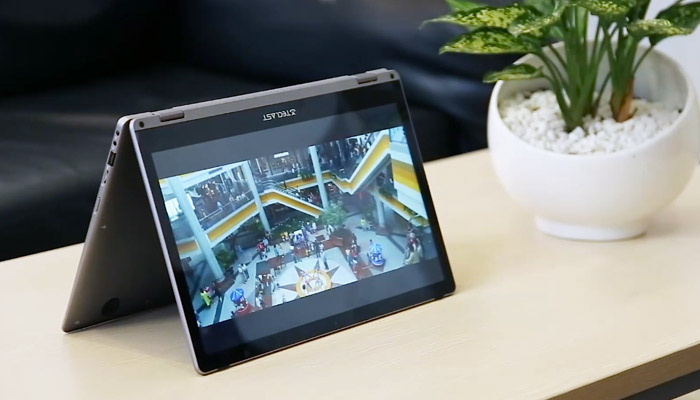 Laptops are great for on the go productivity. But having a keyboard between you and the screen can literally get in the way of your immersive media consumption. On the flip side, tablets with their large screens are perfect for watching movies. But, the lack of a physical keyboard makes any kind of office work slow and awkward.
So instead of choosing one or the other, why not go for a 2-in-1 laptop?
Now we hear you when you say that convertible laptops can be extremely expensive. Dell & Lenovo's 2-in-1's cost north of £1000/$1000 bucks each. In fact, the price becomes even more unreasonable when you consider that all you might be doing is writing emails, using office, web browsing and streaming Netflix.
But what if we told you that you can get a 2-in-1 convertible that's more than powerful enough to handle your day-to-day casual workloads and comes under in at £350/$350? Say hello to the Teclast F6 Plus.
Plus you can still have a premium metal design similar to what we see on both the Lenovo's high-end yoga's & Dell's XPS 2-in-1 laptops.
Now, we recently reviewed another device from the same company, the Teclast F15. Both these devices are pretty similar in terms of specs and performance. The main difference is that the Teclast F6 Plus has a smaller display size, but with touch screen support and a 360 degree rotating hinge.
But if that's not enough to make up your mind about the device, then here is our full in-depth review of the Teclast F6 Plus. But first, let's quickly go over the pros and cons of the convertible laptop.
Pros
✔️ Metal body made of aluminium alloy
✔️ 13.3 inch IPS display
✔️ Touch screen display
✔️ 360 degree flip and fold design
✔️ Very affordable
Cons
❌ Poor 2MP cameras
❌ Heavier at 1.6 KG.
❌ Entry level performance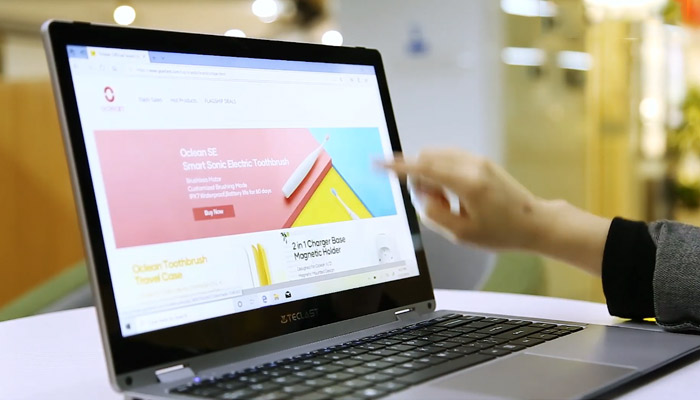 Display
The Teclast F6 Plus comes with a 13.3 inch FHD IPS display paired with a screen resolution of 1920 x 1080. This gives you a pixel density of around 165 PPI (Pixels Per Inch).
For the price, you're getting a crisp & quality display with decent viewing angles thanks to the IPS panel. Brightness if perfect for indoor use, but reflections can be quite bad if you're sat next to a window on a sunny day.
What makes this display special though, especially at this price point, is the fact that you get a pen-enabled touch screen display paired with a 360 degree hinge.
The Touch Screen
The Teclast F6 Plus sports a super responsive touch screen panel – thanks to the 1024 Class Pressure sensor which is a pleasure to work on. On top of this, you get access to a 10 point touch sensor – meaning you can touch the display with all 10 fingers simultaneously, and it will register every single input.
You can even pair the screen with the proprietary Teclast Stylus (Amazon) to take notes and make scribbles. However, do note that it is not included with the package, and needs to be purchased separately.
Also, it's worth noting that the palm rejection isn't the best with the F6 Plus. So if you're planning on doing any art projects you'll either have to buy a cheap anti-touch art glove or hover your hand while drawing.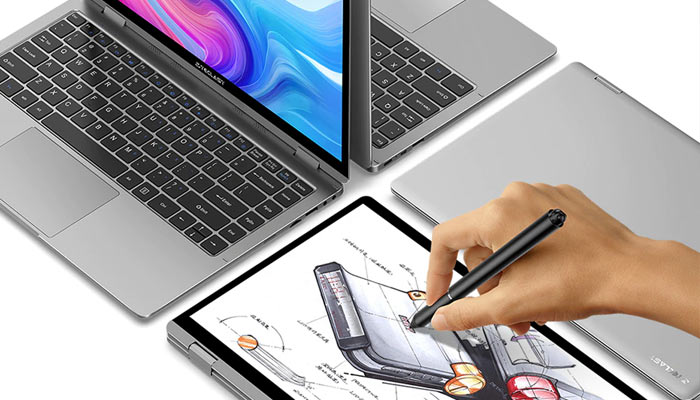 The 360-Degree Hinge
This is by far the most awesome feature that you get with the Teclast F6 Plus.
The 360 degree hinge means you can use the device like a laptop as well as a tablet, and all other orientations that in between.
For example, when you are working, you can have it in laptop mode with full access to the keyboard. But when you are watching a video, or doing a presentation, you can fold the keyboard to the back which brings the screen to the forefront – allowing for a more immersive viewing experience.
You can also fold the screen and keyboard to form a tent – which is also great for media consumption. And of course, you can always flip the keyboard all the way to the back, and start using it like a tablet.
Now, some of you might be thinking about the quality of the hinge – especially considering the budget price tag.
Well, we are pleased to say that Teclast has done an awesome job and the hinge is on par with what you get with other premium 2-in-1 convertibles.
You don't have to worry about the screen falling under its own weight. Once you place the laptop in a particular orientation, it will stay like that until you change it.
But with that being said, if you have the Teclast F6 Plus on laptop mode, and try to use the touch screen functionality, you will experience some wobble as you press on the screen. However, that's a minor nitpick and is present with almost all 2-in-1 laptops.
Display Specs:
13.3" IPS 1920×1080 IPS Display
10 point touch sensor
1024 Class Pressure Sensor
Works with Teclast Stylus
360 Degree Flip and Fold Design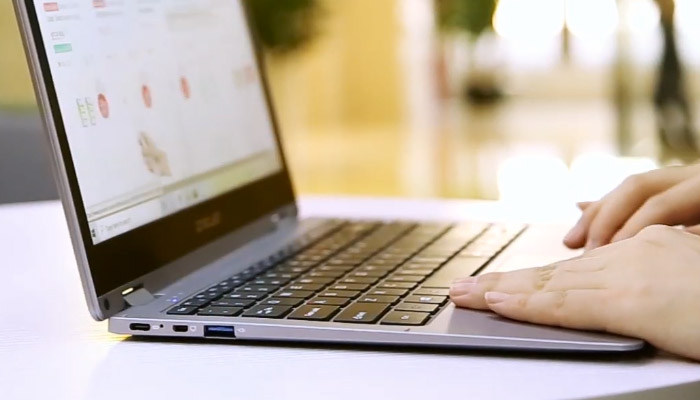 Design & Build Quality
Unlike most of the other $350 laptops in the market, the Teclast F6 Plus ditches the cheap and ugly plastic build in exchange for a premium metal body. It boasts a really polished and minimal design style, which makes it look all the more sophisticated. And when you pair that with the 360-degree hinge, it will surely turn some heads when you take it out in public.
But enough with the aesthetics, what about the build quality?
Well, the entire outer casing uses a high-strength aluminium alloy which makes the laptop extremely durable and also helps with heat dissipation.
In terms of weight, it isn't the lightest at 1.6 KG. As such, using it in tablet mode can put some strain on your wrists, especially if you plan to hold it single-handed. But, at the same time, It is also worth pointing out that the slim form factor does make it more manageable.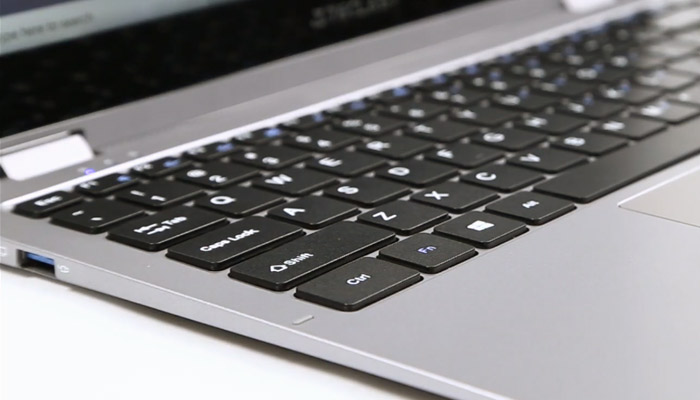 Keyboard and TouchPad
The compact form factor of the Teclast F6 Plus resulted in a TKL (Tenkeyless) Keyboard – which means it doesn't have a numpad. Now, this can be bothersome for some users who need to work with numbers a lot.
But at the same time, you get a lot of space between each of the keys which helps with the overall typing experience.
And coming to the cursor input, you get a standard sized touchpad. However, that doesn't matter that much when you have access to touch input. And you can always plug-in a mouse if necessary.
Quick Specs:
Body made of Aluminium alloy
1.6 kg
18mm thick
TKL (Tenkeyless) Keyboard
Standard sized touchpad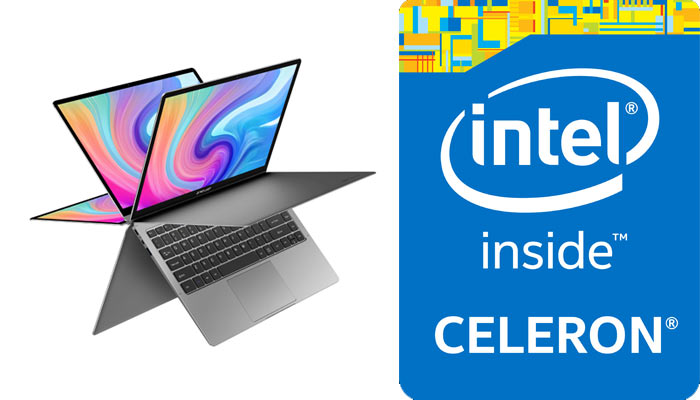 Gaming & Productivity Performance
The overall performance and internal specifications of the Teclast F6 Plus isn't as impressive as its design. But hey, when you are making a budget 2-in-1 convertible, you need to make compromises somewhere.
That being said, the laptop is capable of handling casual day-to-day workloads. Here is a more in-depth look at its specs to give you a better idea.
Processor & GPU
The Teclast F6 Plus is powered by the Intel Celeron N4100 quad-core CPU. It is an entry level processor focused on delivering a smooth experience for casual users.
For example, you can run all your Microsoft Office applications, stream Netflix, access your emails, and even browse the web with no apparent hiccups. But it is just not capable of handling demanding workloads like 4k video editing or even running Photoshop.
In terms of gaming, the laptop lacks a dedicated GPU. As such, you won't be able to play any of the high-end triple-A titles that are coming out lately.
However, if you are a casual gamer, then the integrated graphics unit – the UHD Graphics 600, can play some basic 2D games and even older titles like Counter Strike, albeit on the lowest graphic settings.
You should check out this YouTube Video by Yami to see what games the Intel UHD600 can handle.
RAM and Storage
Multitasking on the Teclast F6 Plus is very smooth and stutter free. This is thanks to the 8GB of LPDDR4 RAM, which is a nice bonus, especially considering big brands are now releasing ludicrously low 4GB models in 2020. (Dell & Lenovo)
Switching between 4 to 5 office applications as well as having 10 Chrome tabs open at once is about the limit for this laptop. We started to see a little stuttering and slowdowns. Not bad for the low-end Intel chip.
Now, coming to storage space, you get access to 256 GB of high speed SSD. This further improves the overall performance with faster boot time and loading speeds for your applications. File transfer speeds are also quicker.
However, 256 GB of storage space can be rather limiting. Thankfully, you can easily pop-in a MicroSD card to increase it by up to 128 GB. Furthermore, the SSD Slot can be easily unscrewed, allowing you to swap out the provided 256 GB SSD with another one for more storage space later on.
CPU: Intel Celeron N4100 Quad-Core
GPU: UHD Graphics 600
RAM: 8GB LPDDR4
Storage: 256GB SSD. Expandable up to 128 GB using MicroSD
OS: Windows 10
Battery Life
The Teclast F6 Plus boasts a modest 38Wh high capacity battery. This is standard for laptops in this price range, and you can expect average battery life.
On mixed usage, we got around 5 hours of battery backup. During the time, we streamed a couple of episodes of Money Heist, worked on a few MS Word documents, and even played Counter Strike for half an hour. The screen brightness was kept at around 40% during the entire time.
However, the laptop supports super fast PD (Power Delivery) charging via the Type-C port. So you don't have to wait too long for it to charge back up.
You can even power if from a high wattage PD powerbank on the go.
Battery Specs: 38Wh high capacity battery, supports both PD and DC charging.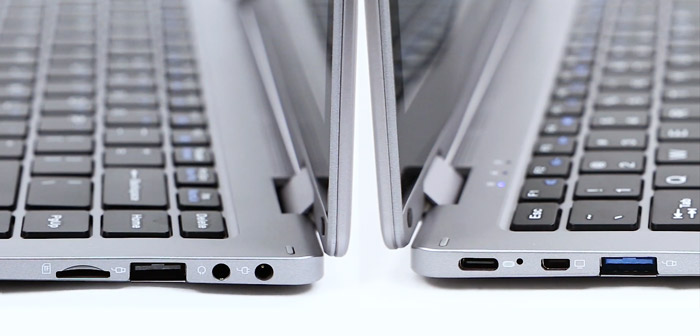 Connectivity
For internet connectivity, the Teclast F6 Plus comes with 802.11AC dual-band WiFi (2.4G | 5G). You also get access to Bluetooth to help you pair with all your wireless gadgets.
Other than this, the laptop comes with 3 USB ports to help you connect with all your wired devices. You get a Type-C port and USB 3.0 port on the left side, along with a USB 2.0 port to the right. A dedicated 3.5mm headphone jack is also included for all the audiophiles who prefer wired output.
And finally, you have a micro HDMI port to help you hook up the laptop to your TV or another monitor.
Connectivity Specs:
AC Dual-band WiFi 2.4G + 5G
Bluetooth 4.0
USB 3.0 and USB 2.0 Ports
USB Type-C port
Micro-HDMI
5mm Headphone Jack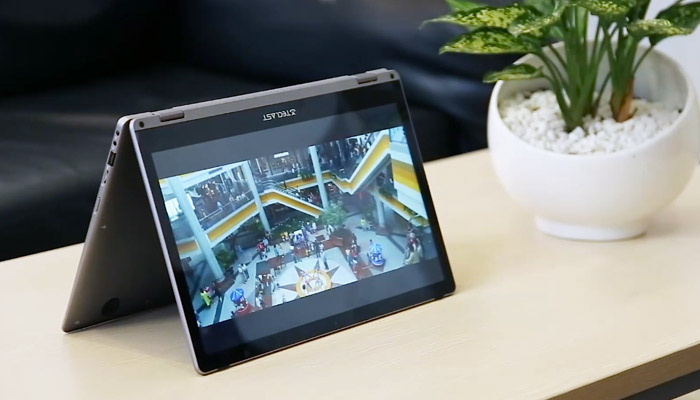 Teclast F6 Plus Laptop – The Verdict
The full metal body paired with compact build and a 360 degree rotating hinge puts the Teclast F6 Plus on par with premium devices as far as the design is concerned.
And the convertible form factor means the device is always ready for your needs – whether your needs are to get some work done, or sit back, relax on the sofa and watch some Netflix.
As such, the Teclast F6 is a really awesome back-to-school laptop for anyone looking for a premium design but shopping on a budget.
Do we recommend the Teclast F6 Plus? It's a yes! At this price, it's a steal!