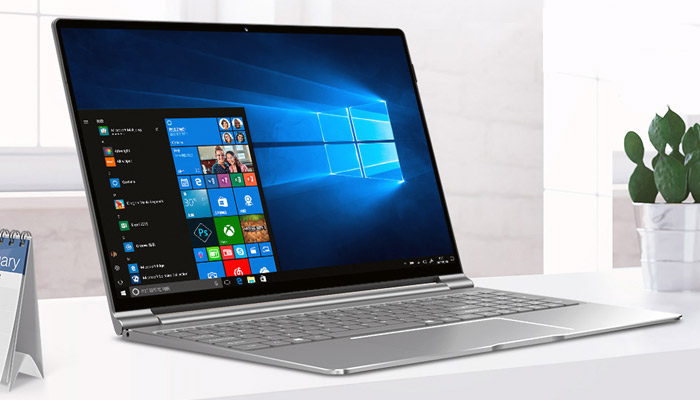 We all love the luxurious feel of premium laptops. However, most of us don't need the high-end specs. As such, shelling a thousand bucks just to browse the internet or stream movies on Netflix sure feels like a waste of money.
This is where the Teclast F15 comes into the picture. At the time of this review, you can get your hands on one for only $350 making it an absolute steal.
The laptop features most, if not all, of the modern design elements that are signature to premium models. You get a solid metal design, a large 15.6" screen with thin bezels, a 180-degree hinge, and much more. And here's the punchline – it all costs you less than $400.
So where did Teclast cut the corners? What compromises will you have to live with, if you buy the Teclast F15?
Well, nothing much! The only downside is that you get basic entry-level specs. However, if you are planning to use the device to browse the internet, and watch videos, then the configuration will more than suffice.
Now, in case you are looking for more information to make up your mind on the laptop, we have put together a detailed in-depth review on the Teclast F15 to help you out.
But first, let's take a quick dive into the pros and cons of the laptop.
Pros
✔️ Super slim and compact design
✔️ Great build quality with a metal design
✔️ Bright 15.6" IPS fully laminated display
✔️ 180-degree hinge
✔️ Full-sized keyboard with Numpad
✔️ Large Responsive touchpad
✔️ Above-average battery life
✔️ Very affordable
Cons
❌ Poor 2MP camera
❌ Heavier at 1.8 KG
❌ Entry-level performance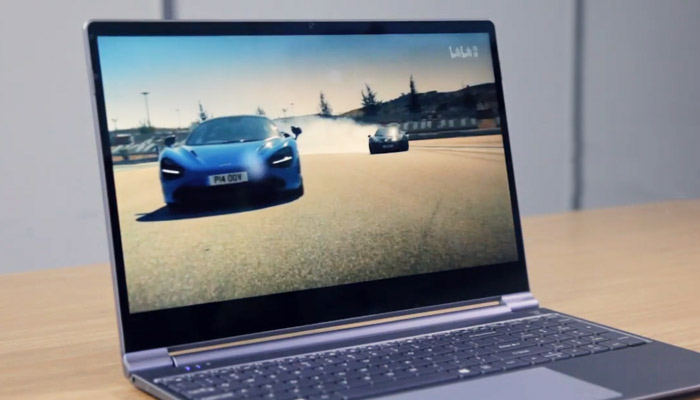 Display
The Teclast F15 gives you a large 15.6-inch IPS glass display inside the form factor of a 14-inch laptop. How you ask?
Well, they take the bezels and narrow it down to a mere 7 mm. Not only does this make the screen look super cool and modern, but it also raises the screen-to-body ratio to 82%. This results in a super immersive viewing experience.
The screen is also a fully laminated IPS panel which translates to better brightness, wider viewing angles, and overall improved display quality. But on the flip side, it also makes the screen a bit more reflective.
Apart from this, you get a full HD 1920×1080 screen resolution which roughly equates to 141 PPI  (Pixels Per Inch). Since you won't be consuming content with the screen close to your face – as is the case with smartphones – you don't have to worry about any noticeable pixelation resulting from the lower PPI.
Finally, the brightness on the F15 is fantastic. I usually had it set to around 50% indoors which really helped push the battery life further.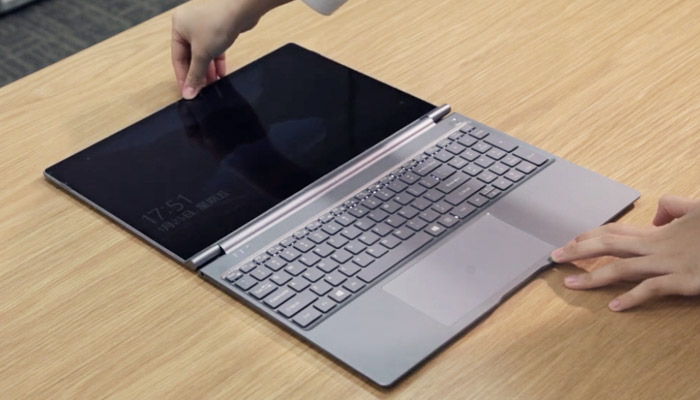 The 180-Degree Hinge
Another high-end feature that the Teclast F15 incorporates would be the 180-degree hinge. You can push the screen all the way back to make a 180-degree angle with the display and the keyboard.
This is great for sharing your screen with friends, but, would have been more useful if Teclast had included a touch display. Furthermore, the mechanism isn't as well implemented as you see with Lenovo Yoga laptops.
For example, if you open the display beyond 140 degrees, it starts to fall under its own weight. Also since the connectivity ports are on the back, you have to be careful. It'd have been nice to see predefined angles where the display just snaps into position.
But hey, if it isn't hurting anything, then who's complaining?
Display Specs:
15.6" Fully Laminated IPS Display
1920×1080 Full HD Resolution
141 PPI
7mm Narrow Bezels
82% screen to body ratio
180-degree rotating hinge.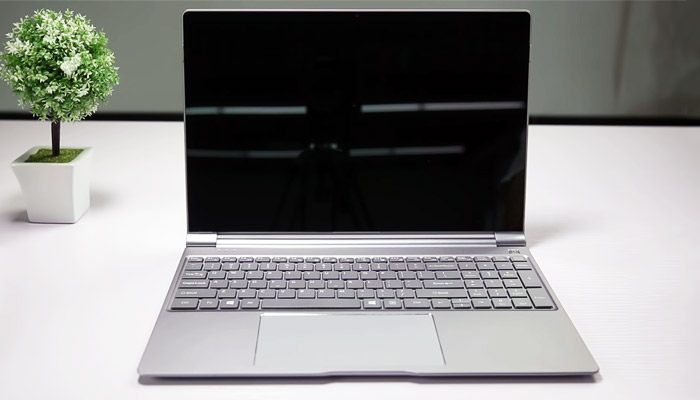 Design & Build Quality
If I were to go to Starbucks, grab a Latte, and start writing my next novel on the Teclast F15, there is no way you – or anyone else for that matter, would have guessed that this is a sub $400 laptop.
The design & aesthetics screams premium!
And it isn't just the looks as it the metal finish feels like a high-end ultrabook. The Teclast F15 features a metal body design with the surface treated with metal blasting. So when you glide your hands over the laptop, it feels so very smooth and so very silky.
Also, mirroring the high-end premium laptops, you get a compact super slim design. It is just 15 mm thick, or rather thin in this case. In fact, the sides of the laptop are so narrow that they had to place all the regular ports on the back of the laptop.
Now, this design choice does bring some inconveniences.
For example, if you have any wires or pen drive connected to the ports, then you can't completely unfold the screen to 180-degrees. Now granted, it isn't that big of a deal, but it is something that you should keep in mind.
Coming to the audio output, we have a pair of downward-firing speakers. The sound quality is okay, and you can even make out a little bass. But that's the thing – you need to make an active effort to listen to the audio as the volume is so low.
As such, you should better have your headphones with you, if you want to listen to songs or consume any other type of audio-based media.
Quick Specs:
Metal body design
Metal Blasting finish for a smooth and silky touch experience
1.8 KG
15mm thick
Backlight keyboard; full-sized keyboard with number pads
Big touchpad 150mm x 80mm (47% more than standard 14-inch laptops)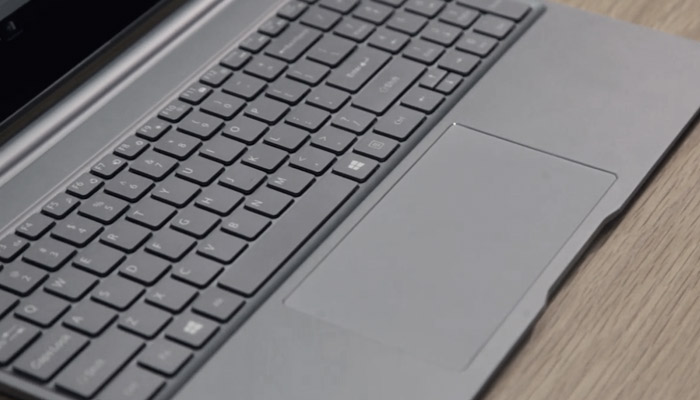 Keyboard and Trackpad
Despite its compact form factor, the Teclast F15 gives you a full keyboard, complete with the numpad, and enough space between the keys for a comfortable typing experience. The main compromise is with the arrow keys as everything is compressed into a narrow area.
The power button is positioned away from the keyboard and not combined with the "Del" key. That's an extremely welcomed, quality of life feature. Anyone who has accidentally put their laptops to sleep will agree with me.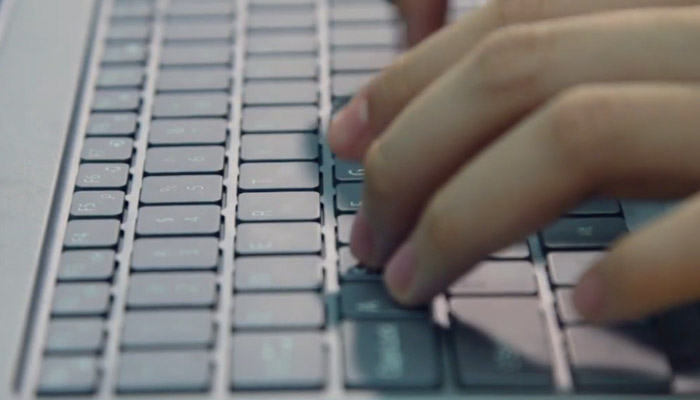 Other than this, the keyboard comes with two-stages of adjustable backlighting. It is bright enough to let you use the laptop inside dark environments.
Coming to the trackpad, it is really massive at 15 cm x 8 cm.
The extra space makes it super comfortable to use. And for those of you who are wondering whether it will get in the way of typing on the keyboard – the palm rejection is well implemented to avoid unintentional input.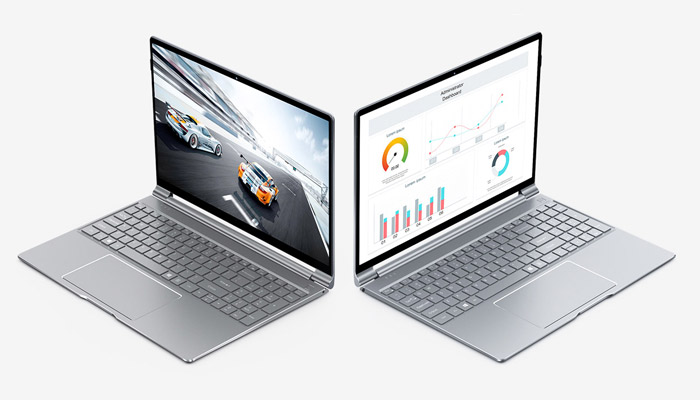 Gaming & Productivity Performance
In terms of performance, the Teclast F15 is better than most low-end laptops, but it can't compete with the average mid-rangers. This is expected when you take a look at its internals.
Processor & GPU
The system is powered by the Celeron N4100 quad-core processor which is an entry-level CPU from Intel. It is capable of handling casual workloads like browsing the internet, streaming videos, and even getting some work done with Microsoft Office.
However, you are going to get frustrated if you plan on running intensive software like Photoshop, or any high-end triple-A games for that matter. That being said, the laptop does come with an integrated graphics unit – the UHD Graphics 600. It isn't much but can help you play some basic 2D games or some of the older titles.
We tried running Counter-Strike and League Of Legends on the Teclast F15, and it offered low but playable frame rates. Albeit, we had to lower the graphic settings, but that's a given without a dedicated graphics card.
Memory & Storage
The Teclast F15 offers 8GB of LPDDR4 RAM which is standard for modern-day laptops. In average day to day use, you won't face any lags, and the overall multi-tasking experience is going to be smooth and decent.
In terms of storage, you are backed by a 256 GB high-speed SSD with Windows 10 pre-installed. This is also going to improve the performance with faster boot time and quicker loading speeds.
Thankfully, Teclast gives you the option to insert a microSD card for extra storage. Also, the SSD slot is accessible to the user. You can easily swap out the provided 256 GB SSD for a higher capacity one, if and when necessary.
CPU: Intel Celeron N4100 Quad-Core
GPU: UHD Graphics 600
RAM: 8GB LPDDR4
Storage: 256GB SSD, Expandable via MicroSD
OS: Windows 10 Home
Battery Life
When you pick up a heavy laptop like the Teclast F15, you already know that the battery life is going to be good.
With the large 41.8Wh lithium-polymer battery built-in, you can expect above-average battery life. With mixed usage, the laptop lasted around 7 hours. During the entire time, we had it connected to the WiFi, streamed a couple of YouTube videos, and even played some casual games from the Windows 10 Store.
If you are planning to take the laptop to college for taking some notes, it will easily last you through all your classes.
Whereas, if you are at home and planning on binge-watching some Netflix, even then the laptop manages to last you 5 solid hours. That's about 2 feature films back to back or 6 episodes of Money Heist.
However, the bigger battery capacity does mean longer charging time and without any quick charge solutions, the Teclast F15 takes around 3 hours to charge back up from 0% to 100%.
Battery Specs: 41.8Wh lithium-polymer battery, 7 hours battery life with mixed usage.
Charge Time: 3 Hours.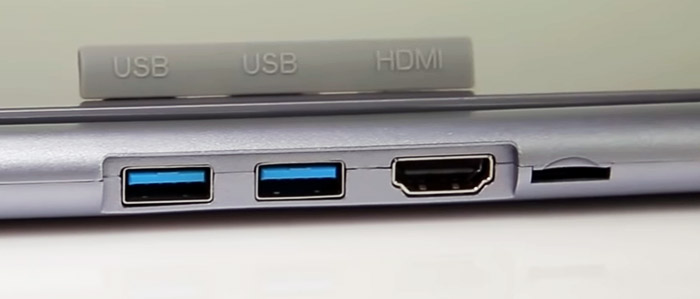 Connectivity
The Teclast F15 offers solid connectivity options. For starters, to keep you connected to the internet, it has access to dual-band WiFi (2.4G|5G) on the fastest AC standards. You also get access to Bluetooth 4.2 to help you connect with your wireless headphones or mouse.
But what's that? You don't have a wireless headphone? Well, the Teclast F15 has a 3.5mm jack to help you out.
You even get access to two USB 3.0 ports so you can attach your wired mouse to one, and still have an extra slot for your thumb drive.
Other than this, you get a full sized HDMI port which you can use to connect your laptop to an external monitor or even to your TV screen. It also has HDMI 2.0 support giving you access to higher output resolutions.
Connectivity Specs:
AC Dual-band WiFi 2.4G + 5G
Bluetooth 4.2
Dual USB 3.0 high speed
HDMI HD Video Output
5mm Headphone Jack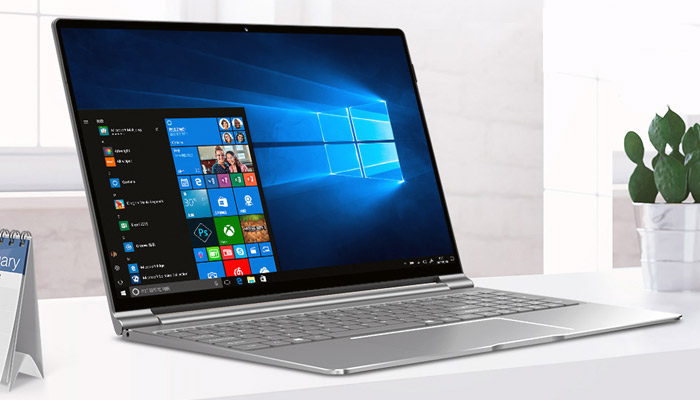 Teclast F15 Laptop – The Verdict
In terms of design and aesthetics, the Teclast F15 rules in the sub $400 market. The performance is also more than good enough for basic workloads.
Considering these two factors, the Teclast F15 is the ideal laptop for students going to high school and even attending college.
The full-sized keyboard and big trackpad make it super easy to take notes and do your research. Whereas the internals are enough to help you stream videos and play some casual games to unravel from all the stress. And meanwhile, you will be walking around campus with a device that looks premium and high-end from all possible angles.