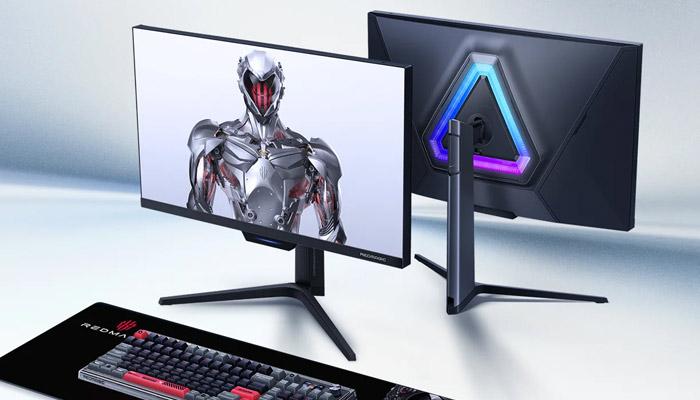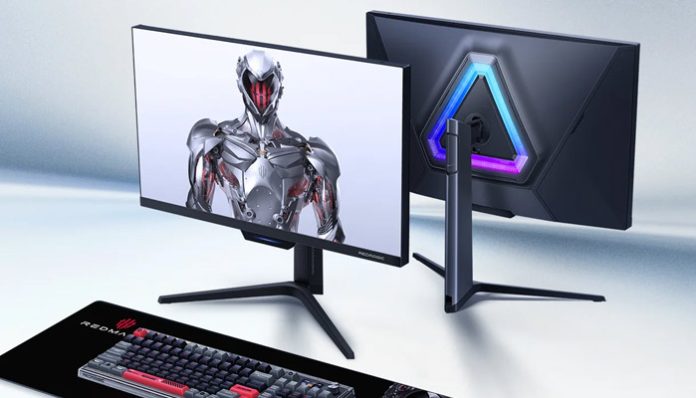 …Red Magic 4K Mini-LED Gaming Monitor! You heard that right – Red Magic, the brand that's all about epic gaming phones, has released its first-ever gaming monitor, and trust me, it's a game-changer!
Related Articles: Best Gaming Phone | Best Gaming Tablet
Pros
Bright & Accurate Display
Solid Viewing Angle Adjustment
Low Response Time
1000 local dimming areas
4K + 160Hz
Solid IO Options
USB Type-C Video + 90w Power Delivery
Cons
Doesn't Compete with OLED Panels
RGB lighting not very bright
No speakers
Limited Warranty
Available Soon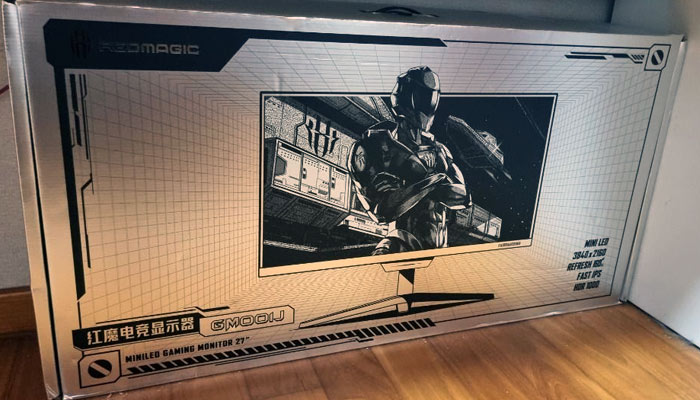 What's Inside the Box?
Before we jump into the details, let's take a look at what comes with the monitor. Inside the cool space silver semi-glossy box, you'll find:
A 240W power brick (dot matrix emboss design)
Regional Power Adapter Cable
A USB Type-C cable (90w charge ready + Video)
Two HDMI cables
A USB cable for accessories
With these goodies, you'll be up and running in no time!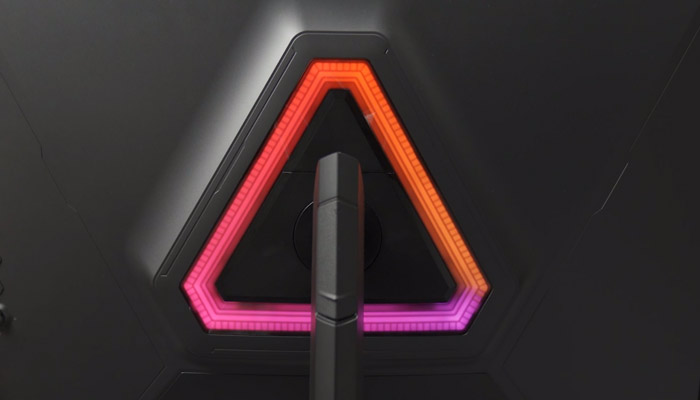 A Stunning Design with Impressive Features
The Red Magic monitor uses a minimalist design with hints of "gamer" aesthetics. There's excellent cable management thanks to a removable panel which keeps your power and accessory cables hidden from view on your desk.
Now, let's explore the specs that make this monitor stand out from the competition:
27-inch display with a 16:9 aspect ratio
4K resolution on an IPS mini LED screen

2304 MiniLED
1152 lighting partitions

160Hz refresh rate with 650nits Peak Brightness
1ms Response Time
Compatible with AMD Freesync and Nvidia G-sync
USB Type-C video input with 90W PD fast charging
HDR support and a splash of RGB on the back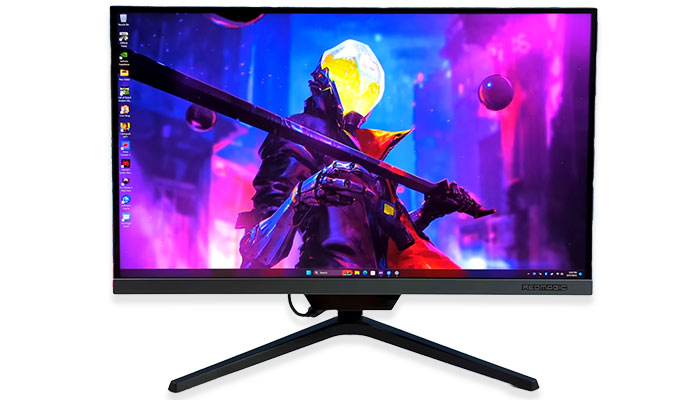 Display, Colour Accuracy & Viewing Angles
I connected the Red Magic monitor to my gaming PC, and the 160Hz experience is super smooth. It's hard to put it into words, but the immersion of the high-frame-rate and local brightness controls that come from the Mini-LEDs is unmatched compared to my old (none mini-LED) IPS LCD gaming panel.
It's not in the same league as a true OLED gaming monitor or TV, but at half the cost, it's a great mid-tier upgrade that you won't regret.
The FreeSync and G-Sync really help this monitor shine will less powerful GPUs, removing any screen tearing from the picture.
Colour accuracy is also excellent  99% coverage of the major standards. You can also adjust the colour profile extensively to your liking in monitors OSD.
10 Bit Colour
99% sRGB
99% DCI-P3
Viewing angles are also excellent, with colours staying vivid 30 degrees off centre axis. There is a little loss of deep black levels at an angle, but it's not an issue as we face gaming monitors head-on 99% of the time. From front on, the black levels are deep and really helps create contrast and sharpness when gaming.
Viewing Angle Adjustments
Horizontal Rotation 90 degrees
Up/Down (5mm to 120mm)
Tilt Forwards/Backwards (-5 to +19 degrees)
Swivel (30 degrees)
Overall, I'm impressed with what Redmagic has managed to create for its first gaming monitor. A lot of the credit has to go to the mini-LED panel manufacturer with Redmagic only creating the physical design, software and OSD.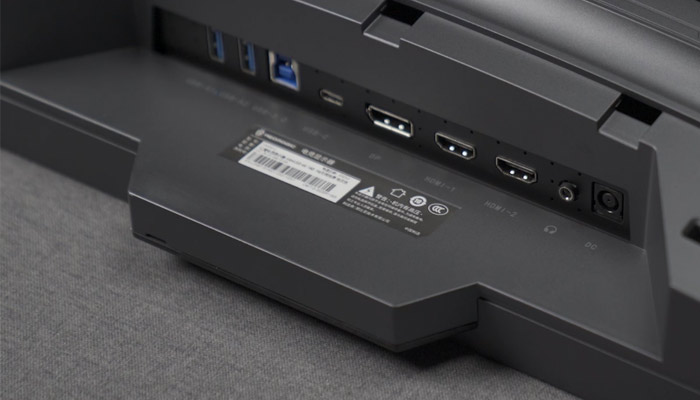 Plenty of I/O Choices
You won't be left wanting for input/output options. The Red Magic monitor provides:
Two USB ports
One USB 3.0 port
USB Type-C port
Full-size DisplayPort
Two HDMI 2.1 ports
A 3.5mm headphone jack
Power input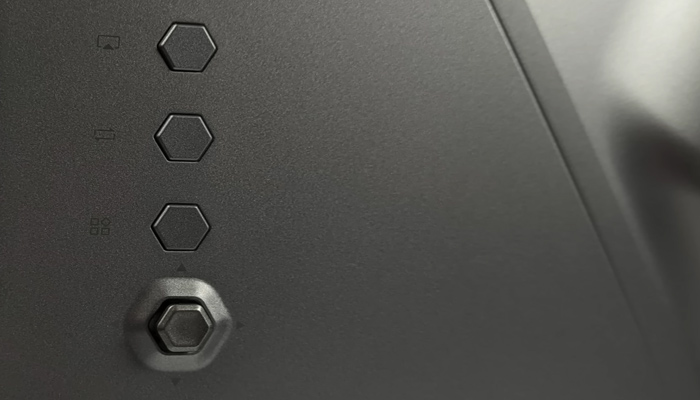 Monitor Adjustment Controls
Toggle Joystick (Up, down, left right, select)
Dedicated Input Switch Button
Dedicated Menu Button
Dedicated Gaming Mode Button
This monitor is like the Swiss Army knife for gamers!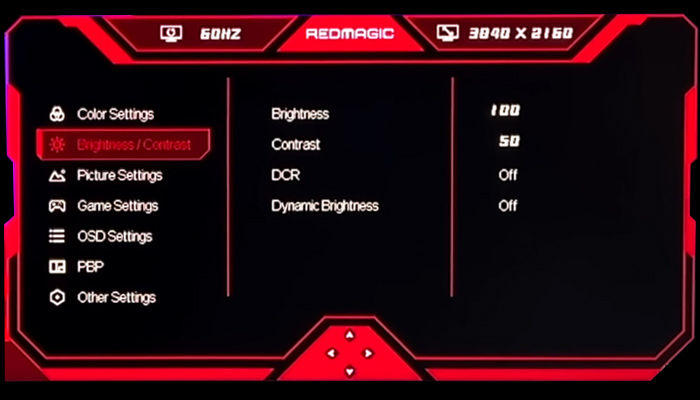 Extras
Let's cover all the little extras that will make you fall in love with this gaming monitor!
Type-C Power & Video
The type-C input on the Redmagic 4K gaming monitor supports both video-over-usb and power delivery up to 90w. This means you can connect your phone or tablet to the monitor for big screen gaming or watching videos while charging the device at the same time. Pretty nifty!
Ambient Light Sensor
Built into the Redmagic 4K Gaming Monitor is an ambient light sensor for dynamic backlight adjustment. Similar to what you get on a smartphone.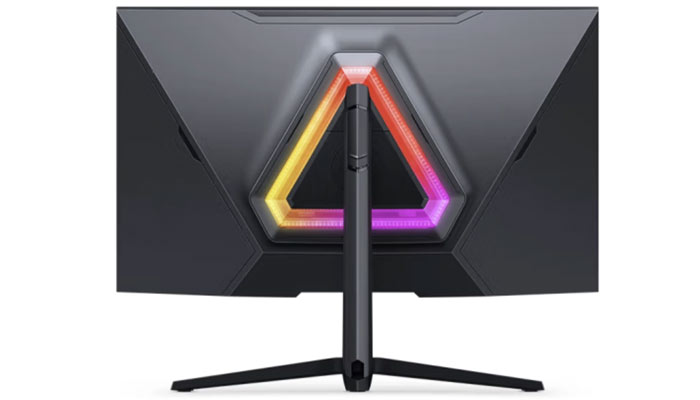 RGB Backlighting
Behind the back of the monitor is the triangle gaming RBG lights. You can configure these in the desktop Redmagic settings. In the daytime, it's hard to see, but in a dark room or after dark, they really add an extra element of excitement to monitor. I wouldn't think of this as a selling point, but more of an added bonus.
Gravity Sensor
You can tilt the monitor 90 degrees to use it in portrait mode. What you might not know is that Redmagic built a gyroscope into monitor that automatically detects it's rotation passing this information onto your OS.
Why's this important? Your OS will orient its display settings instantly, meaning you can easily switch between portrait and landscape without having to mess with your display settings.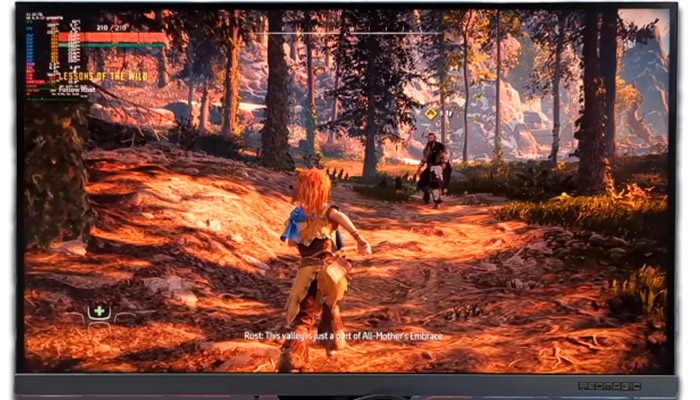 Gaming on the Redmagic 4K Gaming Monitor

I tested the Red Magic monitor with the latest Red Magic 8 Pro, and they're a match made in heaven. The monitor also works flawlessly in console mode, letting you play Android games and emulators on the big screen. And for Steam Deck fans, this monitor takes gaming to a whole new level.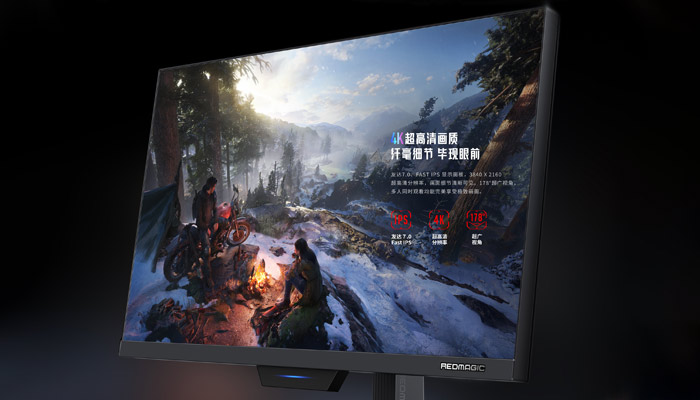 Final Thoughts – Redmagic 4k Mini LED Gaming Monitor
Red Magic has outdone itself with its first entry into the MiniLED monitor space. It's now my go-to display for gaming, and I'm looking forward to more fun-filled hours playing my favourite games on it.
So that's the scoop on the Red Magic 4K Gaming Monitor. If you've got questions or want to know more, leave a comment below, and I'll be happy to help. Game on!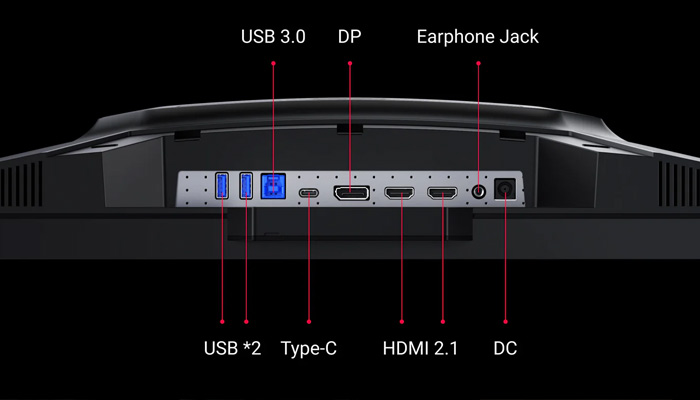 Redmagic 4K Gaming Monitor – Tech Specs
| Specs | Details |
| --- | --- |
| Screen Size | 27 inches |
| Resolution | 3840 x 2160 (UHD) |
| Refresh Rate | 160Hz |
| Response Time | 1 ms (Faster Mode) |
| Brightness | ≥650nits, DC lighting peak 1300 nits |
| Color Gamut | 99% Adobe RGB, 99% SRGB, 99% DCI-P3 |
| Viewing Angle | 178° |
| I/O Ports | HDMI2.1 x 2, DP1.4 x 1, USB-C x 1, USB-A 3.0 x 2, USB-B x 1, Earphone JAC x 1, AC/DC in x 1 |
| Power Consumption | ≤220W (Typical), ≤0.5W (Standby) |
| Dimensions with Stand | 613 x 500 x 237mm |
| Weight with Stand | 7.1kg |