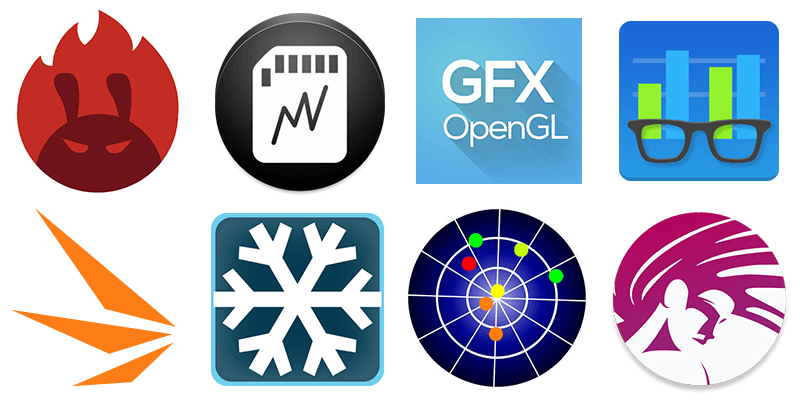 If you're like me, the first thing you do after ripping open the packaging on your new Android phone or tablet is benchmark it!
Yeah, I know it's silly, but seeing those juicy stats pop up to show you that your new phone is 30-40% faster than your last… certainly gives a little justification to your tech-buying addiction!
Benchmarks aren't everything though, check out our Top 5 Gaming Phones Guide & Best Gaming Tablet Guide to understand why.
But which benchmarking tool should you use?

It can be a tricky decision with the Play Store results for 'Benchmarking' returning 100's of results, most of which are just ad-filled junk apps.
Luckily, I've taken the hassle out of this by compiling you a list of the 'Best Android Benchmarking Tools' available for free as well as short explanations of each.
… Keep calm & carry on Benchmarking…
I'm not going to list any fully paid results as all the main benchmarking tools are free or have at least a free version available.
So what motivates me to benchmark my own devices?
…it's that nagging feeling of performance envy.
Nobody wants to buy a new smartphone only to find out that it's not even keeping up with last year's flagships. Having the benchmark results at hand means I can happily geek out and say with confidence…
…'Oh Hell Yeah my new OnePlus is faster than your Samsung, I've got the benchmarks to prove it!' and that is… simply put… satisfyingly awesome!
To fully benchmark your phone there are a few different areas that you're going to want to test. These are:
UI Performance
Multitasking Performance
3D Gaming Performance
Storage Speed Test
GPS Signal Test
Battery Test
So let's get to it!
The Best Android Benchmarking Apps in 2023!

Geekbench 6

The second in the lineup of Android Benchmarking apps we use here at Review Hub is Geekbench version 6. It's a cross-platform benchmark available for both mobile and desktop computers.
Geekbench measures the single-core and multi-core performance of your smartphone or tablet's CPU to give you an overall benchmark score. But what do the scores mean?
The scores are taken from a baseline score. In the latest version of Geekbench 6, the score is calibrated to 2500 which matches the performance of a Dell Precision 3460 with a Core i7-12700 processor. The score is linear, with a 10000 score being twice as powerful as a 5000 score.
The Problem With Geekbench
The downside to Geekbench is that with each new version, the baseline score changes. So we can't compare a Geekbench 5 to a Geekbench 6 score, making long-term comparisons difficult.
You can view the top Android device scores for Geekbench 6 here.
Available for both Android & Windows [FREE]

AnTuTu Benchmarking (Latest V9)

AnTuTu Benchmarking is the defacto performance & gaming benchmarking test on Android. This benchmarking tool gives you an overall score made up of 4 elements: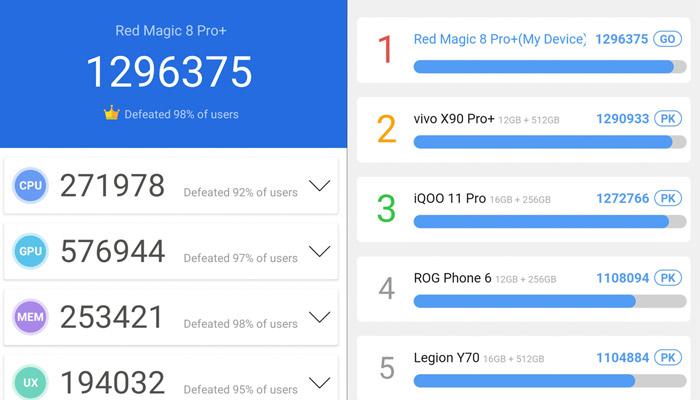 What makes the app so useful is the massive amount of benchmarking results that they've collected over the years as well as its list of the top 50 devices. Once you run the test on your smartphone or tablet you can then select the ranking tab to see how your device compares.
So what makes AnTuTu Benchmarking the go-to benchmark? For one, they've partnered with the likes of Samsung, Qualcomm, Intel & Nvidia to help make one of the best of most accurate benchmarking tools available.
Version 9+ also includes some useful screen tests that allow you to see how much of the colour spectrum your device can display.
Important Update: AnTuTu was removed from the official Google Play Store due to security concerns around advertisements. We don't recommend installing apps from 3rd party sources. It's still available officially on the Apple iOS store.
Available for both iOS [FREE]
PC Mark & 3D Mark
3D Mark Benchmarking test is the oldest of the group. Originally started in 1997 as a PC Benchmarking tool, it soon became the industry standard in testing gaming hardware & graphical performance.
More recently they created their free mobile version of their popular CPU & 3D testing software which works by rendering a selection of 3D scenes and physics heavy environments.
The PC Mark app also includes a battery test, whilst the 3D Mark App focuses purely on 3D Benchmarking. Both apps give detailed feedback about the test results and also let you compare your device against others to see how it compares.
Update: Both apps have been updated extensively since I first created this article.
PCMark is also a great option for testing the Storage Speeds & Battery Life of your phone or tablet. Definitely worth a download!
Available for both Android, iOS & Windows [FREE]

GFX Bench 5.0 – GL Benchmark (OpenGL)
Update: Kishonti Ltd has updated their Android game test engine to version 5.0.
Whilst GFX Bench might not be as popular as AnTuTu or PCMark, it still has its positives. As a cross-platform benchmarking tool available to both Android & Windows, it works by rendering a variety of scenes on your Android device and then measuring the average FPS that was achieved during the scene.
This FPS score is then translated into a GFX Benchmark score which you can compare against other devices that have also run the test. The GFX Bench 5.0 render scenes are impressive, from prehistoric jungles to a giant robot attacking a futuristic city there's a nice variety of tests.
What sets it apart from the competition is that you can see how your smartphone performed in different sections of the scene using the graph afterwards. This lets you see where your device might struggle when playing certain demanding Android games.
Available for both Android & iOS in a Metal Version [FREE]

GPS Status
GPS Status test does exactly what its name suggests. It allows you to see all the satellites that your phone is connecting to and the signal strength for each one.
This allows you to test two phones side by side to see which one has the superior antenna / GPS capabilities. It goes without saying, that it also works best whilst you are outside.

DiskSpeed
Update: Unfortunately, my go-to DiskSpeed app has been discontinued. You can now test DiskSpeed inside the PCMark app above using the "Storage 2.0 module".
Whilst the App (Disk Speed/ Performance Test) isn't winning any awards for its clunky design, it's still a great tool for testing how fast your new smartphone or tablet's internal storage is.
It works by reading and then writing large data files and measuring the time taken. The file size should be at least double the size of the devices RAM to avoid any RAM cache interference
Overall, it's simple and it works, giving reliable read and write speeds for any Android Smartphone or Tablet. Completely free, you can download the app directly from Google Play.
Vellamo Mobile Benchmarking (Qualcomm)
Since Qualcomm has partnered with AnTuTu they have removed the Vellamo Benchmarking app from the Google Play Store. The Vellamo benchmark was used to run a variety of HTML-based tests to measure real-life Android Performance.
If you downloaded Vellamo previously, you should still be able to access it via your cloud app list in the Android Play Store.
Availability: Discontinued.
Some popular Benchmarks shown on the Xiaomi Mi Pad 3
Phone Manufacturers Cheating on Benchmarks!?
Yeah, you heard that right! Not unlike the Volkswagen emissions scandal, smartphone manufacturers have also been caught creating CPU overclocking profiles to gain better benchmarking scores.
The smartphones in question would recognise when a benchmarking test was happening and tweak the CPU performance enabling it to receive a higher score.
Unfortunately, there's not a lot the average consumer can do to prevent this apart from put our trust in the developers of the benchmarking apps to detect the artificial CPU throttling and remove the benchmarks.
Why do we Benchmark phones?
Benchmarking a single phone or tablet means nothing on its own. It's only once we have a large dataset of benchmarked devices that it becomes truly useful. It allows reviewers like myself and tech enthusiasts like you to have a standardised metric for the performance of their devices.
Often larger manufacturers of Phones and Tablets try to obscure and hide the components specs inside their lower and mid-range devices coughsamsungcough.
Having Android Benchmarks allows means anyone can benchmark their mobile devices and get fair and honest feedback on the real-world performance of their next tech purchase.