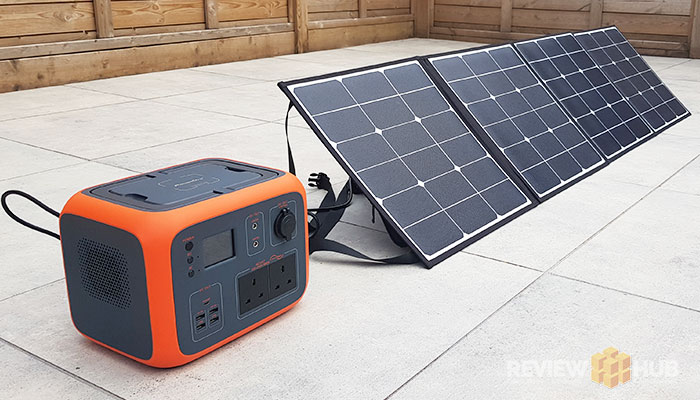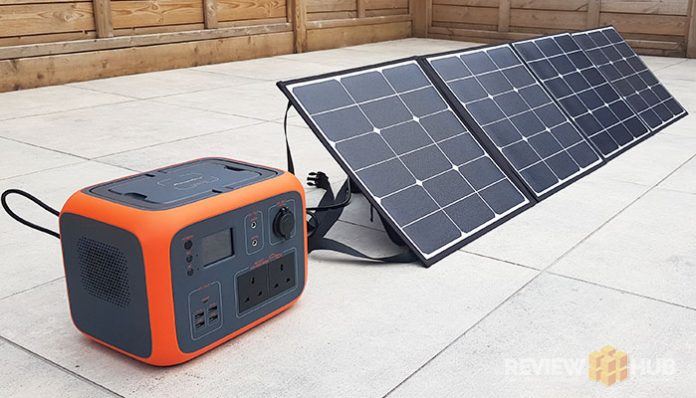 Finally, a sexy looking generator that I can show off to my friends!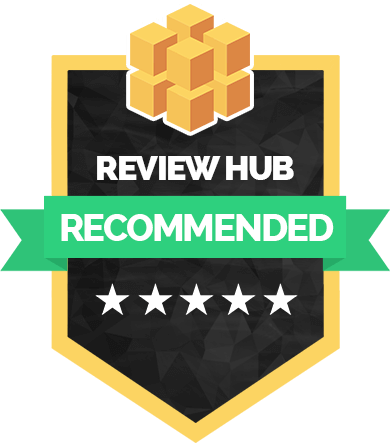 Just kidding, but I think we can all agree that the Poweroak AC50 is one premium looking portable generator. And a lot more pallet-able than the Poweroak EB240 (amazon) which looks like it belongs on an air ambulance.
But we're not going to fork out £500 big ones for looks alone. So let's take a quick look at the Poweroak AC50's pro & cons, then deep-dive into its features before finally deciding whether it gets a prestigious 'Review Hub Recommended' badge of honour? or a big fat 'One To Avoid' sticker.
Hint Hint, by the end of this review, you'll know exactly why we highly recommend the Poweroak AC50 – 9/10!
Pros
Solid Construction
Large Capacity (500Wh)
LG Battery Cells
Plug & Play Solar
Cons
No IP Rating on AC50 Unit
US/UK Pricing Disparity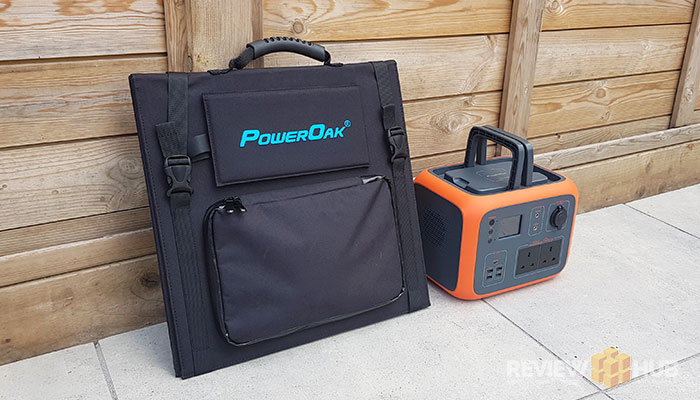 So who exactly is the AC50 for? And is it the right size generator for you?
In terms of power size, this portable generator offers 50Wh (Watt hours) or 137700mAh of energy from Lithium-ion cells. You can connect to this humongous powerbank using the following:
2x UK Standard Plug* – AC Out (220-240v) (Max 300w)
Car 12V Port – DC Out (12v) (10amps)
2x

DC7909

– DC Out (12v) (3amps)
USB PD Type-C – 45 Watts (Laptops &
4x USB Type-A – 15 Watts
Wireless Qi Pad – 10 Watts
*Ports are regional. So don't worry, Poweroak also offers an American version if you're over the pond and also an EU version.
If you're looking to charge your phones, gadgets, laptops, fans, lights, portable TVs or even your portable projector (perfect for those camping trip), then the AC50 (Amazon) has you covered no problem! You can plug all these in at once and still not reach its power limit.
What are the limits? The AC UK Plug ports have a maximum output of 300w and the whole unit has a combined output max of 450w.
So sorry ladies, you can't take your hairdryer on that next camping trip. And also kettles are still a no-no. If you're looking to use the AC50 with wired power-tools, you'll need to carefully check the wattage and make sure it's under 300w. However, if you use wireless tools, it easily has enough juice to charge up the spare batteries.
To give a little more perspective, the 500wh size will charge the following:
Laptop (50wh battery) – Can charge for 8-9 hours.
Smartphone – Charge 40-45 times at 10watts
TV (60w) – Watch for 7-8 hours
Your mileage may vary as it depends a lot on the power-draw of your electronics, and power transfer is never 100% efficient.
Okay, now that we've the AC50's power scenarios out of the way, you'll know whether this big bertha has enough juice for you.
So let's talk Build Quality, Bonus Features & Solar Panels!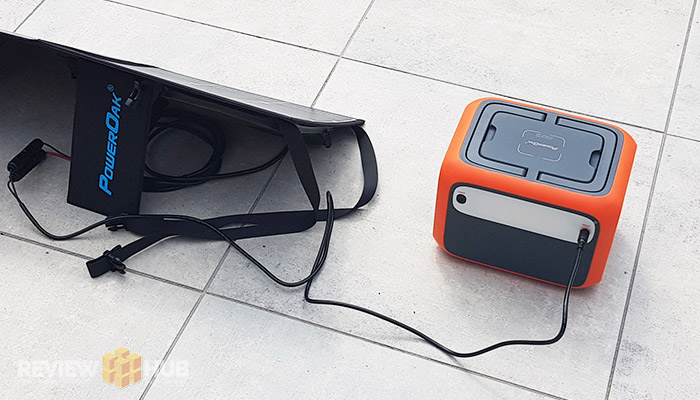 Solar Panels
What makes this portable battery beast so special is how easy it is to set up and then connect to a solar panel. Included in the kit are all the cables you need to hook it up in seconds and start solar charging the AC50. Included in the box is a DC (DC7907) to MC4 connector cable that then connects to the dual MC4 connections on the panel.
A nice design choice by Poweroak was to include loops on the end of the panel. This lets you easily hang it off your tent, a tree or your van to better capture sunlight.
The unit itself feels sturdy, premium and comes with an IP65 rating which will protect it against light rain and moisture which is perfect for a portable installation solar panel. It also includes a carry case to protect the cells during transportation and storage.
The Poweroak solar panel uses monocrystalline cells with a maximum conversion rate of 23%. This gives it a maximum of 20volts at 6 amps which equates to 120W peak performance. On a reasonably high UV day, you can realistically expect this panel to charge the AC50 in around 8-10 hours in the UK. It's worth noting that if you use a higher wattage solar panel, and the input goes over the peak 120w then the AC50 will stop charging.
Adding the solar panel to the AC50 is watt takes this generator from beasty powerbank to sustainable off-grid power solution (comment if you noticed my watty pun). And that's watt really gets me excited, the ease and little effort needed to achieve this with Poweroaks potable generator setup.
Poweroak Solar Panel Tested – Amazon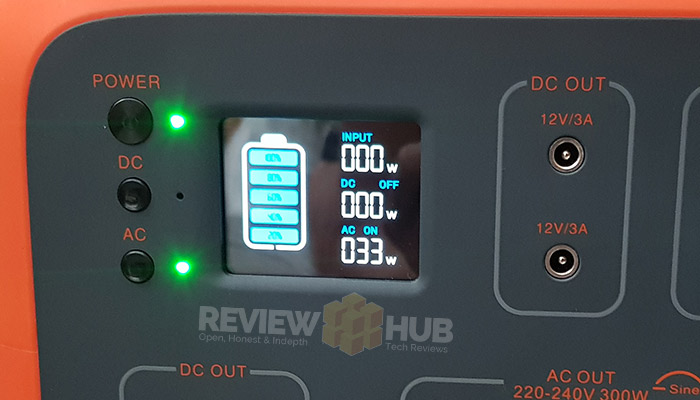 Design & Build Quality
I'm a fan of the orange & grey design of the AC50, but for those that find it a little garish, there's is an all grey model available. Although finding this version online is a little more difficult.
Material-wise, the orange edges are made from a rubberised texture plastic that will protect the unit from every-day wear & tear and the occasional bump. With the weight of this unit though, I wouldn't like to drop it. The outside grey panels are made from the slightly textured premium plastic that does pick up little scratches and marks.
There is a rather retro, throwback to my 90's shellsuit days, carry case included. It seems an odd choice to pair with this premium-priced, premium generator, but hey-ho, it's no deal-breaker. The internal support structure of the unit is metal, but there are no obvious clues to this from the outside.
On the bottom, we have four heavy-duty rubberised feet to keep the unit firmly in place and give a little ground clearance.
The carry handles are plastic and feel very sturdy easily supporting the hefty mass of the AC50. Pushing extremely hard on all the plastic panels to find any weak points showed off the units top-notch build quality & sturdiness. The only small amount of give I could find on my unit is on the back panel closer to the LED light.
Overall, I'm a fan of the Poweroak AC50's modern design with its curved corners and bold accents. The build quality is excellent with some interesting choices of materials that offer both protection and give it a human tactile feel.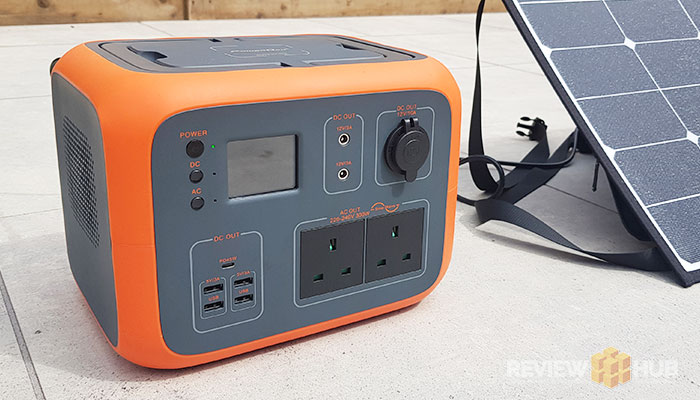 Bonus Features
As nice touch that the AC50 includes is wireless charging. Place your phone on top of the generator and it'll automatically start charging your phone at 10 watts without any wires or mess. It's not a fast as the PD port, but you don't have to fiddle around for 10 minutes to find your lightning cable.
On the rear we also get access to high powered LED torch Torch that has multiple brightness settings and an SOS mode.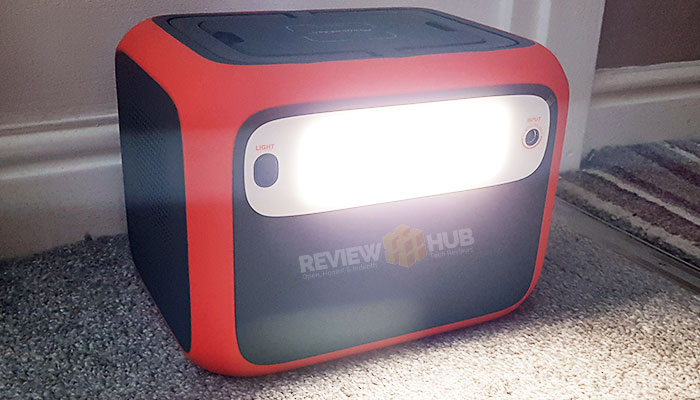 Charging the AC50
While we've dived into charging the AC50 with solar panels already, this isn't your only option. Included in the package is mains outlet charger which will charge the unit fully in around 7 hours.
You can also charge the device via either a 12v or 24v car outlet, although you can't get a full charge from the lower-powered 12v output, only 50-70%.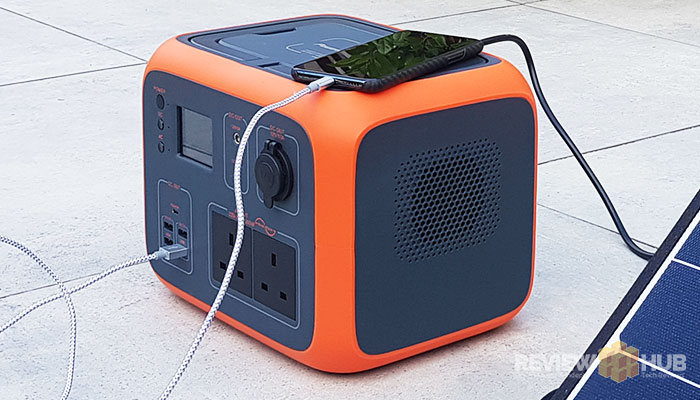 Poweroak AC50 Portable Generator – The Verdict
While I can't yet comment on the longevity of the AC50 portable generator, our first few weeks using this beastly powerbank have been nothing short of exceptional.
With the AC50 you're getting a hassle-free fully functional lithium-ion generator that's perfect as a home-power backup, camping companion or for any of your off-the-grid hobbies. The inbuilt wireless charging and super-bright LED torch are also great touches. And once you connect this to your solar panel setup, you can produce endless clean energy on-the-go. What's not to love?
Do we recommend the Poweroak (Maxoak) AC50 Portable Solar Generator? It's a yes! 9/10.
Check out their official Amazon Store & buyer reviews: