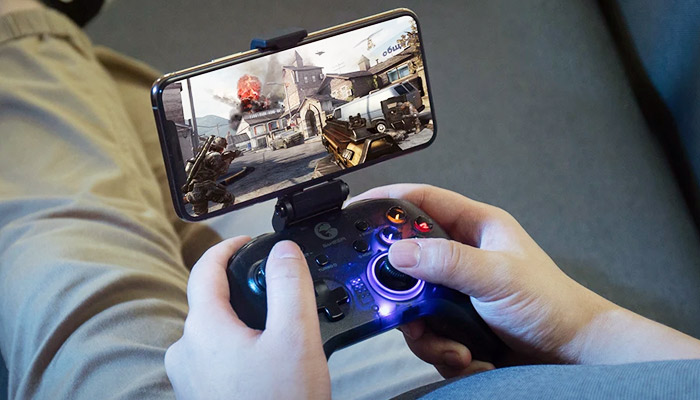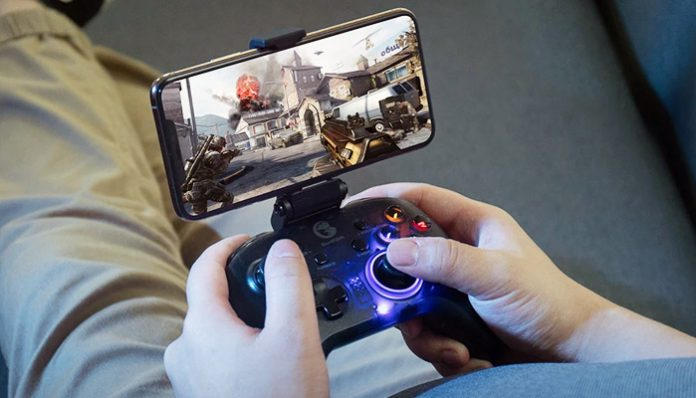 Is the all-new GameSir T4 Pro a worthy controller replacement? Let's find out.
Whether you're looking for a 2nd, 3rd or 4th controller for your Xbox, Playstation or Switch, you'll inevitably come across some much cheaper 3rd party options. While the allure of saving yourself a few quid might have you thinking "there can't be that much difference between this cheap controller and the expensive official one, can there?'.
And that's exactly what this review is here for, to let you guys know whether the Gamesir T4 Pro is worth your hard-earned cash… Or whether you should just fork out the extra for an official 1st party controller.
… The Gamesir T4 Pro has potential but with a few bIG flaws …
The benefit of 'Pro' version T4, over the non-pro, is that it'll work on PC, Android, Switch, Playstation & Xbox. You just hold down either a,b,x,y + home to select the right connection mode. It's simple and it works.
Related: Review Hub – Game Controller Reviews
You can check out the latest prices below before we dive into the pro & cons.
Ergonomics & Build Quality
⭐⭐⭐⭐
Buttons
⭐⭐⭐
Connectivity
⭐⭐⭐⭐
Battery Life
⭐⭐⭐
Overall Score
3.5 / 5.0
The Good
Lightweight
Multi-platform
Customisable Buttons
6-Axis Gyro
Super Comfortable
The Bad

Loud Clicky A,B,X,Y
Bumper/trigger Buttons
PC Receiver is Huge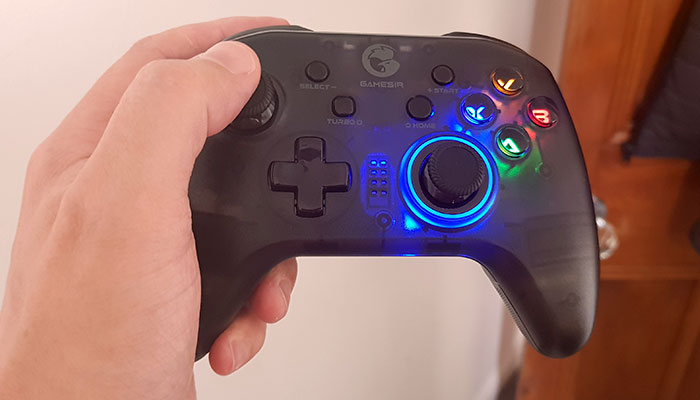 Gamepad Design & Playability
There's no denying the T4 Pro has an almost identical form-factor to the Switch Pro controller. No worries though as the Switch stole most of its design from Xbox anyway. And this is a good thing as it's the most popular gamepad design for a reason, it's extremely comfortable to hold for hours on end.
Unlike the super heavy Switch Pro controller, the T4 Pro is extremely lightweight at 180g, battery included (similar to ps4). Some people prefer the heavier design as it can feel more premium, but for me, I prioritise the comfort of a lighter design.
The plastic shell isn't the most premium, nor the cheapest, it sits somewhere in the middle. Where your fingers wrap around the back, the plastic changes to a dimpled texture pattern  for enhanced grip, which is nice. It's worth noting that if you're a sweaty handed game-addict, you might find the smooth plastic on the front can get a little slippy.
The transparent design is a double-edged sword though. While it certainly looks cool, the thinner plastic doesn't ooze the quality of 1st party controllers in your hand.
And while it certainly looks the part with the customisable LEDs and that classic Xbox shape, what about the buttons and tactile feedback?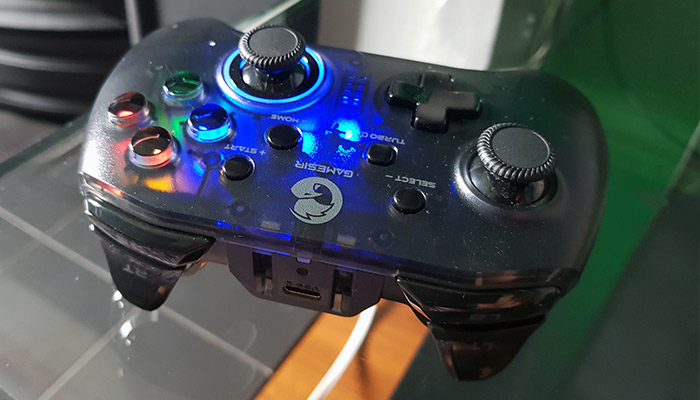 The analogue sticks are accurate and respond well. They're coated with a soft-touch plastic so your fingers don't slide off and the edges have a groove so you always know where your thumb is without having to look. The d-pad just feels plain cheap, it isn't a joy to use at all.
Now onto what I consider the biggest con if you're thinking about grabbing yourself a T4 Pro. The a,b,x,y buttons and bumper buttons. The buttons themselves require just a little too much pressure than feels normal. Not only this but they have a very loud click to them.
Now I can get used to the pressure adjustments, but the constant click click click is almost a deal-breaker for me. I've been testing the controller for a few weeks now without any change on noise levels or easing up of the pressure needed. I had hoped that the rubber pad underneath would loosen up over time.
Onto the bumper/trigger buttons (RB, RT, LB, LT) and it's the polar opposite. There's too little pressure making them push in far too easily and, again, feel a bit cheap.
Let's talk about those M1, M2, M3 & M4 rear buttons. Prepare to be confused when you accidental press these as they start off being mapped to a,b,x,y. Don't worry though, they're easy to remap to more useful commands and will hugely improve your gaming. What's more is that these extra buttons are normally reserved for high-end gamepads (think Xbox elite), so it's refreshing to see them here on a budget controller. I just wish they didn't use a rocking mechanism (two buttons sharing one rocker) as it increases the chances of accidental presses.
Finally, we have a 6-axis gyroscope built-in to control games like: Driving in Mario Kart & Aiming the bow in Zelda Breath of the Wild. And we also have a decent vibrate motor which you can customise the intensity of.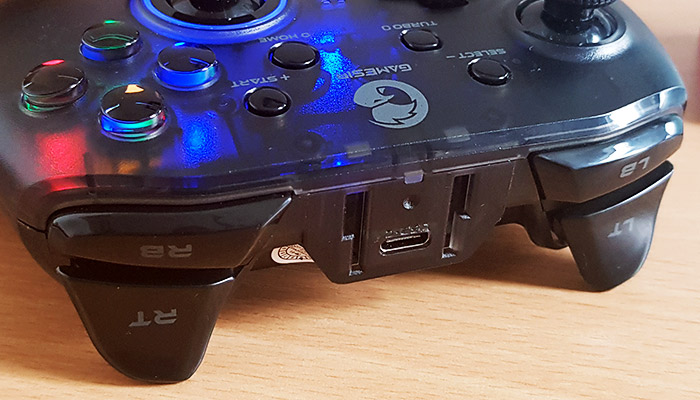 Battery Life & Connectivity
With the LEDs turned off you can expect to get around 8 hours gameplay. With the LEDs on, you can cut a few hours off this. Not bad, but not awesome either. You can fully charge this controller in just under 2 hours though.
Connectivity is excellent. It easily to connects via Bluetooth or the 2.4GHz dongle to phones and all consoles with full functionality.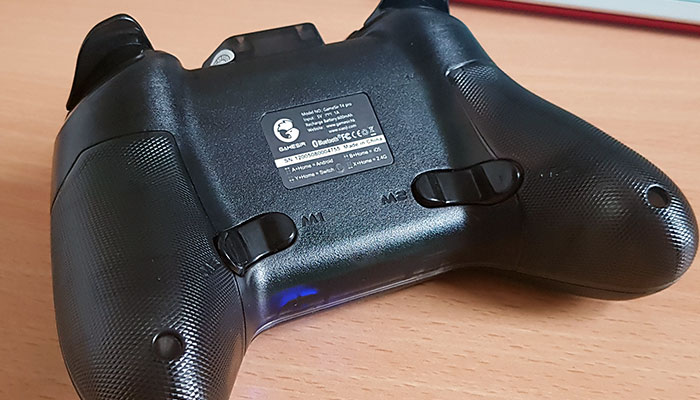 What's in the box?
In the box, you get the controller, a guide (well worth a read as it has the hidden options for changing LED brightness, changing rumble intensity, etc), Type-C charging cable, and the huge PC Dongle.
GameSir T4 Pro – The Verdict
With the asking price of £37.99 (UK Amazon) & ($37.99 US Amazon), here in the UK, the T4 Pro seems a little pricey. Yes, the connectivity is excellent and some might find the LEDs cool, but it fails on the essentials when compared to 1st party controller.
Does it mean that you shouldn't buy this controller? It depends. If you really need to save the money, then its still an okay controller. But, if you can save up the extra £15/$15 then go for a 1st party Xbox of Switch controller instead.
If you don't mind the Playstation form factor, the 8Bitdo SN30 Pro+ offers much better tactile feedback on the buttons and triggers for around the same price.
While the GameSir G4s was one of our all-time favourite 3rd party controllers, we're going to have to skip on the T4 Pro.