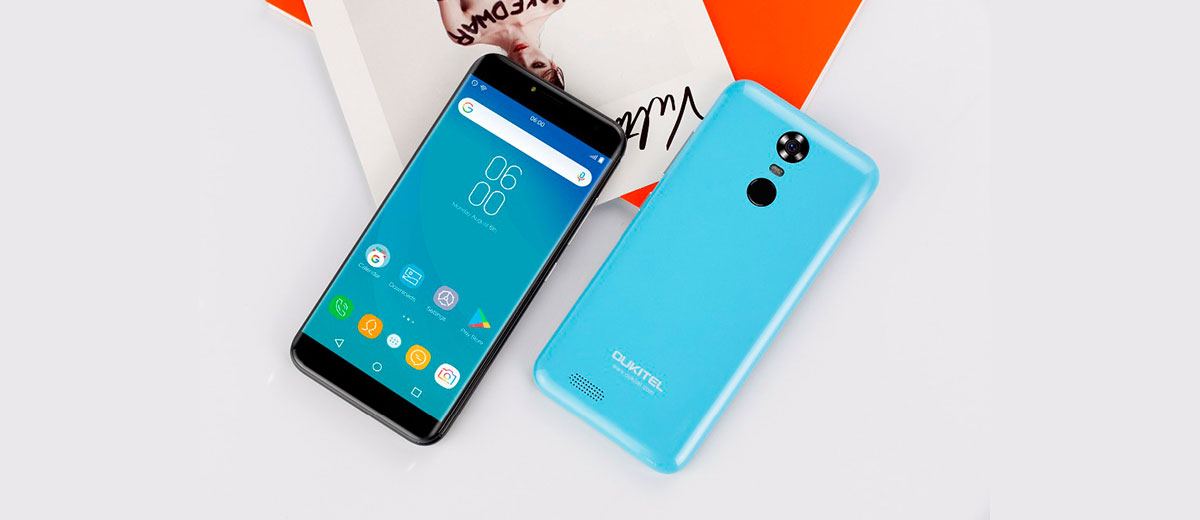 The Oukitel C8 4G is colourful, lightweight & budget-friendly… but it's got tough competition…
OUKITEL's latest offering is the super budget C8 4G, the upgraded version of the C8 which was released earlier this year. The updated 4G version is a faster, has improved graphics and most importantly is 4G-ready.
[column size=one_half position=first ]
What hasn't changed is the same impressive 18:9 ratio 5.5 inch display used in the original C8 but the new version has managed to shave off 10 grams in weight. Weighing only 155g is impressive considering that it's packing a 5.5 inch display and a 3000mAh battery.
This is partly thanks to the high screen-to-body ratio. While the bezels are a standard size, OUKITEL has shrunk the top and bottom areas of the phone considerably. The 18:9 ratio also means that using it one-handed is a breeze… leaving you to sip your festive mulled wine with the other!
[/column]
[column size=one_half position=last ]
…18:9 Aspect Ratio with a Budget Price-Tag! …
[/column]
But… smartphones in the super-budget price bracket are now up against some tough competition. Our recent review of the UHANS MX showed us what's possible when you're on a shoestring budget…
The C8 4G takes a different tac using it's bold colour choices and the added 4G capability to garner it some attention. But is it enough to become Review Hub Recommended?
You're about to find out as I take an in-depth look at how the OUKITEL C8 4G performs when it comes to Design, Display, Build Quality, Performance & Camera specs…
Want a smartphone that can match your colourful lifestyle? Check out the best OUKITEL C8 4G deals below…
[column size=one_half position=first ]
Pros
18:9 Aspect Ratio
High Screen-to-body-ratio
5 Colour Choices
Expandable Storage
Low Price-Tag
Lightweight (155g)
[/column]
[column size=one_half position=last ]
Cons
No fast charge
Low PPI
No notification LED
Charging port on top
Thick 10.2mm
[/column]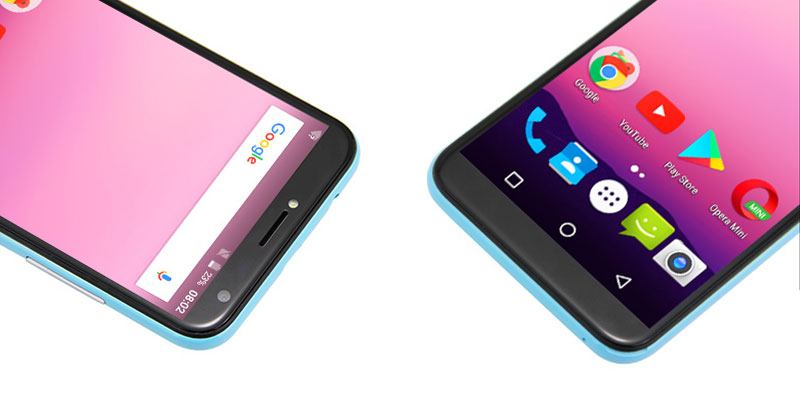 Design, Display & Build Quality
For all you extroverts out there, the OUKITEL C8 4G is available in 5 different colours! Too often we're stuck with boring grey, midnight grey and pebble grey… snore… so it's refreshing to see the OUKITEL C8 standing out… I'd pick the pink in a heartbeat!
Like most other budget phones in this price range, we're treated to a plastic battery cover with the only metal being the frame holding the C8 4G together. The benefit of a plastic back is that it helps to keep the weight of the phone down…
… and OUKITEL has done a great job with the weight, unlike a lot other budget mobiles which regularly hit 200 grams, they've kept the C8 4G at 155 grams. While it may be light, it's still on the chunky side when it comes to the thickness measuring in at 10.2mm.
[column size=one_half position=first ]The OUKITEL C8 4G display is bang on trend choosing a 5.5 inch screen with an 18:9 aspect ratio. While the colours are vibrant and the white balance is even, the display panel does use a strange 1280 x 640 resolution. With a few quick calculations… this gives the C8 4G a rather low PPI of 260…
But… when I remind myself of the price you can bag yourself a C8 4G for… I think I can forgive the low PPI. It'd have been nice if OUKITEL has chosen a 1440×720 display for the C8 4G… but… we can't win them all.
[/column]
[column size=one_half position=last ]
… grab yourself the C8 4G… a budget all-rounder …
[/column]
Unusually, the OUKITEL team have chosen to go with Dragontrail Glass, rather than the more mainstream Gorilla Glass. No… it's not something Jon Snow cooked up in Game of Thrones… it's actually the Japanese equivalent to Gorilla Glass.
I don't know all the boring technical details… but…  let's be honest now… a Dragon would so "whoop yo" Gorilla's ass in a 1-on-1! Comment if you know more…
One strange design decision from OUKITEL is that they've put the charging port on top. I'm not the biggest fan of this as, (A) – it's awkward… and (B) – it's going to be upside down if you use any Micro-USB docks / night stands…
Overall, you're getting a great looking budget phone with a mediocre resolution. What makes it stand out is the screen-to-body ratio OUKITEL have achieved by slimming down those top and bottom bezels.
Screen Tech Specs: 5.5 inch, 1280 x 640 Pixel screen, 260 PPI, 2.5D Screen, 18:9 display,  Capacitive buttons
Colours Available: Black, Gold, Pink, Blue, Purple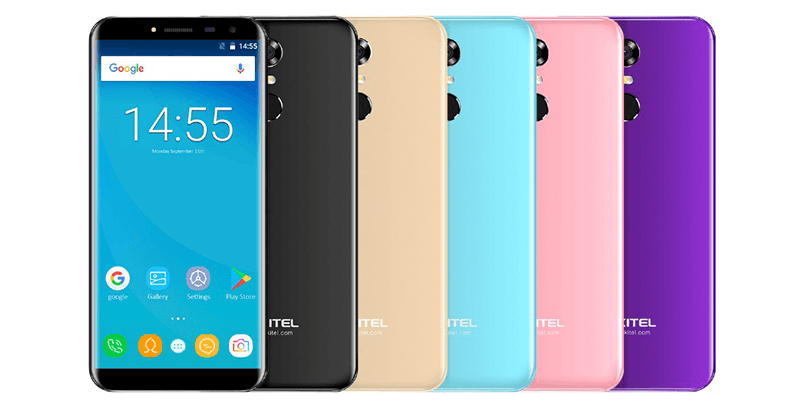 Performance
We don't often see anything special when it comes to performance in the sub £100 price bracket. The C8 4G follows this trend by running on the budget quad-core MediaTek 6737 chip MediaTek CPU. Backing up this is 2GB's of RAM and 16GB of onboard storage.
You do have the option of upgrading the storage with a micro-SD card with the maximum card size being 64GB's.
The onboard graphics chip is the ARM made Mali-T720 which is a staple for many budget Android smartphones. It's a capable albeit low-end GPU (graphics processing unit) that will play pretty much all but the most graphically intensive Android games. The lower resolution on the C8 4G helps with this as there are less pixels that need pushing around…
So what does this all mean for you?
If you've always got lots of apps open and are a keen gamer the C8 4G might struggle to keep up… but… if you're only a light Android user who mainly uses social media, social chat, web browsing and YouTube, the phone will run smoothly.
Plus… we've put together some top tips for getting the most out of your Android Smartphone… The Best Android Speed Tips
CPU: MTK6737 Quad Core 1.3GHz
GPU: ARM Mali-720
RAM: 2GB
Storage:16GB (Can extend with Micro SD to 64GB)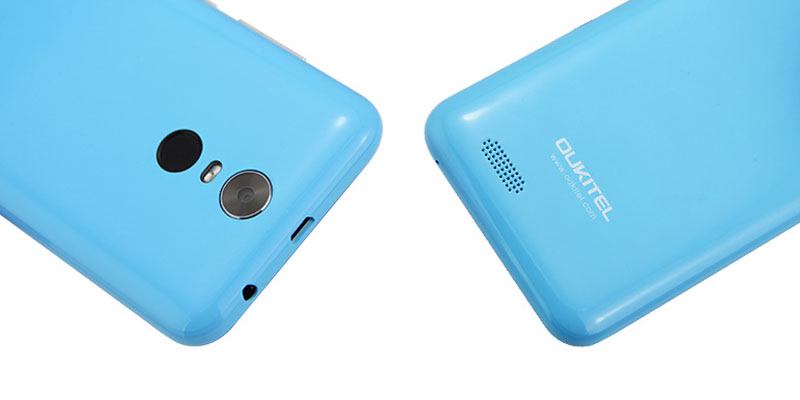 Camera Specs
I haven't had a chance to get hands-on with OUKITEL C8 4G camera yet, but I'll update this review with the full samples album soon. I've posted the basic camera specs below.
[column size=one_half position=first ]
Rear Camera:
[/column]
[column size=one_half position=last ]
Front Camera (Selfie time):
[/column]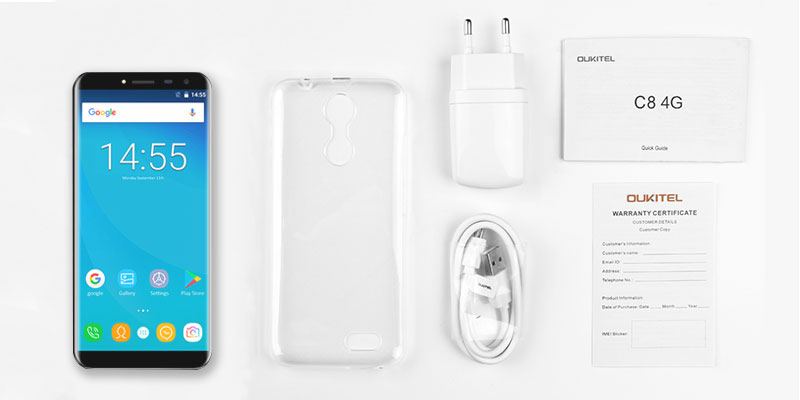 What's in the box?
The OUKITEL C8 comes in a compact bright orange box. Inside you'll find the OUKITEL C8 4G smartphone, Instruction manual, power charger, USB to Micro-USB cable and a clear transparent case.
OUKITEL C8 4G – The Early Verdict
It's great to see that OUKITEL has managed to create a lightweight 4G super-budget smartphone that's equipped with an 18:9 5.5 inch display. While the resolution may not offer the crispest images or text, the colour reproduction is decent.
What takes the OUKITEL C8 4G from being a run of the mill budget Android device… to an exciting purchase?.. it's the impressive screen-to-body-ratio. Oukitel has done a great job in shrinking the top and bottom bezels to create a display focused budget smartphone.
Has the OUKITEL C8's colourful but display-centric design got you excited?
Tech Specs & Connectivity
Looking for the OUKITEL C8 4G Tech Specs? We've got you covered in our full details table below. And don't forget if you've got any questions just head to the comments section.
UK Network Coverage? Yes, the OUKITEL C8 4G comes with full UK Support for all carriers.
| |   |
| --- | --- |
| Smartphone | OUKITEL C8 4G |
| Screen Size | 5.5 inch |
| Pixel Density | 260 |
| Screen Resolution | 1280 x 640 Pixel screen |
| Screen To Body Ratio | |
| Screen technology | 2.5D Arc Screen, 18:9 display, capacitive buttons, Dragontrail glass |
| Thickness | 10.2mm |
| Weight | 156g |
| Material | Plastic |
| Colors Available | Black, Gold, Pink, Blue, Purple |
| Storage | 16GB (Can extend with Micro SD to 64GB) |
| Processor (CPU) | MTK6737 Quad Core 1.3GHz |
| Graphics (GPU) | ARM Mali-400 MP1 |
| RAM | 2GB |
| Android Version | 7 |
| IP Rating (Water, dust) | NO |
| Micro-SD Card Tray | YES |
| Notification LED | NO |
| Finger Print Sensor | YES (rear facing) |
| Infrared | NO |
| USB Type | Micro USB |
| 4G Bands | FDD-LTE 800 / 900 / 1800 / 2100 / 2600MHz |
| 3G Bands | WCDMA 900 / 2100MHz |
| 2G Bands | GSM 850 / 900 / 1800 / 1900MHz |
| SIM Support |  1 x Micro SIM + 1 Nano SIM |
| WiFi | 802.11 b / g / n |
| GPS Tech | A-GPS, GLONASS, GPS |
| Bluetooth Version | 4.0 |
| NFC | |
| Sensors | Ambient Light Sensor, Gravity Sensor, Proximity Sensor |
| OTG | YES |
| Battery Size | 3000 mAh |
| Fast Charging | NO |