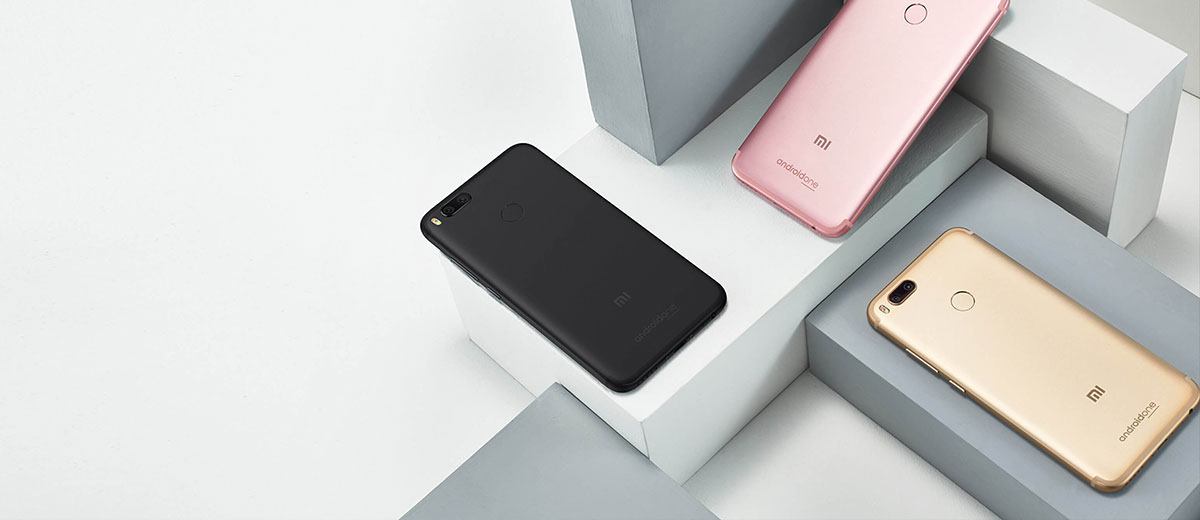 The Xiaomi Mi A1 is Google & Xiaomi's love-child…
Have Your Cake and Eat It! The Mi A1 offers the value-for-money that imported phones bring while doing away with any heavy bloated Android overlay! Oh… and did I mention it's one hell of a good smartphone!
The Mi A1 is the Chinese Tech Giant Xiaomi's first smartphone to be released without their custom Android overlay, MIUI. Instead it's a part of Google's Android One programme which puts smartphones on a digital detox by providing them with a streamlined completely stock version of Android.
Xiaomi Hardware… Meet… Pure Android Software…
I think Google's been feeling a little guilty since it decided to end it's affordable line of Nexus devices and only focus on the high-end Pixel… So it got together with Xiaomi and transformed the popular Xiaomi Mi 5X into the Xiaomi Mi A1.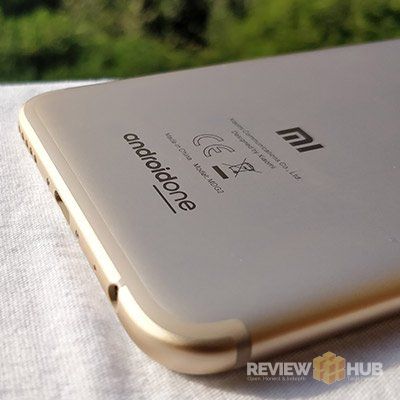 The Mi A1, thanks to Android One, receives regular security updates and is also guaranteed an update to Android Oreo 8.1 in early 2018. It's finally an Android One smartphone that you'll actually want…
Guilty or not, the latest stats show that less than 20% of Android devices are running Android 7, never mind the latest Android  8 Oreo… so the Android One movement is a small but important one.
I've been using the Xiaomi Mi A1 as my daily driver for a few weeks finding both pros & cons, but even so… The Mi A1 could well be the hottest contender for my mid-range smartphone champ 2017!
Let's check out the Xiaomi Mi A1 Display, Build Quality, Performance, Software, Camera, Connectivity & Battery Life in this full hands-on review.

The Good

Guaranteed Android Oreo Update
Premium Aluminium Body
Gold / Rose Gold – Looks fantastic
Solid Mid-Range Performance
Monthly Software / Security Updates
Excellent Camera Quality
The Low Price-tag
The Bad

Missing Double-tap-to-wake
White only LED Notification
Capacitive Button Backlighting Uneven
Missing On-Screen Button Option
Missing Fast Charge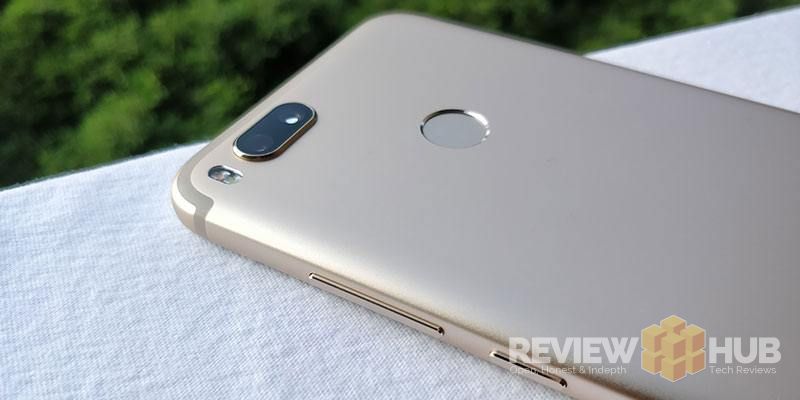 Design, Display & Build Quality
Design-wise the Xiaomi Mi A1 takes a lot of its inspiration from the iPhone 7 with an all aluminium unibody plus antenna bands running along the top and bottom. Unlike some iPhone copies… the Xiaomi Mi A1 feels premium in your hand and I can also testify about the excellent build quality.
Upon close inspection, the antenna bands are seamlessly integrated into the metal unibody with no distinguishable join to be found. Even gently running your finger back and forth gives no clues to the injection moulding construction.
While it doesn't reach the heights of Apple perfection as the side buttons have a small amount of wiggle room and the capacitive backlighting is a little uneven.. it doesn't matter. Why? because when we perform the price Vs build-quality equation that Mi A1 scores a solid 9/10!
Looking at the full-HD 5.5 inch display is a joy. Colours are rich and text is extremely crisp thanks to the PPI (pixels per inch) score of 401. Even in bright sunlight, the screen is still viewable at max brightness.
The display colour profile is slightly more muted compared to the oversaturated look we see in most flagships today. Usually you just head to the phones calibration setting in the Android options… not so with Android One Mi A1… the streamlined OS has been stripped of display customisation.
… Premium Aluminium Unibody to rival your iPhone …
Looking at the Mi A1… I'd like to see slightly slimmer bezels. The bezels are made up of three components, a small black border around the screen, the actual bezel and then the metal unibody curves out on top of this. This all adds up adding a slightly dated feel…
But… at only 7.3mm and weighing only 165 grams, the cold aluminium unibody certainly feels great in your hand. It's a full 10 grams lighter than the similarly-sized Redmi Note 4.
Out of the three colour options, were much more impressed with the Gold & Rose Gold… feeling white front and lighter aluminium offered a more premium end product.
While the Mi A1 isn't pushing any boundaries in screen technology or design… it is offering you a very premium, very well-made smartphone that feels very iPhone-ey…
Display Specs: 5.5 inch LTPS display, 1920×1080 resolution, 401 PPI, 450nit brightness, 10-point multi-touch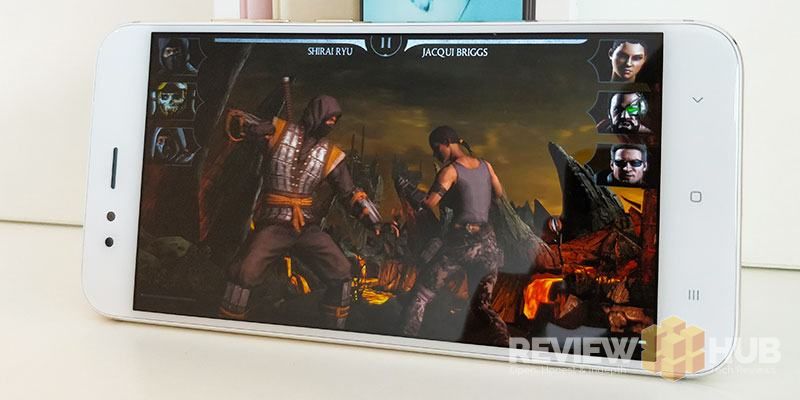 Performance & Gaming
I've been using the Xiaomi Mi A1 as my daily driver for the past 2 weeks to get a real feel for how well this phone can perform with Qualcomm's mid-range Snapdragon 625. In theory, since we're getting the purest version of Android, we should also be getting the smoothest, most stutter free experience capable from the Snapdragon 625 CPU.
In reality, I can honestly say that the A1 performs amazingly! It doesn't keep up with the 835 in the OnePlus 5, but easily matches my rather bloated Samsung Galaxy S7. Apps open and close quickly, the 64GB of onboard storage is super fast and I've had no slowdowns whatsoever.
A quick blast of Unkilled was enough to determine that the Snapdragon 625 coupled with the Adreno 506 GPU is more than capable of blasting off zombies' heads with no lag or stutter!
To really push this mid-range master, I downloaded Mortal Kombat X which is a 3D Graphics Powerhouse and also Modern Combat 5 which is a  staple in gaming benchmarks. Mortal Kombat & Modern Combat 5 were no match for the Mi A1 with both games playing smoothly!
… can this phone do no wrong!? the Mi A1 is great at Games as well …
Another performance bonus you get from Android One's streamlined software experience is the amount of usable onboard storage. Having 58.25GB's left of the initial 64GB's storage is incredible. It's around 5GB extra compared to most smartphones without the stock Android OS.
One slowdown I have noticed with the Mi A1 is that sometimes the auto-brightness does take a couple of seconds to kick in. You'll notice this when travelling from indoors to outdoors while using the phone.
While the benchmarking stats below show the Snapdragon 625 is a capable chip, I don't think they tell the full story… having the streamlined Android One OS really does help to make the Mi A1 feel speedy flicking between apps.
With no overlays, bloatware & extra tasks going on in the background… the Mi A1 stands alert… ready to carry out your task straight away…
CPU: Qualcomm 625 (2GHz Octacore)
GPU: Adreno 506
RAM: 4GB
Storage: 64GB's (58.24GB usable) (read speed: 211MB/s, write speed: 210MB/s)
Expandable: Yes (Max 128GB)
Pokemon Go Test: Full Support (AR Works) (GPS Locks on fast)
AnTuTu Benchmark 6

3D – 13107
UX – 24084
CPU – 20928
RAM – 5230
Overall Score: 63349
Geekbench Score:
Single Core Performance: 873

Multi-Core Performance: 4245


Xiaomi Mi A1 – Android One Software
Manufacturers often like to add their own apps, cool features and all sorts of bloatware to their latest smartphones. For good or bad, these usually have a negative impact on performance…
Here at review hub, we see smartphones with the same CPU, RAM & Hardware perform differently due to the custom Android software overlays that have been added. What Android One offers is a pure version of Android without all the bells and whistles… which in theory… will speed up your mobile… especially for lower-end devices.
The second benefit you'll be getting with an Android One device is monthly security updates and, with the Mi A1, a guaranteed upgrade to the Android Nougat.
Win Win Right?
Well not always… there are consequences that come with the software slimming process that is needed to get a phone to its Pure Android format. You could find you're missing some features you once held dear…
Since Xiaomi Mi A1 has gone through this process it's missing double-tap-to-wake, on-screen button options, screen calibration and you also have access to the Xiaomi App store. These are all available on its MIUI Mi 5X counterpart.
Even so… I still think it's a price worth paying for the added security and regular updates. I'd love to hear your thoughts on the Google One program, so leave a comment at the end with whether you'd purchase a Google One smartphone?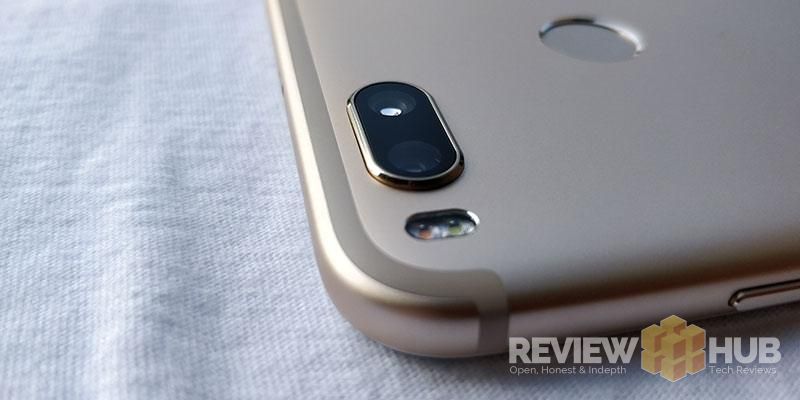 Dual Cameras / Photography
First impressions of the Xiaomi Mi A1 are great. The dual-camera setup uses the same software as the Mi 6, and while not quite up to the same standard, the photos I've taken with the Mi A1 are still impressive.
See below for a close zoom of the same scene taken on the Mi A1 (left) and Mi 6 (right). Considering the Mi 6 will set you back around 50% more than the Mi A1, I think we're onto a winner.
You can see out full Xiaomi Mi A1 camera samples album below and decide for yourself whether it's a capable enough camera for your needs!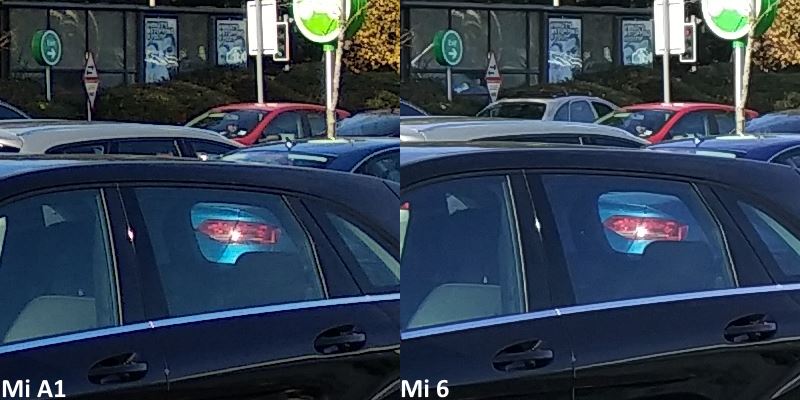 Included is Portrait mode thanks to the rear dual-cameras and I found the results to be very good. As with the majority of (non-flagship) smartphone cameras, the Mi A1 does struggle when it comes to indoors or low-light conditions.
Trying to capture some photos of my kids running around often left me with blurred photos due to the indoor lighting conditions. However, it does come with a powerful Dual-LED Flash to combat this somewhat… but… don't expect to take any award-winning night photos with the Mi A1.
Overall, it's a great smartphone camera that performs excellently as long as there's enough light. Which when in the UK in the middle of winter… is hardly ever…
Rear Camera:
12MP + 12MP Dual Cameras
f/2.2 + f/2.6 Aperture
2x Optical Zoom
Two-tone LED Flash
4K 30FPS video
720P 120FPS Video
Front Camera (Selfie time):
5MP
f/2.0 Aperture
Beauty Mode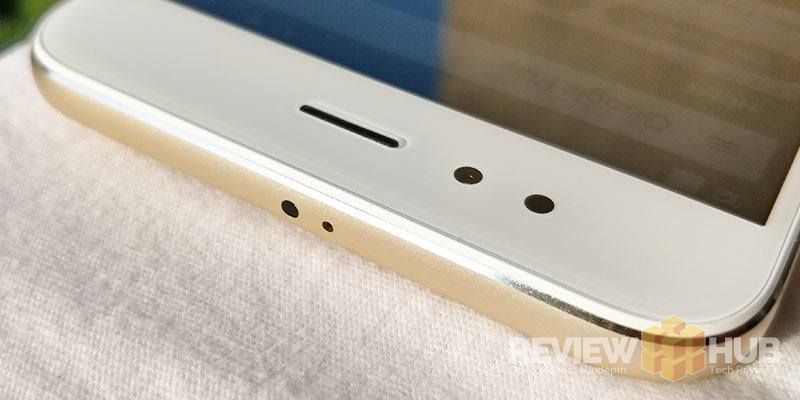 Fingerprint Scanner / IR Blaster
The rear-facing fingerprint scanner is easily reachable and easy to find. Successful unlocking the Mi A1 first-time around is at around 9/10 times.
You can register the same finger multiple times to improve this score further. From touch to screen unlock feels fast and is well under a second.
So far so good… but… Xiaomi has missed a trick as there's no double-tap-to-wake and the fingerprint scanner is on the back!??? This makes it awkward to unlock the Mi A1 when it's lying flat in front of you. Which for me… is all the time : (
Obviously… Xiaomi was sad to hear that I was sad… so they included my favourite feature to make up for it!
Yes, that's right! The Xiaomi Mi A1 comes with a fully functioning IR Blaster! It connected effortlessly to my LG Aircon & my Samsung TV and I've had hours of fun secretly turning my friend's TV's on…
You get the Xiaomi's Remote app pre-installed on the A1 and it's as simple as selecting the device type, then the manufacturer and then holding down the onscreen button until the device responds.
Full points to Xiaomi for including an IR Blaster on the Mi A1!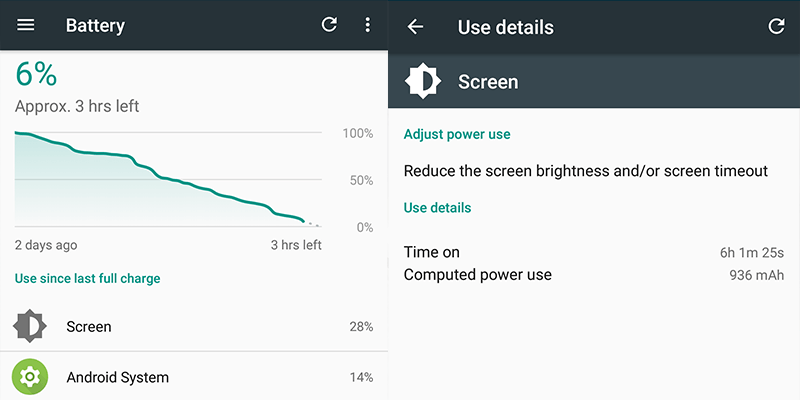 Battery Life
The streamlined Android One OS software coupled with the power-efficient Snapdragon 625 makes for one uber power-efficient smartphone! We've got ourselves some really excellent battery-life results.
Although it's a large bright 5.5 inch display and the battery capacity is only 3080mAh, the Mi A1 still managed to get over 6 hours screen on time over 2 days… impressive…
In fairness, this was mainly on WiFi but considering I had GPS on, had it connected to my Amazfit Pace the whole time and got addicted to the Facebook Track & Field 100M Game (00:08:512 in case you're wondering) it a great score.
What's not so impressive on the Mi A1 has a complete lack of fast charging. If you charge your phone every night then this won't bother you, but coming from the Dash Charge on the OP5, I felt a little short-changed.
Since the Snapdragon 625 CPU has support for Qualcomm's Quick-Charge 3.0 charging… finger crossed… this might be implemented further down the line…
Partly due to the aluminium body (fast heat dissipation), the A1 becomes hot when charging so I wouldn't recommend charging and using the phone at the same time. During normal use and gaming the phone only became a little warm, so it's a charging only heat problem.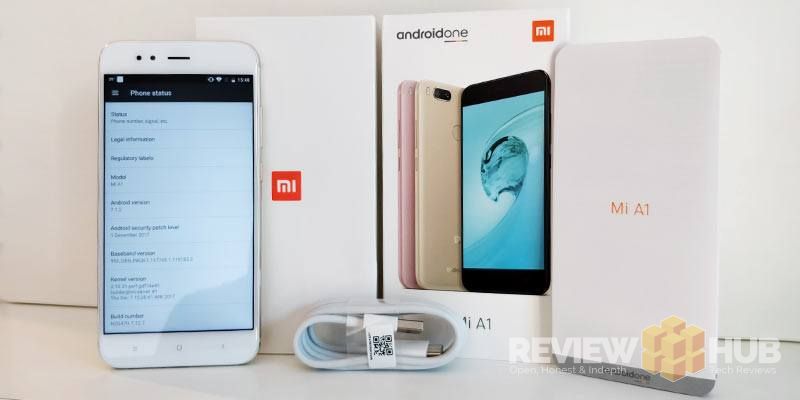 What's in the box?
The Mi A comes wrapped in an Android One outer cardboard sleeve that lists the tech specs. Underneath this, we reach the minimalist white Mi branded box. Xiaomi has been careful to copy Apple's packaging skills making you wait for years while the inner box slowly slides out… to reveal the Mi A1 phone.
That's about all the excitement you'll get though… as once inside… you'll only find a regional charger (two PIN EU for me), a simple Xiaomi instruction manual with the Google One Logo, a SIM pin and USB Type-C charging cable.
No case, no screen protector, no frills. So if you're planning on getting a Xiaomi Mi A1, then order yourself a screen protector and case at the same time!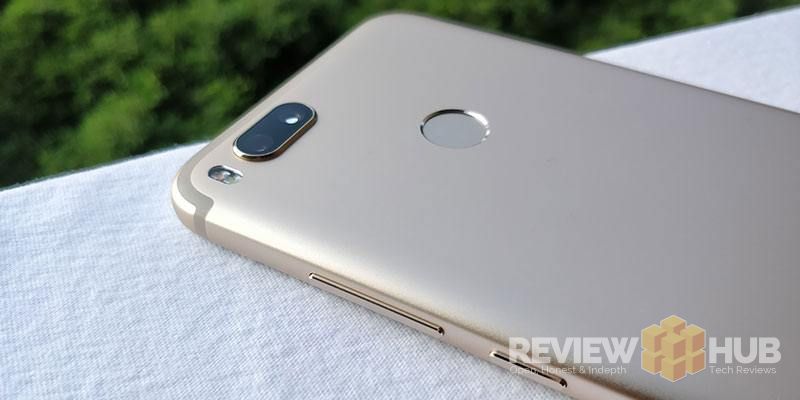 Xiaomi Mi A1 – The Verdict
While the Mi A1 is a bold departure from the traditional customisable Xiaomi MIUI experience, I'm sure it will win them a whole new set of fans. Coming with Xiaomi's trademark build quality and good mid-level performance, the Mi A1 is what I like to call a great all-rounder!
There's always usually a weak point with a mid-range smartphone, whether it's the camera, the build quality or battery life. Well not so with the Xiaomi Mi A1… it's a truly mid-range success.
While there are a few small drawbacks like the lack of fast charge and no double-tap-to-wake… they are small enough live with…
It feels like an iPhone, the camera quality punches above its weight and it comes with solid performance! What more could you want from a smartphone at this price-point?
Do I recommend the Xiaomi Mi A1? As long as you don't mind the lack of fast charge… absolutely… YES!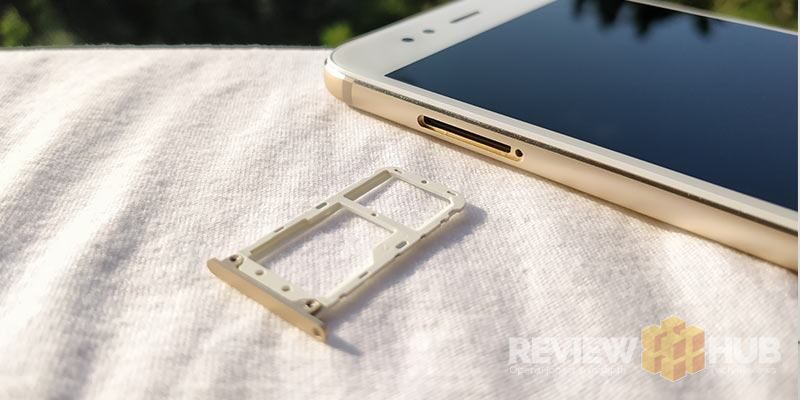 Tech Specs & Connectivity
You can find all the technical specifications for the Xiaomi Mi A1 smartphone below and if you've got any questions feel free to leave us a comment as well!
In terms of WiFi & Signal reliability, I've not had any issues with the Mi A1. It picks up the same signal as both the OP5 and Galaxy S7 and hasn't had any dropouts during calls.
UK Network Coverage? Yes the Xiaomi Mi A1 comes with full UK Support for all carriers.
| | |
| --- | --- |
| Smartphone | Xiaomi Mi A1 |
| Screen Size | 5.5 inch |
| Screen Aspect Ratio | 16:9 |
| Screen Resolution | 1080×1920 |
| Pixel Density | 401 PPI |
| Screen To Body Ratio | 70% |
| Screen technology | Gorilla Glass 3, 2.5d, 10 point multi-touch |
| Thickness | 7.3mm |
| Weight | 165g |
| Material | Aluminium Unibody |
| Colors Available | Black, Gold, Rose Gold |
| Storage | 64GB |
| Processor (CPU) | Snapdragon 625 (8 x 2GHz) |
| Graphics (GPU) | Adreno 506 |
| RAM | 4GB (933MHz) |
| Android Version | 7.1.2 Nougat (Pure Android) |
| IP Rating (Water, dust) | NO |
| Micro-SD Card Tray | Yes – Uses SIM 2 Slot (128GB) |
| Notification LED | Yes (white only) |
| Finger Print Sensor | Yes – Rear facing |
| Infrared | Yes |
| USB Type | USB Type-C |
| 4G Bands | FDD: B1 (2100MHz) / B3 (1800MHz) / B7 (2600MHz) / B8 / B20 (800MHz) |
| 3G Bands | WCDMA: 850, 900, 1700, 1900, 2100MHz |
| 2G Bands | GSM: 850, 900, 1800, 1900MHz |
| SIM Support | Dual Nano SIM |
| WiFi | 2.4GHz + 5GHz (b / g / n / ac) |
| GPS Tech | GPS, A-GPS, GLONASS, Beidou |
| Bluetooth Version | 4.2 |
| NFC | No |
| Sensors | Proximity, Accelerometer, Light, Gyroscope, Compass |
| OTG | Yes |
| Battery Size | 3080 mAh |
| Fast Charging | No (5V 2A) |