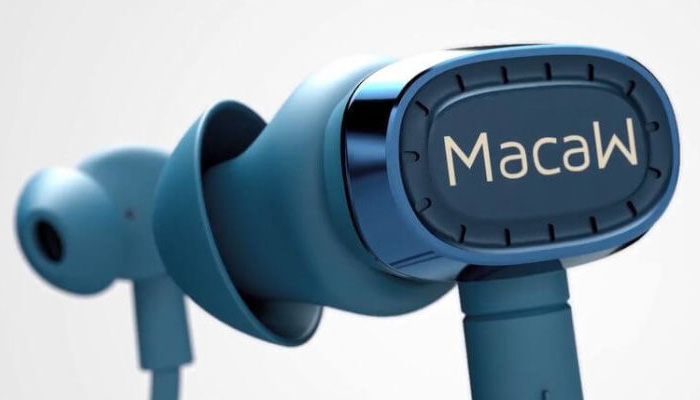 The Macaw TX-80 is my new favourite budget neckband headphones!
With smartphone manufacturers seemingly intent on ditching the 3.5mm jack it's becoming more critical than ever to bag yourself a decent set of Bluetooth headphones.
There are so many different makes and designs now that choosing a pair that performs has become a real challenge.
Well, let's make it a little bit easier! The Macaw TX-80 headphones I've been using for the last four weeks offer outstanding value for money and sound great!
Without feather ado, let's take a sneak-beak and see where the Macaws sit in the pecking order… (sorry)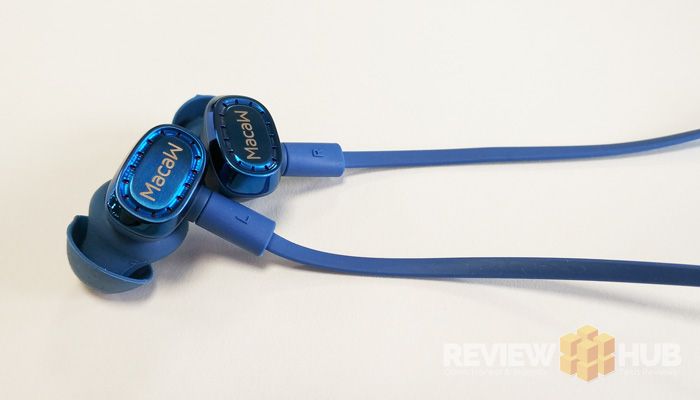 Deal Alert: We've bagged you lovely people an exclusive coupon code to use to get the Macaw TX-80s for the best price available! Please use the code REVHUBTX80 when ordering through the link below!
[column size=one_half position=first ]
The good

Comfortable to wear for longer periods
MMCX compatibility
Great audio quality
[/column]
[column size=one_half position=last ]
The bad

Only IP5X waterproofing
Backwards volume/skip controls
[/column]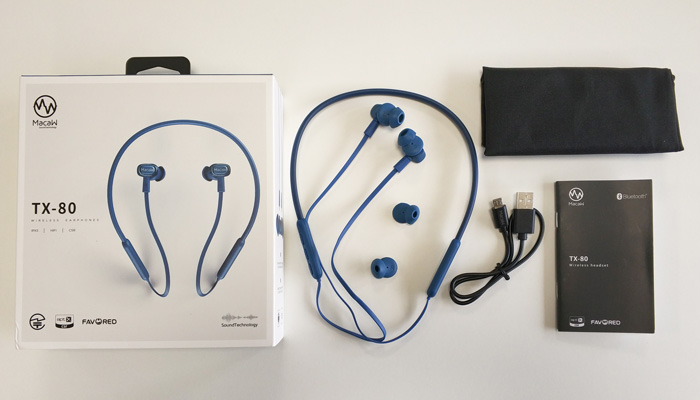 Design & Comfort
From the off, it's clear that Macaw have lofty ambitions with the TX-80s. They come well packed in a nice looking box. Inside you'll find the headphones, smaller headphone tips, carry case, charging cable and instructions.
The Macaw TX-80 Bluetooth headphones follow the 'neckband' design which we've seen recently in the Aukey EP-B48 and Linner NC50 models.
This relocates the battery and controls into the neckband which has three main benefits.
Firstly, the battery has a larger capacity meaning less time charging.
The headphones earpieces are also lighter which makes them more comfortable to wear for more extended periods.
Finally, the controls and microphone are in a more sensible location, so are more comfortable to reach, and the mic performs better for calls.
You can get the Macaw TX-80s in blue, black, red or pink. The headphones themselves have a fetching shiny metal back which is magnetic, so they can clasp securely together when not in use. There is around 24cm of flat cord between the headphone unit themselves and the neckband.
I found the TX-80s comfortable for a good 3-4 hours, and I'm not usually a great fan of ear-bud style headphones. The shape of the ear-tips mean they insert easily, and expand to isolate external noise and prevent sound leaking out.
Using the Macaw TX-80s at the gym, I was impressed and had no issues with them becoming loose or falling out of my ears.
However, when I went out for a run is wasn't quite the same story. The impact of pounding the tarmac meant that they did pop out occasionally.
Macaw states that the TX-80s have IPX5 water resistance, but you should be careful around water as the charging port isn't covered.
One final design point that might be of interest to the audiophiles out there is that the TX-80s have an MMCX connection between the cable and the earpieces themselves.
This provides the option to swap the earpieces or cable for others if you wish and is not something we often see on headphones in this price range.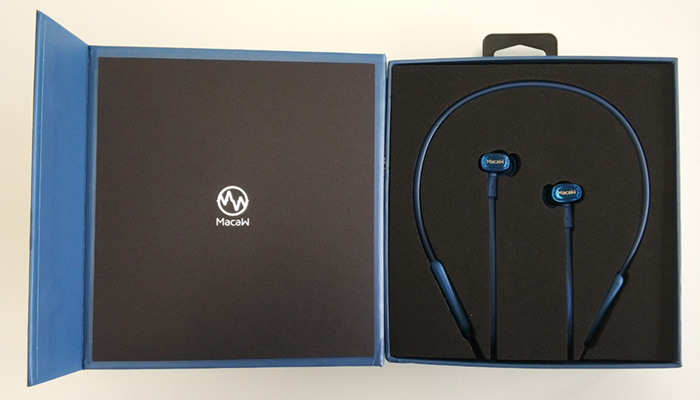 Sound Quality
Putting them through their paces with a large variety of music, has only left me very impressed. The sound quality that the TX-80s can produce really is enhanced with the aptX compression codec.
Even in very 'busy' tracks, each element had the space to be heard. Bass is punchy but not overpowering, vocals are clear and comprehensible and higher frequencies register cleanly without ever getting shrill.
After blasting out some Napalm Death at ear-shredding volumes, I asked a colleague who sits next to me whether he heard anything. He didn't, so bonus points to the TX-8o's for their noise isolation.
Having also used the Macaws to watch movies and listen to talk radio, I'm happy to recommend them for any audio use. They have an even rich sound quality.
The position of the microphone in the controls on the neckband means that the TX-80s perform very well in calls. This is usually an Achilles' heel of Bluetooth headphones as the mic can be located quite far from the mouth, but this is not the case with the Macaws.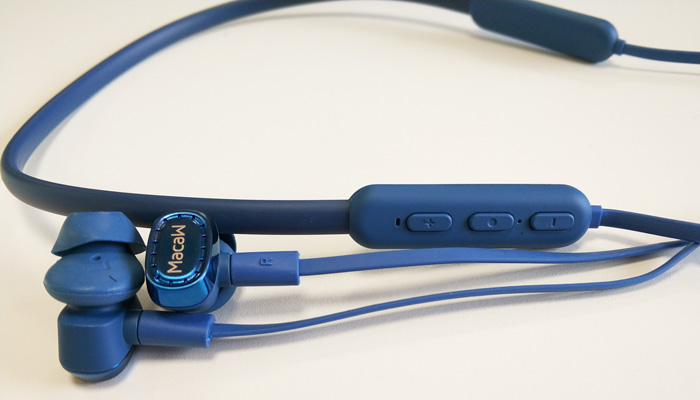 Usability
The three function buttons on the Macaw TX-80 control the usual features that you expect from Bluetooth headphones. The central button takes care of power/pairing/music and call features. Then you have volume up/skip forward and volume down/skip back.
Something which took me a while to get my head round was that volume up is at the back when wearing the unit, but I got used to this after a short while.
You get 15 steps of volume with the TX-80s This provides more than enough adjustability to ensure that you can set the volume just right.
As with all Bluetooth headphones, there are a multitude of other functions that you can access via various button presses and combinations such as voice control, call rejection and mic muting.
Most are easy enough to remember, but mic muting involves pressing the volume up and down keys simultaneously which can be a little fiddly.
I managed to get nearly 10 hours use of the TX-80s over the course of a week. This is greater than the 8 hours Macaw specify. I was mainly listening at around 50% volume, so this is perhaps the reason why.
You also get the benefit of a battery life indicator in your smartphone notification bar. This is a very handy feature as there's nothing worse than your headphones running out of juice with no warning!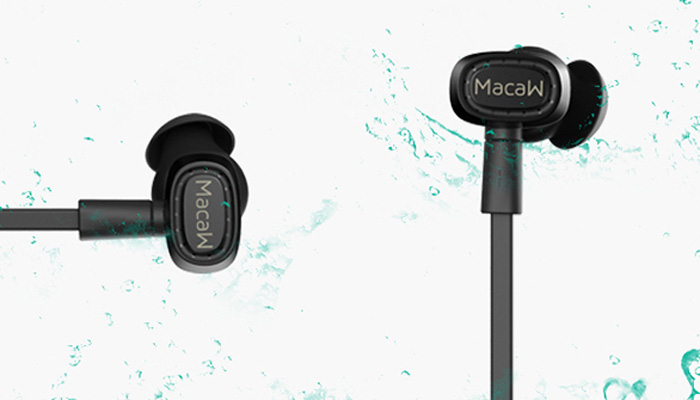 Macaw TX-80 Verdict
In short, the Macaw TX-80s are excellent value. With a very rich sound, high level of comfort, good battery life and simple operation there is nothing that can touch them at this price.
With the added MMCX connectivity for the audiophiles out there these Macaws punch well above their weight.
All in all the Macaw TX-80s are the best value Bluetooth headphones I've had the pleasure to test in a while.
Tech Specs
Bluetooth Version: 4.1
Unobstructed Transmission Range: 20 Metres
Waterproofing: IPX5
Working Time: 6-8 hours
Battery Capacity: 110mAh
Net Weight: 31g
What do you think about the Macaw TX-80s? Please add any comments below!