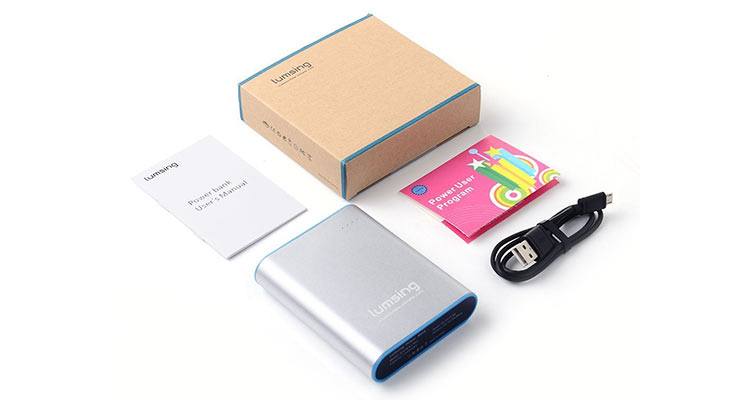 We take a look at Lumsing's latest power bank the A1 Grand Plus 13400mAh and their 3A 4-port USB wall charger…
If I'm honest I hadn't heard of Lumsing before the test samples showed up here at Review Hub HQ. I did a quick search on Amazon for Lumsing  and it turns out they've been getting some really great feedback so I'm excited to put their latest power bank the A1 Grand Plus (13400mAh) + Lumsing's colourful 4-way USB wall charger through its paces.
Let's face facts, the power bank market is completely saturated and with so many different styles and capacities we'll see if the A1 Grand Plus can stand out from the market. A quick search on Amazon for power banks and you're met with over 55,000 results so is the Lumsing A1 Grand Plus worth taking a look at? Well you're about to find out as I review the Design, Build-quality & Features of the A1 Grand Plus.
View the Lumsing A1 Grand Plus on Amazon (60+ 5 Star Reviews)
First impressions are good once you get past the basic cheap packaging. I know that the world is moving to environmentally friendly recyclable hassle-free brown cardboard boxes but I'm still a sucker for a fancy box and a few accessories.
The A1 Grand Plus is encased in a solid piece of metal so should take a few knocks easily with the only weak areas being the top & bottom but even these feel pretty sturdy. A nice addition is that if you hold down the on button you activate the LED torch which could come in handy from time to time.
Without further ado let's get into the nitty-gritty of the Pro's & Con's.
Update 16/03/16: The slow charging has disappeared now. It's charging to full in a reasonable time. Turns out it was a faulty USB cable.
[column size=one_half position=first ]
The Pro's
Nice design
It's TOUGH!
In-built LED torch
LG battery cells
Charges tablets as well
12 month warranty
[/column]
[column size=one_half position=last ]
The Con's

Finish isn't perfect
LED light leakage
USB cable doesn't match
Takes a long time to charge
[/column]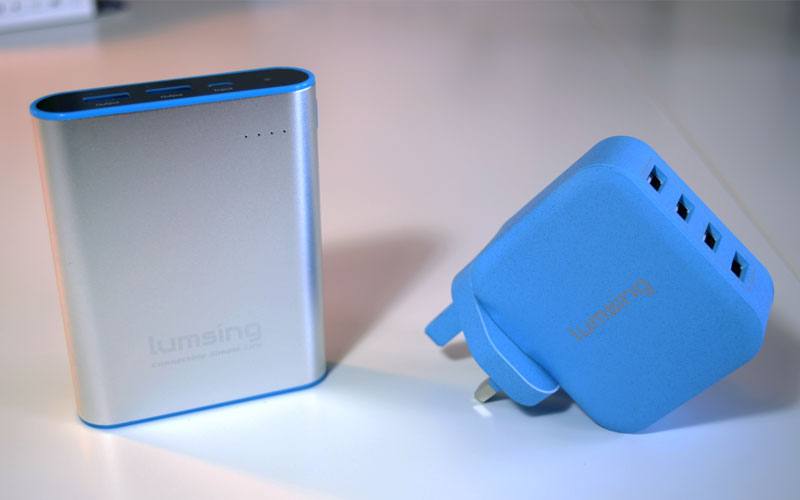 Design
I'm a fan of the colourful approach Lumsing have used across their range of products. Who wants boring black and white all the time, not me. All of Lumsing's products are available in multiple colour options or you can go for the silver & black editions if colour isn't your thing.
I received the blue model A1 Grand Plus from Lumsing which features a blue button, blue plastic edges & blue LED power indicators. What wasn't blue? Was the USB cable which came in a very boring black. Come on Lumsing get some funky cables!
The only downside to the design that I notices was that the LED charge indicators aren't separated which leads to light leakage across the 4 holes.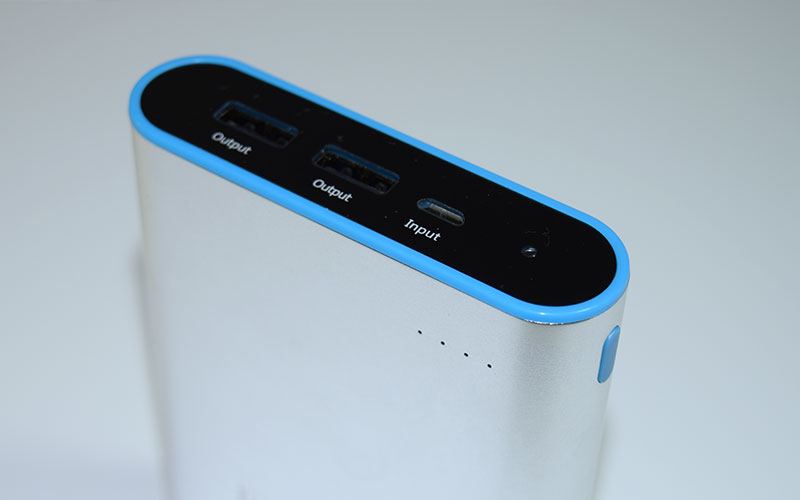 Build Quality
Kudos to Lumsing with the build quality of the A1 Grand Plus. If you're looking for a power bank that you can sit on them the A1 Grand might be right for you. This power bank is tough, standing on the device did nothing, not even the slightest bend. If I didn't want to keep it, I would definitely like to put this under the wheel of my car.
Where the A1 Grand lets itself down is in the blue plastic rim. If you run your fingers over the blue plastic edge the seams don't match exactly creating a slight ruff edge. This is in contract with the sleek (tough) metal chassis. it's not a deal breaker by any means but worth mentioning if you're used to high-end products. Maybe it was just the model I received?
On a plus point the 4-way USB wall adapter build quality is excellent.
View the 'Lumsing 4-port wall charger' on Amazon

Features
To put the A1 Grand Plus through it's paces I've tested it with multiple devices to see just how well it charges. It handled all the phone's I threw at it easily but the real challenge is my old iPad 3. My antique iPad hates most chargers and takes forever if you don't use the official Apple wall charger so I was impressed when the A1 Grand managed to charge the iPad. Yee have passed thou test young power bank.
The A1 Grand Plus also features an LED torch next to the USB charging ports. Although not very bright I can see this being very helpful in certain situations or great for camping.
I can't confirm as I can't get into the  device but I've been told by Lumsing that the A1 Grand Plus uses high-quality original LG branded battery cells and 'Intelligent Charging Technology' together to provide stable & fast charging to USB powered devices.
You can see the full tech-specs for each device below.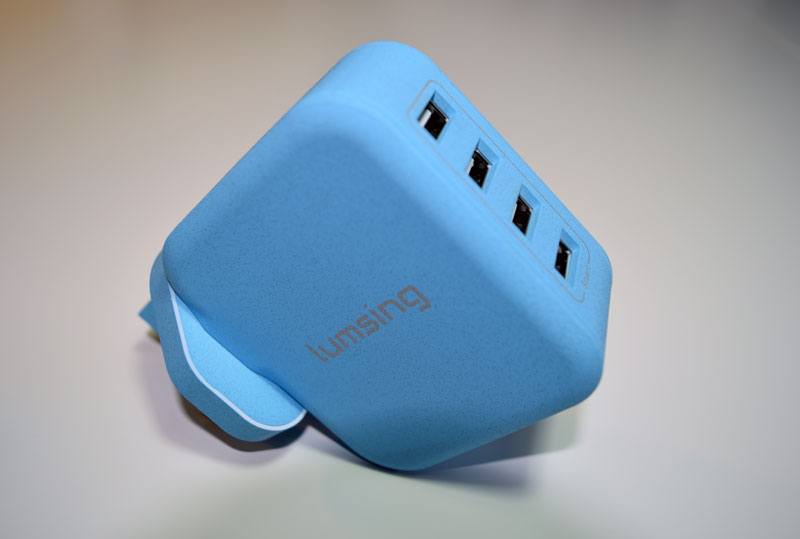 The Tech Specs
[column size=one_half position=first ]
Lumsing A1 Grand Plus
Capacity : 13400mAh
Torch : Yes, LED
Efficiency : 90%
Input Port: Micro-USB
Input : DC 5V/1,8A
Output Port: 2x USB
Output: DC 5V 3A(Max)
Battery Cells : LG
Intelligent Charging Technology
Weight : 262grams
Full Charge takes 8 Hours
500 Charge life-cycle
12 Month Warranty
[/column]
[column size=one_half position=last ]
Lumsing 4-Port Wall Charger
Input Port: UK 3 Pin
Input : AC 100-240V
Output Port: 4x USB
Output: DC 5V 4.2A(Max)
Charge Type : Fast Charge
Material : PC fireproof material
Intelligent Charging Technology
Weight : 120 grams
12 Month Warranty
[/column]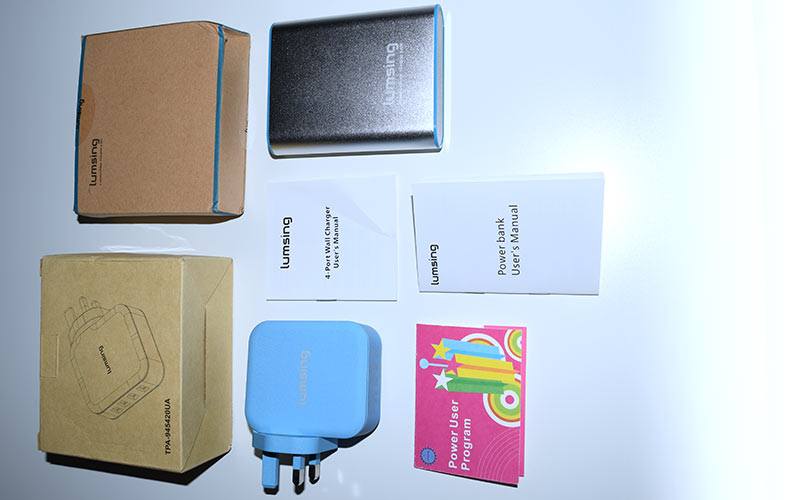 What's in the box?
It's a pretty basic affair with the boxes for both the A1 Grand Plus and the 4-port USB wall charger. Inside the A1 Grand Plus you get some basic instructions and a black USB cable. It would have been nice to see coloured USB cabled to match the device here especially for the price point that Lumsing are going for. The Wall charger comes with instructions as well though I doubt you'll need them.
Conclusion
There is a lot of competition when it comes to portable power banks at the moment and you can get much higher capacity power banks at a lower price. So what reasons are there to go for the A1 Grand Plus?
Well for one it's like a tank, you'd have to seriously abuse it to break it. Also the choice of colourful designs that Lumsing have used across their product range is great. Last but not least it has an in-built LED torch!
View the 'Lumsing A1 Grand Plus 13400mAh' power bank on Amazon
View the 'Lumsing 4-port wall charger' on Amazon
Thanks to Lumsing for sending through the review samples to us here at Review Hub. Please feel free to share and leave your comments below.