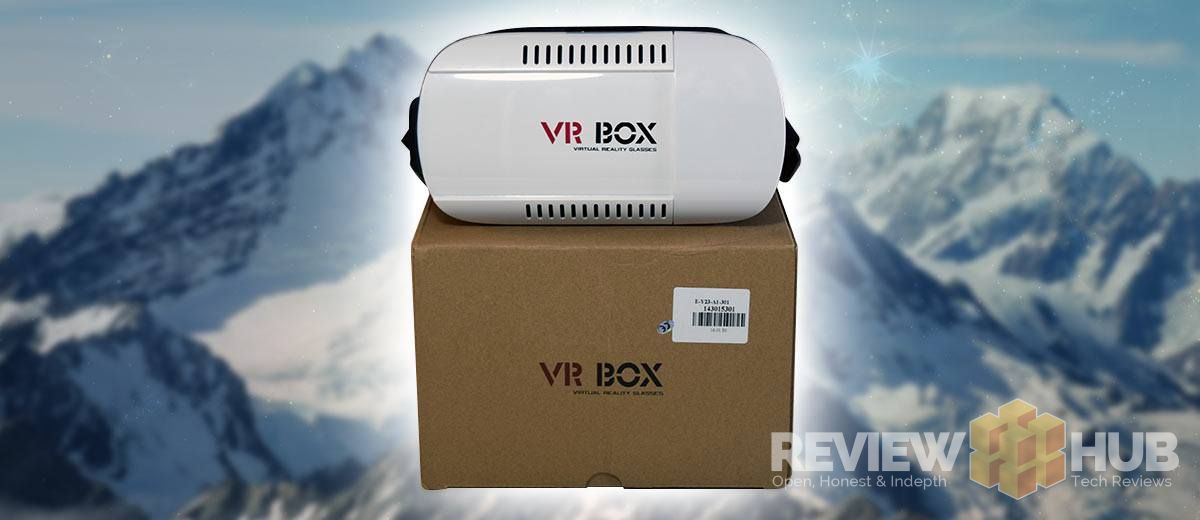 VR Tech is exploding! We put the budget-friendly 'VR Box' headset through its paces
We recently got our hands on the 'VR Box' Virtual Reality headset with bluetooth remote controller. I've spent the last 3 days testing the headset to see how it performs based on Ease-of-use, Design, Comfort & Build-quality.
Overall my experience with the VR Box has been good with a few cons that I'll mention below in more detail after my Pro's & Con's.
[column size=one_half position=first ]
Pro's

Low Price
Plenty of optical adjustment
Comfy face cushioning
Holds phone firmly
Included keyring sized game controller
Premium lens cleaning cloth
Removable camera port
Solidly built
[/column]
[column size=one_half position=last ]
Con's

Nose recess isn't quite big enough (for a big-nose like me)
Removing camera panel is difficult
Slight borders on my 5″ Nexus phone
5.5-6″ would be the sweet spot
[/column]
You can get yourself the VR Box for pocket money… UK : £14 | EU : €16 | US : $17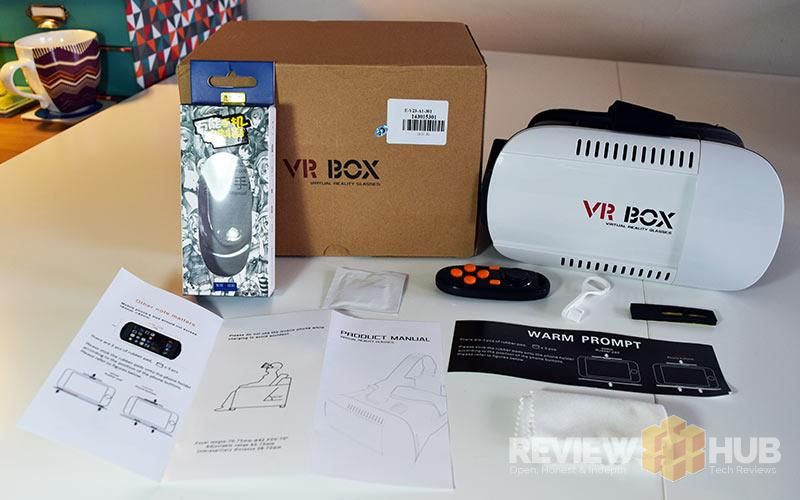 Design
The VR Box comes in all black except from the white "storm trooper" plastic front panel. I'm a fan of VR Box looks and think the extra grill details on the front make it feel a little more premium. Attached to the side and top is a stretchy elastic strap that you can easily adjust to fit your head no matter how wonky it is.
Another aspect of the VR Box I like is the addition of the removable panel on the front. This allows the use of the phone camera whilst still using the VR headset, which is awesome! Let me know if you've found any apps that use the camera in the comments below as I couldn't find any in the play store yet.
The Optical adjuster on top work well. You have the option to move each lens individual forwards, backwards, left & right allowing you to get the optimal focus.
One design flaw I found was that when trying to get my phone back in the VR Box whilst wearing the headset the insert kept catching. The shape of the insert allows it to easily catch at the wrong angle stopping it from sliding into the headset. With time, you get used to the strange angle needed but it's still pretty annoying to begin with.
Comfort
VR Box have done a good job with the sponge cushioning around the rim.The material is very soft and feels well padded (it feels a lot softer than it looks in the pictures).
You might notice that the first time you wear the VR Box you notice the plastic strap connector digging into the back of your head. A quick solution to this is to bend it into a slightly curved shape so it fits the contours of your head more closely (worked for me).
Overall I didn't where the headset for more than 30 minutes at a time as it did push on my nose slightly. For me personally, the nose recess could do with being slightly larger.
Setting up & testing the VR Box
The VR Box comes pre-assembled in a no-frills cardboard box with the few essentials you'll need to get you going. Before using the VR Box you will have to add the three sponges (included) to the insert (shown below). Placing these yourself allows you to avoid any phone buttons being pressed when you insert your smartphone.
So how does it work? The VR Box uses side-by-side images and dual-optics to create the illusion of one 3D image or video.
Open YouTube and search "3D VR".
Select a video
Place your smartphone into the VR Box plastic insert
Insert this into the VR Box.
Put on the headset
Adjust the optics until the image becomes clear.
Hey presto, you're a VR Headset Pro.
Inserting your phone is easy, just pull back the spring mechanism and insert your phone. The insert pressure feels just about right keeping your phone held firmly. Once your phone is secure you then slide the tray into the headset (top tip: much easier with the headset off than on). I measured the insert and with the VR Box taking phones with a maximum width of 3 inches (7.5cm) and a maximum length of 6 inches (15cm).
Official specifications say the VR Box fits phones between 4.7 – 6 inches. There is a slightly curved edge so you may be able to squeeze a slightly longer phone in depending on its size and shape.
It's also worth mentioning that if your phone has a full HD screen then definitely look for Full HD VR content as anything less can look at little grainy when viewed in VR.
What's in the box?
VR Box headset & insert, Instruction guide, 3 x sticky rubber sponge pads, lens cleaning cloth, Mystery sachet, Strange plastic key, Bluetooth game controller & game controller instructions.
VR Games & Apps
Your best bet in finding a decent VR experience is to search VR on the Google Play store. The availability of games is growing but I still found it to be quite limited. Also, there isn't an easy way to search for only VR-enabled games and apps so finding the hidden gems takes a bit of trial and error.
I've listed some of the best free VR games and apps below:
Insidious VR (free): This is essentially a trailer for the horror film Insidious where you can look around in 3D.

Galaxy VR (free demo): A space shooter game where you control a fighter ship from the cockpit.
Cardboard Camera by Google (free): A selection of 360 degrees photos that you can look through by turning your head.
Deep Space VR (free): You control a space gun shooting where you headset looks.
Star VR Racer (free): A Tron-like platformer where you avoid crashing as the game speeds up
VR videos
Luckily on YouTube, there is already a large amount of VR content to view on the VR Box headset. The easiest way to find this is to search for 'Cardboard VR' or 'VR 3D'. If possible always try to go for 1080P content and above as I found that this provides the best experience.
Headphones
If you are going to use headphones with the VR Box, (which you definitely should be to get a more immersive experience), then make sure your headphone port is facing right so that when you remove your phone the headphone wire comes out with the insert.
Setting up the game controller
The sample I received came with a small black controller with orange buttons. Connecting the controller is as simple as selecting it from your Bluetooth settings. The controller works well but due to its size and price don't expect miracles. You can also use the controller with any compatible games not just VR ones.
 
Build Quality
This is a budget friendly VR headset so as expected it's a plastic affair when it comes to build materials. The headset is well made without any loose or wobbly parts feeling overall very solid.
The only area where I noticed build quality dropped slightly was on the lens adjusters. My right lens adjuster felt a lot stiffer than the left which sometimes made adjusting them a little more difficult as each needed a slightly different amount of pressure.
Final thoughts on the VR Box
If you are looking for your first VR experience or to buy someone a VR headset as a gift then the VR Box is a good choice. Having 4-way adjustable optics makes it easy to get videos and games in focus. The included controller is also a nice touch and allows you to play VR games straight out of the box. For the price, the VR Box is a good buy.
The 'VR Box' is yours for around (Click to view current prices below)… UK : £14 | EU : €16 | US : $17
The instructions that come with the VR Box can be a little vague so feel free to ask any questions in the comments below. Please share if you liked this review and help to support Review Hub.