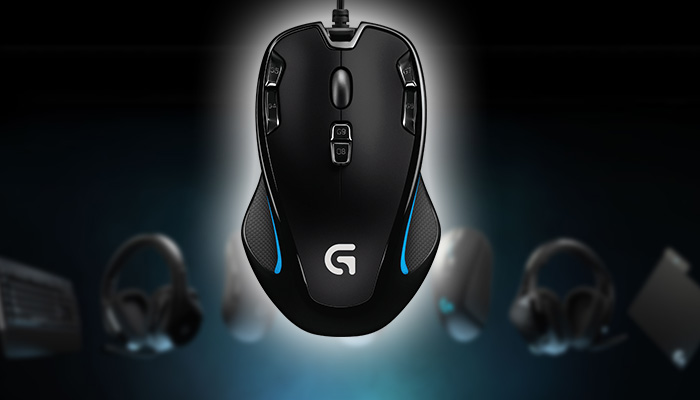 The Logitech G300S offers premium ergonomics on a budget
After putting up with a dodgy scroll on my mouse for a few weeks I was at breaking point. I needed a mouse fast before scroll-rage enveloped me and I chucked my laptop at the wall.
Picking a mouse isn't an easy task for me as I have slight RSI in my right hand from a well-spent youth playing the French Horn. Now that I'm sat at my laptop for most of the day, mouse comfort is my number one priority.
I'm most likely to choose a gaming or vertical mice as these tend to be bigger so I can rest my palm more comfortably. While I'm not a big gamer, I still love mouse RGB LEDs effects!
Searching online, the Logitech G300s mouse caught my eye as it blends the functionality of a gaming mouse without looking too Sci-fi. And if I'm honest, it came with a bargain price-tag plus a 2-year warranty.
So let's find out just how good the budget end of Logitech's mouse lineup is in this hands-on review.
Check out this week's latest Logitech G300s Mouse Deals!

The Pro's
RGB Lighting (8 colours)
Dual Rubber Grips
Professional Logitech Software
3 On-board Profiles
Comfortable for hours
2-year warranty
The Con's
Can feel sweaty after prolonged use

Design, Comfort & Build Quality
The Logitech G300s Gaming mouse uses a symmetrical design with a mixture of matte and shiny black plastic. The sides are made from soft rubber making it a joy to hold and adding extra grip.
The base of the mouse is a vibrant blue which you can match with changeable RGB light strips. Using a PC or Mac you can switch these LEDs to one of the eight colours listed below. While not the brightest in the daytime, they really come alive at night giving the G300s that subtle gamer look.
The mouse has an ambidextrous symmetrical shape which means it'll feel comfortable in either hand. The sculpted curved shape of the mouse fits the palm of your hand comfortably with the buttons easily in reach.
The shape means that you can either rest your hand over the mouse for comfort or use a claw-like grip for more accurate movements.
I'd be lying if I said that the G300s feels as premium as my MX Master, but it's way above the usual 3rd party cheap gaming mice you find online. The cable is nice and long at 2m but does feel a little cheap. I'll come back in a few months and update on the cable durability.
A nice touch is that the Logitech gave each side button a different amount of click travel, letting you reduce click errors. While not so important in everyday tasks, it's important for gamers to know their way around an 8 button mouse easily.
My only downside to the Logitech G300s is that the scroll wheel does feel slightly sandy / not very smooth. It's only a small quibble and one I got used to quite quickly.
Overall, I'd give the G300s mouse a firm 8/10 for design, comfort and build quality.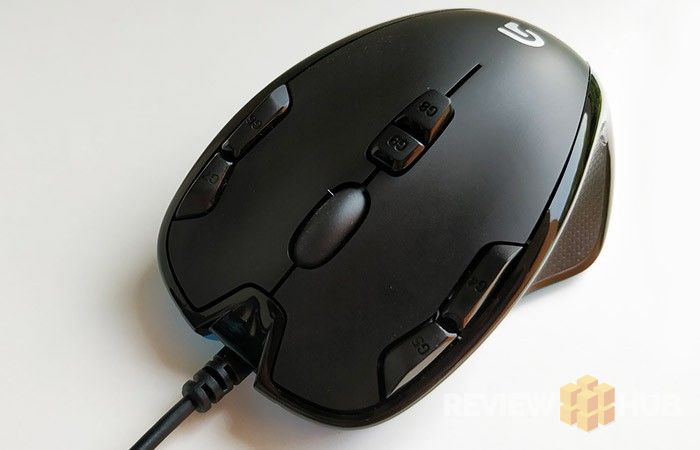 Features, Software & Tech Specs
Setup is super easy, download the Logitech Mouse App which will let you customise the RGB lighting and also set up to 3 profiles. The mouse is plug and play, but there's no option to change the lighting or button layouts without the app.
Once in the app, you can customise the DPI points, update the mouse polling rates and customise what the 9 programmable buttons do. It's super easy and super awesome! I've got my right click buttons set to windows tab. Try it!
Once set up, the mouse has 3 onboard memory profiles which you can customize and then switch between on the fly using the buttons behind the scroll wheel.
Need different setups for different applications or games? No problem!
Warranty: 24 Months (with registration)
Type: Wired
DPI Options: 250-2500
Buttons: 8 + Scroll
RGB Lights: 8 colour options
Dimensions: 37mm (H) x 72mm  (L) x 115mm (Depth)
Weight: 82g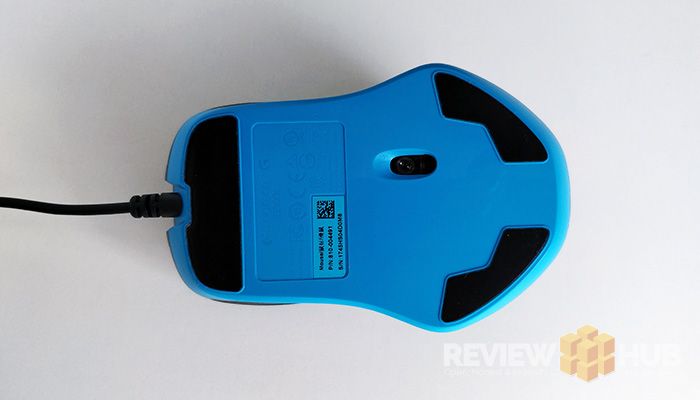 G300S Surface Test
Tracking on the Logitech G300s Gaming mouse is fast and accurate with a variety of DPI settings to choose from. The smooth black mouse pads work well and are large enough to glide on a variety of surfaces.
It uses a red optical sensor with a max DPI of 2500 and a 1-millisecond report rate which I found to be more than fast enough for general daily use.
To test Logitech G300s Gaming mouse, I tried it out on a variety of surfaces. Results below.
Wood: EXCELLENT
Glass: FAIL
Fabrics: GOOD
Mouse Mat: GOOD
It was surprising that the G300s didn't feel as good on my mouse matt as it does on a hard wooden surface.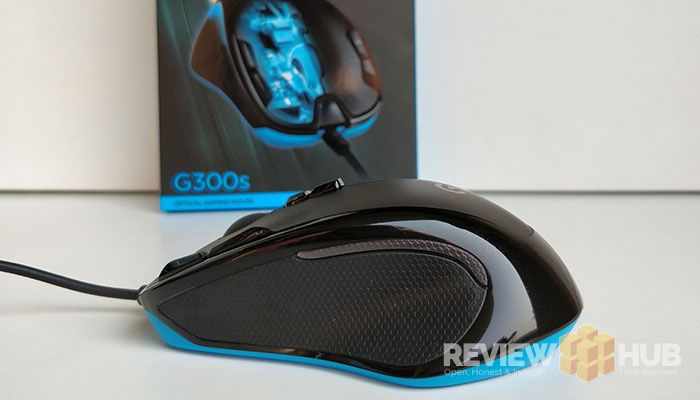 What's in the box
It comes in a premium Logitech box, well packaged with a clear plastic moulded insert. Inside you'll find the G300s, quick guide & warranty leaflet. It's bare-bones, but it works.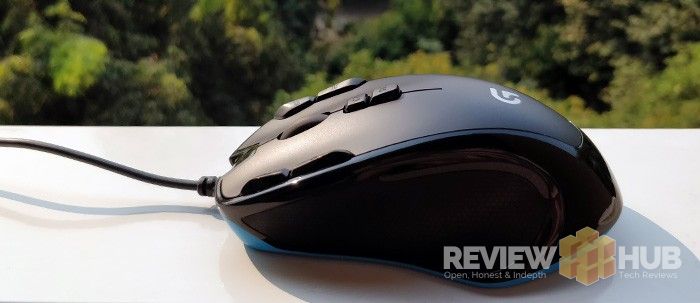 Logitech G300S – The Verdict
Overall I'm super happy with the quality and how comfortable the mouse is to use. It feels comfortable without any hand-ache even after a good 4-hour stint at the laptop.
Being able to customise the buttons and DPI on three different profiles then switch between them instantly, is quite frankly, fantastic. While I'm not a PC gamer that doesn't matter as this really is a very comfortable wired productivity mouse.
My only quibble? The cable. But given the low price-tag, it can be forgiven!
This week's latest Logitech G300S deals…