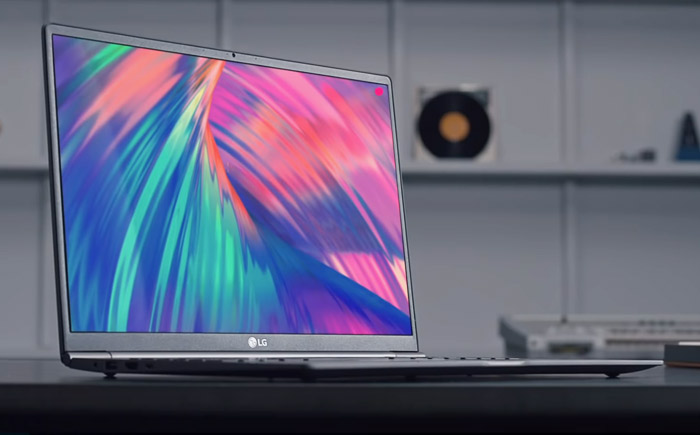 Life's Good for LG as They Set New Records with their 17″ LG Gram Laptop!
While LG smartphones have lost their zing over the last few years, their laptop department has been on fire!
Mostly thanks to their new LG Gram which prides itself on being the lightest laptop on the market while still boasting Ultrabook performance. Thanks to LG, you no longer have to choose between performance and portability.
So how exactly have they achieved this manufacturing marvel? For starters, they've made the body of the LG Gram from a magnesium alloy which is both ultra-light and provides plenty of protection. Secondly, the internals between the LG Gram sizes are almost identical.
If you thought the featherweight Gram series would be flimsy, you might be shocked to find that all sizes (13″, 15.6″ & 17″) come with a MIL-STD 820G rating. This means that this laptop can survive drops, vibrations, extreme temps and has dust protection.
And while the 13.3″ LG Gram has been getting all the attention for breaking the 1kg barrier with a weight of 965g, it's the 17″ version that's got me excited.
For only a few hundred grams extra, at 1.34kg, you can have a glorious 17″ laptop. Another benefit is that thanks to slim display bezels, the LG Gram 17″ only takes up the footprint of a regular 15″ laptop making it backpack friendly.
So, let's check out the pros & cons of the award-winning LG Gram 17″ model.
Pros
1340g Weight
High Upgradability
98% sRGB Display
12-18 Hours Battery life
Cons
Downward Firing Speakers
Webcam Quality
No Type-C Charging
More Keyboard Flex than 13″ Version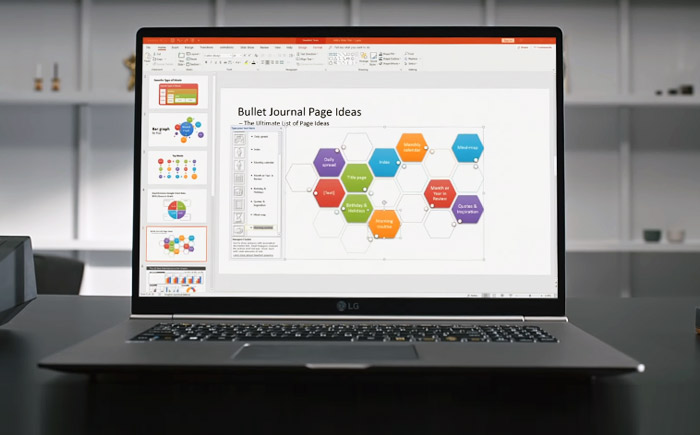 The Display
The no-compromises 17″ display features a WQXGA 2560×1600 resolution which gives us the unusual aspect ratio of 16:10, more commonly seen on MacBooks. This means you're getting a slightly taller display, compared to a regular 16:9, which is great for productivity.
You don't get a touch-screen on the 17″ version, but the colour accuracy is still very good with a 98% sRGB reading. Great news for creative professionals. Viewing angles are excellent, but, the 300nit high-gloss display is very reflective meaning the screen can be difficult to see with a window behind you. It would have been nice to see LG pushing the display brightness a little higher, especially with the incredible battery the Gram series offers.
Since it's such a light laptop with such a large display, you might be worried about screen wobble, you shouldn't be. The 17″ Gram doesn't have any screen wobble-issues thanks to LG's implementation of a solid hinge. During a two-hour motorway drive, where I was finishing up some editing work, the display hinge stayed strong.
You might see some reviewers flexing each upper corner of the display, and while this does show some flex, this isn't a real-world scenario.
More good news is that LG kept the HD webcam on the top of the display, so you don't have to suffer the 'up-nose' trend of recent ultralight laptops.
Design & Build Quality
Although it's technically a metal alloy, to the touch, it feels a lot more like plastic. You're still getting the tough benefits of the Magnesium alloy, but you may feel disappointed if you're used to an aluminium laptop as it lacks the cold-to-the-touch premium feel we're all used to.
The first thing you'll notice when picking up the 17″ Gram is how shockingly light it feels. Many online reviewers compare it to a dummy laptop you find in PC stores, and they're right. Unlike a dummy laptop though, it feels very well-made, and while there is flex in the keyboard, especially compared to the 13″ version, at no point does it feel like it might break.
Now, if build-quality is a top concern for you when choosing a laptop, you'll be more than happy to know that the LG Gram comes with a MIL-STD 810G rating. This means you can carelessly chuck your laptop in & out of your backpack, use it outdoors and generally take a lot less care than you would need to with a regular laptop. How does it manage this feat? It's in part thanks to LG's high-quality manufacturing methods and part thanks to the Magnesium & Nano Carbon tube materials used in its construction.
Unfortunately, in Europe and the US, we don't have access to the white version which is a shame, as for me, this is the more appealing choice. I understand that LG has been aiming for minimalism with the Gram series, but I can't help feeling it looks a little bland compared to the competition.
One con I did notice when testing the build quality is that when you tap the laptop is has a hollow sound. The reason behind this is because LG just scaled up 14″ model to a 17″ size leaving actual empty spaces inside the chassis. While this does help keep the weight insanely low, it doesn't exactly shout £1k+ laptop. Maybe if LG had added upwards firing speakers on the 17″ model this would utilise the dead space a little better.
Flipping the laptop over and you'll find no air intake vents on the bottom. Through clever design innovation, both the intake and air-out fans are located in the hinge section. This design, coupled with the Magnesium alloy keeps the LG Gram very cool. No hot legs with the Gram.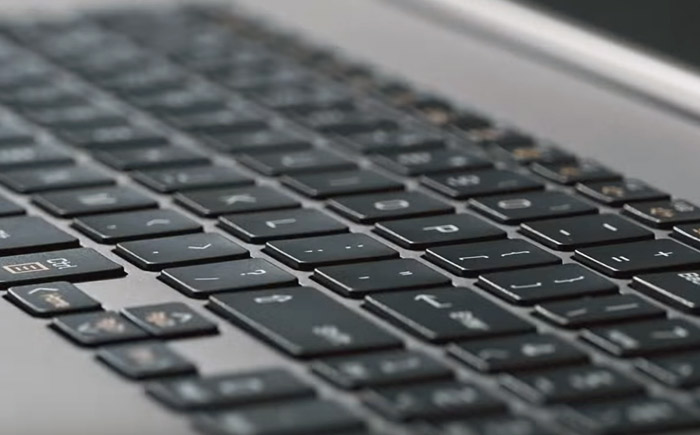 Keyboard

So, how does the LG Gram keyboard perform?
Utilising the larger footprint of the 17″ model means that you get a full Qwerty Keyboard plus a full number pad on the right-hand side. The downside to this is that having the extra numberpad offsets the keyboard to the left. I found this a little odd at first, but soon got used to it after a few hours typing.
The keyboard has 2 levels of backlight with both the letters and key edges lighting up.
Built into the power key is a fingerprint scanner which didn't give any false readings during my testing. Overall, it's a good keyboard with a nice amount of travel and feedback, but if I had to pick a point, I'd space out the keys a little more.

Trackpad
LG used a smooth glass trackpad for the 17″ Gram that's backed up by Windows precision drivers. It's a pleasure to use, but design-wise does look a little small on the larger 17″ model.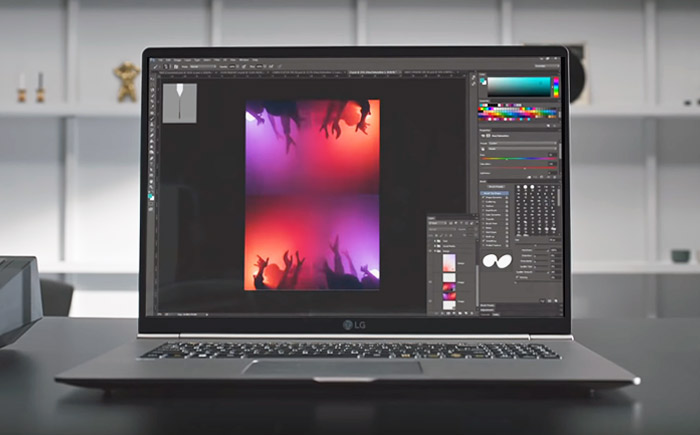 Performance & Gaming

If you're looking to use this laptop for gaming, then you might be disappointed as the 17″ version only comes with integrated HD 620 graphics. While this chip is fine for older and less intensive games, it can't handle newer 3D titles.
For other creative tasks though, the Core I7 8565U chips is an absolute beast. It's the best low-powered chip that Intel offers and this shows in the snappy performance. Upgradability is also excellent with a spare SSD slot and also room to upgrade the 8GB's of RAM if needed.
If you need a larger display for Photoshop or light video editing then the LG Gram is a great choice, however, if you're looking for a gaming or video editing powerhouse then the lack of discrete graphics in the LG Gram 17″ will be a deal-breaker.
CPU: Intel i7 8565U (1.8GHz/4.6GHz Boost)
GPU: Intel HD 620 (Integrated Graphics)
RAM: 8GB 2400Mhz (2x Slots Available)
SSD: 256GB (2x Slots Available)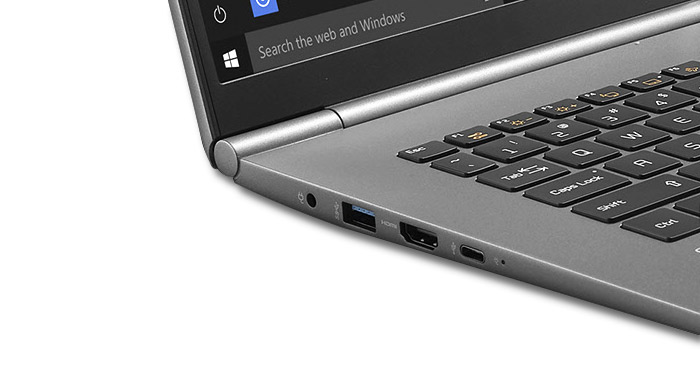 Connectivity
Ports
Micro-SD Card Slot
3.5mm Headphone Jack
3x USB 3.1
USB Type-C 3.1 / Thunderbolt 3
Full Sized HDMI
RJ45 Ethernet
DC Power-in
WiFi
Intel AC9560 Chip

Latest Dual Band AC WiFi
Bluetooth 5.0
Speakers
Surprisingly, the speakers on the LG Gram are better than your average laptop audio. It's not on par with Apple MacBooks, but the stereo (2x 1.5w) speakers are good enough for occasional movies and Skype calls.
Could they be better? Yes, I think that on a 17″ version of the Gram, LG should add in better-quality quad speakers.
Battery Life
Considering this laptop has been designed from the ground up to be as lightweight as possible, it's incredible that you get a 72wh battery. This is enough to get you 12-14 hours average use, and up to 18 hours video playback at medium brightness.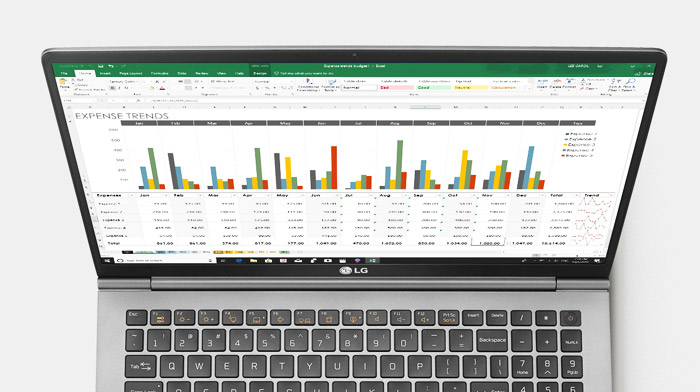 17″ LG Gram Laptop – The Verdict
Overall, the 17″ LG Gram is a fantastic laptop that's perfect for anyone looking to upgrade to a new ultrabook but wants the extra screen real-estate.
The reason 17″ laptops haven't been as popular in recent years is due to their excessive bulk. Well now that LG has solved this by stuffing a 17″ laptop into a 15″ footprint, I can see the return of 17″ laptops but in an ultralight form factor.
The 16:10 aspect ratio, slim display bezels & Ultrabook performance make it a great choice for light content creators and graphic designers.
Although, the lack of discrete graphics will be a big no-no for gamers and video editors. For everyone else, the 17″ display will be a breath of fresh air!
Do we recommend the LG Gram Laptop? Yes, it's one of 2019's best 17″ picks for light content creators and students.