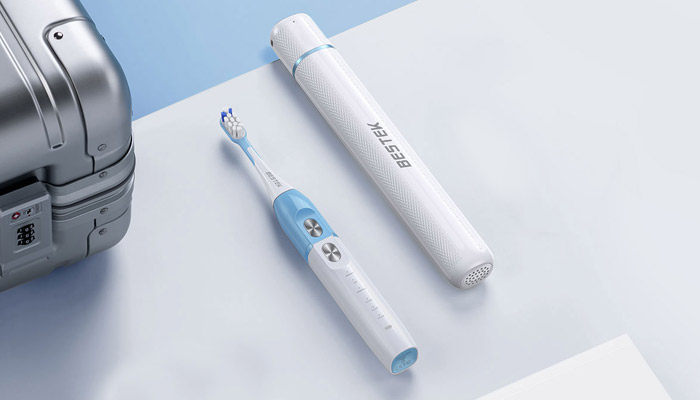 It's been 4 weeks since the Review Hub office switched from Oral-B to Bestek's M-Care Electric Toothbrush… and We're Big Fans!

No one can deny that Oral-B dominates the electric toothbrush market with the Philips Sonicare range (Amazon), way behind, in second. But with Chinese brands replacing every other gadget in your home, it's about time that someone showed a little competition in the oral hygiene department.
Well, it turns out that's already happening, as Bestek has created their own electric toothbrush to rival the kings of tooth cleaning, the Bestek M-Care.
Now I took a little liberty in comparing the Bestek M-Care to Oral B, why? because it's actually competing head-to-head with the Philips Sonicare range due to its ultra-fast pulsating design that gently removes plaque and food from your teeth.
Most likely, you've never heard of Bestek before, but you shouldn't worry as the M-Care isn't their first electronic toothbrush. Back in 2017, they released their first Sonic Toothbrush that came with a UV Sanitizing stand. Similar to the Phonesoap, but for your toothbrush heads.
So let's take a look at what their latest 2019 model has to offer. We'll also be reporting on the Brushing Experience, Clean Feeling, Brush Head Quality, Charging Travel Case & Battery Life.
But first, let's check out the quick Pros & Cons as well as this week's best Bestek M-Care deals.
Pros
Brilliantly Clean Feeling Teeth
Charging & Travel Case
3 Brush Heads Included
Sleek, Lightweight & Modern Design
IP67 Waterproof (Shower-ready)
Cons
Case Uses Micro-USB not Type-C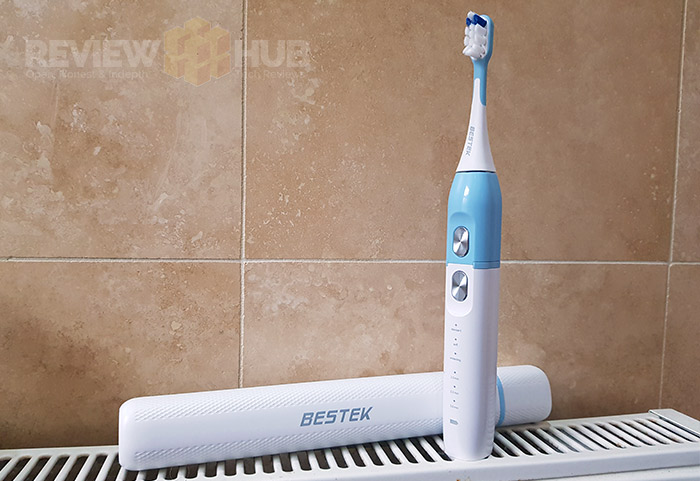 Brushing Experience
I switched to the Bestek M-Care from a 2-year old Oral-B Genius 9000 (Amazon), and quite frankly, it took a bit of getting used to. The reason why is that my old toothbrush used a rotating action to clean my teeth, while the M-Care uses powerful sonic vibrations.
However premium looking this toothbrush is, it's certainly a strange experience sticking, what's essentially, a 30,000 vibrations per second… well… erm… vibrator in your mouth. Maybe it'll come naturally to you, but for me, it was a strange first few days.
If you've used a sonic toothbrush before, then you'll know exactly what I'm talking about!
In terms of noise, you definitely know when the M-Care is switched on thanks to the high pitched whirring, but thankfully, it's not so loud as to be annoying. In your hand, the toothbrush feels very comfortable to hold and the metal buttons also have a nice premium solid feel.
It's worth noting that the toothbrush head is much larger than a standard Oral-B brush, it's closer to a small manual brush. A nice touch though is the 3D design of the bristles. They are shaped to naturally curve around your teeth so you don't have to angle the brush as much during cleaning.
There are 3 modes to choose from with the default being standard. For children or those with sensitive gums, there is a soft mode which tones down the vibrations per second. Or for a deep clean feel, you can switch to whitening mode which ups the intensity.
You also get 30-second pauses to let you know when to move on to the next cleaning quadrant of your mouth
Overall, I've enjoyed my time with the M-Care, it feels premium, it's easy to grip and requires less angling than my Oral-B.
But how well does it clean?
Modes: Standard, Soft & Whitening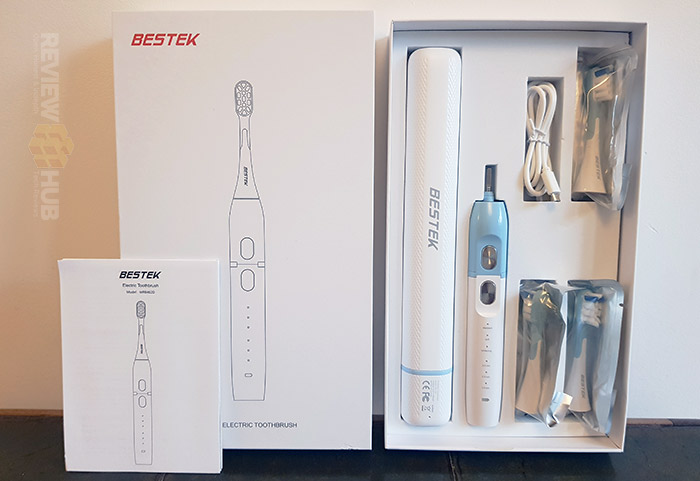 Clean Feel?
Okay, so the most important job for any aspiring electric toothbrush is how much of a 'Clean Feel' it gives you.
There's nothing better than running your tongue across freshly brushed super-smooth teeth. If you can feel any roughness or leftover plaque, then you know it's either time to upgrade your toothbrush or get a new toothbrush head.
Related:
So how does the Bestek M-Care make your teeth feel? Amazing!
While it certainly takes time to get used to a sonic toothbrush, the clean feel is unparalleled. Your teeth feel as smooth as pearls and you're left with a subtle tingling sensation.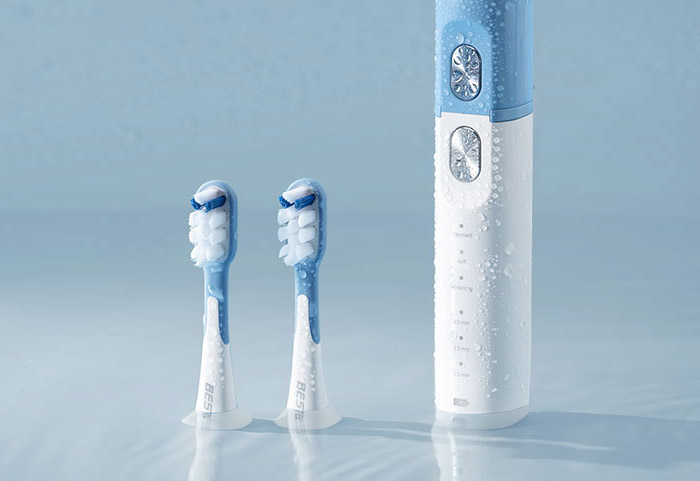 Brush Head Quality & Pricing
The brush heads are well-made, and the 3D design creates an effective cleaning zone without much effort required to angle the toothbrush.
They come with the same Blue bristles you find on Oral-B, which slowly fade through use to let you know when to replace them. And a nice touch is that on the reverse of the brush-head, you'll find a tongue cleaning brush. Although personally, I think the bristles do a better job.
The toothbrush has yet to release on Amazon yet, but I'll update soon with the prices of the replacement brush heads.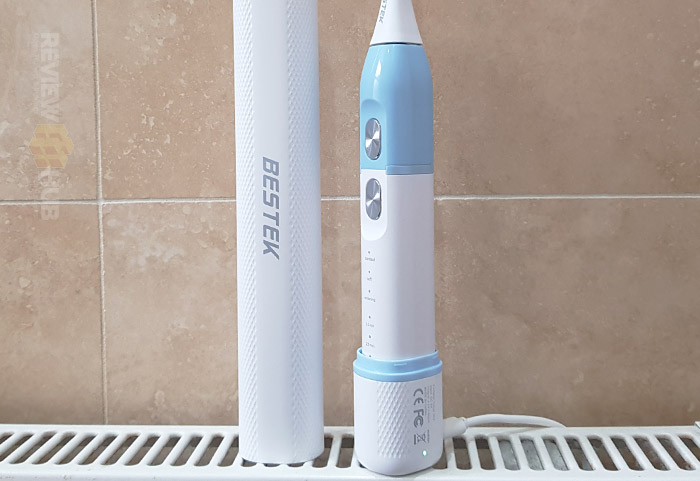 Travel Case & Charging
The travel case is made from a premium polycarbonate with the base doubling as the wireless charging dock.
It's not the most stable of docks when using upright, so you can either be careful or add the lid and place it on its side. I didn't have any issues, but if you've got kids I can see it easily being knocked over.
The case also has perforated holes on top so ensure efficient airflow. This means you don't have to manually dry the brush-head before packing and will reduce bacteria build-up from travelling with a damp toothbrush.
The charging dock has a small LED green light that flashes when the unit is charging, once fully charged this light indicator stays a solid green so you know it's fully charged.

Battery Life
Battery life is great, while it does take up to 10 hours to fully charge, we managed 4-5 weeks of normal use (twice a day on 2 min setting). There's also a red LED low battery indicator built into the handle.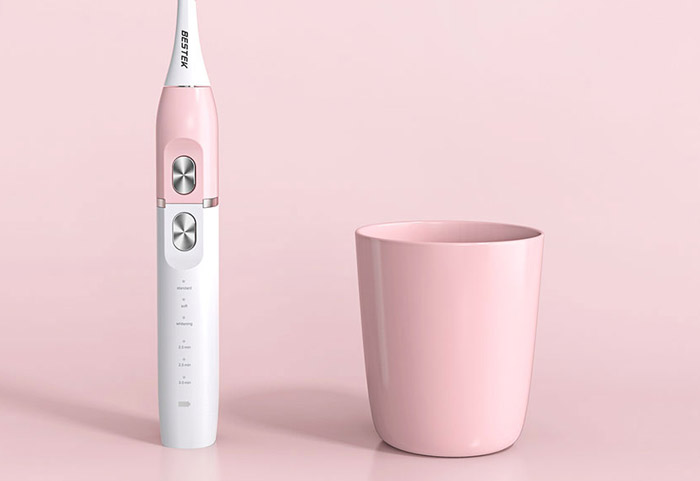 Bestek M-Care Electric Toothbrush – The Verdict
In the Review Hub office, we all agree that the Bestek M-Care toothbrush offers a superior clean feel to our Oral-B toothbrush. I'll be sticking with the new brush going forwards, but one of our team couldn't get used to the strong vibrating sensation and switched back to a traditional electric toothbrush.
At the current price, the Bestek M-Care costs less than half the Philips competition making it a steal. While the sonic action isn't for everyone, we're happy to recommend the M-Care.
We'll also be updating this review with our 6 & 12 months impressions down the line.
Bestek M-Care Electric Toothbrush – Available Now