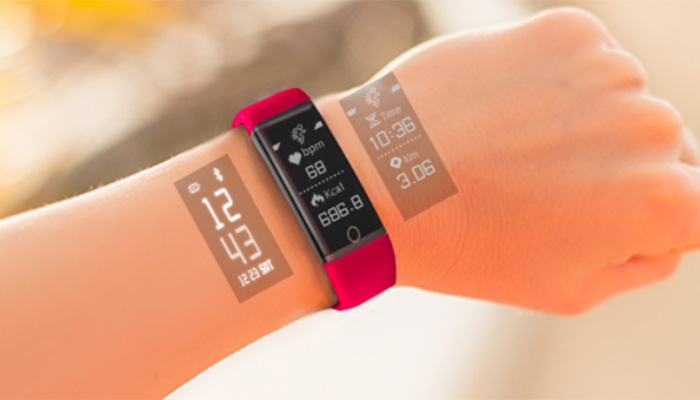 It's time to get back on the treadmill…
Is March too late to start your New Year's Resolution? With a Lenovo HX03W strapped to my wrist and my gym membership renewed I'm about to find out…
The Xiaomi Mi Band 2 has been undisputed king of the smartband hill for nearly 2 years and it's about time another manufacturer produced a worthy competitor.
Read on to see if the Lenovo Cardio Plus HX03W fits the bill!
[column size=one_half position=first ]
The Good

Novel charging method
Choice of watchface
Good notification compatibility
[/column]
[column size=one_half position=last ]
The Bad

Poor sunlight legibility
App battery drain issues?
[/column]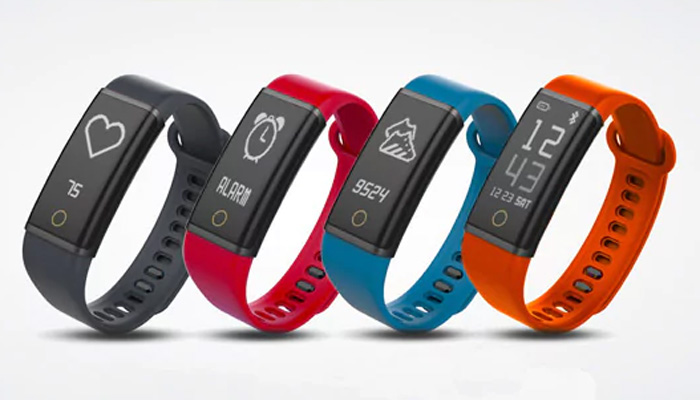 Design, Display & Build Quality
Let's be honest, there's not a great deal you can do with a smartband to stand out from the crowd. The Lenovo HX03W is certainly one of the better-looking smartbands available though. You can choose from a number of different strap colours. The main 'smart unit' itself is a 2-tone plastic with a circle under the screen to mark the multifunction button.
With a 0.96 inch OLED screen there is a lot more space than you find on the Mi Band 2. This allows for the display of more information on the main watch face, such as date and day of the week. It also allows for notification preview, giving an app icon and the first few words of the message. The pixels light in a blue/grey shade which to be honest is a little dim when outside.
One of the more interesting design elements is the charging mechanism. To charge the HX03W you remove the lower strap, which reveals a USB interface that you can plug directly into any USB port. This is a welcome change from other smartbands which need separate charging cables.
So far I've had no problems with durability. The HX03W has had a few bashes but nothing which has  caused any lasting scratches or damage. It also comes with IP68 ingress protection meaning that it's waterproofed to a higher specification than the Mi Band 2.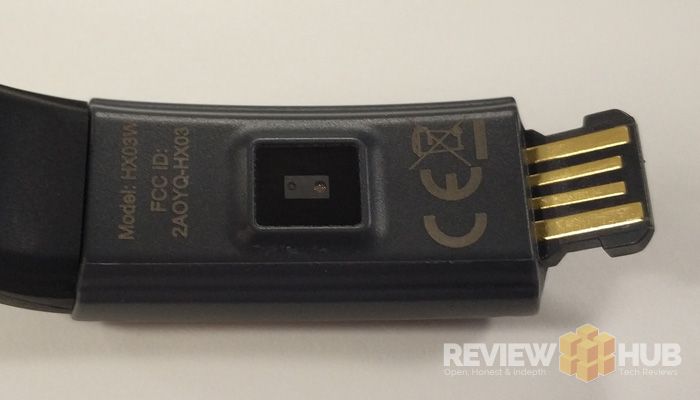 Features
The Lenovo HX03W has all the standard smartband features: notifications, pedometer, activity tracker, heart rate, sedentary alarm, sleep monitor, wrist up display etc.
A really nice feature of the HX03W, which isn't that common in budget smartbands, is the choice of 3 different watch faces. You can choose from large digital, analogue or small digital with weather. Living in the UK I've only ever seen this display a cloud, but I presume this changes..?
To test the accuracy I wore the HX03W along with a £450+ Garmin Fenix 4. As you can imagine, this was a great look! After a couple of hours the HX03W only reported 3 steps more (1654 v 1651) which I think is an acceptable level of tolerance. I have to confess that I didn't actually count the number of steps I'd taken so can't confirm which was more accurate!
The HX03W also reported the exact same heart rate as the Garmin in 3 tests at different times. I am very happy with its performance when compared with a device costing nearly 15x more.
With its generous display, notifications are also very well integrated. The Lenovo HX03W will display the icon of the app which has a notification and display a couple of lines worth of text. You can also choose 3 different vibrate strengths.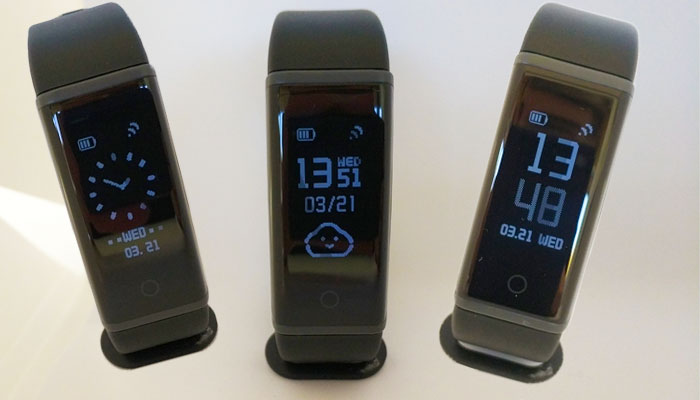 Companion App
The companion app for the Cardio Plus HX03W is called Lenovo Healthy. This was quick to download and install from Google Play Store. It instantly detected the smartband and paired without a hitch.
There are 3 main screens in the app, steps, sleep and heart rate. Each of these also has a timeline view so you can see your progress compared to previous days. You can also 'zoom in' to see a more granular view, for example how many steps you took each hour.
There is also the options screen to enable/disable functions such as wrist up display, notifications (selectable per app), sedentary alarm etc.
The Lenovo Healthy app has a good, intuitive interface. Information is easy to locate, and clear to understand. There is even a pretty comprehensive 'help' section with a few hints and tips.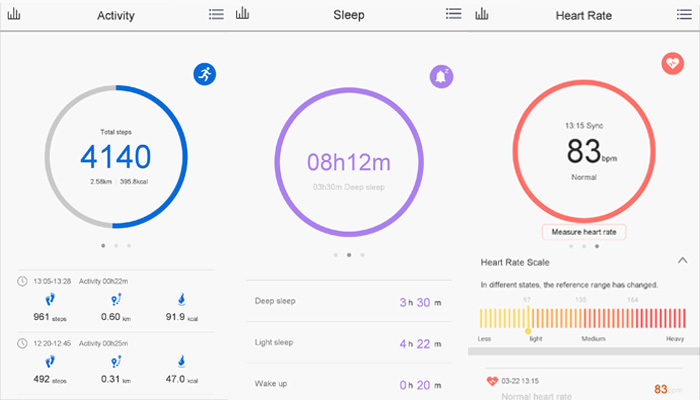 Potential Battery Drain Issues?
Unfortunately, I did experience some problems with battery drain. There were a couple of days when the Lenovo Healthy app seemed to use around twice as much battery than any other app, even when I had been listening to a lot of music or browsing heavily.
Turning off the notifications did improve things. But, this is really what I consider to be core functionality of a smartband. To turn off the notifications is to make the HX03W much less useful…
Maybe I had a duff unit? Maybe the Lenovo Healthy app doesn't play nicely with MIUI? Unfortunately I didn't have a spare phone to hand to test with but please let me know in the comments below if you've had similar issues.
The smartband itself lasted over 7 days on a charge. This is with the 'wrist up display' option on. If this was disabled it would last even longer.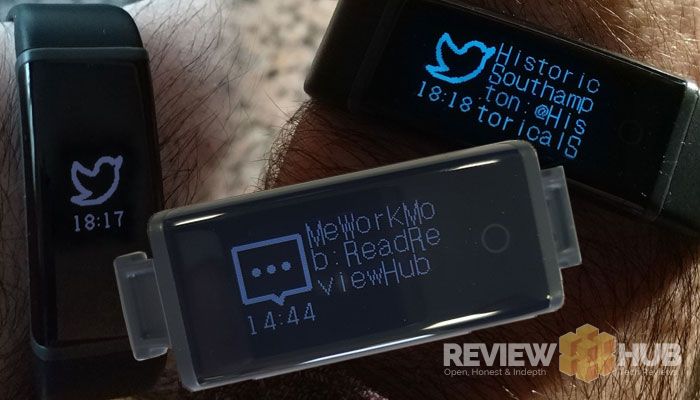 Final Thoughts
I like the Cardio Plus HX03W. It's a nice-looking and accurate smartband, with a lot of customisation options. I was impressed with the information passed in the notifications and I think there is a great deal of potential in this device.
I just hope that Lenovo have a look at tweaking the way their 'Healthy' app works with the HX03W. The battery drain that I experienced may have been unique to my setup so I'll give it the benefit of the doubt, but it was annoying to say the least.
All in all I think the Lenovo Cardio Plus HX03W offers enough to seriously challenge the Xiaomi Mi Band 2 as the best budget smartband.
Full Tech Specs Below…
Tech Specs
| Smartband | Lenovo Cardio Plus HX03W |
| --- | --- |
| Screen Size | 0.96 inch |
| Screen Resolution | 128 x 64 |
| Screen Type | OLED |
| RAM | 64kb |
| Storage | 512kb |
| Weight | 20g |
| Colors Available | Black, Blue, Red, Orange |
| Bluetooth Version | 4.2 |
| Battery Size | 85mAh |