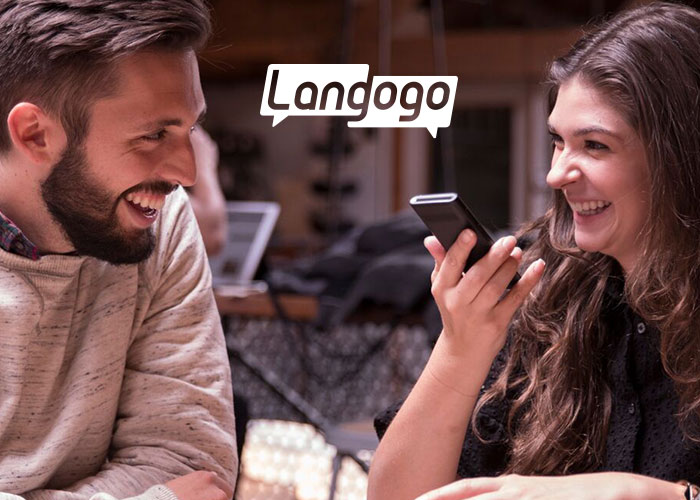 Talk To Anyone Anywhere With The Langogo AI Translator
This is one of those gadgets that every traveller should have. I'm an advocate of 'the right tool for the job', and the Langogo is exactly that.
It makes talking to friends in other languages super easy, it makes learning new words and phrases in new languages simple and it's just plain fun.
I won't lie, I had reservations at first. Couldn't I just use my phone to translate? The answer is yes, but the Langogo AI Translator is on another level. It's fast, its always connected and it has one purpose.
Being a dedicated language learning and translation device means that's exactly what I'm thinking about when I pick it up. While my phone is inundated with alerts, notifications and distractions – the Langogo only tempts me into learning languages.
But it's not all good news, so stay tuned to find out how the Langogo AI langauge translator performs in my full hands-on review.
Background
Originally a Kickstarter project, the Langogo raised 171,000 USD smashing their original 10k goal. It's now in full production, and you can purchase translators directly from the Langogo website or via your local Langogo Amazon Store.
Pros
Instant Accurate Translation Everywhere
Included – 1 Years Worldwide Data
Lightweight & Portable
Viewable In Bright Sunlight
Quality Speakers
Free Worldwide Shipping
Regular Updates
Cons
Male/Female Voice Options Limited*
Settings & Touch Keyboard are small
This Week's Best Langogo AI Translator Deals…

(10% OFF until November 2019 with code: 'reviewhub1' )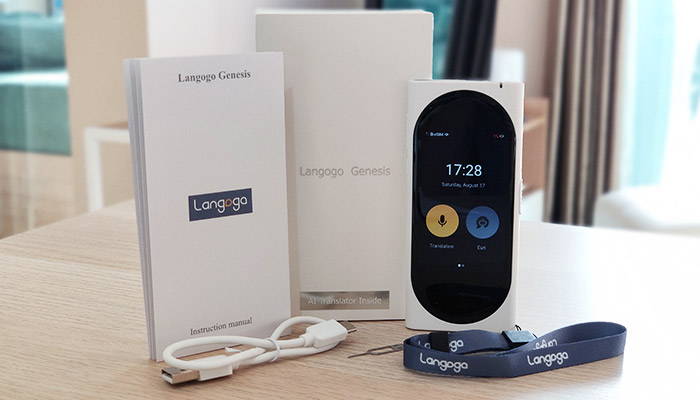 Unboxing, Setup, Design & Build Quality
First impressions of the Langogo translator are great. The polycarbonate shell feels premium, there's no hollow sound when tapping, and although lightweight at 115g, it feels sturdy in your hand.
The Langogo branded lanyard is a nice touch, but, it'd be to see a protective case included for an translator in this price bracket.
Peeling off the screen protector, you then need to hold the power button to turn on the Langogo. From here you can enter your WiFi password or setup the included data package.
Next, you'll want to choose what language you want to translate. And off you go.
It's that simple.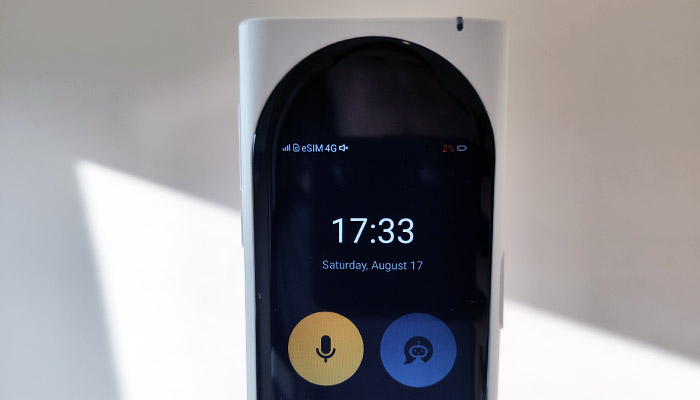 Display & Touch Sensitivity
The retina display is crisp and bright, but feels a step down compared to most modern smartphone displays. There's obvious light-bleed from the LCD panel on max brightness.
While it would be nice to have an OLED panel on the Langogo, there really isn't much need. This isn't meant to replace your smartphone, it's a dedicated translation device.
What does count though is display brightness to make sure you can clearly see the display when outdoors. On this, the Langogo performs very well. Even in the tropical sun of Thailand you can see the display. This isn't automatic though, so you'll have to dive into the settings to change the brightness.
The touch sensitivity isn't as good as I would have liked. I found I'd often have to tap twice or a swipe wouldn't register. Adding voice support to the menus would be a great addition in future updates.
This isn't a deal-breaker though as once setup, you use the physical buttons or auto mode to translate.
Setting Up the Global 4G (Free) & WiFi Hotspot

Included with the Langogo AI Translator is 1 years free data in 72 countries thanks to an inbuilt eSIM. It's simple and easy to setup, with my translator connecting to the local Thai network instantly.
Another bonus, is that you can use your data plan to hotspot up to 6 devices. So if you're planning on taking this travelling, you don't need to buy a new SIM card in each country you visit.
After the 1st year, there's plenty of data packages available from Langogo, or you can connect to WiFi (mobile hotspot) or you can add in your own Micro SIM card.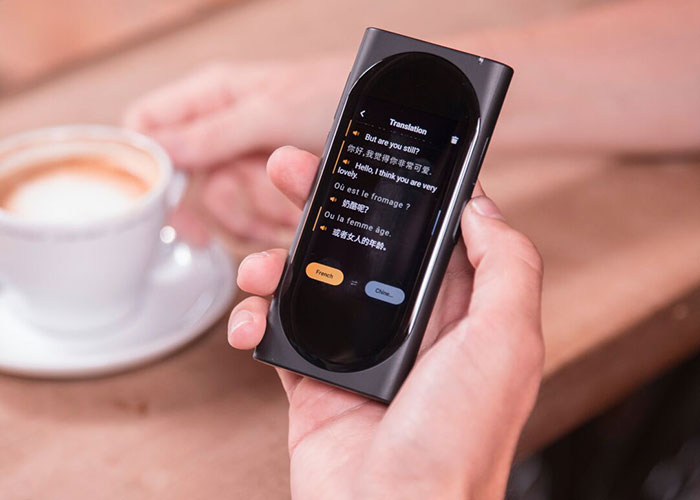 How Fast & Accurate is the Langogo Translator
While writing this review, I've been based in Chiang Mai (Thailand) which is a hotspot for Travellers from across the world, often speaking 2+ languages.
Which is super handy, as I only speak my native language English. Hmmm… starting to think I'm exactly the target market for the Langogo translator. #LazyBrit
So while showing the Langogo off to my friends, I was secretly testing how accurate the AI is at translating back and forth between German, Spanish, Polish, Thai and English. I haven't met any Japanese or Chinese speakers whilst I've had the Langogo o me, but I'll be sure to update when I do.
Top Tip: The Langogo will save all your translated conversations and phrases. You can 'Long Press' these to delete any unwanted phrases while keeping important translations for practise.
German <> English
Perfect. The Langogo had no difficulty detecting the German language even with a non-native German accent. Conversation translations were fast and accurate via the eSIM.
Spanish <> English
When translating Spanish you have the option of choosing between (Columbian, Argentina, Bolivia, Costa Rica, Dominican Republic, Ecuador, Spain, Guatemala, Honduras, Mexico, Nicaragua, Panama, Peru, Paraguay, El Salvador, US, Uruguay & Venuzuela).
Now, as I don't speak Spanish, I don't know how much of a difference there are between the regional dialects. But I did manage test the Langogo with a Columbian, Paraguayan and Spain Spanish.
Translations were almost perfect, although the increased speed of Spanish did mean that sometimes words weren't picked up perfectly. Also certain insults and swearwords didn't translate.
Overall though, 9/10.
German < Spanish
The feedback from my friends was that the Langogo did well. Although I have no idea, so can't comment.
English <> Thai
The Langogo only features a female Thai voice, which made for hilarious conversation with my Thai friends. It'd be great if male/female voices were made available for all languages.
In terms of translations, I got good feedback. Although Thai to English translations often sounded slightly like pidgin English.
Polish <> English
Again, this was almost perfect. I have multiple Polish friends who speak fluent English that testified to the accuracy.
Overall Accuracy

The Langogo scores highly both on the speed and accuracy of translation. It loses a few points for not supporting male and female voices in all languages supported though.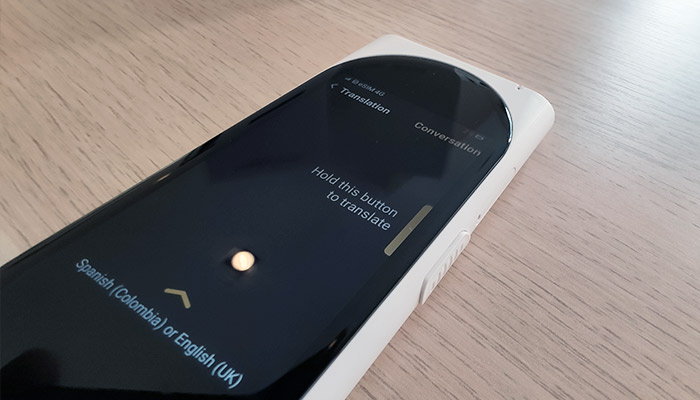 Langogo Languages Translated
While the Langogo translators big selling point is being able to translate over 70 languages, when we take a closer look, it's closer to 30 languages.
This is due to languages like English and Spanish having many country specific variations. Maybe this helps with the accent detection, but it's worth noting.
A total of 19 languages are available with both male and female voices to choose from. If you're looking for help with a specific language translation, it might be worth checking whether your gender is covered before purchasing.
Even with around 30 languages, I'm still impressed.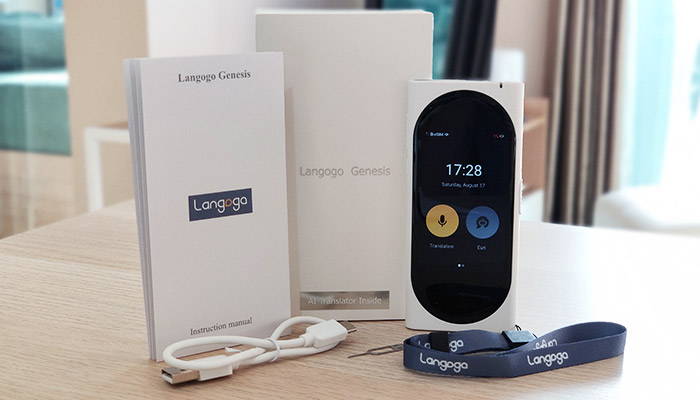 What's in the box?
The Langogo AI Translator box is small, and should fit through your letterbox. Which is great since, Langogo offers free worldwide shipping.
Inside you'll find a SIM Pin, SB Type-C Charging Cable, A Quick Start Guide and Langogo Lanyard.
Extras
While not obvious, you can use headphones with the Langogo AI translator. You'll need a USB Type-C to 3.5mm Headphone Jack adapter. They can be picked up cheaply online, and most likely you'll have one in your latest smartphone purchase box.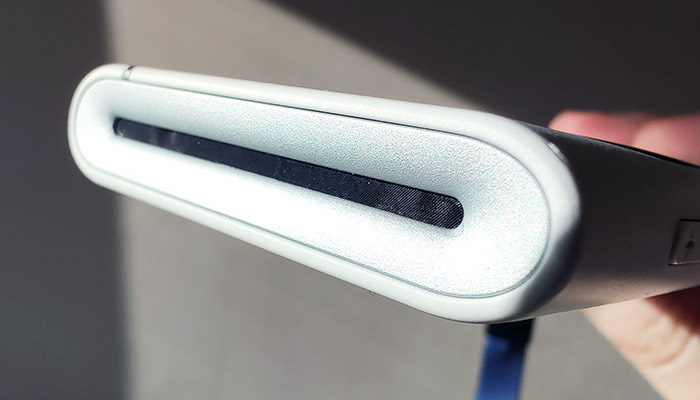 Langogo AI Translator – The Verdict
This little translation buddy has put a smile on my face everyday during testing. I've learnt plenty of new Thai phrases and it's even impressed my multi-lingual friends.
While the menu and keyboard can be a little fiddly, you don't use them that much. The most important elements such as an accurate microphone and clear loudspeaker are spot on.
Just make sure to check what languages you're learning and whether they support male and female voices, or you'll sound like a little Thai women like me.
Do I recommend the Langogo AI Translator? Yes. While it's certainly a pricey companion, the dedicated functionality of the Langogo means you'll actually use it.
This week's best Langogo Deals…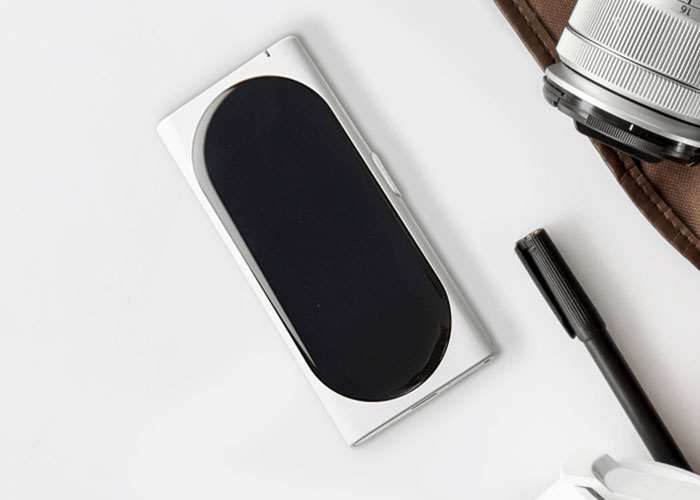 Langogo AI Translator – Tech Specification
More information and the technical specification.
Langogo are also dedicated to pushing out free lifetime updates to the Langogo AI Translator, so you can expect the AI functionality and language accuracy to improve over time.
| | |
| --- | --- |
| AI Translator | Langogo |
| Screen Size | 3.1″ |
| Dimensions | 121x54x13mm |
| Weight | 115g |
| Material | Plastic / Asahi Glass |
| Battery Size | 2200mAh |
| Charge Time | 3 Hours |
| Battery Life | Max 6 Hours |
| Charge Port | USB Type-C (Charging LED) |
| WiFi | Dual Band (5GHz) |
| WiFi Hotspot | Yes (Max 6 Devices) |
| Network | 3G/4G |
| SIM Slot | Yes (Micro SIM) |
| System Languages | Chinese, English, Japanese, Spanish, French, Dutch, Korean. |