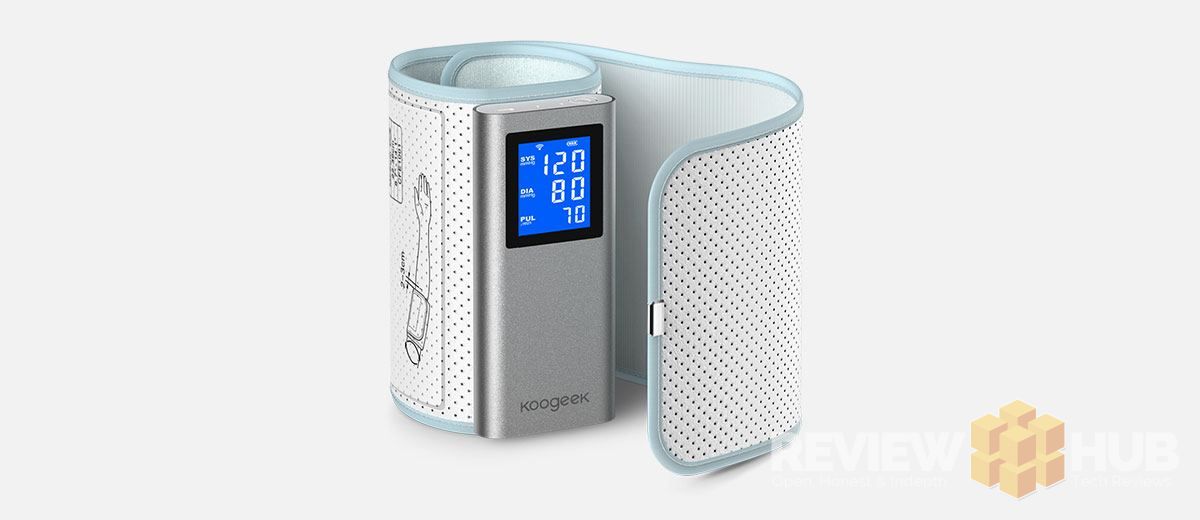 It's happening… we're on a revolutionary journey to mastering our health… all thanks to tech!
From Air Purifiers to Heart Rate Monitors, everyone's interest in health is growing in a big way! We've moved on from basic measurements like BMI with it now being more important to get an alround look at our health. You can literally measure everything with smart tech from from Stress, Blood Pressure, Heart Rate, Posture & now even our Brainwaves.
So, when I get contacted by brands who's mission in life is to create easy-to-use and easy to access health tech… I get excited!
[column size=one_half position=first ]
So who the heck are KooGeek? was exactly what I was thinking when they contacted me to review their Smart Enabled Blood Pressure Monitor…
Donning my research hat, I found out that KooGeek is actually a sub-brand of the giant online retailer TomTop.com. Who also owns the Dodocool brand that designs technology accessories, a few of which who we've reviewed here… it's a small world…
The KooGeek brand specialises in creating smart things and have two main lines of products; Smart Health Products & Smart Home.
[/column]
[column size=one_half position=last ]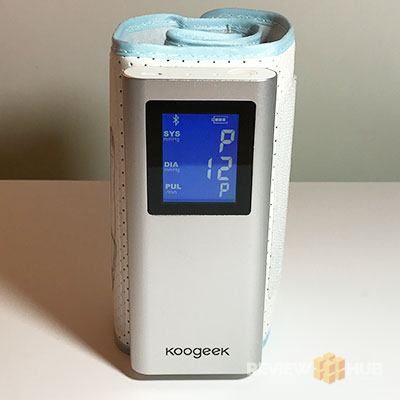 [/column]
So now that we know a little bit more about KooGeek, let's see how their FDA Approved Smart Health Blood Pressure Monitor fairs in my full Hands-on Review!
[column size=one_half position=first ]
The Good

Up to 16 users
FDA Approved
Excellent Build Quality
Feels Medical
Simple Intuitive App
Clear Backlit LCD Display
[/column]
[column size=one_half position=last ]
The Could Be Better

3rd Party Support –  Apple Only
Premium Price-tag
[/column]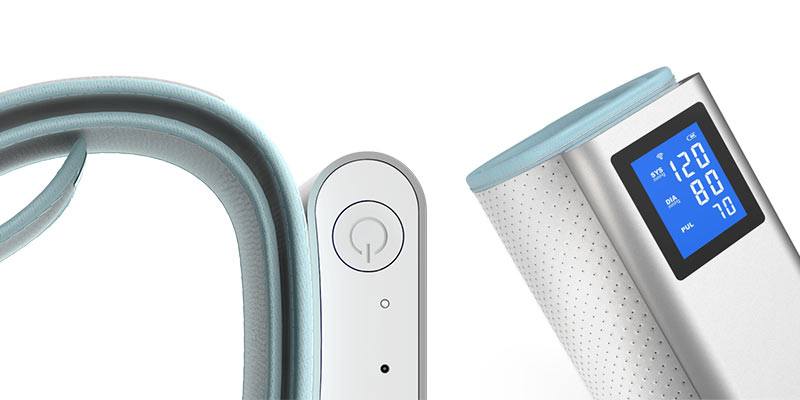 Setup & Testing
As soon as you take the KooGeek blood pressure monitor out of the box, you feel justified that the rather expensive £55 is worth it. It feels like a premium piece of medical kit but I'll get more into the build quality later on.
Inside the box, you'll also find an instruction manual, warranty card and quality control card. Setting up is easy, you download the free KooGeek Smart Health App, (iOS Version), register your height and weight then select the Blood Pressure Monitor.
Now connect your smartphone to the KooGeek Blood Pressure Monitor via Bluetooth. Once connected, you can then take your first measurement via the app.
[column size=one_half position=first ]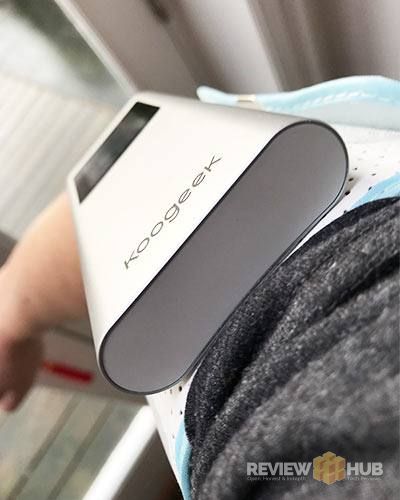 [/column]
[column size=one_half position=last ]
The arm strap beings to inflate, applying a lot off pressure to your arm for an accurate reading. It's not uncomfortable but a bizarre feeling if you've not had your blood pressure taken before.
I once used an overnight take-home (NHS UK) blood pressure monitor and the KooGeek Monitor feels just as good but has a much more futuristic design.
The arm band takes around 40 seconds to fully inflate. Then the monitor takes readings for your SYS (Systolic) & DIA (Dialostic) blood pressure as well as your pulse rate. Once completed, it then displays your reading (in the app) in a dial chart letting you know if your readings are within the healthy range.
[/column]
These measurements are all logged within the App and shown in simple graphs. This is great as it allows you to easily digest the health data and track your own blood pressure health.
If you need to guarantee a higher level of accuracy, the KooGeek Monitor will also let you take up to 5 measurements in a row. It will then take an average of these measurements eliminating the chance of an irregular reading.
Overall, I've really impressed with the ease and functionality of the KooGeek Blood Pressure Monitor. It worked flawlessly during my testing, recording my blood pressure measurements without any errors or strange readings.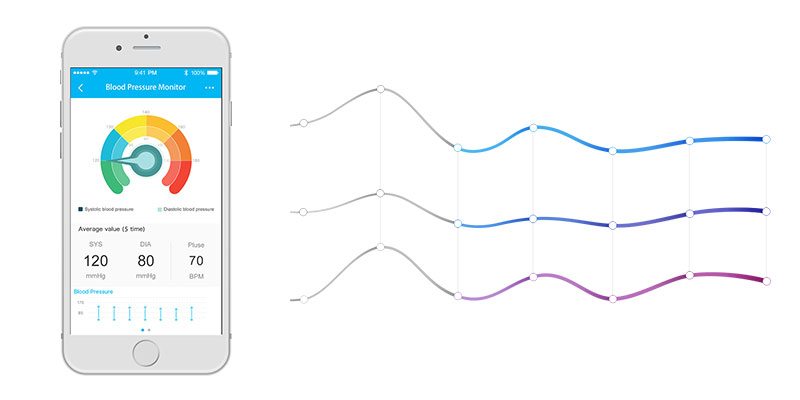 The App & Connectivity
The KooGeek Health App offers its own ecosystem of health tracking. They also have their own smart scales, smart thermometer and ab trainer allowing you to see your body fat, core body temperature, steps and other health related measurements.
I'm not the biggest fan of standalone ecosystems as you have to rely on the developers keeping it updated and feature rich. But… the KooGeek Blood Pressure Monitor will also sync with your Apple health if you use iOS… which is great!
It'd be nice to see more connectivity with more 3rd party apps in the future. The missing ability to sync with Google Health or Samsung Health is a small negative.
It's not a deal-breaker though. Why? because the KooGeek app is simple, intuitive and does a good enough job of representing the data collected as a standalone app.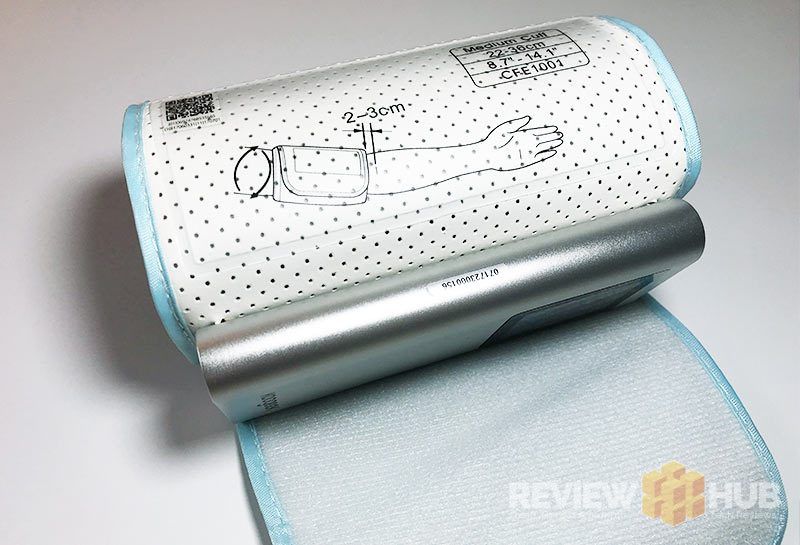 Build Quality
With all medical devices, the build quality has to to be top notch and it is! It's well made, has a clinical feel with the metal body, ergonomic rounded corners and overall, the KooGeek Monitor gives off a high-end impression.
The arm strap is made from a perforated breathable water-resistant (very realistic) faux leather that feels durable yet soft. There are no rough edges, the stitching is neat and overall, it's well thought out product.
Finally, the backlit LCD display is bright and clear enough to easily read, although you'll mainly be using the app.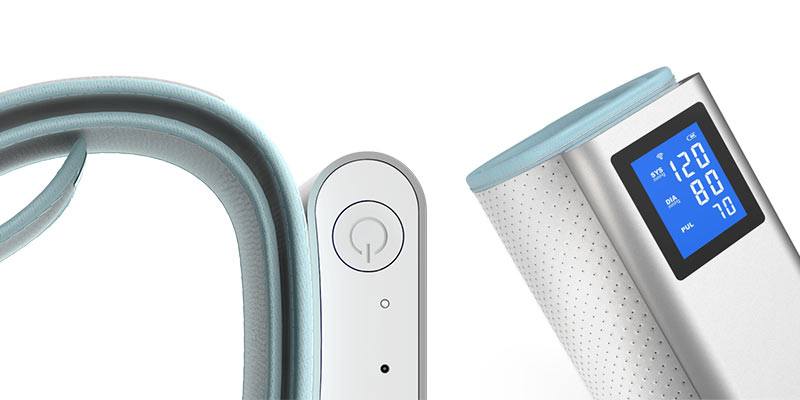 KooGeek Blood Pressure Monitor – The Verdict
You can get blood pressure monitors for half the price. But… I genuinely feel the KooGeek Blood Pressure Monitor offers value for money.
One of the big problems with these types of devices is recording and displaying the data in an easy to digest way… which is exactly what the KooGeek App does well.
To get a similar experience to the KooGeek Smart Blood Pressure Monitor you're looking at the either the more expensive Nokia or Withings options… or a cheaper monitor without the app…
So… do I recommend the KooGeek Smart Blood Pressure Monitor? It's a YES! but only if you need the app recording functionality…

KooGeek Smart Blood Pressure Monitor – Tech Specs
 
Model
KooGeek Smart Blood Pressure Monitor
App
Android (4.3+) + iOS (8+)
Users
16
Certification
CE, FCC, FDA
Measurements
Heart Rate, Diastolic Blood Pressure,

Systolic Blood Pressure

Material
PU Leather Finish / Water Resistant.
Arm Size
8.7 to 14.2 inches (23 to 36cm)
Weight
300 grams
Connectivity
Bluetooth 4.0 + WiFi
Weight
155 grams
Usage
50+ Times Per Charge
Battery Size
400mAh (Lithium-ion)