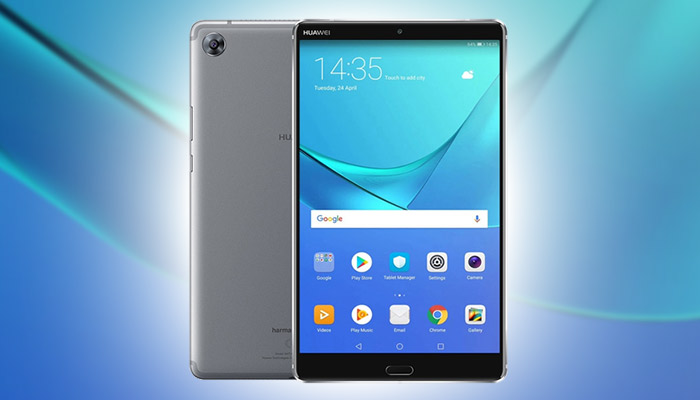 The Huawei MediaPad M5 8.4″ offers the perfect combination of style & performance. The display is immersive, it runs silky smooth, and the sound output is fantastic.
When hunting for a new tablet, you'll find the Android market doesn't have a lot of 8″ options. There's plenty of underpowered tablets to choose from, but what if you want something to rival an iPad Mini?
Say hello to the new MediaPad M5! If you've been looking for a sleek metal tablet with UHD display and thin bezels; the M5 8.4″ is perfect.
Related: Latest Tablet Reviews
We'll be looking at the smaller of the two M5's, the 8.4″ version which features the higher PPI (crisper display) and an improved design form factor. With every tablet there are Pros & Cons to consider, so let's dive into the full review!
Huawei MediaPad M5 8.4″ Tablet:
Pros
Excellent UHD Display Performance
ClariVu Image Enhancement
Professionally tuned Harman Kardon speakers
Silky Smooth Performance
Decent Battery Life
USB Type-C, AC WiFi & 4G Support.
Cons
No LED Camera Flash
Low-light camera performance
No headphone jack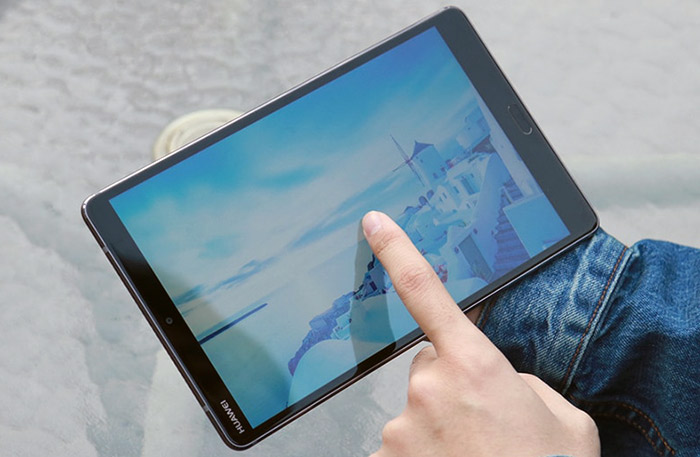 Display
The display on the MediaPad M5 is a real treat! It's crisp, comes with an epic 2K resolution of 2560×1600, and quite frankly… it looks bloody fantastic. It doesn't match the candy-cane colour-popping AMOLED display of Samsung's Galaxy Tab S series, but for an IPS display it's a good one!
As soon as you turn it on, you can see an incredible amount of detail with the colours looking natural.
Onto the viewing angles and the MediaPad M5 scores highly with the colours barely changing at all. Taking the tablet outside to test the brightness and we've found a weakness. While still perfectly usable, the colours desaturate slightly and there's a lot of reflection.
One thing to note is that the display does have a double bezel. While invisible on the black MediaPad M5, the white version shows up this extra border surrounding the display. Not a deal-breaker, but it does lose a point for design.
And finally, let's not forget about the ClariVu technology implemented by Huawei. It works via an AI algorithm and improves the contrast ratio of images while smoothing out video frame rates. It's a feature more often seen on high-end TV's than mobile devices.
Screen Tech Specs: 8.4″ IPS Display, 2560×1600 Resolution, 359PPI, ClariVu Technology, 82% screen-to-body ratio, Blue Light Filter,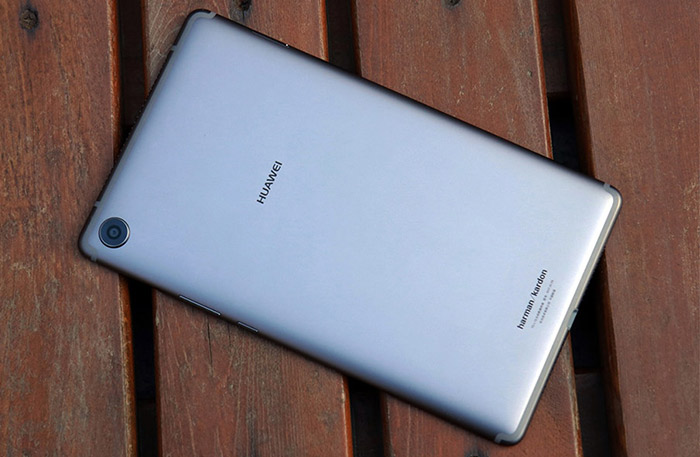 Design & Build Quality
I'm a big fan of the Huawei MediaPad design. It's sleek, minimalist and is created using a single piece of metal that's only interrupted by the contrasting antenna bands. It's this smooth metal design which makes it so comfortable to hold.
Pushing on the centre of the screen with both thumbs shows no central flex. Looking closely at where the display meets the frame there are no defects. And the buttons have a nice solid click with the overall build quality being excellent.
At only 7mm thick, the M5 is delightfully slim with Huawei even having to ditch the 3.5mm headphone jack altogether. Instead, you get a USB Type-C to 3.5mm jack adaptor bundled in the box. Or you can 'get with the times' and use a pair of Bluetooth headphones.
Onto the sound quality, and you'll notice that the M5 has speakers on both ends. This is because it has professionally tuned dual Harman Kardon speakers which deliver a phenomenal audio experience.
If you opt for the uglier 10″ version of the M5, you do get a big upgrade in terms of audio performance. The larger tablet features quad speakers rather than dual.
Design Specs: 7.3mm Thickness, 316g weight, Colours (Gray & Gold)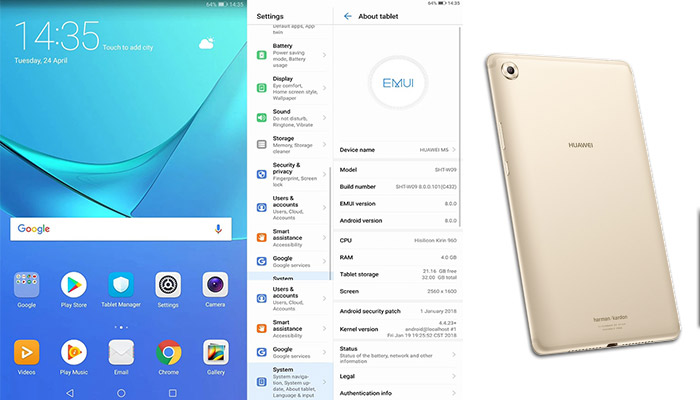 Performance
The entire show is run by the Kirin 960 8-core flagship-level processor made by Huawei. Granted, it is a last generation chipset, but you won't notice any compromise in performance. During my time testing the M5, I found it switched between apps with lightning speed while also loading apps & games very quickly.
I have to say that Huawei has implemented some excellent optimisations via its custom EMUI 8.0 skin. This custom skin is built on top of Android 8 (via an update) and offers lots of little tweaks like double-tap screenshot, helpful hints and single-handed mode.
Now speaking of memory, the MediaPad M5 has a healthy 4GB of RAM. For modern Android devices, this is more than enough to multitask smoothly and run high-end games.
Gaming on the M5 is a joy; I was able to play all my favourite games without any performance stutters. There were some minor frame drops while playing demanding titles like PUBG and Asphalt 9 – but nothing which couldn't be resolved by cranking down the graphics to a medium setting or lowering the 2K resolution.
And lastly, for storing your apps and files, the device offers 32GB's of storage space. While this isn't enough for most users, you do have the option to pop in a microSD card and create some extra space.
Performance Specs: Kirin 960 8-Core CPU (2.36GHz), 4GB RAM, 32GB Storage (expandable)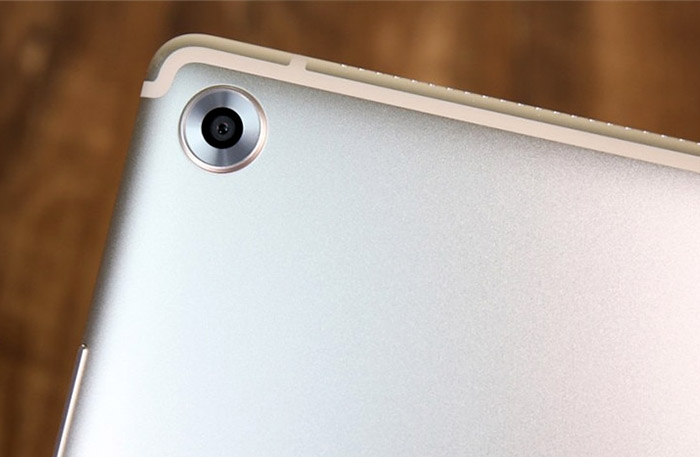 Camera
Since tablets are rarely the device of choice for photography, Huawei opted for a single rear camera. The tablet pairs a 13MP rear shooter along with an 8MP snapper at the front.
Both the front and rear lens suffers from weak low light performance. Using Skype or taking pictures at night results in a lot of grain and fuzz being added to the image or video.
With plenty of light in the daytime it's a different story. Photos look bright and clear with good colour reproduction. It's still a long way off from comparing to a modern smartphone camera, but good enough for general use and video calling.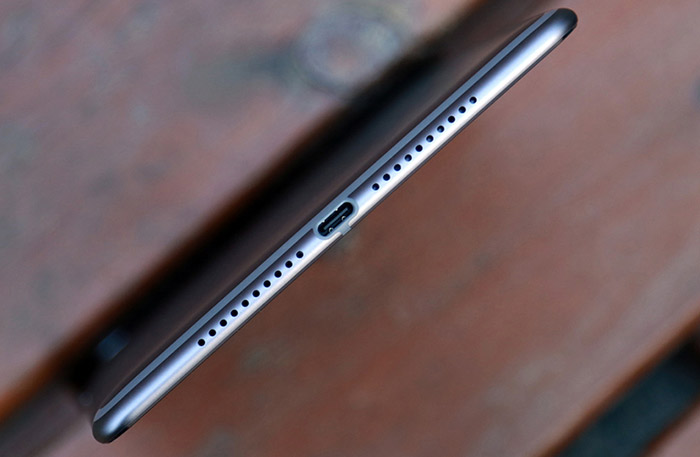 Battery Life
The 8.4″ model comes with a massive 5100 mAh battery which easily lasted me for a full day of heavy usage. On a typical day, I spend a couple of hours streaming videos and invested some time with PUBG, for research purposes only ;), and was pleasantly surprised to see that I still had over 30% charge left.
Related: Smartphones with Amazing Battery Life
It's not the biggest battery, considering it's powering a 2K display, but it does come with 9V/2A quick-charging.
If you go for the bigger 10.8" model, you do get a more impressive 7500 mAh battery to make up for the larger screen. Even so, I figure the bigger model will also last you a little longer.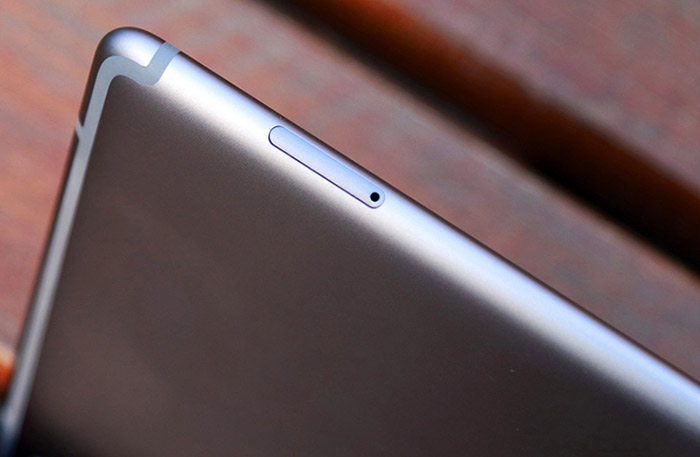 Sensors & Connectivity
The MediaPad M5 also doesn't compromise on sensors: an ambient light sensor, a gravity sensor, compass, hall sensor, and status indicator are all included.
There is a fingerprint sensor positioned at the bottom of the display, which is a nice touch often forgotten on a tablet. It also has access to the following GPS systems: GPS, A-GPS, GLONASS and BDS.
And let's not forget that the MediaPad M5 is also available in a 4G option. On the 4G version you can add a nano SIM card to use data on-the-go.
Other connectivity features include: Dual-band Wi-Fi (2.4GHz|5GHz) that runs on the faster AC standard, Bluetooth 4.2 technology, and a USB Type-C connection for charging and headphones.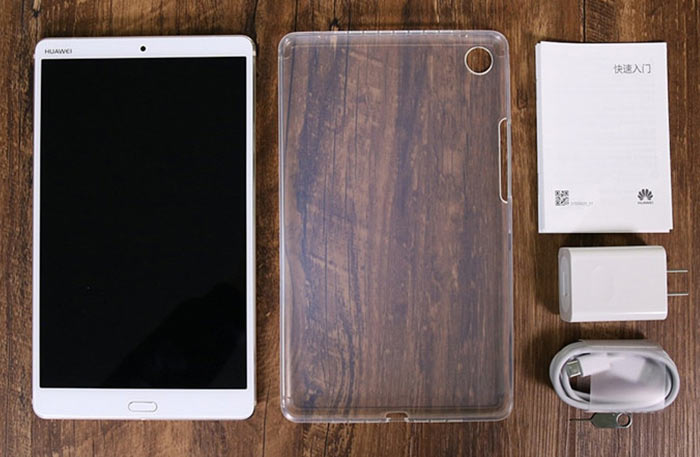 Huawei MediaPad M5 8.4″ – The Verdict
The Huawei MediaPad M5 is one the best value Android Tablets that still offers high-end performance and an incredible display. It's the perfect tablet for watching Netflix, playing games and general Android productivity.
The 2K display with ClariVu technology ensures the best image quality possible. And the professionally tuned dual Harman Kardon speakers offer the best audio experience in any tablet – period! Add to this the flagship level Kirin 960 CPU, and we have one heck of a tablet!
So if you've been waiting for a high-performance high-design Android Tablet, then go ahead and grab the MediaPad M5 8.4″ today! You won't regret it!
Dare I say it? Grab yourself an iPad-mini-killer!