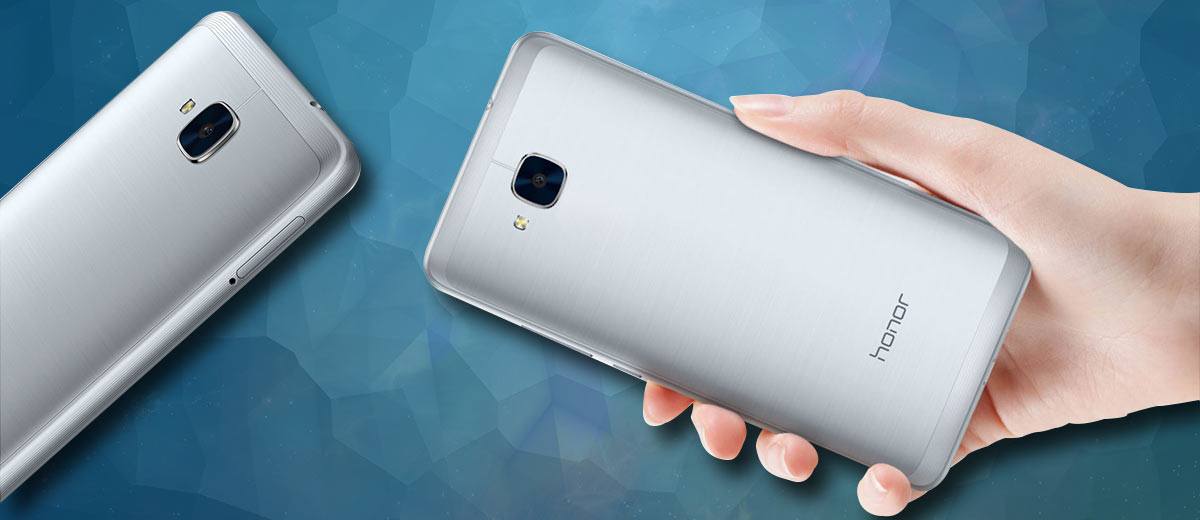 We take a look at the Honor 5C from Huawei
In a slight break from tradition for Review Hub, I've got my hands-on the Huawei Honor 5C. Unlike a lot of the phones we test here at Review Hub, the Honor 5C is available as a contract phone from high street mobile retailers.
[column size=one_half position=first ]
The first Honor device to reach the UK shores was the Honor Holly which launched in Feb 2015. Since then the Honor brand has been trying to become more established, releasing a range of smartphones to suit everyone from the budget to high-end.
With a tech giant like Huawei behind the Honor mobile brand you can expect a high-quality phone that will receive regular Android updates. Originally Huawei would keep the high-end features for its Huawei branded phones but as the Honor brand has grown and become synonymous with quality smartphones we've see the Honor range expand to also include high-end features.
[/column]
[column size=one_half position=last ]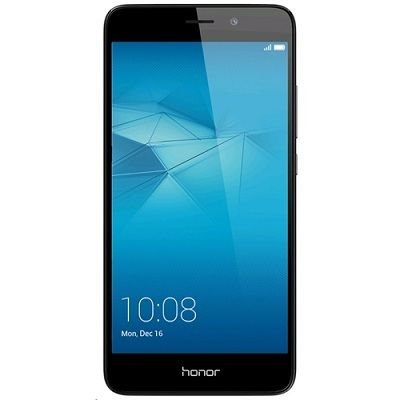 [/column]
This brings us neatly to the Honor 5C, which was released a month after the Huawei P9 Lite with very similar features. The difference being it's around £50 cheaper than the Huawei device.
But enough scene-setting, let's look at the 5C itself in more detail.
Grab yourself an Honor 5C from only… UK : £150 | EU : €168 | US : $185
[column size=one_half position=first ]
What we love

Feels great to hold
Good battery life
Camera performance
NFC enabled
[/column]
[column size=one_half position=last ]
Could be better

No fingerprint scanner
Charge times
2GB RAM
SD card takes 2nd SIM slot
[/column]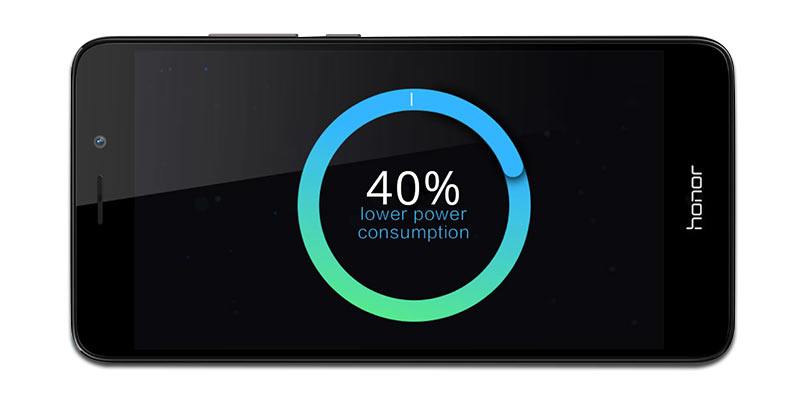 Screen
The Honor 5C's screen is impressive to look at. The display is bright, and the high resolution keeps images and video looking crisp.
[column size=one_half position=first ]
This is a full 1080p resolution screen which at 5.2 inches gives a very good pixel density of 424 PPI. I had brightness set at around 45% which was easily enough to see the screen clearly even in direct sunlight.
Bucking the 2.5D trend, the 5C has a slightly raised plastic border around the outside of the screen which is becoming something of an 'old school' styling cue these days.
[/column]
[column size=one_half position=last ]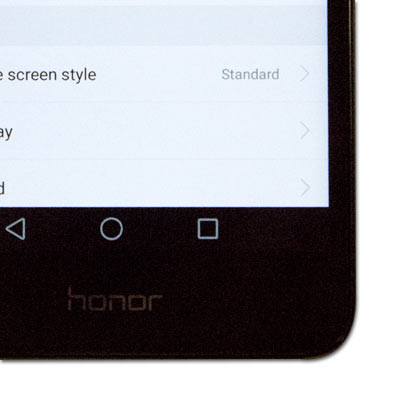 [/column]
The only thing I could possibly moan about here would be that the side bezels are a little on the chunky side, but to be honest that would be little more than nit-picking.
Screen Tech Specs: 5.2 inch, 1920×1080, 424ppi, IPS LCD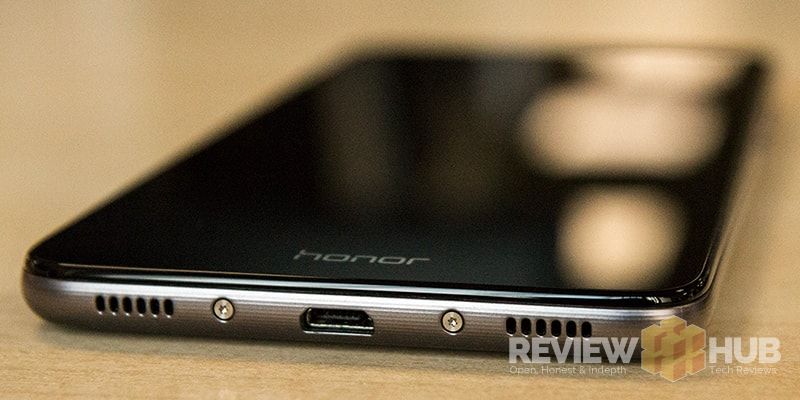 Design & Build Quality
The Honor 5C looks and feels very well designed and put together. At 156g it's a little heavier than similarly sized phones, but this translates into feeling reassuringly crafted as opposed to bulky.
In terms of build quality I'm happy to report that all is well. There were no discernible creaks or cracks when I gave it a gentle squeeze-test, and no dubious gaps around the screen or buttons.
I found the phone to be fairly generic looking from the front with only the earpiece speaker and selfie camera being visible above the screen and the Honor logo below.
Unlike the smooth aluminium back plate, the sides of the phone are made from a slightly grooved plastic which wraps itself around the edges of the whole phone. This extra grip makes the phone extremely easily to handle without any fear of dropping it.
The 5C looks good, fits in your hand nicely and while at 8.3mm thick it's not exactly the slimmest phone available it's still nicely proportioned. The side bezels are perhaps slightly on the larger size but not enough to put me off.
If bezels aren't your thing –  The Best Bezel-less phones.
What I like most about the Honor 5C design is how well it fits into your hand and feels secure, I didn't feel obliged to use a case as unlike some phones it didn't feel like it was going to slip out of my hand at any moment.
Dimensions: 147.1 x 73.8 x 8.3mm, 156g
Colours Available: Silver, Grey & Gold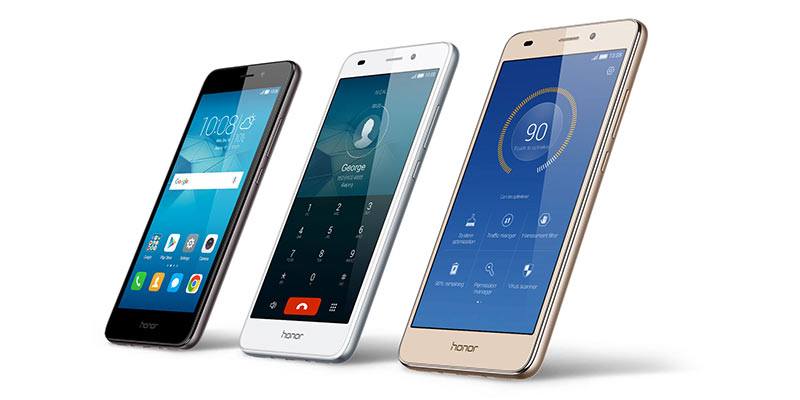 Hardware & Performance
[column size=one_half position=first ]
The Honor 5C utilises Huawei's Kirin 650 CPU, which is Octa-Core in the big.LITTLE tradition, featuring 4x 2.0GHz and 4x 1.7GHz cores. This is built on a 16nm process meaning that the Kirin 650 should, in theory, use less power and perform more efficiently. Real-life gains are more affected by how optimised the Android OS is, but using this setup certainly helps.[/column]
[column size=one_half position=last ]
The Honor 5C trumps its mid-range rivals
[/column]
For the most part the 5C felt fast & responsive but I was a little disappointed that Honor only decided to include 2GB of RAM in the 5C. 3GB becoming the standard in most handsets in this price range with 2GB being reserved for budget devices. Because of this the phone did feel a little sluggish at times, especially in switching between open applications. Nothing more than a few milliseconds lag of course but it suggests that the addition of another gig of RAM would have been a welcome move.
The benchmark results below are against two of the Honor 5C's main rival devices, both launched at a similar time into the same midrange market segment. On these benchmark results alone the Honor 5C is streets ahead of the competition mainly thanks to the great CPU performance, evidenced by the Geekbench scores.
I installed NOVA 3 and gave that a whirl, and for the most part it ran fine. There were a few moments with lots happening on-screen that it got a bit juddery but truth be told it performed much better than I would expect of a midrange device.
CPU: HiSilicon Kirin 650 8 Cores (2 x 2.0GHz, 4 x 1.7GHz)
GPU: Mali T830, 600MHz
RAM: 2GB
Storage: 16GB (read speed: 150MB/s , write speed: 30MB/s)
Expandable: Micro SD (uses SIM2 slot)
Geekbench results
| Device | Single-Core | Multi-Core |
| --- | --- | --- |
| Honor 5C | 898 | 3933 |
| Lenovo Moto G4 | 713 | 3182 |
| Samsung Galaxy C5 | 695 | 3182 |
Antutu results
| Device | Score |
| --- | --- |
| Honor 5C | 52934 |
| Lenovo Moto G4 | 46949 |
| Samsung Galaxy C5 | 44438 |
Software
Huawei & Honor smartphones both run with on an Android 6.0 implementation called EMUI.
[column size=one_half position=first ]
The 5C runs EMUI 4.1, on top of Android 6.0, but it's just recently been confirmed that it will be updated to Android 7, which runs as EMUI 5.0, great news if you like to keep your Android version up to date.
Much like other Chinese Android versions this has an iOS-esque feel removing the app drawer and using custom icons. This is a bone of contention for many Android users, as every app installed is placed on the home screen, and calls for judicious folder-creation and filing. As always, installing a different launcher app, such as Google Now, will give you a more standard Android experience.
[/column]
[column size=one_half position=last ]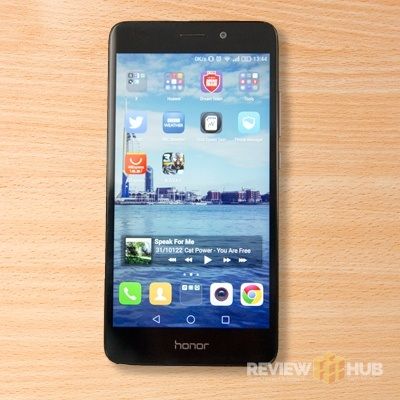 [/column]
While EMUI is one of the more polarising Android overlays I liked it as an operating system. Graphically the icons and menus looked clean and current, and I found it easy to navigate to the features that I wanted to access. There is a customisable shortcut section accessed via the notification panel and this was the best implementation of shortcuts that I've used.
The other main addition is a comprehensive Phone Manager which runs a healthcheck on the 5C when it's opened and gives you a percentage score, with hints on how to optimise the device. From this section you can also access other management features such as Traffic Manager, Harassment Filter and Battery Manager.
A minor feature but one which I've not seen before, was that the notification icons were set to display the contact profile image if one was present. So for example, if Aunty Ethel was to send you a WhatsApp message, the notification icon would be her profile picture, as opposed to the standard WhatsApp icon, which is a nice touch.
Software Features: Android 6.0, Phone Manager, Pedometer, One Handed Mode, Simple Home Screen
Speaker & Call Quality
Given that the Honor 5C has so far not displayed any major weaknesses, perhaps they'd dropped the ball when it came to base telephony functions like call quality? Of course not.
In-call performance was absolutely fine, the earpiece was clear with no muffling or distortion, and the secondary mic did a good job of reducing background noise.
For music, video and gaming the speaker sound was loud and clear, although when in landscape mode the speaker was easily muffled by your hand.

Camera
The Honor 5C camera coped well with a variety of different lighting situations, both indoors and outside. As this is a mid-range device the photos do suffer a little as you zoom in, but they're certainly good enough to print out.
[column size=one_half position=first ]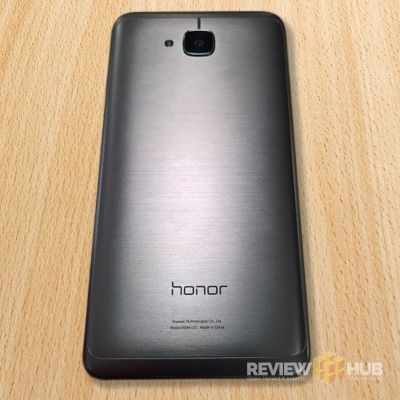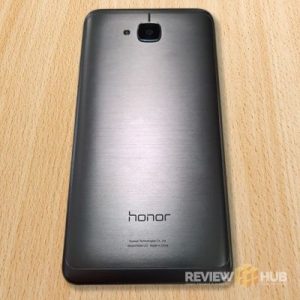 [/column]
[column size=one_half position=last ]
Pictures taken on the 5C were consistent in terms of quality, which is again something that similarly priced devices can struggle with. The camera is quick to focus, and the burst mode (hold down the shutter icon) is very fast and produced good results
Camera Mode Included: Light Painting, Food Mode, Time Lapse and Slow Mo, as well as a comprehensive Pro mode allowing greater control over the settings.
[/column]
I was impressed by the video quality of the 5C, and the sound quality was very good.
See all the Honor 5C Photo Samples

[column size=one_half position=first ]
Back Camera:
13MP CMOS BSI
Single LED Flash
1080p Video Recording
[/column]
[column size=one_half position=last ]
Front Camera:
8MP
No Flash
720p Video Recording
Wide Angle Lens
[/column]
Battery life
The battery life of the 5C was a major plus point, I managed to go a day and a half and still have 30% left, with plenty of screen and call time, and a half hour GPS journey. The lack of fast charge was a minor niggle, it took 2 hours and 45 minutes to get from 30% to 100% which is a bit slower than we'd like to see.
An Honor-only battery feature is the 'Ultra' power saving mode. Quite the opposite of being 'Ultra' it actually dumbs down your phone into a device which can only make calls and texts (remember them?). The plus side of this is that it massively extends the battery life of the 5C.
Battery Specs: 3000 mAh, 'Ultra' power saving mode

Connectivity
Being a UK device the 5C works with all UK mobile carriers. Bluetooth 4.1 is also present and the 5C benefits from 4.1's Low Energy feature. Bluetooth connectivity worked well for hands-free calls and playing music in my car.
GPS worked absolutely flawlessly, and the inclusion of NFC is very welcome at this price.
Android Pay (NFC):  YES
3G: YES
4G: YES
Full UK Coverage: YES
Bluetooth: 4.1, A2DP, LE
GPS: GPS, A-GPS, GLONASS, BeiDou
Sensors: Accelerometer, Light sensor, Proximity Sensor, Compass
USB OTG: YES
USB Type: Micro-USB
SIM support:  Dual standby
WiFi: 802.11 b, g, n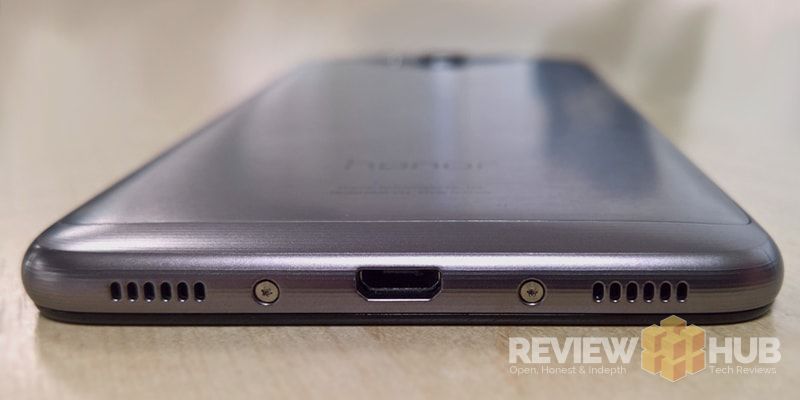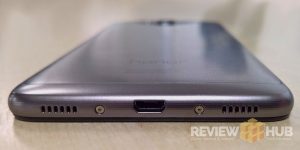 Conclusion
The Honor 5C is a very easy phone to like. It looks and feels great, and performs very well in all areas.
I'm a little disappointed by the omission of a fingerprint scanner as in some markets the 5C has been re-badged as the Honor 7 Lite with the only difference being the inclusion of a fingerprint scanner. However this is merely a minor gripe and the positives of build quality, performance and battery life far outweigh any cons.
I'd recommend the Honor 5C as a relative bargain, especially if you're a little worried about buying directly from China. This phone packs a lot for the price, and you'll have the peace of mind of UK based support should the worst happen.
The Honor 5C starts at… UK : £150 | EU : €168 | US : $185
If you've got any questions about the Honor 5C let me know in the comments below and I'll be happy to help.