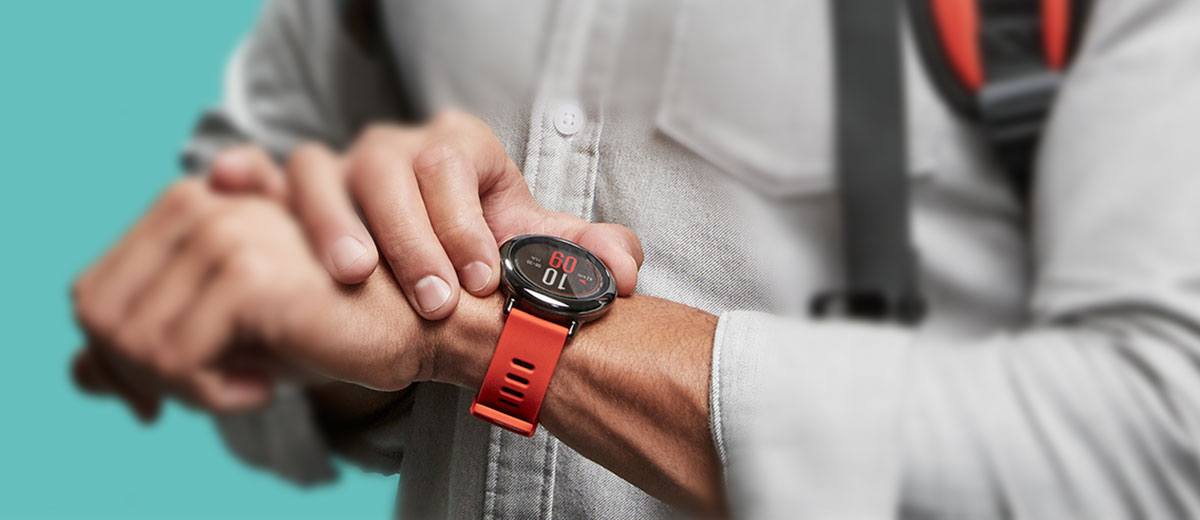 The Amazfit Pace Smartwatch combines award-winning style with accurate fitness tracking and excellent battery life
While the Amazfit Pace smartwatch isn't without its shortcomings, the recent price drop has just made it a smartwatch purchase you won't regret.
Why?
Because the Amazfit Pace is a feature rich minimally styled smartwatch that even looks good on my dweeby wrists. It's a standalone fitness solution that does it all right from the watch itself. No longer do you need to keep referring to the app to see your fitness data, to set up a running schedule or any of the other tasks the Amazfit Pace performs.
You most likely won't have heard of Amazfit or their parent company Huami bef0re. So it might come as a shocked to hear that Huami are the second biggest manufacturer of wearables in the world. They're partners with Xiaomi (a super successful Chinese brand who created the Mi Band 1 and Mi Band 2) and have their own fitness product range under the brand Amazfit.
As a newcomer to the Amazfit brand myself (but an avid Mi Band fan), I'm excited to get my hands on the latest GPS enabled fitness to hit the market. I've been using the Pace smartwatch exclusively for the last two weeks, 24 hours a day, every day with an open mind.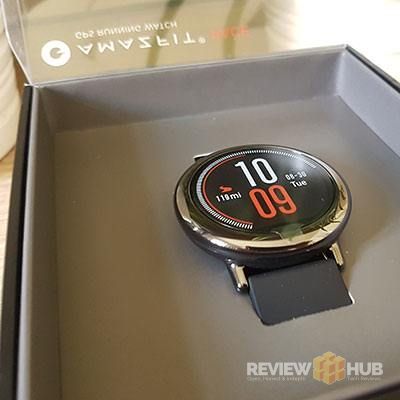 Update: I've now had the Amazfit Pace strapped to my wrist for over three months. So I've updated this review with a new section below to let you know more about my long term opinion on the Pace smartwatch.
So let's see out how the Pace watch performs when it comes to Display Quality, Tracking Accuracy, Features, Comfort and battery life.
Also, since no smartwatch or fitness band can succeed without a well thought out companion app (even though the Pace is trying it's damn hardest), I'll also be judging the Amazfit Watch App as well.
The latest Amazfit has been released, the Amazfit Bip – Check out our full review.
The best part about the Amazfit Pace Smartwatch is the price!
The Good

Design & Build Quality
Excellent outdoor display
Standalone Fitness Tracker
It's Waterproof IP67
Accurate GPS Tracking
Long Battery Life
It can take a beating!
The Could Be Better

Only compatible with Strava
App is missing incentives / challenges
Sleep data is basic
No sedentary reminder customisation
Notification Alerts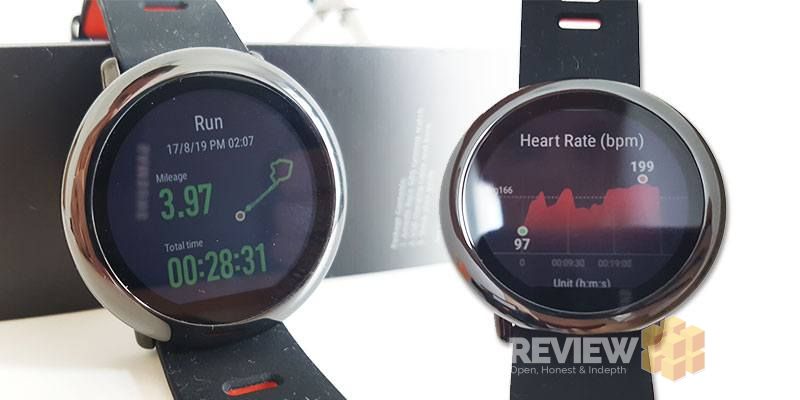 Three+ Months with the AMAZFIT Pace Smartwatch
With a product like the Amazfit Pace, I like to come back and update my reviews after a few months to let you guys know how it fares long term.
The first positive for the Pace smartwatch is how durable it is. The amount of times I've banged this watch against metal door handles, tables and walls is in triple digits but the Pace doesn't have a scratch on it. The ceramic element looks as good as the day I opened it and the display is completely scratch free, even when holding it up to catch the light.
I've had 2 watch firmware software updates over the last three months. Amazfit has added features such as Indoor Running, Indoor Bike and Climbing to the mix. I use the indoor running mode and lot and it's usually within around 10% accurate of the treadmill.
The watch band get stinky! But that's okay because I've been washing my Amazfit Pace with hand soap nearly every day for three months and haven't had any issues. The band still looks like new. I still wouldn't use any abrasive cleaners as they could leave scratched but gentle hand soap should be fine.
On the Amazfit website, they recommend a very delicate cleaning method that involving swabs and damp cloths… Well, what's the IP67 rating for if I can't rinse it under the tap?
Overall, after 3 months I'm still using the band for daily fitness tracking and have been complimented on the watch more than once. The app is still lacking, but I can vouch for the hardware, durability and Amazfit's commitment to keeping the watch updated.
Back to the original review : ) leave your questions at the end…
GPS Run / Walk Tracking
(Sorry about how grubby the Pace looks above. I'd just got back from a run, washed it and didn't see how much towel fluff had stuck to the band)
One of the main selling points of the Amazfit Pace is that it comes with an inbuilt GPS tracker. This allows you to track your route, distance and elevation without the need for a smartphone.
The Pace smartwatch also comes with a couple of gigabytes (2.2GB) of onboard storage meaning you can load up your favourite running music and connect a pair of wireless Bluetooth headphones creating a true wireless running setup.
But how well does the GPS tracking actually work?
To test the Amazfit Pace's GPS capabilities I went for a run in sunny Budapest with both the Pace smartwatch turned to GPS Run Mode and my Galaxy S7 connected to MapMyRun with both 3G & GPS enabled.
If the Amazfit Pace can keep up with my Galaxy S7 using its own GPS plus 3G signal triangulation then that's good news. Budapest is a well built up city that has narrow streets and 4 to 5 floors are the norm.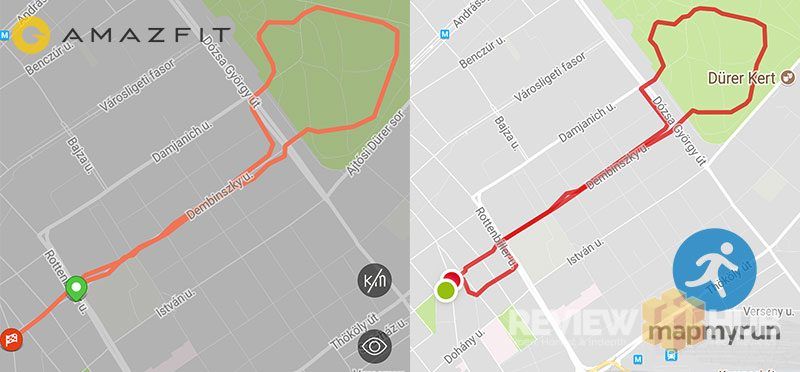 As you can see from the GPS map data above it took a while for the Amazfit Pace to lock on to the satellite so it missed the first few corners around the block and assumed I went in a straight line.
I didn't realise, but the Pace does alert you with a vibration and an on-screen notification once GPS has locked on so it's well worth doing a few stretches before you set off.
Viewing the watch during the run was super easy and the alerts it gave me during my run were helpful. I'd set the watch to alert me if my heart rate went over 175 which worked well, although once over the limit, it didn't carry on alerting me. It also gave regular updates on distance and pace.
Having easily viewable access to heart rate data via the screen is a useful feature if you're looking to stay in the fat-burning zone. I can also see it being helpful for anyone with a heart condition that needs to stay within limits.
After the run, all the data appeared on Pace's display removing the need to use the Amazfit app at all.
That's a pass for running GPS tracking. It's accurate once locked on.
(It's worth noting that if you're looking to sync with your favourite fitness app, currently the Pace smartwatch will only work with the running app Strava.)
Display Quality
One reason to pick the Amazfit Pace smartwatch over a fitness band is the bigger screen and added functionality that comes with it. So how does the Pace Display perform in terms of sharpness, colours, brightness and direct sunlight?
The Amazfit Pace uses a flat tyre design screen with a 320×300 pixel transflective colour LCD Display. This unique display allows you see the see the smartwatch without activating any a backlight.
In direct sunlight, the display looks at its brightest and its best. Try and imagine a colour Kindle e-ink display that gets lights up more the brighter it is.
… the always on display looks fantastic outdoors …
This makes the Amazfit Pace fantastic for running and any outdoor activities as it's easy to see and doesn't drain the battery.
Indoors you lose most of the transflective effect and are left with the readable but subtle display. It does come with a built-in backlight that you can activate by either double-tapping the screen or lifting up your wrist up.
Overall, I'm pleased with the display. While it's the opposite of most smartwatches, as it's super bright in direct sunlight and dims when indoors, this is perfect for a running smartwatch.
Tech Specs: 1.34 inch LCD Display, 320x300px Resolution, Always on technology.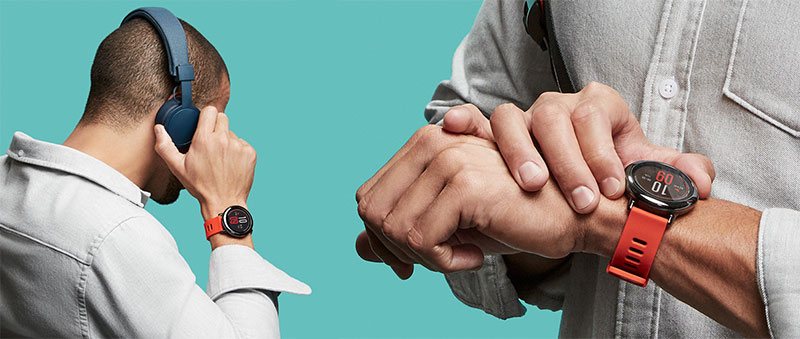 Design, Build Quality & Comfort
I'm a fan of the Amazfit Pace's minimal design when compared to the more traditional look of smartwatches like the Samsung Gear 3. It's also telling that the design team at Xiaomi have helped with the Amazfit Pace's design as it won a Red Dot Design Award. (Something Xiaomi has a history of.)
When you have small wrists like me the bulky Garmon GPS tracking smartwatches are off the table. Luckily, the Pace smartwatch is only 4.5cm across the watch face meaning it'll look proportionally on most wrists.
The ceramic bezel is a premium touch and changes colour from a dark charcoal to silver depending on the ambient lighting. Underneath the smartwatch is made from plastic and attracts grime but this isn't a problem as it's IP67 waterproof.
The included strap works excellently as a fitness watch strap but is a little on the sporty side. Personally, I want a smartwatch that looks like a regular old watch not like a swimming pool locker key band.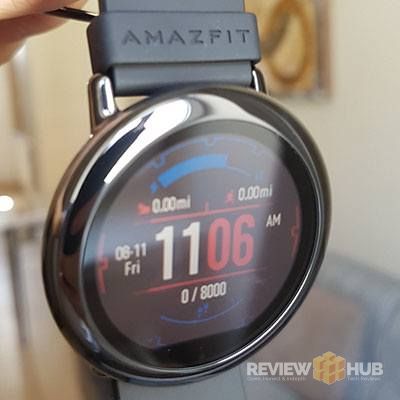 Just kidding, it's a premium well-made strap that has the right amount of elasticity for accurate heart rate measurements without any pressure discomfort. It'll fit almost any sized wrist and comes with 15 different adjustment holes.
I've been on the lookout for a new Amazfit Pace watch strap so I put together this article.
The strap buckle is made from the same ceramic as the watch face and the strap holder also has the Amazfit logo embossed into it. These small details all add together to give you the feeling you're dealing with a premium product.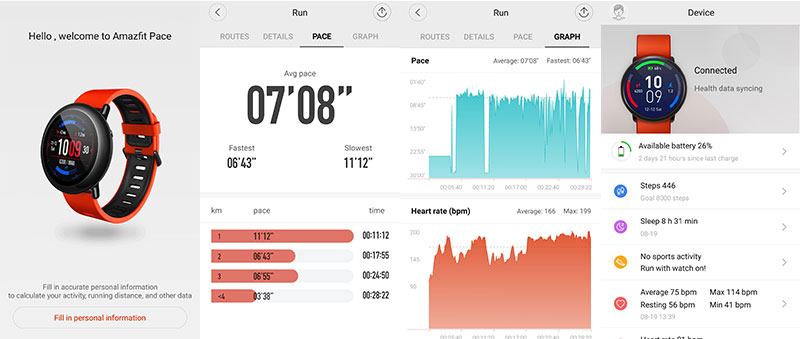 Health Tracking Features
As well as being your sports partner the Amazfit Pace will help you keep track of your health.
Heart Rate Monitor
You can either manually take your heart rate via the watch or turn on continuous heart-rate monitoring at the cost of some battery life.
For accuracy testing, I ran both the Amazfit Pace heart-rate tracker and the dedicated sensor on the back of the Galaxy S7. After 3 tests, every test was within 2 beats of each other leading me to believe it's a quality sensor.
Pedometer – Step Counter
The watch will track your steps throughout the day and alert you when you reach step goal milestones. You can also set the watch to GPS track your walks to access more walking data such as speed and gait.
Sleep Tracking
The Pace smartwatch also tracks your sleep. I thought that sleeping in a watch this size each night was going to be awkward but it wasn't.
The Pace sleep data tells you how much light and deep sleep you have had in the night. I'm averaging about 2 hours of deep sleep. I'd like to see more conclusions drawn from the data similar to the Fitbit apps.
In terms of accuracy, around twice a week the watch mistakenly thought I had awoken a few hours earlier and there's no way edit the data.
Sedentary Reminder
That's right, the watch knows when you're being lazy and gives you a little reminder to get up, stretch and walk around.
Currently in the app, you only have the option to turn this on or off. I've messaged Amazfit asking them to update the app with a way to customise the time between reminders and even set up awake times. But as of writing this article, the function is limited.
Run Training
Built into the watch (not the app) is a fitness option called Training Center. This is an all-in-one virtual coaching system that will let you choose a running course then plan out your runs for the next 12 weeks to get you in tip top shape.
It'll bug you when you don't run and try to keep you motivated to reach your run goals. It's a cool idea although I wish it was viewable in the App as well.
Training Options
Beginner
5KM
10KM
Half Marathon
Marathon
Leave your smartphone at home
I briefly touched on earlier how the Amazfit Pace is a fully functioning stand-alone sports smartwatch. The inbuilt GPS and Music Player mean that you can ditch your smartphone at home and only take the watch with a pair of Bluetooth headphones on your next run.
Although, it's worth mentioning that if you run into trouble you then wouldn't have any way of contacting help. So, it's probably best taking your smartphone anyway.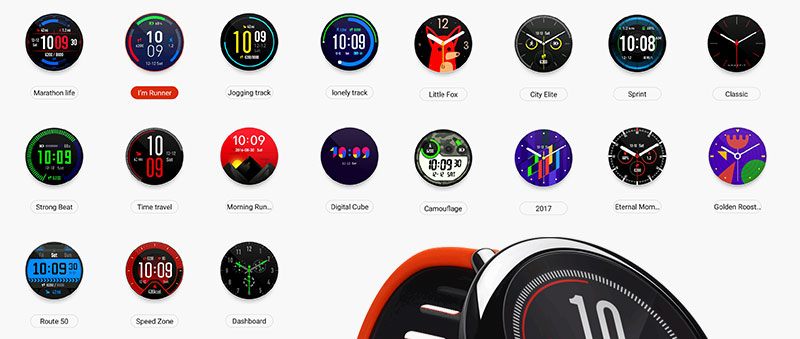 Customising the Amazfit Pace
Currently, there's 19 inbuilt watch faces of various designs as well as the option to add your own image. Changing the face is easy, just long-press the home-screen and select the new watch face.
Some faces work better than others when you're in low light due to contrast. Some faces are more purely design-based while others offer daily target data. Since switching is so easy you'll soon find a watch face for indoors and out, switching between the two when needed.
It's also very likely that there will be more watch faces to choose from soon as the App updates.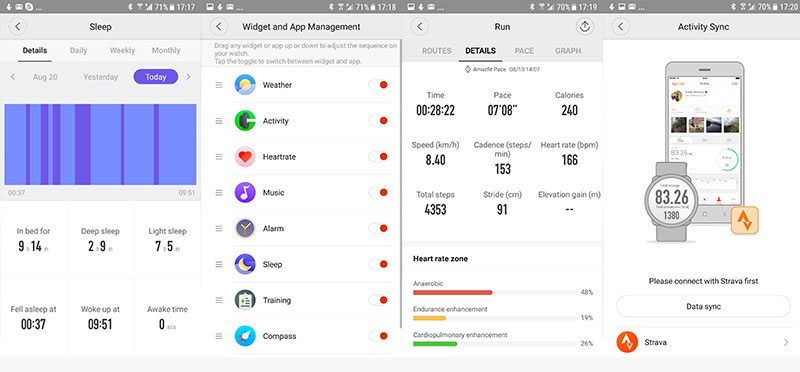 The Amazfit Pace Companion App
The Amazfit Watch app is well designed, clean and arranged in an easy to digest way. It shows all the data available on the phone (bar Training Centre) as well as options to customise Pace watches layout.
What the app is missing is any kind of social element or incentive based achievements. I find that I quickly get bored of seeing my steps unless I'm working towards some kind of goal or have friends to compete against.
If we look at Apps like Fitbit the Amazfit app seems well designed but lacking the friendly element. Having the data is all well and good but Amazfit offers little help in interpreting that data for us.
You can integrate the app with the Strava running app, but that's where the integration ends. I would like to see at least MapMyRun and Google Health integration added soon. Without deeper integration, the watch risks losing out on a lot of customers.
I'll put this down to the fact that Amazfit is new to the game. But if they don't start focussing more on the app or adding integration with other apps, they aren't going to succeed in the long run.
Smartwatch Features
As well as being your personal fitness buddy, giving you your health stats and training you for that next half marathon… the Amazfit Pace also function like a normal smartwatch.
It doesn't run the official version Android Wear as it uses a customised Amazfit skin. This keeps things simple but also means you can't add extra apps to the watch limiting any customisability.
You only have access to the basics such as phone alerts, reading Whatsapp messages, checking the weather, setting alarms and accepting incoming calls.
For the outdoor enthusiasts, there's also a built in compass and access to GPS coordinates as well as altitude.
I'd like to see the phone features functionality extended further as at the moment it's quite basic.
Amazfit Pace Battery Life
Battery life is excellent. I have constant heart-rate reading mode turned on all the time and still go days without charging.
You'll get around 3-5 full days use from the watch before it needs charging using the GPS mode around once a day for about 30-60 minutes.
Since the battery is built-in with no way to change it I recommend only charging the Pace to 80% and then let it drain to 20% before charging again.  This will reduce the amount of battery cycle wear increasing the smartwatches usable lifetime.
… Amazing battery life from the Pace Smartwatch …
Let me know how you're finding the Amzfit Pace battery life in the comments below.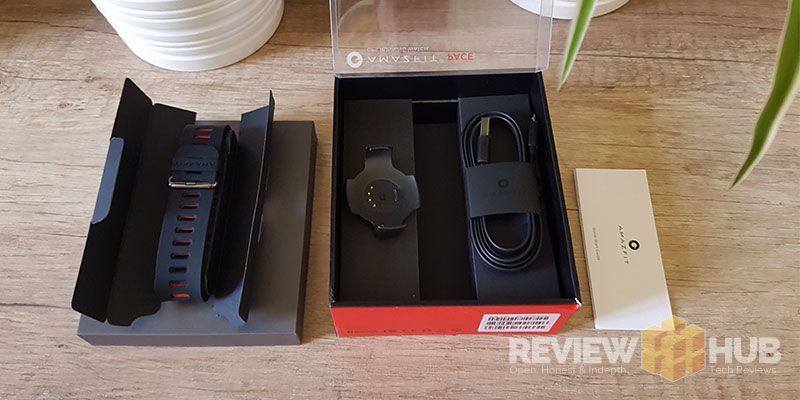 What's in the box?
Included with the Amazfit Watch is the Xiaomi Mi Charging Dock that uses 4 spring pins to charge the smartwatch. The dock will connect to any standard USB cable and is also the method for adding music to the watch.
We also get an instructions manual and a premium flat (no tangle) Micro-USB to USB cable. The watch comes pre-assembled and ready to wear straight out of the box.
If you're looking for some alternative Amazfit Watch Bands, I've put together my Top 5 here.
Final thoughts on the Amazfit Pace
The Amazfit Pace is going to tick a lot of boxes for a lot of people. It's firstly, a GPS enabled running watch that works well, tracks accurately and is IP67 waterproof. Secondly, it's a well-designed smartwatch that tracks heart rate and sleep data while receiving your smartphone alerts.
Currently, its biggest weakness is that it lacks app integration with a lot of the popular running apps. Hopefully, this is a problem that will be solved soon in future updates.
So who's the Pace smartwatch ideal for?
Those who spend a lot of time outdoors and want an accurate way to improve their fitness levels. While the screen isn't bad indoors, the Pace watch display was meant for outdoor use.
Personally, I love the Pace smartwatch. But if you don't need the extra GPS functionality, or can cope taking your smartphone out running with you there isn't a lot of functionality that it adds over a cheaper fitness tracker combined with a Smartphone.
If you are on the hunt for a new smartwatch though, why not grab an Amazfit Pace and get fit while you're at it. For the price, you're getting a very capable smartwatch albeit not on stock Android Wear.
Should you drop everything and order yourself an Amazfit Pace right now? I think so… but then again… I've got dweeby wrists…

Level up your health today with the Amazfit Pace Smartwatch…