The GameSir G5 Controller setup is painful. But is the incredible 5vs5 MOBA Gameplay enough?
I really want to love the GameSir G5 Controller! But for the most part, it's left me feeling annoyed and frustrated. I'll admit that part of this may be on me for not being nerdy enough to figure it all out, but who wants to pay premium gamepad prices for a fiddly temperamental controller?
… The Gamesir G5 controller has potential but needs refining …
The G5 is a fickle beast that you'll have to tame before you can fully appreciate its merits. With time, the G5 owner community will grow and you'll spend less time painfully setting up game configs and more time playing your favourite Android games.
No one can deny that copying the Valve's Steam Controller and redesigning it for Android smartphones is a brave endeavour.
But, with a half-baked permission monster of an app, remapping issues and a few cosmetic build quality issues it's not the refined experience most of us were hoping for.

Update: The latest edition of GameSir World now has the G-Engine, which enables newer smartphones to avoid the whole remapping saga.
The big question is: Can a fiddly out-there controller survive in today's polished gaming market?
Let's find out!
The Good
It's a Premium & Solid Controller
G-Engine Software Remapper Now Added
Create Your Own Button Layout For Any Game.
Loads Of Potential
Fantastic For MOBA Games
The Could Be Better

Overlay effects gaming performance
Complicated setup, GameSir app is sketchy
Remapper unit is a separate purchase
Developer layouts for games is sketchy
App permissions needed are super sketchy!
Small cosmetic build quality issues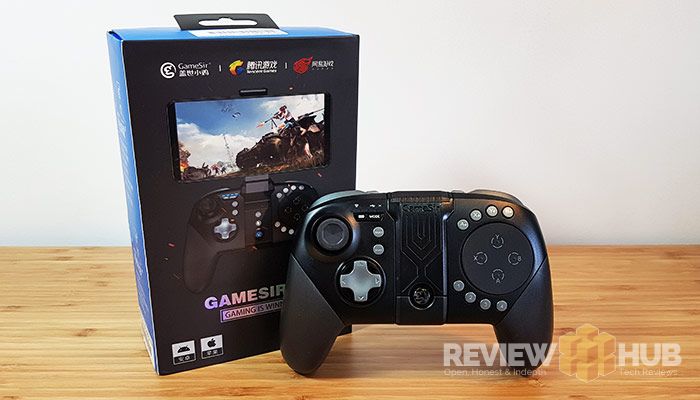 Gamepad Design & Playability
Design wise; the GameSir G5 certainly looks the part. A cross between a traditional Xbox controller and the Valve's Steam Controller. With a few thousand buttons thrown in for good measure.
While these two gamepads were created for console and PC gaming, the GameSir G5 is designed to as a pure Android Game Controller. GameSir offers no support for PC gamers, but with a bit of trial and error, I'm sure you could map the controls for PC via the X-output.
For this review though, we'll be focussing on the G5's bread & butter, Android Gaming.
As soon as you pick up the G5 you know you're dealing with a premium controller, but the switch from rubber (GameSir G4S) to plastic on the G5 feels less premium. The ABXY touchpad is positioned well with the 4 buttons above being easily reachable. The same can't be said for the 4 buttons below which requires an awkward thumb movement to press them.
Inspecting the G5 closely and there's one cosmetic build quality issue that stands out. The lettering on my G5 buttons is all misaligned. For a controller, at this price, I expect better.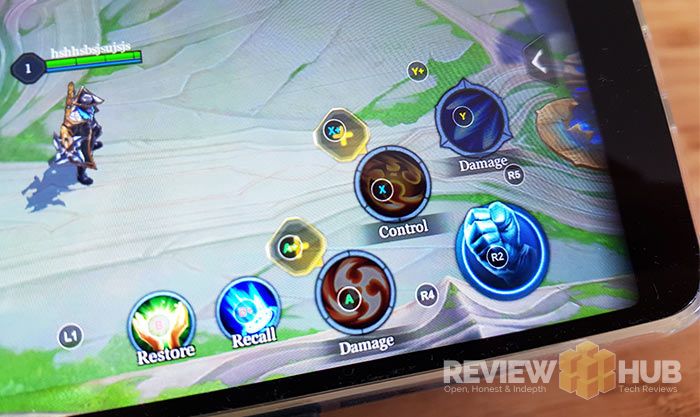 Direct Play by G-Engine
The most recent version of GameSir World App comes with G-Engine. This allows you to skip the remapping saga that either requires a PC or a paid GameSir Dongle. The caveat is that you'll need to have a modern smartphone with at least a Snapdragon 625 or MediaTek P30.
The GameSir Overlay
Once you've completed the G5 setup steps, you'll then have a floating GameSir widget overlaid on top of your games. But, you'll only get this if you launch the game via the GameSir World App.
From this menu you can import pre-made configs, show / hide the control overlay (very useful at first) and also tweak the current control setup.
If there isn't a pre-made config, this is also where you can create your own. By picking the controller buttons and dragging them over the on-screen touch points.
GameSir G5 Game Test
To test the GameSir G5 out, I've been playing with Tencent's Arena of Valor (5Vs5) MOBA and also PUBG Mobile with mixed experiences.
Arena of Valor 5vs5 – Fantastic GamePlay but won't load my Google Play Saves : (

Google Play won't load when you select this game via the GameSir World App. This means if you cloud save through Google Play, like me, you'll lose all your saved progress.
Loading up the game I also received the following message: 'Sorry there is no official config for this game'.
What The Heck!?
Arena of Valor is plastered across all the GameSir G5 advertising. I think I may be missing something here.
Round 2 – Ding Ding
Okay, so a cool feature on the G5 is that you can upload and share your personal game button layout configs. I managed to download an 'Arena of Valor' config from the GameSir App Wheel.
Back in Action!
… Once up and running, the G5 showed off its real potential …
My MOBA 5vs5 gameplay just got upgraded in a big way! You can heal, upgrade skills, buy weapons and shoot skills almost simultaneously.
This is when I realised just how well the G5's layout is suited to MOBA games.
Being able to tap and then swipe on the touchpad just wouldn't be possible a standard controller button layout.
PUBG – Setup with PUBG is much smoother than 5vs5.

Loading PUBG through the GameSir World App, selecting GEngine and all the buttons are already setup in the correct config.
Make sure to switch to the touchpad mode in the GameSir wheel settings.
Playability is good, but getting used to where all the buttons are has a steep learning curve. But once you get past this you're going to have a real advantage over the traditional two thumbs of your opponents.
And that's probably why you should also read this official GameSir statement:
'This product does not support iOS and Android mobile PUBG, as account banning system officially started. If you use the product to play PUBG mobile, you take your own risk from account banning by the game publisher.'
Kinda sucks right!

Controller Setup & Connectivity
The biggest turn off for the GameSir G5 controller comes from its complicated setup. It feels more like you're buying a developer edition of the G5 rather than a full priced full retail unit.
If you like to tinker, and are happy to battle through the setup, then you'll get along just fine with the G5.
Firstly, you'll have to turn off a few security features on your Android phone to install the 3rd party 'Play GameSir World App'. Sorry folks, no Play Store app here.
Then the app asks for every possible permission from your smartphone. Yep, that's right, you'll have to give up full access to everything…
Okay kinda not cool. Erm GameSir… I'm kinda trusting you guys a lot here…
Now that that's over, you might get slapped in the face with a remapper request. You can either install a 3rd party software onto a PC or laptop, own a rooted phone, or you guessed… buy GameSir's dedicated remapper…
If you're lucky enough own a newer chipset from Qualcomm or MediaTek then you can bypass the remappet and use the G-Engine mentioned earlier.
So now that you've gone through all this, it's plain sailing right? Well, kind of.
Game support is a little sketchy. So you'll have to either tweak a pre-made config to fit your smartphone or make one from scratch.
What's in the box?
It's a barebones affair with the GameSir G5 unboxing. You get the controller, quick guide and a USB to Micro-USB cable.
Strangely, there is an empty dongle port when you pull off the left side plastic grip. And then if you pull of the right controller grip you'll find a full sized USB slot. Comment if you what these are for?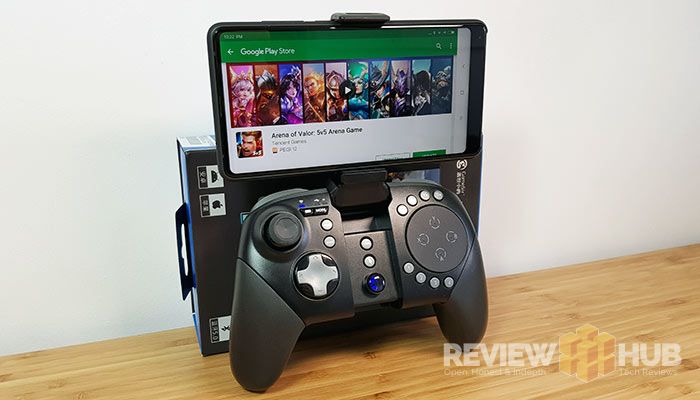 GameSir G5 – The Verdict
It's hard to recommend the G5 in its current state at its current price. Currently costing the same as a premium Xbox One Special Edition controller, just doesn't seem right.
The lack of Google Play saves and limited pre-made layouts made my experience with the G5 less than smooth. Saying that, once you get it working it does work well.
I didn't see a huge advantage with games like PUBG, plus the risk of an account ban is a big put-off.
But with MOBA games like Arena of Valor, the advantage is immediate. The G5 will half the time needed to perform basic task like weapon upgrades, skill attacks and healing.
Do we recommend the GameSir G5? If you're only looking to upgrade your MOBA Gaming skills, then it's a yes. If you're looking for a versatile Android Controller, I'd hold and wait until more of the bugs are ironed out and the G-Engine is refined.
Another option if you're just looking for increased comfort is the GameSir F1. This simpler analogue option skips all the complicated setup.
Check out the latest GameSir G5 prices below.