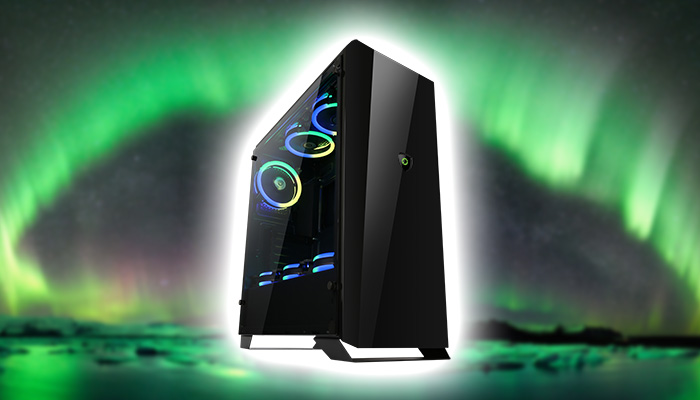 We get hands-on with the GameMax Aurora PC Case to test Design, RBG Lighting, AirFlow, Build Quality & Features.
While we're still waiting for some new parts to arrive to fully test the GameMax Aurora PC Case, here are our initial thoughts on the Case Design & Build Quality.
We'll be updating this review with our full set of tests, including AirFlow, in the coming weeks.
Gallery
Unboxing, Design & Build Quality
The GameMax well packaged with foam inserts top + bottom, a decent sized air gap and thick protective cardboard. You should have any issues around damage on arrival.
Taking the GameMax Aurora out of the box, it feels like a quality case with the panelling being a decent thickness but still having a little flex.
The top and bottom air vents are both covered by a well-fitting magnetic mesh which is cool and will give hassle-free dust cleaning once it's in operation.
The front panel looks great, but is a solid piece of ABS plastic, is non-removable and might reducing front-air intake. We'll have to wait for our testing for the full results though.
The front panel is also a bit of a dust and hair magnet. My unit came super-statically charged out of the box and proceeded to pull in every cat hair in the room.
Inside the cabling looks good with rubber inserts over each hole. These aren't glued in, so be careful when sliding wires through or you'll be fiddling to put it back on.
The side glass panel is tinted black and again a fingerprint magnet. All glass panels are and nothing a quick wipe of a micro-fibre cloth can't fix.
The one build quality issue I have come across so far is the where the screws meet the glass panel. The hole has been crudely cut and looks slightly amateurish. Luckily, it's completely covered with by the screw.
More info coming very soon. Once my parts arrive : )
If you're looking for the best gaming cases of 2018, then Toms Hardware have a great list with pros & cons.