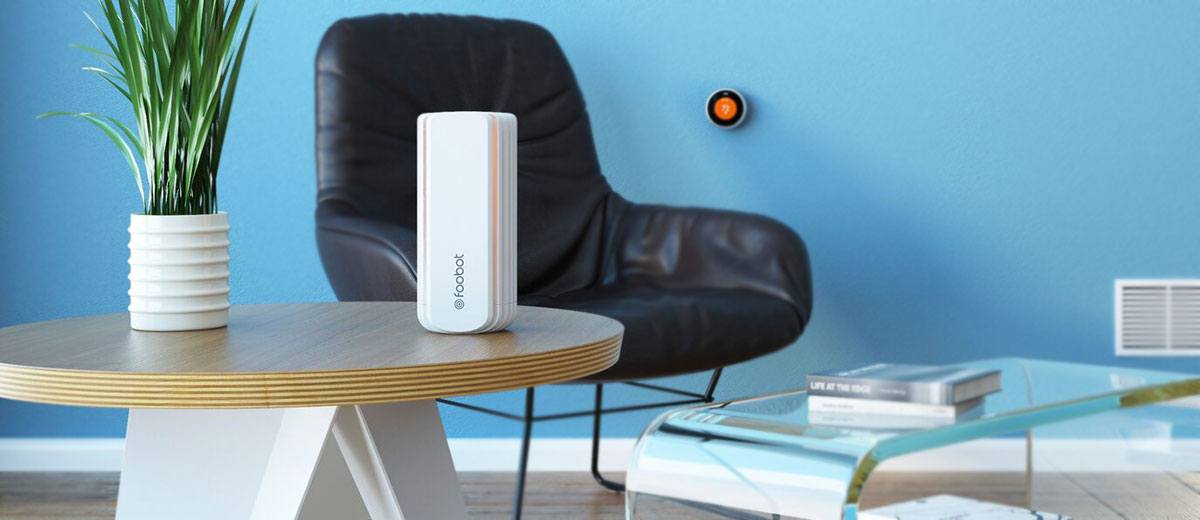 No matter which way you look at it, Air Quality Matters!
While some health trends like Yoga have been around for thousands of years, it's only recently that we've started to worry about the quality of the air we breathe. With the trend going upwards and air pollution not going away anytime soon, we decided to test out one of the more popular options on the market, the Foobot Air Quality Monitor.
Whether you live in the midst of a megacity or out in the wilderness there are lots of reasons why you should be taking regular measurements of the air quality around you.
[column size=one_half position=first ]
Whether it's allergies from dust & pollen, pollution from nearby traffic, new furniture, cheap candles or damp conditions causing mould spores… having an early warning detection system can lead you towards living a healthier lifestyle.
The standalone Foobot unit measures approximately 17cm tall and is your all-in-one small particle detection unit. To let you know the current quality of the air… it gently changes colour… starting off as blue. A small amount of particle detection will change the LED colour to Orange for higher levels of detection.
[/column]
[column size=one_half position=last ]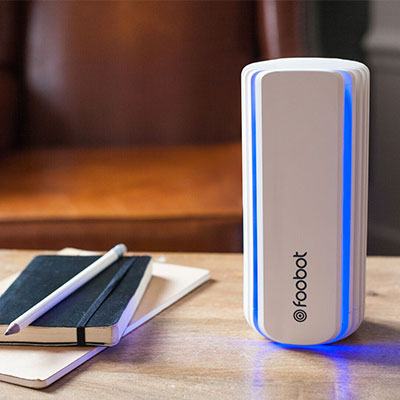 [/column]
I've had the Foobot set up in my living for the last three weeks in the suburbs of Manchester, UK to see whether it warrants it's premium price-tag and more importantly whether it can guide me into making healthier air quality choices.
Check out the latest Foobot Air Quality Monitor deals below…
[column size=one_half position=first ]
The Good
Peace of mind
Simple intuitive notifications
Actively improves Air Quality in your home
Futuristic design
30 day money back guarantee
[/column]
[column size=one_half position=last ]
The Bad
No built-in battery
Lack of portability
6 day calibration time
A little expensive for a consumer
[/column]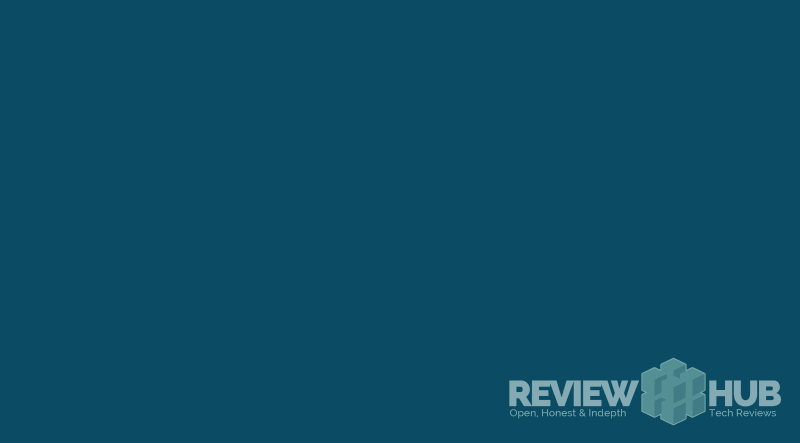 Features, App & Monitoring
It does take around 6 days until the Foobot Monitor automatically calibrates itself to your surrounding and you start to receive accurate measurements.
Before this happens though, you'll need to set your new Foobot unit up. Setup is simple, you download the Foobot App (available on Android & iOS). Once you've downloaded it, make sure you are connected to your home WiFi network and that the Foobot is within 5 feet of your router (just for setup).
You then turn the Foobot upside down, wait for the blue LED light, place the Foobot down and enter your WiFi credentials in the Foobot App. The LED will blink 5 times and setup is complete. You can then register and sign in to the Foobot app.
… 6 days later …
For most of the day, the little Foobot just sits there in my living room gently glowing with its blue light. But occasionally the blue hue changes from full blue to less blue to orange… warning me that there are hazardous particles in the air in my living room.
When the Foobot turns orange you can open up the app to find out what category the pollutant belongs to. Foobot will specify the 'Particulate Matter', Volatile Compounds' and 'Carbon Dioxide' giving you a grade… 'Great, Good, Fair or Poor'.
You'll then get an overall air quality rating between 1 and 100 with the 1 being least polluted. You'll also get data on room humidity and room temperature which can help you to reduce the chance of mould and VOC levels.
So… now you've got all this newfound Indoor Air Quality Data… what can you actually do with it?
After a particularly heavy Xmas work party, I crawled down the stairs on to the living room sofa and didn't move for about 5 hours… as I slowly died inside…
At around lunchtime, the Foobot monitor started to glow orange so I checked the app and found the CO2 levels had risen above healthy levels. I reluctantly opened the window (it's about 3 degrees) and after 15 minutes the CO2 levels returned to normal and the Foobot back to blue.
This is something I could never have known with an Air Quality monitor… and it's the moment that it really clicked for me… if I want to be healthy in all aspects of my life… I'm going to have to start monitoring my air quality.
Another time the when the Air Quality dropped in my living room was when burning cheap tealight candles. I tested with a more expensive soy candle which didn't set the Foobot off.
While it can't differentiate between pollutants… burnt toast, roadside pollution or an air freshener… You can use the Foobot to find out hidden sources of air pollution in your home by connecting the dots yourself.
Just sprayed an air freshener everywhere and your Foobot has gone orange? Just bought a new sofa? New washing powder? Damp room? Now you can check the charts in the Foobot app and link the air quality spikes with your household events.
There's some automation as well… if the C02 levels in your room are high the Foobot app will message you to suggests you open a window plus other healthy air tips.
Some other useful features inside the Foobot app are setting the LED light intensity, setting an LED timer function so as the light doesn't disturb you at night and you can also view the pollution outside for your local area.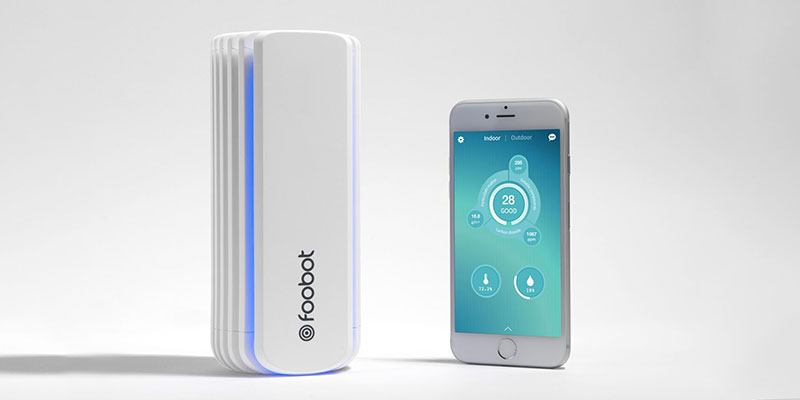 Connectivity
We wouldn't be able to truly call the Foobot a smart home device if it didn't come with some cloud connectivity and interact with other smart home products.
You have a few options for connecting the Foobot to your home. You can use IFTTT (If This Then That) to perform a variety of air quality related actions, I've listed examples below:
Switch on Air Ventilation when air quality is low
Add pollution spikes to your calendar
Turn on WeMo smart plug when *insert condition*
The applets are ready made and set up. You can just add them to your account and they'll work straight away. If you fancy yourself a bit of a tinkerer… you can even create your own IFTTT applets.
Other smart home integrations include direct Nest integration, Amazon Alexa Integration, Honeywell product Integration.
In terms of WiFi connectivity in my home, I've only had one issue so far. The Foobot started glowing orange to let me know that it lost it's connection to my home WiFi. It resolved the issue itself after around 5 minutes.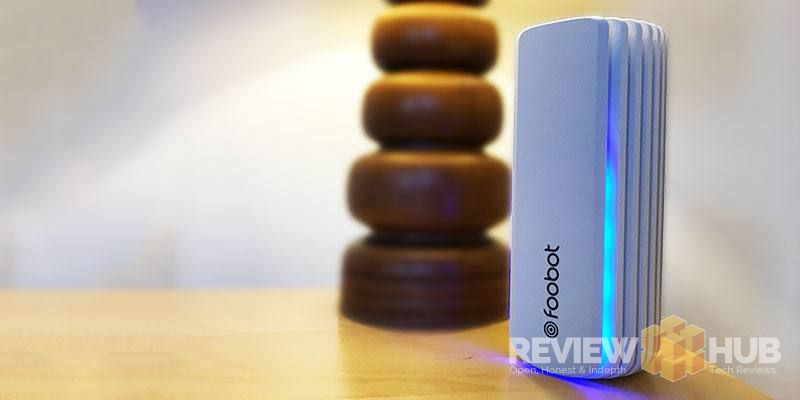 Design & Build Quality
The design of the Foobot is modern and contemporary and as such will look nice in most areas of your home. I'd say it looks more like a fancy electric air freshener than a £180 piece of smart home tech…
As it's not a device you physically interact with it just needs to look good from all angles… and that it does!
If you do want to get hands-on with your Foobot you'll notice that there is a slight misalignment between the top and bottom parts. This isn't what I want to see from a high-end piece of kit.
I think an aluminium design would have been worth the extra-cost if we interacted with the Foobot. But… since it's completely controlled via the app, the soft touch plastic is good enough.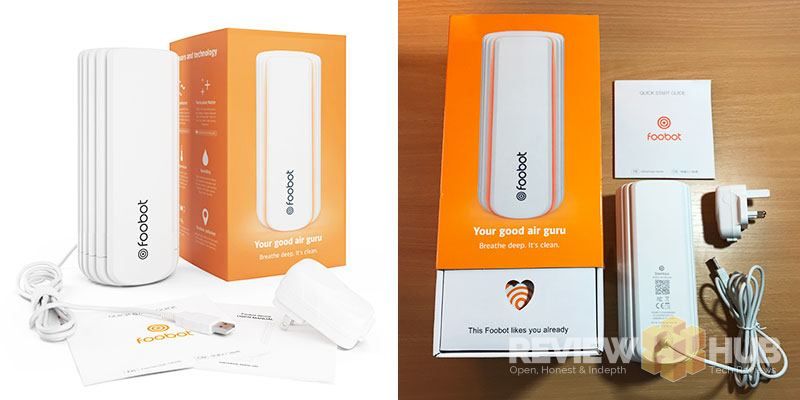 What's in the box?
Inside the Foobot box you'll find the Foobot Air Quality Monitor, a regional USB Wall Plug and some simple instructions on how to set the unit up.
Foobot – The Verdict
There's no question about whether having a reliable air quality monitor in your home is a good idea… the question is… should the Foobot be that monitor?
Having been using the Foobot for a few weeks now, I can honestly say that I've enjoyed having it around and can see myself using it for the foreseeable future. Knowing when to open windows and when the air quality lowers in my house up until now has just been guess work.
I can also see myself adding more smart health tech to the mix such as a centralised thermostat like Nest and an IFTTT ready dehumidifier. In my mind… if I'm paying extra for organic food and exercise regularly… then I should also care about the air quality I breathe in my home.
The big question is whether its worth the asking price… it's a difficult question to answer without being a scientist and double checking the measurements and accuracy of the Foobot… so I can only judge from my own experiences… and so far that's been a good one.
The App is easy to use, setup is a breeze and the only drawback is the 6 days waiting time before you are able to get accurate measurements.
Let me know your thoughts on the Foobot Air Quality Monitor in the comments below…