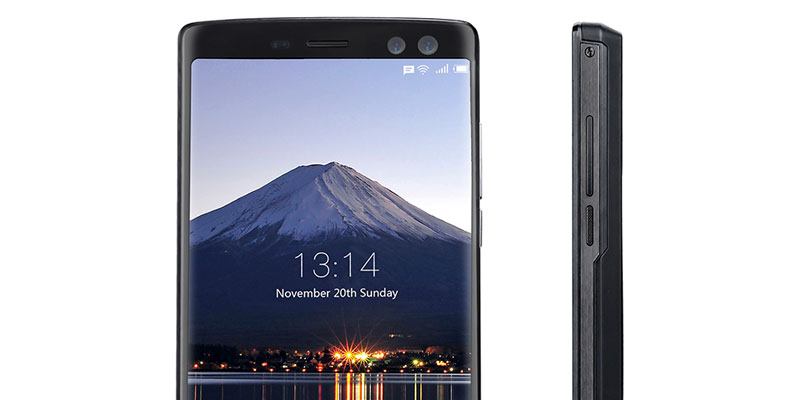 The New King of Battery Life has arrived… the Doogee BL12000 Pro…
Long has Oukitel reigned supreme when it came to smartphones with insanely big batteries… well there's a new kid on the block and he's called the Doogee BL12000 Pro… and yes… you guessed it… it comes with 12000mAh's worth of battery juice.
It's been the inevitable fate of Doogee phones to progress to these record breaking levels. First the Doogee BL5000 was released… then the Doogee BL7000 and now they've strapped two 6000mAh batteries back-to-back to make the record breaking Doogee BL12000 Pro!
So what does 12000mAh of battery juice look like when it's squashed between two pieces of glass and called a smartphone?
A Beast! The Doogee BL12000 Pro comes in at 300 grams with a thickness of 14mm. It's essentially two smartphones in weight and thickness while having 4X the battery power.
I'm all for pushing boundaries… heck… if Elon can strap another 5 boosters to his rocket why can't Doogee slap in another 6000 milliamps??
Well, unlike the advanced rocket industry, when smartphones get this big and heavy we start to ask ourselves… wouldn't it just be easier to carry around a power bank?
You'll find out the answer to this and more in our Doogee BL12000 Pro first look review!
Check out the latest pre-order Doogee BL12000 Pro deals today!

[column size=one_half position=first ]
The Good
12000mAh Battery
Glass Sandwich Design
6GB of RAM
64GB+ Storage (+SD Card)
Quad Cameras
[/column]
[column size=one_half position=last ]
The Bad
14mm thick
weighs 300 grams
Won't fit in your skinny jeans
[/column]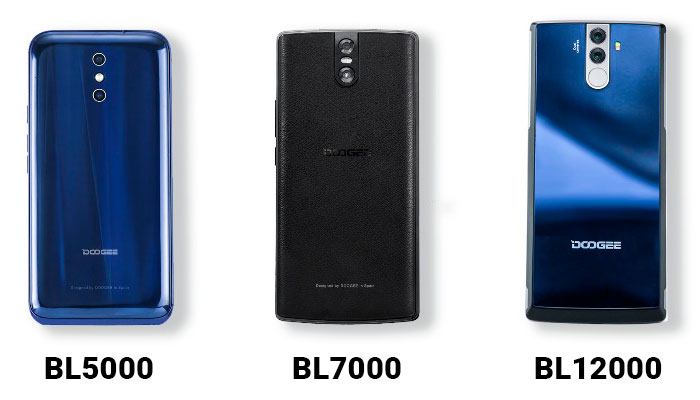 Design, Display & Build Quality
It may be a beast but the BL12000 Pro still looks good! Doogee have succeeded in making this brawny chunk of metal a little less opposing by using a highly reflective glass coating coupled with some sharp angles.
Don't be fooled though, as in your hand it's still going to feel like a brick, but, it'll be the smartest power brick you've ever held onto.
The 6 inch display is rocking an 18:9 aspect ratio that's protected by Coring Gorilla Glass. The screen resolution is 2160×1080 giving it a respectable 403 PPI. Look more closely and you'll also find the on-trend curved display corners.
In terms of build quality, a word that comes to mind is 'solid' and 'durable' which is no bad thing! At 300 grams, this sturdy steed uses a metal frame encased in a glass sandwich design. Let's hope this is enough to keep that eye-watering battery safe.
Screen Tech Specs: 6 inch display, 2160×1080 resolution, 403 PPI, Coring Gorilla Glass, 18:9 Aspect ratio
Colours Available: Black & Blue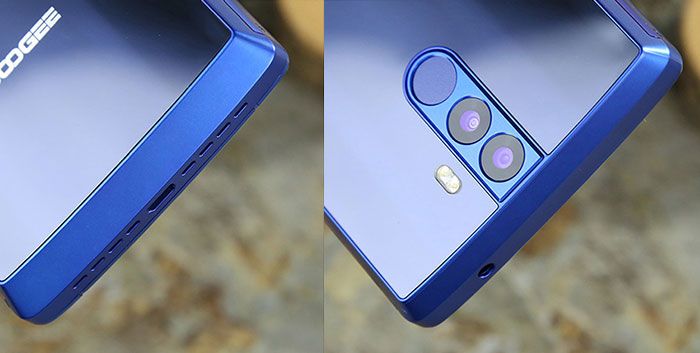 Performance
The Doogee BL12000 Pro is one of the first smartphones in 2018 to have inside it one of the latest generation MediaTek CPU's. It runs on 8 cores which all run at 2.3GHz speed but can be boosted up to 2.5GHz during single-core operations.
What does this mean for you? It's a power efficient chip that comes with excellent mid-range performance.
The Helio P23 also comes with ARM's newer Mali-G71 graphics chip which will play the latest Android games smoothly. This is all backed up by 6GB's of RAM and either 64GB or 128GB of onboard storage.
There is a non-pro version of the BL12000 which features the older MT6750T MediaTek processor and 4GB's of RAM. In my experience, the price gap between Pro and non-Pro version will decrease over time so if you're reading this in the future! Get the Pro.
The performance jump on the 'Pro' version is considerable.
CPU: MediaTek Helio P23 (2.5GHz Octa-Core)
GPU: ARM Mali-G71 MP2
RAM: 6GB
Storage: 64GB / 128GB (Max SD Card 256GB)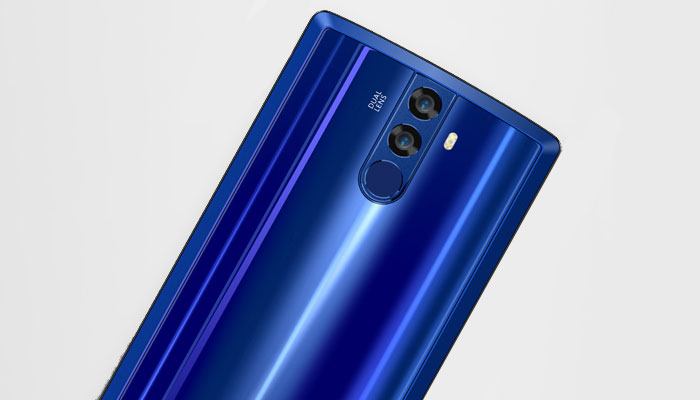 Camera
The BL5000 Pro features dual cameras both front and back. The selfie camera uses a 16MP 130 degree wide angle lens backed up by a cheaper 8MP lens for adding the bokeh (blurry) effect to your photos.
The rear dual cameras uses a 16MP sensor coupled with an 8MP sensor to offer a 2x optical zoom without loss of quality. Similar to what we saw in the OnePlus 5.
[column size=one_half position=first ]
Rear Camera:
16MP + 12MP
f/2.0
Dual LED Flash
[/column]
[column size=one_half position=last ]
Front Camera (Selfie time):
16MP + 8MP
Wide Angle (130 degrees)
Beauty Mode
[/column]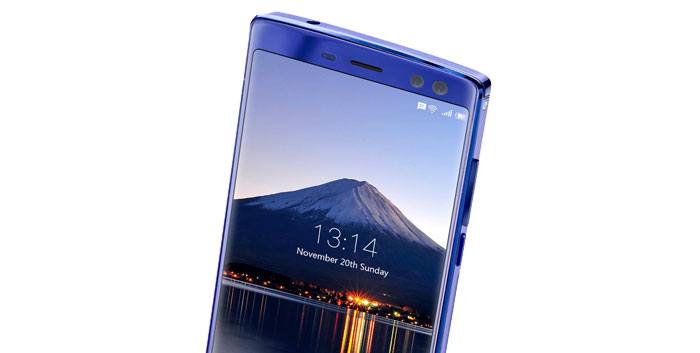 Doogee BL12000 Pro – The Early Verdict
In my book, the Doogee BL12000 is verging on madness. I'm all for smartphones with big batteries but I'm not sure that sticking 12000mAh into a smartphone is the right option.
I'm sure there are people out there who'll feel like the messiah has called when they hear about a 12000mAh wielding smartphone. But, for me, 6000mAh is about the highest battery capacity I'm willing to go with before the weight and thickness becomes too much of an issue.
Check it out! If you're looking for a slim, lightweight smartphone with incredible battery-life then check out the UMiDigi Z1 Pro.
At the end of the day, it doesn't matter whether the BL12000 Pro sells like a smash hit, why? because now Doogee can proudly hang up their Guinness World Record on the Doogee factory wall.
Want to own a world record breaking smartphone?

Tech Specs & Connectivity
UK Network Coverage? Yes, the Doogee BL12000 Pro comes with full UK Support for all carriers.
| | |
| --- | --- |
| Smartphone | Doogee BL12000 Pro |
| Screen Size | 6 inches |
| Pixel Density | 402 |
| Screen Resolution | 2160×1080 |
| Screen To Body Ratio | 77% |
| Screen Technology | Corning Gorilla Glass, 18:9 Aspect Ratio |
| Thickness | 14mm |
| Weight | 300 grams |
| Material | Glass Sandwich |
| Colors Available | Black or Blue |
| Storage | 64GB / 128GB |
| Processor (CPU) | MediaTek Helio P23 2.5GHz Octa-core |
| Graphics (GPU) | ARM Mali- G71 MP2 |
| RAM | 6GB |
| Android Version | Android 7.0 |
| IP Rating (Water, dust) | NO |
| Micro-SD Card Tray | YES (up to 256GB) |
| Notification LED | YES |
| Finger Print Sensor | YES rear-facing |
| Infrared | NO |
| USB Type | Micro-USB |
| 4G Bands | B20 (800MHz) /  B8 (900MHz) / B3 (1800MHz) / B1 (2100MHz) / B7 (2600MHz) / |
| 3G Bands | B1 2100MHz / B8 900MHz |
| 2G Bands | 1800MHz / 1900MHz / 850MHz / 900MHz |
| SIM Support | Dual Nano SIM |
| WiFi | 2.4GHz (b / g / n) |
| GPS Tech | GPS A-GPS, GLONASS |
| Bluetooth Version | 4.0 |
| NFC | NO |
| Sensors | Ambient light, Accelerometer, Fingerprint ID, Proximity |
| OTG | YES |
| Battery Size | 12000mAh |
| Fast Charging | YES (12V/3Amps) |