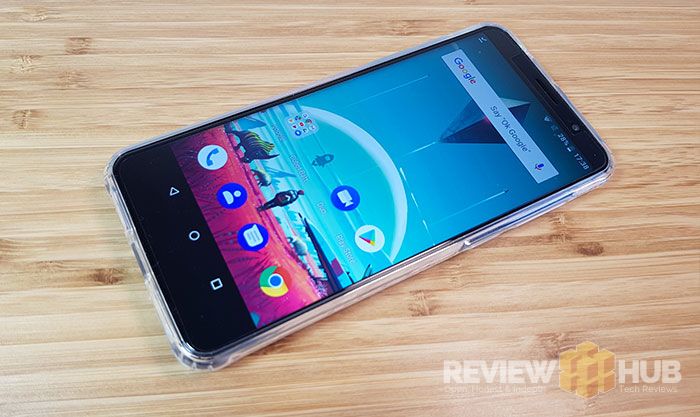 Cubot is back at it again! This time stuffing their flagship Cubot Power with a whopping 6000mAh battery!
That's right, Cubot have finally made a smartphone worthy of the title flagship. With 6GB's of RAM, a 128GB high-speed memory module and the very capable Helio P23 processor, we have ourselves some real Power… or should I say… Cubot Power.
But we all know that smartphones aren't all about the specs. We also need a great display, decent build quality and capable snapper if we're after the whole Android package.
More Awesome: Smartphones with Amazing Battery Life
… Solid Performance hidden inside a battery-life beast …
So let's get to it! In this full Hands-on Cubot Power review, I'll be covering everything you need to know, and a little more just for fun. By the end, you'll know exactly whether the Cubot Power is the right phone for you.
Want to know more about Cubot? What are the Top 5 Cubot Phones?
As always, if you have any questions? Leave a comment at the end, and I'll do my best to get it answered ASAP.
This week's best Cubot Power deals & offers below…
The Good
Mahoosive 6000mAh Battery
Bright, Vivid & Responsive Display
Speedy Performance
Stock Android 8.1
No Bloatware
The Could Be Better

Cameras Dynamic Range
Colour Options
No NFC
Tin Can Speaker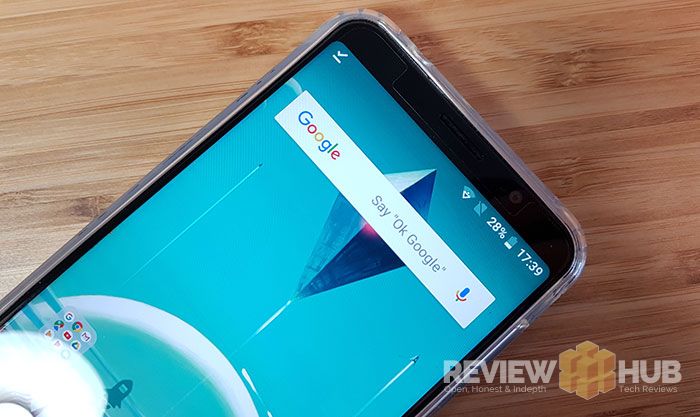 Display, Design & Build Quality
The display on the Cubot Power is a real treat. The Full HD resolution panel is bright, vibrant and crisp with excellent viewing angles. The curved corner edges add a touch of class with the 18:9 aspect ratio keeping it slimline.
It's the type of display that comes with vivid candy-cane colours, which keep catching your eye. While there are no display calibration settings to be found, it doesn't matter. The black levels are excellent for an IPS panel and the white balance is neutral with greys looking… well grey. Not too warm (yellow) and not too cold either (blue tint).
Like all Cubot phones, it comes with a pre-applied screen protector, letting you use it straight away without fear of scratches. Another bonus is the clear transparent case included in the box.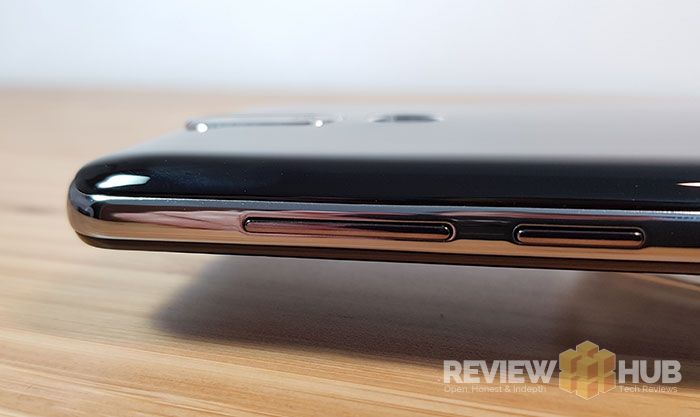 In terms of touch, it recognises up to 10 fingers at once and only needs a light touch as the responsiveness is excellent.
While weighty at 220 grams, it's easily forgiven as we know it's hiding double the battery life of a normal smartphone. The rear battery cover is made from a high gloss plastic which meets the metal frame of the phone seamlessly. The buttons have a nice solid click and the vibrate motor feels premium.
My only criticism is that we don't see a gradient colour option similar to what we see on the Cubot P20.
Summing up, the Cubot Power comes with excellent build quality, a high-class vivid display and while chunky, at 11mm, it hides this well thanks to the smooth curved high-gloss battery cover.
Screen Tech Specs: 5.99″ IPS display, 2160 x 1080 resolution, 403 PPI, 18:9 Aspect Ratio with 2.5D curved edges, Curved Display Corners, 10-point multi-touch, Pre-applied Screen Protector & Case.
Colours Available: Black & Blue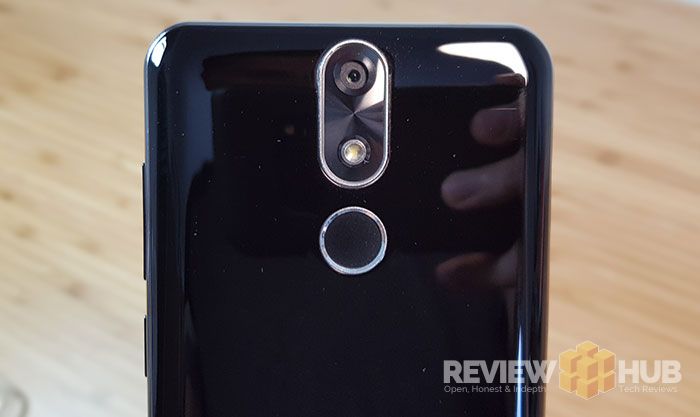 Cubot Power – Camera Review
It's strange to see a phone in 2018 with only one camera lens. But then again, most dual-lens smartphones under £300, just use software bokeh gimmicks.
So how does the Cubot Power's camera perform?
While a little difficult to hit the focus sweet spot, once you get there, you can get some quality pictures given enough light. Taking it out on an overcast day showed up its limited dynamic range and HDR functionality, with pictures tending to look washed out.
Another drawback is the complete lack of a 'Beauty Mode'. Who wants to see themselves at 20megapixels without a little softening of those crows eyes… not me!
Poor dynamic range aside, it was able to take some great pictures with plenty of details thanks to the high-resolution lens.
You can view our full samples album below to get an idea of the Cubot Power's camera capabilities.
Camera Modes: HDR, Face Detection, Noise Reduction, Night Mode, Pro Mode, EIS
Rear Camera:
20MP Sony Lens
f/2.0 Aperture
LED Flash
1080P Video Recording
Front Camera (Selfie time):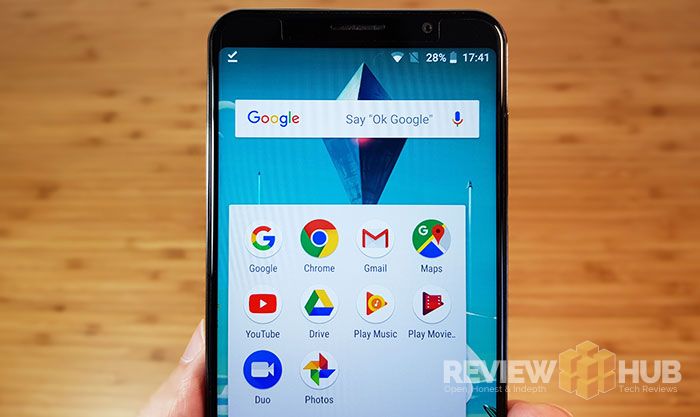 Performance, Gaming, Android & Security
The time I've spent with the Cubot Power has been an absolute joy. It's fast, responsive and comes with a completely bloatware Android 8.1 experience.
The combination of the 2.5Ghz 8-core Helio P23 processor with 6GB's of RAM and a high-speed 128GB memory module does this phone wonders. Opening and closing apps is instantaneous, most games played smoothly and web browsing suffered from no jerkiness or slow loading issues.
Related: Android Speed Tips
Backing this up is the 20000+ UI score that the Cubot Power got during our benchmarking tests. While not a gaming powerhouse, it's a nippy little that keeps going for hours.
Fingerprint Unlock
On the back of the phone, we have the fingerprint reader. Place your finger on the sensor and you'll see the little LED notification at the top of the phone glow. Unlock takes around half a second, so not lightning fast but no slow either. Adding the same finger twice helps with recognition accuracy.
Gaming & Benchmarks

It's not a bad life when you get to play Android games and call it work. To test the Cubot Power, I downloaded Real Racing, Metal Madness, Shadowgun Legends and Arena of Valor.
The first thing you'll want to do is plug in a pair of headphones as the Power's external speaker is a little tinny. It handled Real Racing, Arena of Valor and Metal Madness (Graphics High), easily with smooth gameplay and no lag.
The more graphically intensive Shadowgun showed up the Arm Mali-G71 mobile GPU and needed to be set to 'low' settings just to get smooth frame rates. Most of the gameplay was smooth during medium graphics, but physics such as explosions slowed the fps down a little too much.
You can find out AnTuTu & GeekBench test results after the full tech specs at the end of the review.
Pokemon Go Gyroscope Test: Passed!
Performance Specs
CPU: MediaTek Helio P23 (8 Cores 2.5GHz)
GPU: ARM Mali-G71 MP2
RAM: 6GB
Storage: 128GB (115GB available)(Read Speed 186MB/s | Write Speed 222MB/s)(expandable up to 128GB)
Rooted: NO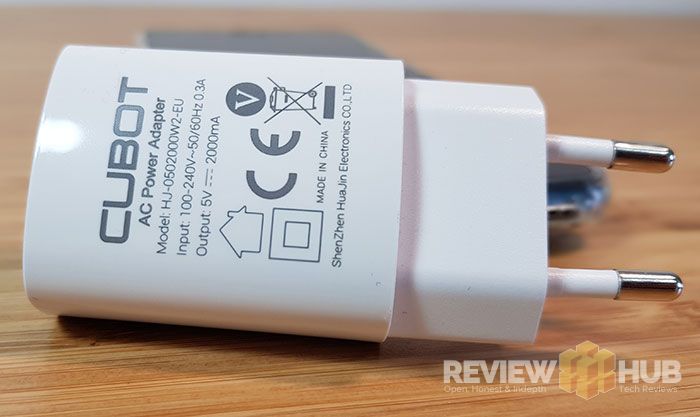 Battery Life
On to the Cubot Power's best feature; the epic 6000mAh battery will either see you well into your second day's normal usage or mean that you can plays games for twice as long.
We do get a fast charger included in the box, but at 5V/2Amps it still takes a good few hours to get up to 100% mark.
Further Reading: Smartphones with EPIC Battery-Life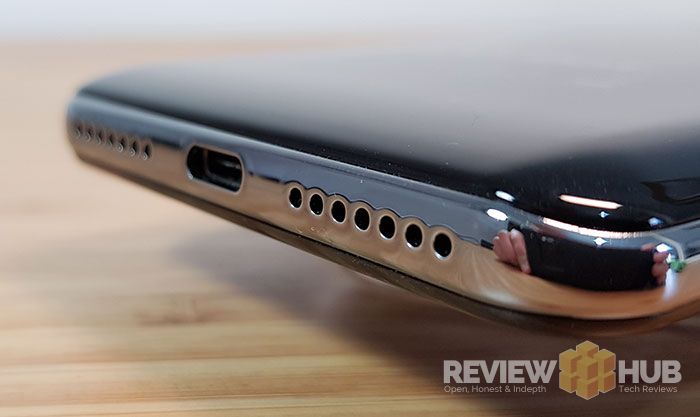 Call & Speaker Quality
Making our standard test calls with a Samsung Galaxy S8, the Power internal ear microphone is loud and clear but leans towards the treble. Voices on the S8 have a lot more depth.
Listening to music on the Power's loudspeaker is a little bit painful. The speaker has very little bass and falls into the category of 'tin can' speaker. Also, the right speaker grill is just for symmetry as the Power sound is mono.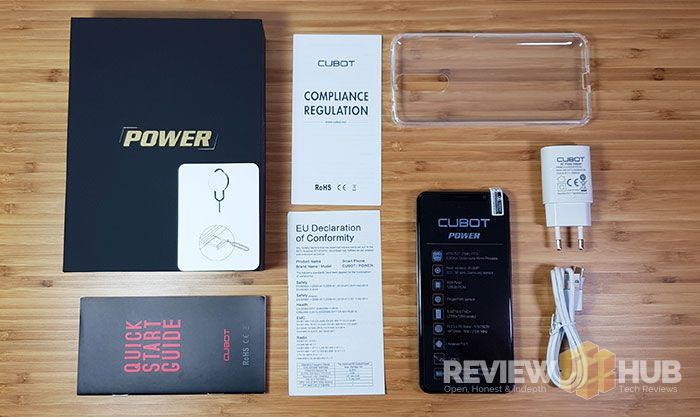 What's in the box?
Cubot know what the fans want! A pre-applied screen protector and a case in the box, and that's exactly what you get. We also see a two-pin fast charger, although regional chargers are usually included when buying locally.
The packaging itself is well secured, although the phone doesn't come in a protective bag.
Cubot Power – The Verdict
The Cubot Power is a great battery-life focussed smartphone that gets it right where it counts. The display is fantastic, the performance is solid, and battery life epic.
The only drawbacks are the speaker quality, lack of NFC and a more fun colour choice.
Do we recommend the Cubot Power Smartphone? Of course we do, if you're looking for a smartphone that won't die on you, performs well and has a delightful display then you can do no better at the current price.
Read on for the Tech Specs, Connectivity & Benchmarks – Page 2