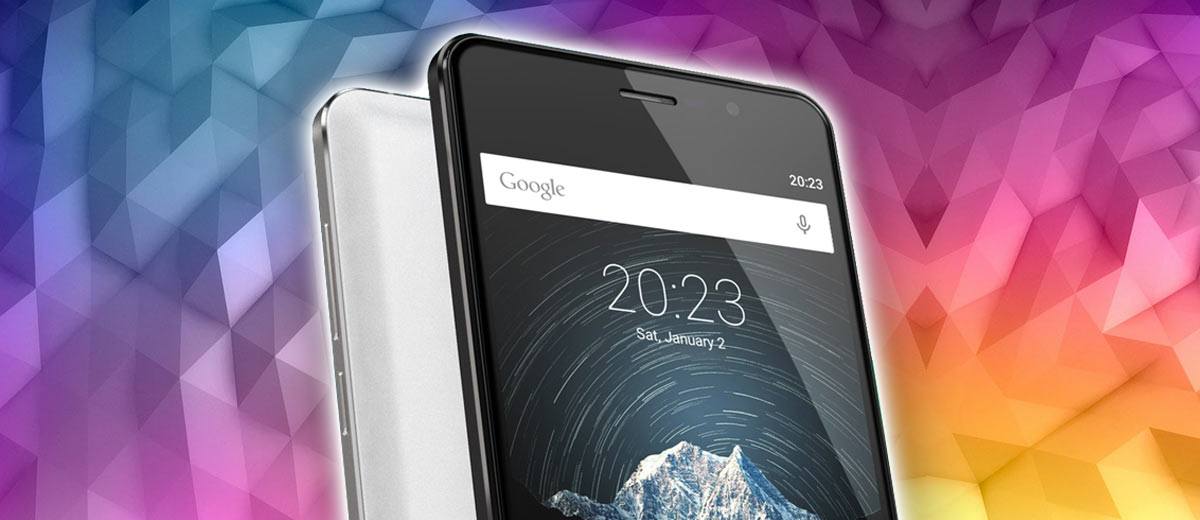 We take a look at the stunning, minimally designed Cubot P12 to see whether it has the features & connectivity to be a Review Hub Buy
Update: Looking for the latest Cubot Phones? Top 5 Cubot Smartphones
Cubot P12 starts at… UK : £64.99 | EU : €85 | US : $99
Shortly after releasing the P11 Cubot has come back with another budget contender, its sibling the P12. Both feature similar internals, the differences start when you look at the design, front facing camera and internal storage, apart from these both phones are nearly identical. So why did Cubot decided to release such a similar phone so soon after the launch of the P11? I believe it's to fix some of the P11's shortcomings. We don't see too may 8GB phones being released anymore and as selfies become more the focus on high-end phones to follows the budget phones also with their higher resolution front facing cameras.

Design
The machine milled aluminium-magnesium alloy belt that surrounds the P12 coupled with its minimal design makes this a great looking phone. It takes clues from a certain fruit named brand and the only protruding features are the simple but elegant lock and volume rocker on the right-hand side. The curved edge and centered camera & flash all work together to give the phone a clean minimal feel. At 8.1mm thick this isn't the slimmest phone but still has a sleek side profile and will feel easily fit into any pocket. Weighing in at 143g this weighs slightly more than the Cubot X9 which felt very light at 124g, I'd like to see Cubot focussing more on getting lightening the load of its phones.
The P12 screen matches its little brother and comes with a 5 inch 1280×720 pixel resolution screen giving it a PPI of 294. This doesn't sound a lot compared to the high-end quad HD screens that we are seeing now but if the screen is similar to earlier Cubot phones then the high brightness and slightly over-saturated look will make the images pop just the way we like. It also features Cubot's 2.5D technology with a brightness of 450nit and contrast of 1300:1.
Screen Tech Specs:  5″ Screen, IPS ,OGS, multi-point touch, capacitive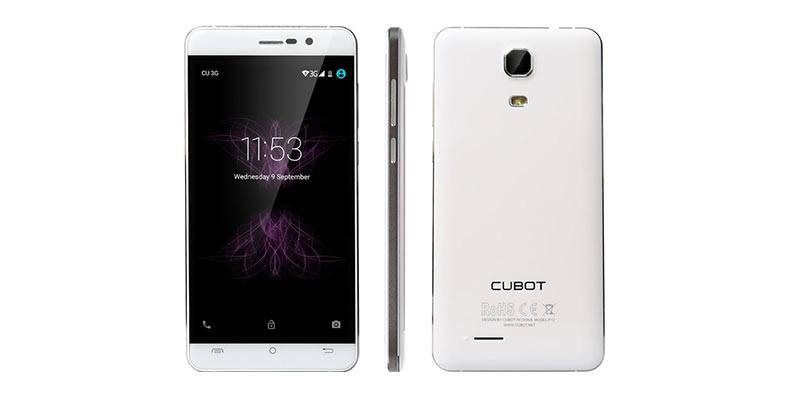 Cubot P12 Hardware
CPU
Inside the Cubot P12, we find the MediaTek MT6580 1.3GHz Quad-Core CPU. It's the same CPU that we find in the slightly cheaper Doogee X6 Pro and with its four cores should handle most apps easily.  It's created using 28nm technology and features a 32bit chip built on the ARM Cortex A7 CPU using the ARM V7 instruction set.
GPU
The MediaTek MT 6580 comes with integrated graphics in the form of the Mali-400 MP. The Mali 400 MP is an older graphics unit. It was first seen in the Samsung Galaxy S2. I haven't run any benchmarks as of yet but this isn't a phone for medium or heavy gaming. It should handle 2D games more easily.
RAM
The P12 features 1GB of ram which is pretty typical for a phone around the £80 price range. I'd like to see 2GB here but then we would be pushing up the price. The 1GB will be enough for general use of the phone but will probably start to under-perform when you have multiple apps open simultaneously although the quad-core CPU will take some of the load off. You can combat this easily in the android settings by turning on 'Don't keep activities' in the developer options under settings.
ROM
There's only one variation and it comes with 16GB of internal storage which you can expand by 32GB with an internal memory card. Cubot has included a separate memory card slot which I like, all too often we are seeing the second SIM card slot double up as a memory card slot. It's a give with one hand and take with the other approach. All-in-all this is a good little all-rounder and a good step up from the P11 with an extra 8GB of onboard storage.
Tech Specs:  1GB RAM, 16GB Storage, 1.3GHz Quad-Core CPU, Mali 400 GPU 1 Core,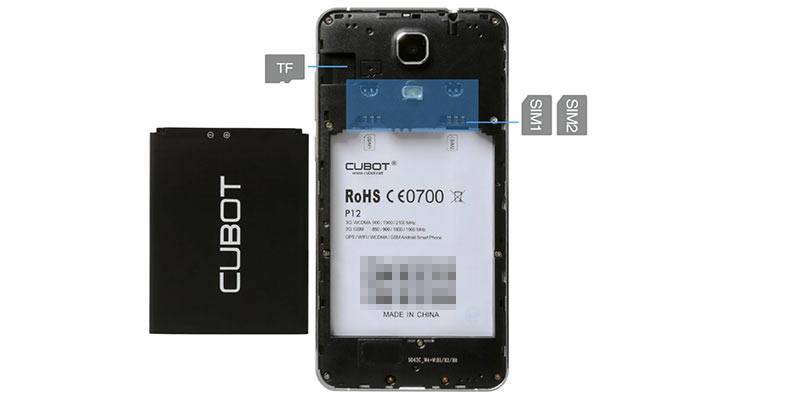 Battery
The Cubot P12 features a 2200mAh Lithium-ion battery. This performance on this really depends on how optimised Cubot it with the hardware. I'll post back with some battery tests once we have a sample with us to do a full review on.
Camera
Putting an 8MP lens on the front camera is a good move by Cubot and happy news for all the selfie addicts out there. The rear camera has the following features: Smileshot, Realtime HDR, Focus Tracking, Beauty mode, Motion Track, Panorama & multi-angle view.
[column size=one_half position=first ]
Back Camera:
CMOS
13.0mp Autofocus
4P lens, ƒ/ 2.0 aperture
0.5A LED flashlights
4 element lens
1080P video Capture, 30fps
[/column]
[column size=one_half position=last ]
Front Camera:
[/column]
Connectivity
The Cubot P12 has all the standard features for a budget smartphone. I would have liked to see 4G included as this is a standard here in the UK now. The phone features a micro-USB connection for charging and data transfer.
Frequencies Supported: 850 / 900 / 1800 / 1900 MHz GSM | 900 / 1900 / 2100 MHz WCDMA
3G : YES
4G : NO
Bluetooth : 4.0
GPS : GPS, A-GPS
Sensors : Light sensor Distance sensor Accelerometer
SIM support:  Dual Sim Micro-Sim cards.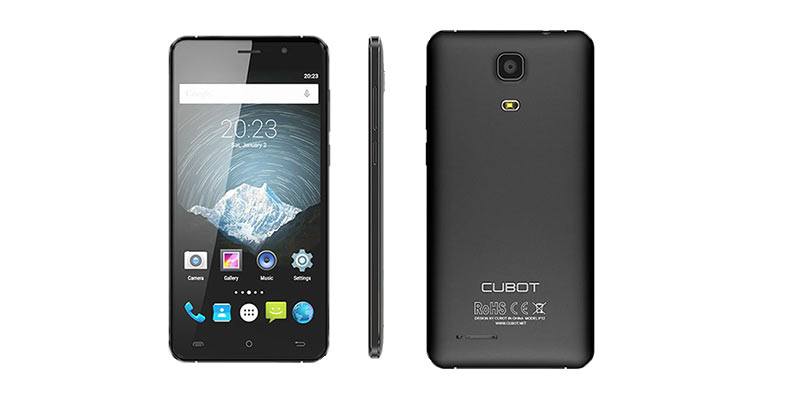 Are there any accessories for the Cubot P12 and where can I buy them?
Unfortunately as of this moment, there aren't any specifically made cases or screen protectors for the P12 available on Amazon or eBay. It's a new phone and I'm sure that the major e-commerce website will be stocking accessories for the P12 soon, I'll check back and update with more information once retailers start stocking.
Update 08/01/16: I've just checked on Amazon and eBay to see whether we started to see some more accessories for the P12 become available. You can now get screen protectors that fit the phone and also fabric cases but these cases use the sticky glue tab method of attaching your phone to the case. I'm not a fan of these as the ones I've had eventually come loose over time but on the plus side, there are some nice designs to choose from.
Final impressions of the Cubot P12
There's no doubt about the P12 being a great looking phone but as the budget smartphone market grows fiercer it makes me wonder if the latest offering from Cubot can hold up against the competition? When we consider price point Vs features the P12 does a good job but is lacking slightly graphics performance. The aluminium edge and minimal design make this an attractive prospect for someone looking for design over high-end functions. If you could take the designer backplate from the P11 and stick it to the P12 then that would be one awesome phone, let's take that a step further and add in the X12 internals. Wait a minute, I think what I'm saying is that if you can afford an extra £30 Cubot has some excellent phones like the X16 with 4G, 64bit processing & a full 1920x1080p screen. Or the H1 which also features a 4G, 64bit processing and that whopping 5200mAh battery.
If you can buy the Cubot P12 for under £80 and you're on a budget then it's a good deal but at the rate Cubot are pushing out new phones maybe the P14 will feature a 1080p screen and 4G for a similar price point in 6 months, only time will tell but my bet is on yes.
[column size=one_half position=first ]
Pros
5″ IPS HD Screen
8.1mm Thickness
8MP Selfie Camera
Great Design
Dual Sim
16GB Storage + Memory Card Slot
[/column][column size=one_half position=last ]
Cons
Lower-end GPU
No 4G
Not Full HD
[/column]
The Cubot P12 tickled your tech buds?
If you've got your hands on the P12 or have something to say then you know what to do. Sharing is caring if you found this article helpful.