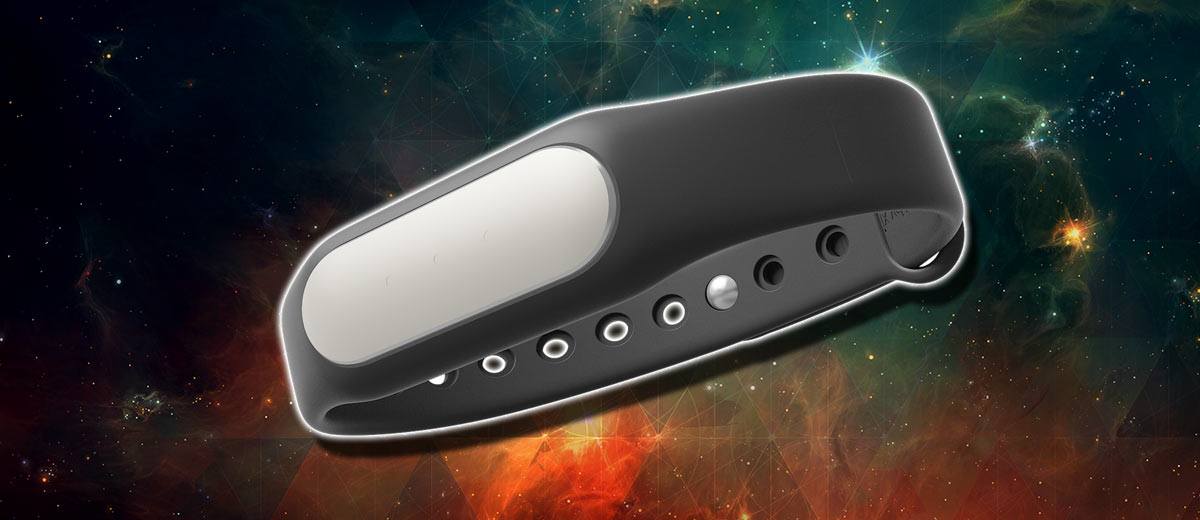 The Xiaomi Mi Band is an amazing feature-packed wearable with one big flaw
Check out the new Xiaomi Mi Band 2 – Full Review
I've had the Xiaomi Mi Band one for over two months now and it's with great regret to say that it's been abandoned to gather dust on my bedside drawer. Out of the box, it promises to be the best smart wearable / health tracker by a mile when you compare the Cost Vs Features and Design. However, there is one major flaw with this smartband which I'll explore in more depth shortly.
I've been researching what smart band, smart watch, smart wearable, not-my-smartphone smart-something to buy for well over a year and if I'm completely honest procrastination has the better of me. When I finally think I'm about to commit to buying a wearable health / social gadget suddenly I read another article touting the next best and latest device. I can't buy anything when I know there's an upgrade coming out soon, usually featuring better battery life, better design, more functionality and a slimmer bezel.
I'm the first to admit that before I buy a gadget, there's a lot of research involved. I love getting my mouse dirty and trawling through the comparison websites, lining up my options side-by-side. 'Gadget hunting' is all part of the fun and it only serves to amplify the excitement when you finally go and make the purchase. I'm sure everyone isn't as reserved as me and makes more than a few tech related impulse buys without researching first and that's exactly what I did with the Mi Band from Xiaomi.
I spotted the Xiaomi Mi Band wearable on online for £15 plus free delivery… curiosity got the better of me and I couldn't resist. I'd briefly heard of the band before but hadn't realised it featured such a low price tag. Most half-decent fitness trackers on the market will set you back at least double this amount. Now that I've had a chance to put the Xiaomi Mi Band through its paces let's find out if it's really possible to create a decent fitness tracker for less than a takeaway.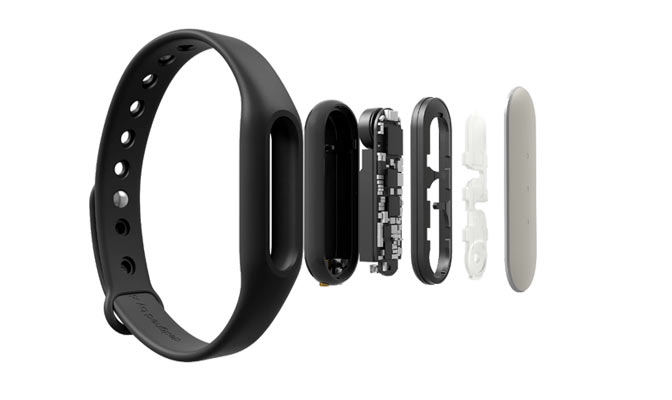 Xiaomi Mi Band Pros & Cons
[column size=one_half position=first ]Pros
Smart unlock & App alerts
30 Day battery life
IP67 water-resistant
Premium feel design
Sleep Tracking
Lots of Accessories on Amazon
[/column][column size=one_half position=last ]Cons
Pedometer not very accurate
Status LED difficult to master
Firmware issues (See fix below)
Mi Fit app lacks social
[/column]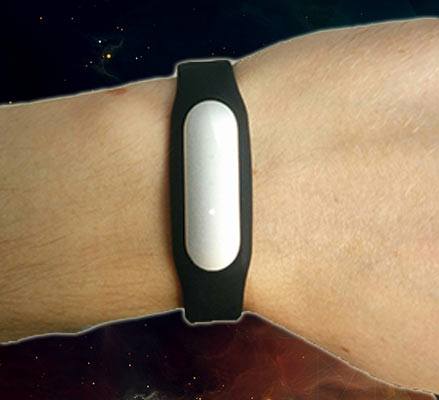 First impressions of the Mi Band
The band comes in a small recycled cardboard box, it feels sturdy and easily survived all that the post man and international customs had thrown at it. Inside you'll find the Mi Band, a soft touch hypoallergenic polyurethane strap (feels and looks like premium silicone) , a USB charger and with mine some really helpful Chinese instructions. The band / bracelet feels premium with a soft touch feel rather than a grippy feel that you get with silicone products. The band features an aluminum alloy steel button clasp fastens the device. The dongle is also made of an aluminum alloy and with a polycarbonate back. The face of the Mi Band is plain except for three very discreet dots where the LED notification lights shine through.
When you first try placing the Mi Band into the strap you'll have to use a good amount of pressure but once in it feels safe and secure. Online rumour suggests wearing the strap tightly as this will prevent the dongle from slipping out but I found there really isn't any chance of that happening through day-to-day use. Another positive for me is that I have quite small wrists and the band fit easily with three notches from the smallest hole. For those of you with larger wrists, there is a good choice of straps online which you can find on eBay & Amazon. The included strap will cover most people's needs unless you want something a bit more colourful.
The Mi Band I received came with around a 50% charge, which I believe is the standard amount for safe transport of batteries. This enabled me to get the band synced straight away start shaking my arm in the air to see if it works.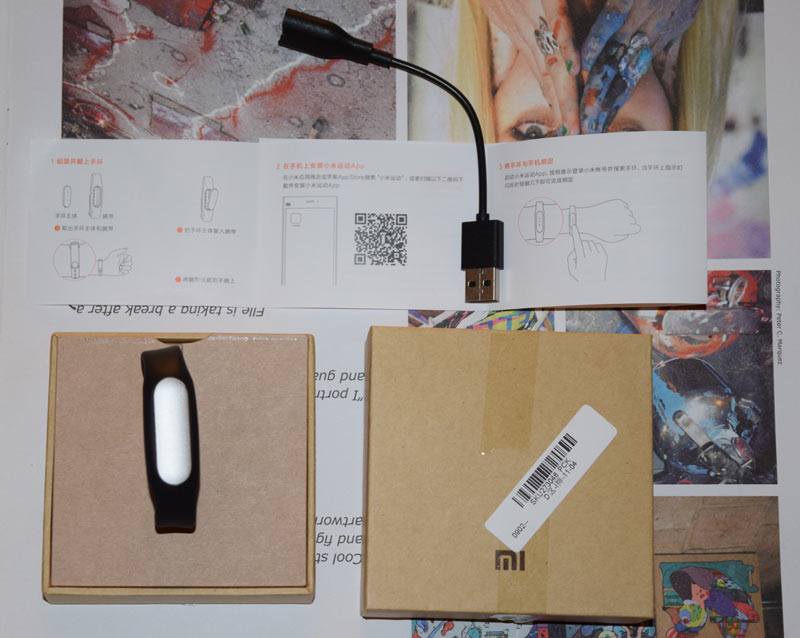 Key specifications
All specifications are taken from the Mi Band Manual (EN), I couldn't decipher the Chinese instructions that came in the box.
Xiaomi Mi Band
Total Weight:
5g
Battery Capacity:
41mAh
Operating Temp:
-10C – 50C
Battery Type:
Lithium-polymer
Strap Material:
Polyurethane
Fastener Material
Aluminium Alloy
Band Material:
Aluminium Alloy % Polycarbonate
Strap Length:
157mm – 205mm
Connectivity:
Bluetooth 4.0
Display:

Multi-color LED Lights

(blue, green, red, orange)
Xiaomi Mi Fit app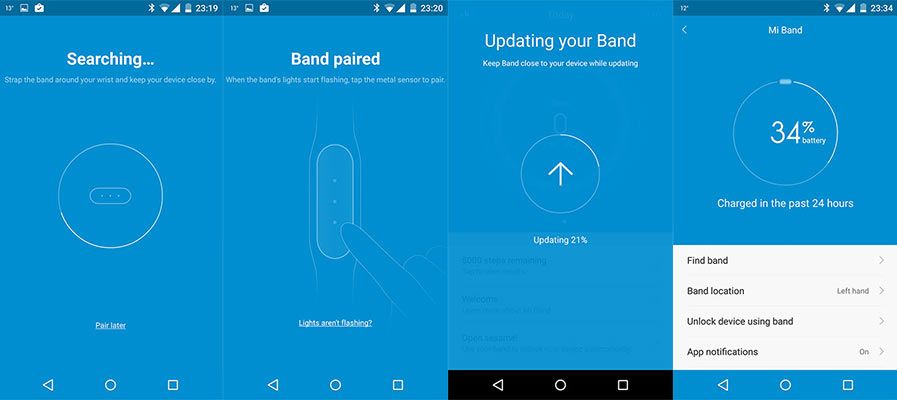 Installing and pairing
The Mi Fit app is available from the google play and IOS app store with a simply installation. Once installed, open the app and you'll hit the big 'PAIR MY BAND' button. After around 10 seconds of searching the app found my Mi Band and asked me to touch the metal surface when the lights started. At this point, my band received a firmware upgrade which took around  60 seconds to install. After this initial setup, my band connected to my phone almost always straight away with only a couple of seconds sync time. There were a few occasions when it just didn't want to sync, but repeatedly pressing the sync button usually did the trick.
With this out of the way your greeted by the main Mi Fit app screen which shows you your remaining steps for the day, a welcome tab explaining more about the band and a third option to explore using the smart unlock feature. If you slide your finger left you can see a similar but dark themed page which shows you your sleep statistics.
App options
Onto the settings. Click the top right button and it will take you to the settings page. Here you can setup the band location (left or right hand), smart unlock, app notifications, incoming call notification, activity stats notifications & sleep data notifications as well as an option to find the band. The find band button vibrates the Mi Band each time it's pressed so in an ideal world you can tell the whole room to shush and follow the quiet 'mmmm' 'mmmm' 'mmmm' sounds.
In the settings you can also set up your personal details along with whether you want to use metric or imperials measurements. Personal details include picture, gender, birthday, height and weight.
Turning on the alarm, call alerts and app alerts can be done with a few clicks. This is a great feature for when you don't want to always have your phone on you as the Bluetooth will work to a distance of 10m clear sight. In practise, this worked well and all the vibrate alerts were pushed from the phone.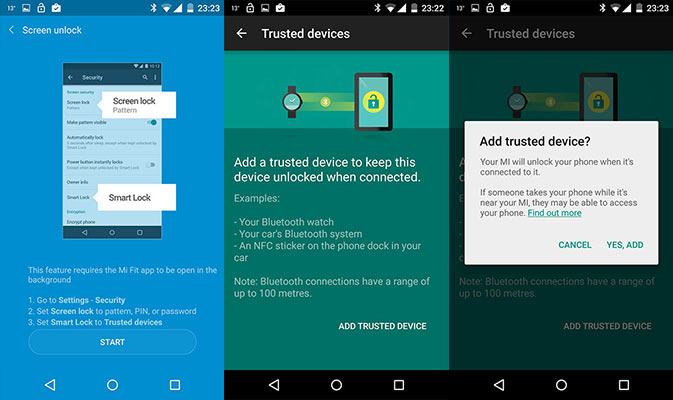 Smart unlock
The smart unlock is another really interesting feature that the band has although you do need to have a Xiaomi phone or Android 5.0 and above for this to work. Luckily for me, my Nexus 5 is on android 5.0. Using this feature means that as long as the Mi Band is within range and connected you don't have to unlock your phone. I found this really useful and not having to enter a pin or swipe the dots was a refreshing change. I'm not 100% on the security of this as the range is 10m it means that a phone left nearby in a public place could be accessed by anyone but for the purposed of testing the device I left it on.
Syncing band data with smartphone
Each time you open the app the Mi Fit will search for the synchronise with the Mi Band. This happens automatically and usually only takes a few seconds with the percentage complete on display so you know its working. On the odd occasion that it wouldn't sync I found that repeatedly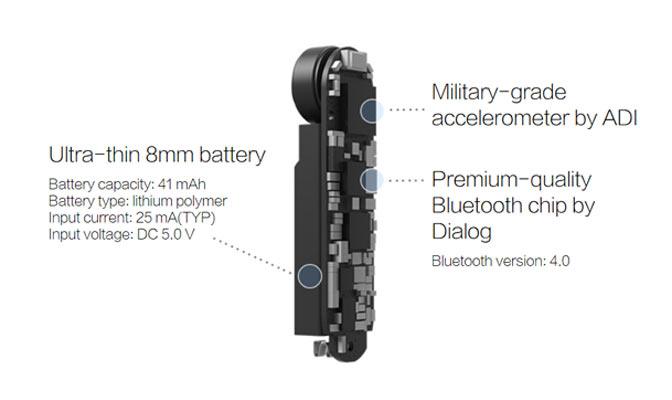 Features
[column size=one_half position=first ]
Sync with Google Fit
Locate your Mi Band
App vibrate alert
Call vibrate alert
Alarm vibrate
LED notifications
Lost Mi Band vibrate
[/column][column size=one_half position=last ]
Smart unlock
Steps taken
Step Goal
Running steps taken
Low battery Alert
Battery Status
[/column]
Accuracy
Steps & running
To find out if the Xiaomi Mi Band is taking accurate recordings I compared it against the Accupedo App on my Nexus 5 smartphone. I know the Accupedo app is accurate as it lets you tailor the sensitivity and input your stride measurements. To confirm the accuracy of Accupedo I counted my steps over a 10-minute walk then cross checked the distance on google maps and Accupedo had the steps off by one (maybe it was my counting) and the distance was also accurate.
To sum it up the Mi Band is way to sensitive, it leaves you with a great feeling to begin with but then common sense kicks in and you realise that you didn't go for a run whilst on the train back from work. The app often told me I'd been running when this clearly wasn't the case.
Often the amount of steps that the Mi Band is recording is over double what the actual amount was. This isn't just a few steps here and there, we're talking about recordings so far out that the data is totally unusable. I would be inclined to say that the band I received was faulty but the online chatter also suggests that the accuracy is a weak element of the wearable.
An easy fix for this would be to let us tailor the sensitivity inside the app, input our stride length and edit incorrect exorcise predictions. This should all be possible with a simple firmware upgrade.
Sleep tracking
It's hard to say how accurate the sleep tracking is as I share a bed so there will be double the movement. It did report I had slept on a few occasions where I was just sitting still watching Netflix so there must be a set time that the band decides is bedtime. A nice feature would be to be able to set your normal sleep hours, for a night owl like me the sleep tracking didn't work to well. Still it's a nice feature to have in a £15 pound wearable.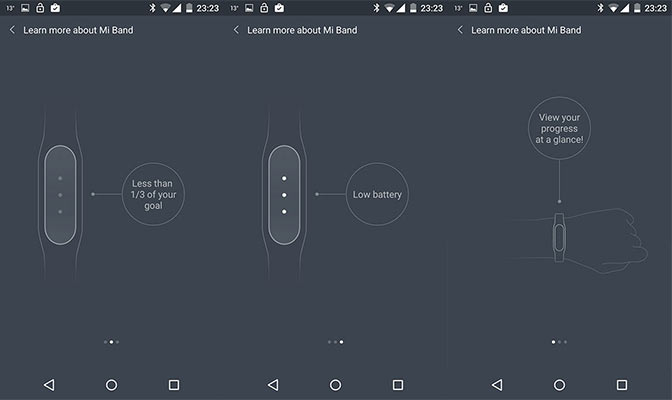 Progress notification LED
One area where Xiaomi went wild on accuracy was with the LED progress notification. As you take steps and work towards your daily goals you are supposed to be able to see the LED light up. The closer you are the more LEDs light up. In practise getting this to work is much more difficult and requires a certain amount of skill. My best effort is to stand with my arms by my side then make a sweeping gesture with my Mi Band arm up until the band is right in front of my eyes, I've been having about a 50% success rate.
Battery life
Xiaomi state that the battery life for the Mi Band wearable is 30 days and they aren't far wrong either. I managed to get 29 days battery life out of the band when using it for an Alarm and Pedometer whilst syncing the device once or twice a day. When I was using as a smart lock, had vibrate alerts set, Alarm and Pedometer the device still lasted around 20 days, although this would differ depending on the frequency of the vibrate alerts. Hat's of to Xiaomi for the battery life as it really is impressive and although you have to remove the device from the band to charge it this isn't a hassle at all considering the price and the fact that you might only be doing this 12 times a year.
Sleep tracking fix for no data recorded
Out of the box, my Mi Band wouldn't record any sleep data. I actually contacted the retailer who I purchased it off and asked for a replacement unit. They offered me a £10 refund which I was happy to accept as everything else worked fine. After researching the problem a few more times I came across a forum that suggested it was a firmware issue. Each morning there was just no data collection and no amount of re-arranging the band on my wrist seemed to fix this. At first, I thought this was a hardware problem but it turns out it's a firmware issue.
To fix the sleep tracker on android OS you need to use an iOS device. This can either be an iPad or an iPhone. Download the Mi Fit app from the app store and install. Connect the Mi Band to the iOS and the firmware will upgrade. Once you connect back to the android device the sleep tracking will work. I did lose some functionality using this method such as find band vibrate stopped working. Hopefully, Xiaomi will be releasing a fix for this in their next firmware update.
Google Fit
With the latest versions of the Mi Fit app, you have the option to sync all your data with Google Fit. This is a nice option that Xiaomi have decided to add and opens up the band the Google health ecosystem.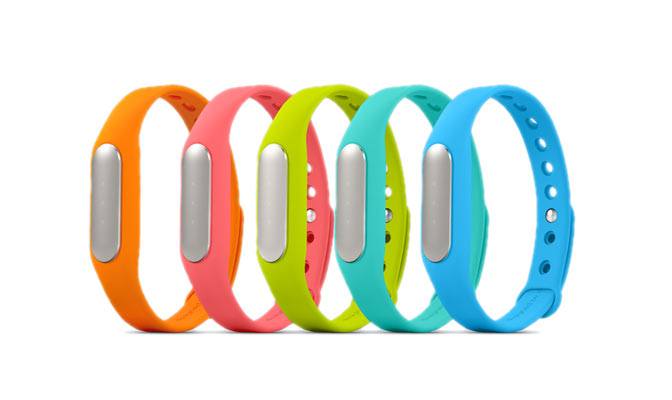 Mi Band accessories
We're in luck with the Mi Band, its been one of the best selling fitness wearable of 2013/14/15 so there is a great choice of bands to choose from. You can buy the official Xiaomi bands in orange, red/pink, lime green, turquoise and blue for around £3.50 on Amazon with free delivery. Also available is a leather strap version for those of you who want some more discretion. You can also buy a necklace which the Mi Band fits into, I don't know what this would do to the accuracy though, maybe it would fix it?
3rd Party apps
The Mi Fit isn't the only app available that works with the Mi Band. There are also 3rd party app on the android app store such as Mi Band Tools, Mi Band Notifier and Open Band. These all offer slightly different variants of fitness tracking. I've yet to research whether any of these other apps will let me tailor the sensitivity down.
Final thoughts
I really want to love the Xiaomi Mi Band and in some respects I do. It offers a refreshing budget experience and feels like a premium device but unfortunately until they let you tailor the sensitivity through the Mi Fit app the Mi Band is going to start collecting dust. Every feature of the wearable is great except the one you bought it for, to accurately record your steps each day. Yes getting silent alerts directly to your wrist is great and makes you feel all futuristic at first but once the gimmick wears off it can start to get irritating. Hopefully a firmware update will be released that will allow us to change the sensitivity of the device to give us a more realistic outlook on our daily activities and steps.
Should I buy a Xiaomi Mi Band?
This is a really difficult one. If the Xiaomi Mi Band had cost over £30 then it would be a 'Not to Buy' but because the device is so cheap and has such a great design I think even overlooking its biggest flaw it's still a 'BUY' from review hub. The added functionality that Xiaomi has added such as Smart Unlock, App Vibrate Alerts, Call Vibrate & Alarm all make this device more than just your standard Pedometer. Couple this with exceptional battery life it's a really great gadget. If you're serious about your fitness and need an accurate device them I'm afraid this isn't the wearable for you.
Update 12/11/15 – New firmware has been pushed to the device 5.15.10.14 – I'll report back with whether this has fixed or broken anything.
Let me know about your experience with the Xiaomi Mi Band below and sharing is caring if you've found this article helpful.