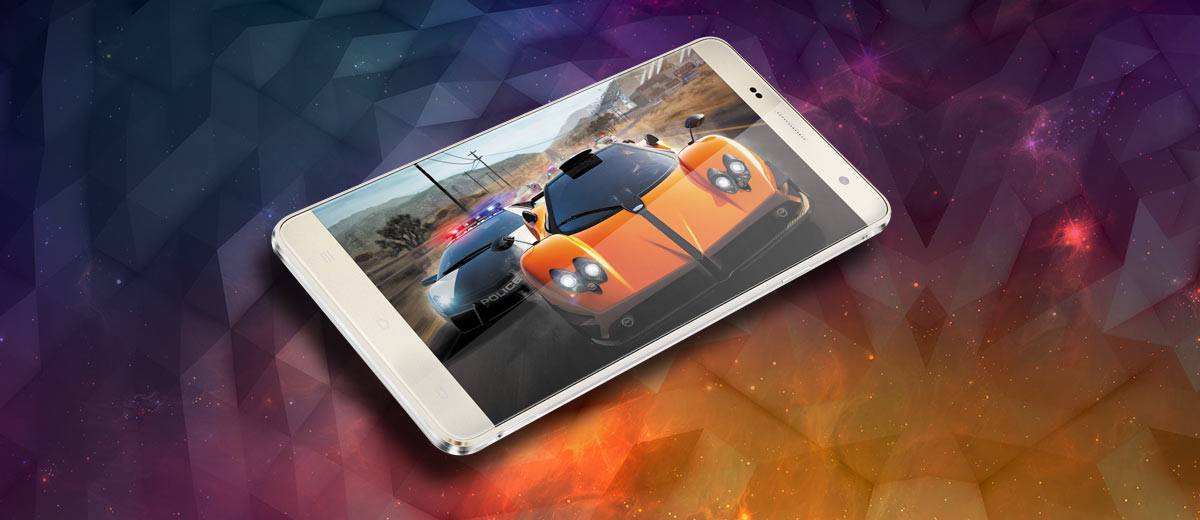 It wouldn't be right to start this review of the Cubot H1 without saying 'Whoa, did they really manage to stick a 5200mAh battery in a 9.2mm phone?'
Update: Looking for Phones with Amazing Battery Life? The Best Smartphones with BIG Batteries
Cubot H1 starts at… UK : £93 | EU : €122 | US : $133
When I first heard about the Cubot H1 I couldn't help but think there had been a mistake with the battery size, boy was I wrong. Not only is this figure right but the Cubot H1 also features quick-charge technology which lets you top up the battery level significantly in only a few minutes .  Having this much juice in your pocket could mean the end of rationing mobile phone use with the H1 lasting for around two full days of heavy use and stretching to 3 days with moderate use.
The Cubot H1 does have some trade-offs due to its monstrous battery capacity. The first is its weight, coming to just under 200 grams with the battery inside it's quite a beast. With this in mind, it is well proportioned and I like the clean design with textured plastic back plate. The second trade-off is the H1 doesn't use the most premium materials with the majority of the phone being made from plastic. There is a reason behind this as using more metal would add more weight to the phone.
But wait there's more…
There's so much juice inside the H1 that they've enabled it to charge your other USB devices on the go (OTG). In practise, this works really well and can help power your MP3 player or gadget on that long journey. It's a nice feeling knowing that you're carrying some extra juice should your other gadgets fail you.
I'm a big fan of infra-red sensors in phones and the H1 doesn't disappoint. It allows you to control a selection of devices such as TV's, Air Conditioning Unit, DSLR cameras, External Flash Units, etc. Pretty much anything that uses an infrared signal (IR) to work, you can control using the H1. To use this feature there a host of third-party apps such as ZaZaRemote which will let the phone communicate with IR devices.
Let's take a quick look at the Pro's and Con's of the Cubot H1 before we look in-depth at the Design, Hardware, Software, Battery, Camera, Connectivity & What's in the box.
[column size=one_half position=first ]
Pros
2-3 Days battery life
Quick Charging
8MP Selfie Camera
4G Capable
Dual Sim
16GB Storage + Memory Card Slot
[/column][column size=one_half position=last ]
Cons
Camera
Poor in low light
Videos could be sharper
Feels heavy
Average speakers
[/column]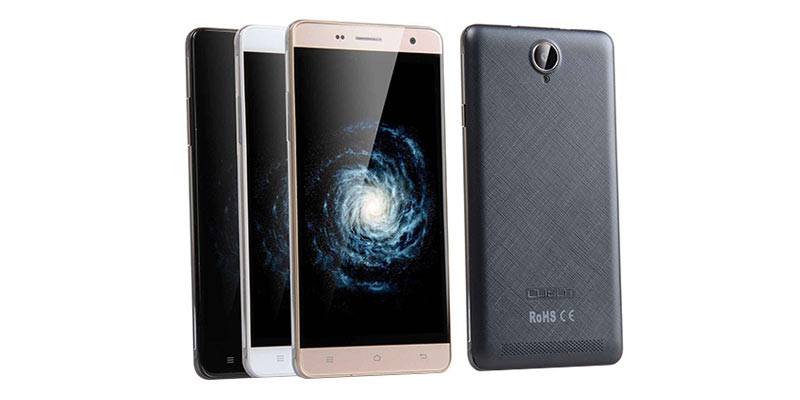 Design
The Cubot H1 Design certainly isn't premium but it makes up for this in features.  In your hand, it feels very solid without any strange noises when you apply pressure. The edge of the H1 is surrounded partly by a metal frame which gives it a slightly more premium finish than an all plastic model would have but not by much. Saying this, I still like it, at 9.2mm it's not going to winning any awards a slimming world, but that's a respectable thickness for a phone that's hiding 5020mAh of juice inside.
The 5.5-inch screen is bright, vibrant and clear with good viewing angles from all sides. It also features 2.5D technology meaning that edges of the screen will recess into the phone, giving a subtle bubble effect similar to iPhone's. They've only managed to pack a 720×1280 resolution screen in which gives it a PPI value of 267 which to my pixel snob eyes isn't quite crisp enough but on the plus side it helps keep the phone feeling nippy. The screen will be fine for most day-to-day tasks and as an entry-level smartphone it works well. It's just lacking the wow factor that we see with more expensive AMOLED phones.
The capacitive buttons on the bottom work well and are back-lit which looks great. There is also a notification LED at the top of the phone that lights up red whilst charging, blue for alerts and green when fully charged. I couldn't find a way myself to customise these but most likely you can.
Colours: Black, White & Gold
Screen Tech Specs:  5.5″ Screen, IPS ,OGS, 5 Point capacitive multi-touch, Touch, 720x1280px, 267PPI, 2.5D
What is 2.5D?
They've also chosen to use the 2.5D technology in the H1. This is a type of screen technology that is making its way into a lot of Cubot phones as well as other smartphone manufacturers. 2.5D is a way of manufacturing a screen so that is had rounded edges, this is a purely aesthetic design decision although it can make it easier to keep the edge of the glass hidden from the user, preventing any sharp scratches.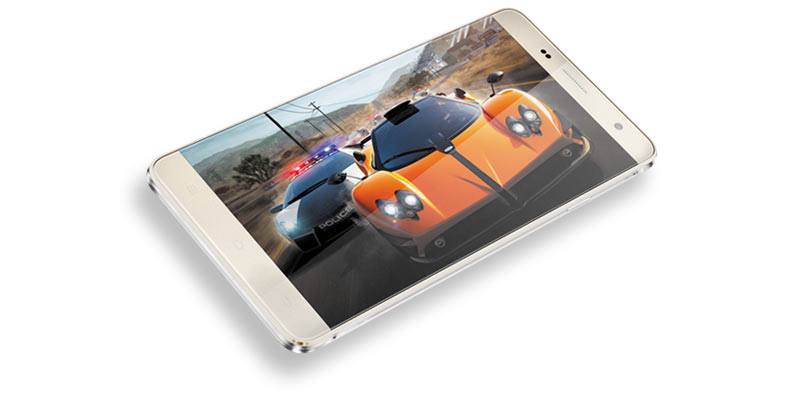 Hardware
Let take a look at the internal specifications of the Cubot H1
CPU
The H1 used a  MediaTek MTK6735P which is a 1GHz Quad-Core 64bit CPU. The 64bit chipset will handle RAM more efficiently and the four 1GHz cores will handle lightweight multitasking with ease. This is the same chip we see in the Ulefone Be Pro and is described by MediaTek as built for the 'super-mid' range of smartphones.
In reality, this phone feel nippy and responds well when opening and closing apps with little delay. There were only a couple of occasions when the H1 slowed down slightly and this was when I had a large amount of apps open at one. Overall I had a very smooth experience with the Cubot H1 considering its budget CPU.
GPU – Gaming Performance
The MTK6735 comes with integrated graphics in the form of the ARM Mali-T720 GPU. Codenamed 'Midguard' it's a mid-range GPU that clocks in at 650MHz, ARM focussed on energy efficiency and maximum efficiency when creating the 700 series.
When playing 2D games there was no noticeable lag from the phone, but when switching to more graphically intense games the frame rate did slow down during busy scenes. If you're a casual gamer this phone will be fine, but for those looking for the best gaming experience or graphically intense titles then you'll have to look elsewhere.
In the AnTuTu Benchmark, the phone scored an okay but not great 19817.
RAM – Multitasking
Inside you'll find 2GB of RAM which is plenty for a mid-range phone to handle multitasking and keep the phone running smoothly.
ROM – Storage
The Cubot H1 comes with 16GB of internal storage and has a dedicated expandable memory card slot above the battery which will take cards up to 64GB.
Speakers
Phone calls on the Cubot H1 sounded loud and clear and I didn't experience any call drops with the small amount of testing that I did. The external speaker quality isn't the best but it's not the worst either. Generally, it sounds okay, maybe being a little on the tinny side.
Tech Specs:  2GB RAM, 16GB Storage (64GB Expandable), 1.0GHz 64bit Quad-Core CPU, Mali T720 GPU.
Software
The device comes with Android 5.1 lollipop installed out of the box. The phone features OTA updates but is very unlikely to receive an Android Marshmallow 6.0 update. Out of the box, it comes bloat-ware free without any unwanted apps pre-installed. It's a very close to stock android ROM feel.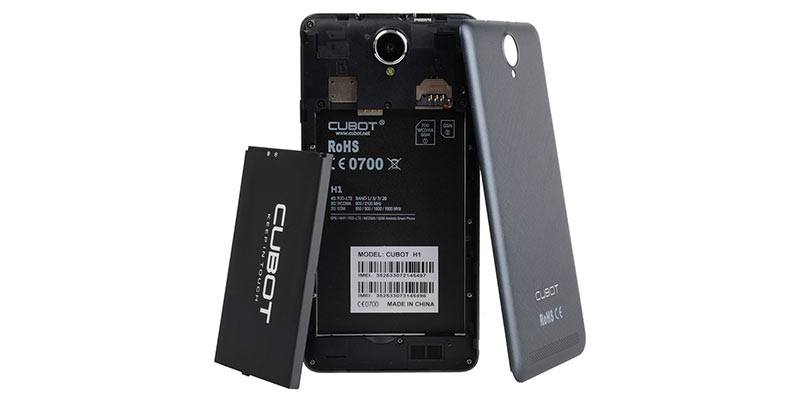 Battery
I found that whilst using the phone I could get around two days heavy use from the battery before having to charge it up. This is fantastic and one of the best features of the Cubot H1. The battery is also removable so you will easily be able to replace it in a year or so once the charge starts to lose. Another idea for the Android power user would be to carry around a spare battery, switching them out to give you a whopping 10400mAh to play with. The Cubot H1 also features OTG 'on-the-go' charging which allows you to charge your other gadgets by using the H1 as a power source. Inside the box, you'll find Cubot's 'Quick-Charger' that they claim will deliver power more evenly and effective than other chargers.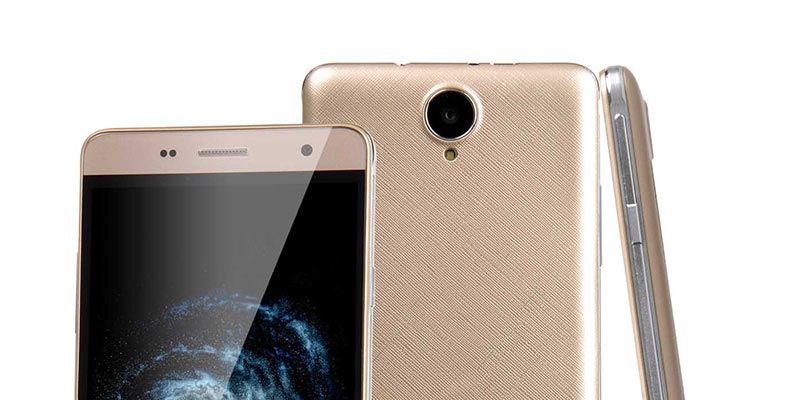 Camera
The Cubot H1 camera worked really well in well-lit conditions. The tap to focus is fast and the colours look natural. It's in low light conditions that the camera performs poorly capturing very grainy pictures. For a budget smartphone overall I would say the camera is okay. For a photo fanatic then you'll want to look elsewhere. If you're looking for an improved camera then check out my Cubot X17 full review.
The video looks a little washed out and not as sharp as it could be.
The H1 uses a 5 element f.2.0 aperture lens for the rear camera shooting at 13MP interpolated, 8MP real. The selfie camera uses a 4 element lens with 8MP interpolated 5MP real.
[column size=one_half position=first ]
Back Camera:
CMOS
13.0mp Autofocus
5P lens, ƒ/ 2.0 aperture
0.5A LED flash
5 element lens
Blue glass Infra-red filter
1080P video Capture, 30fps
[/column]
[column size=one_half position=last ]
Front Camera:
[/column]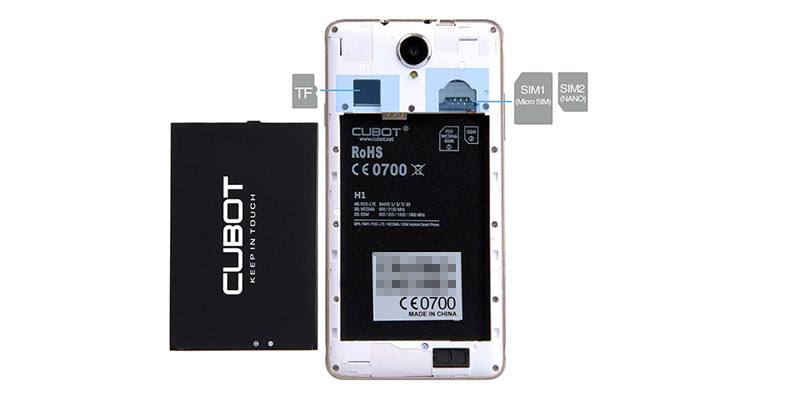 Connectivity
The Cubot H1 supports most connectivity features including 4G here in the UK on all the bands we use.
Frequencies Supported: 850 / 900 / 1800 / 1900 MHz GSM | 900 / 2100 MHz WCDMA | B1 (2100MHz) / B3 (1800MHz) / B7 (2600MHz) / B20 (800MHz) FDD-LTE (4G)
3G : YES
4G : YES
Bluetooth : 4.0
GPS : GPS, A-GPS
Sensors : Accelerometer, Light sensor, Proximity sensor, Infra-red Sensor, Compass
WiFi: 802.11b, 802.11g, 802.11n
SIM support:  Full SIM + Micro-Sim. 2nd SIM slot is GSM only.
Will Cubot H1 work in the UK?
3G – YES
4G – YES
Yes, the H1 supports 4G LTE Bands 1, 3, 7 & 20. The active 4G LTE bands in the UK are 3, 7 & 20. For more information on your whether an import phone will work with your network provider please see
If you'd like more on this please read – Will a Chinese smartphone work in the UK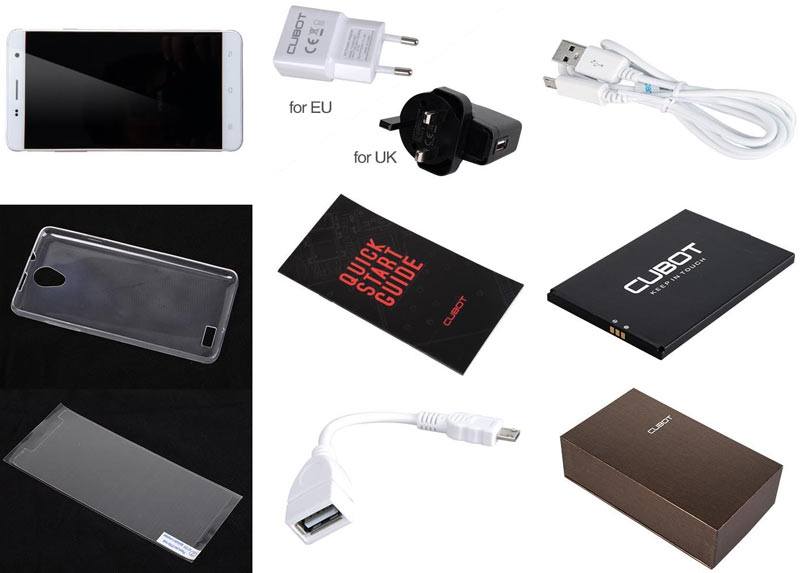 What's in the box?
Inside the H1 box you'll find: 2 Screen protectors (1 pre-attached) Quick Start Guide, Micro-USB to USB cable, Regional Charger, Plastic Case, Battery and an OTG Cable.
Are there any accessories for the Cubot H1?
Yes, Amazon and eBay are stocking cases that they claim are specifically for the Cubot H1. The truth is you have to stick your phone to them with a glue tab, not the most elegant solution. Screen protectors are available to fit and slip cases might be the best choice until officially fitting cases arrive.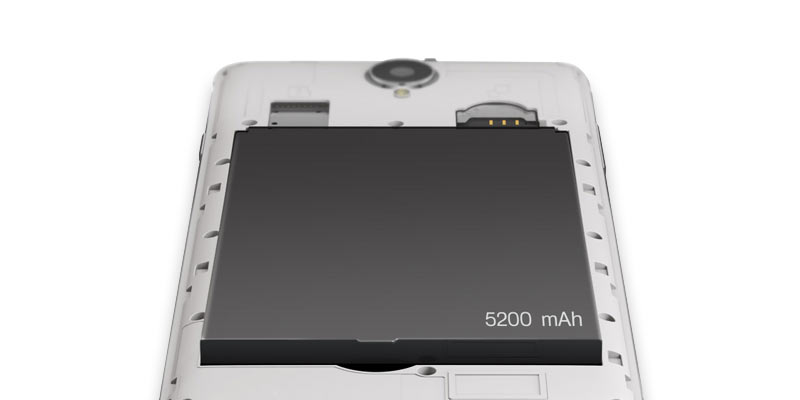 Final thoughts on the Cubot H1
I think the Cubot H1 is a valiant effort a creating a phone that will really appeal to those who want battery life above all else. If you add to this its 4G connectivity, crisp screen and okay hardware then the H1 has done a good job! For heavy Android and phone users alike the H1 is a very exciting prospect and this phone can last you three days with moderate use plus charges very quickly. Overall I really like the Cubot H1 and they've created an excellent battery life focussed smartphone.
Did the sound of 3 days without charging get you excited?
If you've got your hands on the H1 or have something to say then you know what to do. Sharing is caring if you found this article helpful.