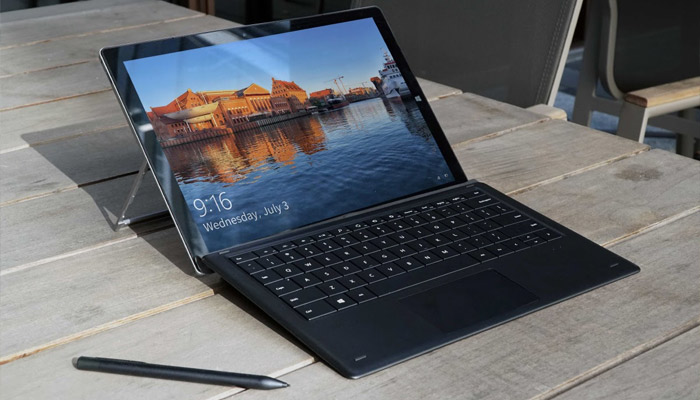 Chuwi hopes to conquer Microsoft's Windows tablet dominance with the affordable UBook Pro
Offering a diverse line of Windows 10 tablets & laptops, Chuwi boasts a wide array of design & styles to choose from. Each with different internal specifications targeted at various budgets & needs.
As such, here we will be taking a look at the Chuwi UBook Pro – an alternative to the Surface Go 2 (Amazon) that promises the same level of performance but at a much more affordable price-point.
Related: Chuwi Minibook Review – The Sexiest Looking Micro-Windows Laptop You Can Own!
Now, as you might have guessed by the name, yes there is a non-pro version of the device – the Chuwi Ubook. It too markets itself as a Surface Go alternative. However, it has a bunch of shortcomings compared to the Pro version, which, in our opinion, can ruin the overall experience.
As such, if you are in the market for an entry-level Windows Tablet, but don't want to pay the premium asking price for the Surface Go 2, then we have no problem recommending the Chuwi UBook Pro.
That being said, to help you make up your own mind regarding the device, we have put together a comprehensive review covering every single feature and functionality this 2-in-1 tablet brings to the table.
But first, let's quickly go over the pros and cons of the device to give you a quick idea of what to expect.
Pros:
12.3-inch bright (350nit) FHD display
Sleek and stylish build
Just 9 mm thin
Lightweight at 780g
U-Shaped Kickstand (0-145 degrees)
Above-average performance
Affordable
Cons:
Below-average battery life
Poor camera quality
Poor sound quality from dual speakers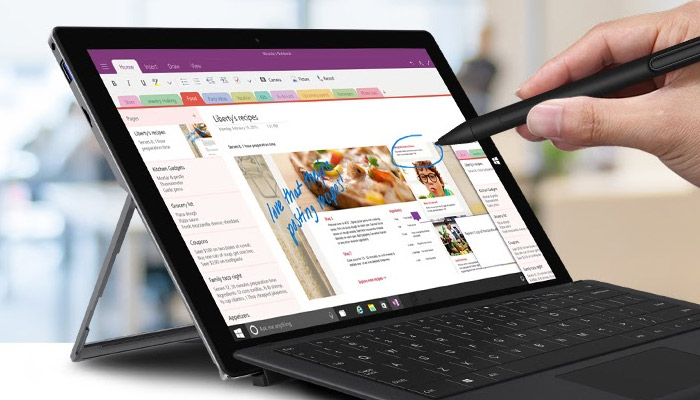 Display
The Chuwi UBook Pro offers a larger screen compared to the Surface Go 2 with its 12.3-inch IPS fully laminated display boasting an FHD 1920 x 1280 screen resolution. It also has the same 3:2 aspect ratio as the Surface Go 2, which offers a more widescreen interface.
The screen is also larger than the regular Chuwi UBook which has an 11.6-inch screen on a 16:9 aspect ratio.
Other than this, the screen on the Chuwi UBook Pro is insanely bright. In fact, it is so bright that you can clearly see the display under direct sunlight, despite the screen being glossy and reflective. This is another area where the UBook Pro beats the regular UBook which for some reason offers a really dim display.
Coming to the touch screen, you get a super-responsive touch panel with support for 2048 class pressure sensors offering a really fluid experience. Needless to say, it also comes with stylus support to help you take notes and draw scribbles.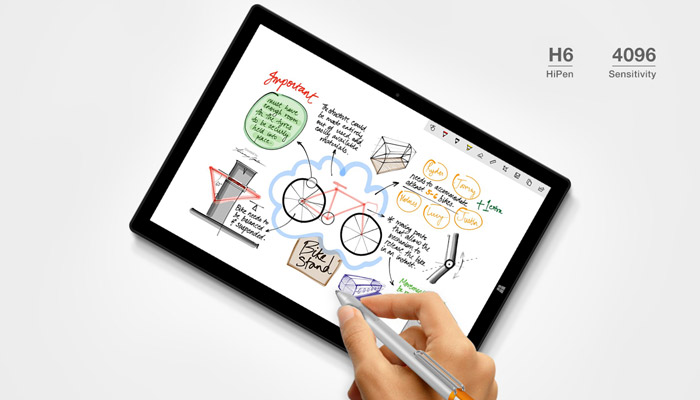 However, keep in mind that the Stylus isn't included in the box and needs to be purchased separately. The device works with both the HiPen H5 and H6, the latter of which will cost you around $40.
Now speaking of styluses, the palm rejection on the device can get a bit finicky. You need to make sure the nib of the stylus touches the screen first before resting your palm on it, otherwise it is going to register some unintentional inputs.
As such, it is no way near to the accuracy, precision, and intuitiveness that you get while using the Surface Pen.
Quick Specs:
3-inch IPS fully laminated display
FHD 1920 x 1280 screen resolution
187 PPI (Pixels Per Inch)
3:2 Aspect Ratio
Extremely Bright Display
2048 class pressure sensors
HiPen H5 and H6 support (Sold Separately)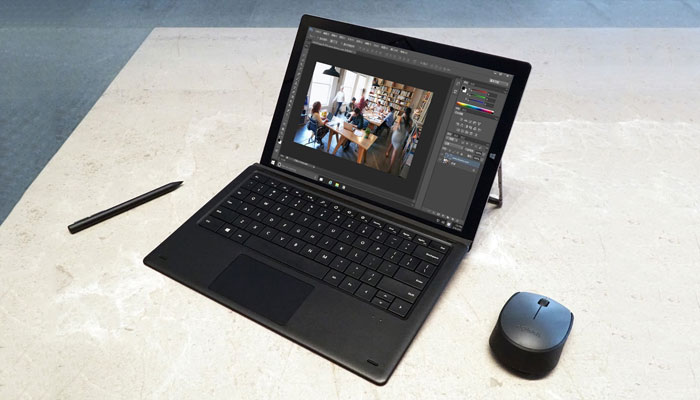 Design & Build Quality
The Chuwi UBook Pro boasts the same sleek and slate-like design of the Surface Go 2.
The main visual difference is that the device is a bit larger compared to the Surface and boasts a U-shaped Kickstand instead of the classic solid flat-panel kickstand that we know and love on the surface.
The metal U-Frame does have a little twist to it but is sturdy enough to last regular usage. It folds out to 145-degrees which means you can prop it on your lap like a laptop, and even extend it all out and get a comfortable inclination for drawing on it.
Other than this, it is reasonably lightweight at 780g and is around 9mm thick  (or rather thin) making it look really modern and stylish.
In terms of build quality, it is well put together and has a solid in-hand feel. The front of the device i.e. the bezels surrounding the display is made up of Polycarbonate whereas the back panel is metal, boasting an Al-Mg alloy.
Finally, rounding things off, we get all the different I/O ports to the left and right of the tablet. The top edge houses the volume rockers and power button. And at the bottom, we have the pogo connector for the detachable keyboard.
Speaking of which, the detachable keyboard is available as a separate purchase, costing around $40. Our model was good (well, as good as you can expect from a $40 detachable keyboard) but many users had an awful experience with it.
To be on the safe side, we recommend using a separate Bluetooth keyboard and mouse as your input devices instead of getting the detachable keyboard.
Quick Specs:
Polycarbonate and Al-Mg alloy construction
780 gms weight
U-shaped kickstand (0 – 145 degree)
9mm Thick
Detachable Keyboard (Sold Separately)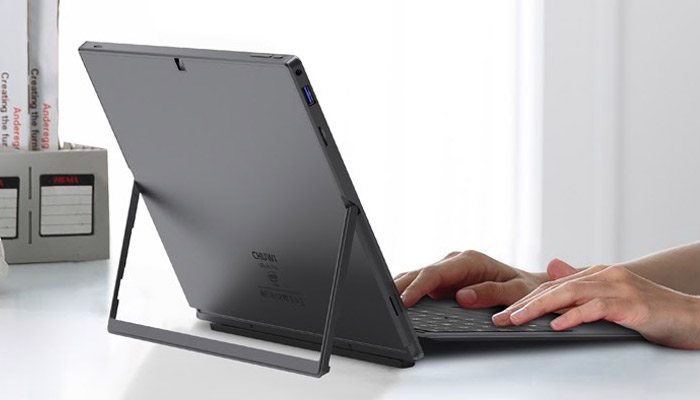 Gaming & Productivity Performance
If you are looking for a point of reference, the Chuwi UBook Pro and the Surface Go 2 perform similarly in day to day usage. It can fly through casual workloads like editing documents and browsing the internet without breaking a sweat.
With that being said, here is a more in-depth look at its internal specification to give you a better idea of what you can and can't do with the device.
Processor & GPU
The Chuwi UBook Pro gives you the option to choose between two different processors – the Intel Celeron N4100 and the Intel Core m3-8100Y. For this review, we have our hands on the N4100  model, which is slightly less powerful but more affordable compared to the Core m3.
The performance of the N4100 is similar to what you get with the base model of the Surface Go 2 featuring the Intel Pentium GOLD 4425Y CPU. Whereas, the high-tier model for both devices come with the same Core m3 processor, so the performance is similar over there as well.
In terms of gaming, the system lacks any dedicated GPU and relies solely on the integrated Intel UHD Graphics 600. It isn't a beast by any metric but can help you play casual 2D games and even some high-tier titles that were released pre-2014.
The higher tier model comes with the UHD Graphics 615 which does provide better results, but not by any earth-shattering margin.
We tried playing titles like League of Legends and Counter-Strike to test it out. Both games were playable and seldom suffered from sudden frame drops. It goes without saying that we kept the graphics settings to low/minimum.
RAM & Storage
The Chuwi UBook Pro ships with a generous 8GB of LPDDR4  RAM which is very much appreciated since it is running the full-fledged Windows 10 OS. Having 8 gigs to your disposal means you can experience flawless multitasking without applications getting removed from memory.
You should be able to have around 4 to 5 Office applications active at the same time, and even keep around 10 Chrome tabs open simultaneously without any noticeable stutters or hiccups. However, as you start pushing this limit, the device will start to slow down.
And now for storage, the Chuwi UBook Pro goes for a 256 GB of SSD over an HDD which makes the device really snappy – thanks to the faster read and write speeds. Applications loads up really quickly and the OS boot time is around 5 seconds, which is super fast.
The main complaint here is the 256 GB of storage space which can fill up in no time. Luckily, you can pop in a MicroSD card for extra storage, if and when necessary.
Quick Specs:
CPU: Intel Core M3 Processor/ Celeron N4100
GPU: Intel UHD Graphics 615/600
RAM: 8GB LPDDR3
Storage: 256GB SSD, expandable via MicroSD card
OS: Windows 10
Battery Life
The super-bright display and the above-average internals on the Chuwi UBook Pro are powered by a 38Wh high-density Li-Polymer battery . We tested its performance and barely managed to scrape over 4 hours of screen-on time.
What's disappointing is that during the entire time it was subjected to mostly basic and casual workloads. We used it for writing emails, editing documents, browsing the web, and streaming videos on YouTube and Netflix, all the while keeping the brightness at 20%.
Your mileage may vary depending on how you use the device, but it is certainly not capable of taking you through a full workday. It is more suited as a backup device for short bursts of on-the-go productivity by leveraging its 2-in-1 form factor.
Quick Specs: 38Wh high-density Li-Polymer battery, 4 to 5 hours of battery life, DC and PD  (Power Delivery via USB Type-C) charging.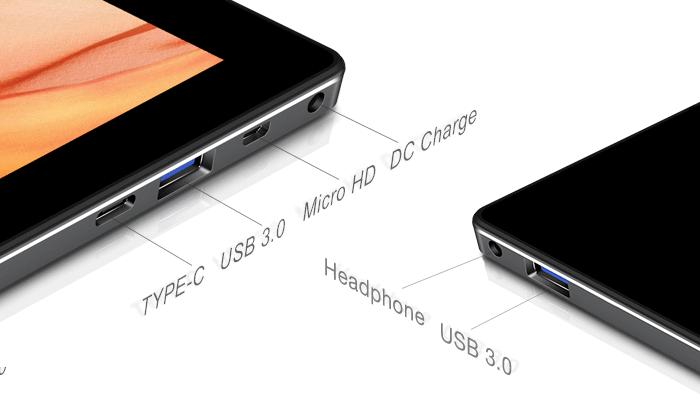 Connectivity 
For connectivity, you get access to a dual-band WiFi (2.4G|5G) with support for the fastest AC standards. On top of that, you get access to the latest Bluetooth 5.0 which promises better connectivity with your wireless peripherals, even at longer distances.
Other than that, the Chuwi UBook Pro offers a generous number of ports as well.
The right-hand side of the device houses a USB-A 3.0 along with a USB type-C, a Micro HDMI, and a small barrel for the charging port.
To the left, you have another USB-A 3.0 port paired with a 3.5mm headphone jack.
And finally, the top edge houses a single microSD card reader for expandable storage.
Quick Specs:
2 x USB Type-A 3.0
USB Type-C
5mm Headphone Jack
Micro HDMI Port
MicroSD Card Reader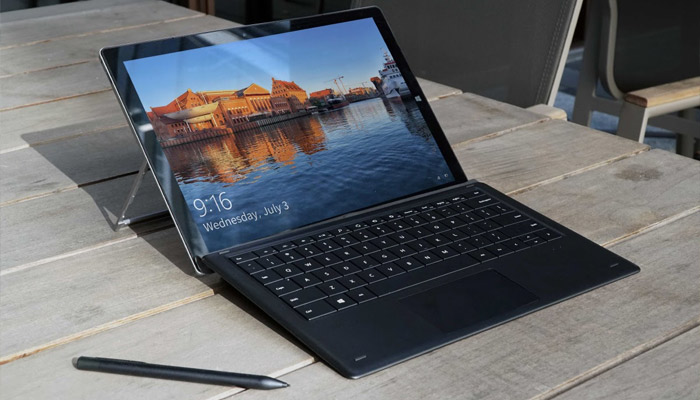 Chuwi UBook Pro – The Verdict
Let's recap everything that the Chuwi UBook Pro gets right and the things that could have been better.
To start out, we have a beautiful and super bright display paired with a sleek and stylish Surface-inspired design. In terms of performance, it is on par with the Microsoft Surface Go 2 and is perfect for casual workloads.
However, coming to the battery life and things begin to take a nosedive. As such, we wouldn't recommend The Chuwi UBook Pro for office or college use since it can barely last you through the lunch hour, let alone the entire day.
Overall, if you are looking for a secondary device that isn't hard on your pocket, and something that you will mostly use for basic tasks like streaming videos and writing emails, then Chuwi UBook Pro is definitely worth a consideration.