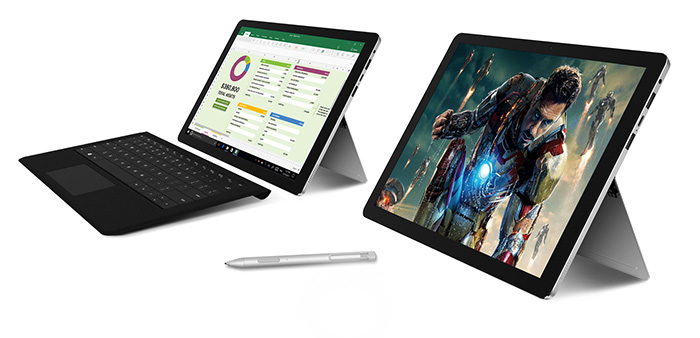 Microsoft's Surface tablets have been monopolizing the market for portable Windows devices ever since the line was introduced way back in 2012. Sure, the nearest competitor would be Apple's iPad, but if you're working primarily in a Windows-based environment, then the Surface used to be the only way-to-go.
But rumours have been floating around that Microsoft will finally kill off the Surface line in 2019. While still unproven, there's now a sudden influx of competitors, mostly based in China, that are rushing in to fill the void.
There's a need for the more wallet-friendly 2-in-1 tablet and the Chuwi SurBook (CWI538) is one of them.
Main Features
12.3 inch display with HD+ 2736 x 1824 resolution
10 point multi-touch Samsung IGZO IPS Display
Windows 10 – English Version
6 GB of RAM + 64 or 128GB Storage Options
Intel Celeron N3450 4-core 4-thread up to 2.2 GHz
There are a few different Chuwi SurBook models available, the above specs are the for the highest specc'd CWI538 version.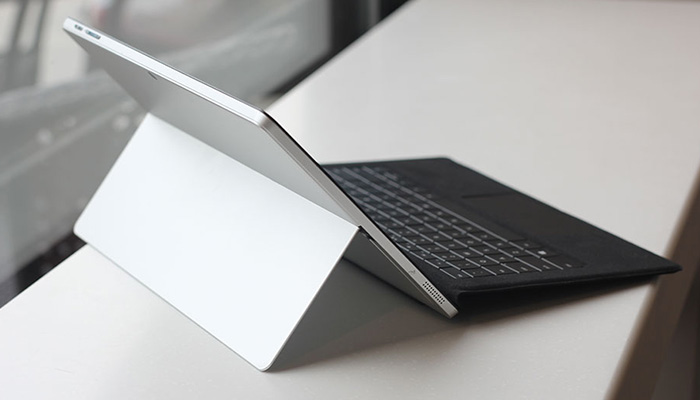 Setup and Design
The Chuwi SurBook has almost the same dimensions as the Surface Pro 4 and again uses a high-end metal magnesium alloy design. All of the ports are on one side, so you won't have wieldy cables sprouting from both sides of the device when you're charging it.
Another major design feature lifted from the Surface is the iconic kickstand: the Chuwi SurBook's kickstand opens almost the same way as the Surface's. However, it only opens up to 125 degrees compared to the Surface's 135 degrees.
At only 9.4mm thick, it's a little thicker than Microsofts Surface Pro 4, but still well within the realms of slimline.
Setting up the Chuwi SurBook is as simple as any laptop or computer with Windows 10. Cortana will voice prompt you through the setup while you customise the options.
Performance
It's important to note that the SurBook uses the same kind of processor as Microsoft's newest line of Windows 10 S laptops.
The Intel Celeron N3450 is no powerhouse but can provide enough computing power for casual users. The Celeron N3450 is from Intel's Apollo Lake lineup and comes with integrated graphics built-in.
While the Intel HD 500 graphics won't be able to play high-end games, it's good for mid-range gaming on lower settings and perfect for HD video playback. Included is a full size USB Type-C port that will allow you to use attach an external monitor as well as charge and transfer data.
Just like the Surface Pro, you can run common Microsoft Office applications but don't expect to run applications like Photoshop on this device. But, with the Windows Store now in full swing, there's plenty of less power-hungry photo editing apps to choose from for the Chuwi SurBook.
Overall, the Chuwi SurBook offers entry-level performance that's great for everyday tasks, but doesn't match the powerhouse Intel I7 processors used in the Microsoft Surface Pro… but who cares right? the Chuwi is a fraction of the price!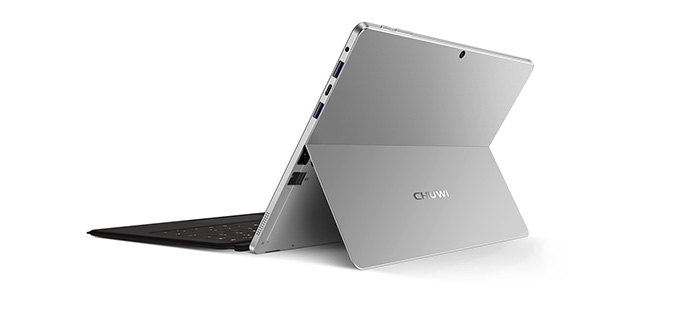 Price / Value
Let's get the most obvious positive thing about the Chuwi SurBook out of the bag first. The Surface Pro really has nothing on the SurBook when it comes to pricing.
While the latter is often sold without its keyboard and pen accessories, even if you include both of them in the price, the whole package will still cost you half that of even the lowest specc'd Surface Pro while still offering many of the same specs / features.
You can get the Chuwi SurBook Magnetic Keyboard + Stylus bundle for around £50 online, putting the whole package at well under £500.
If you're a light user who's looking for a 2-in-1, the Microsoft Surface could be overkill for your needs.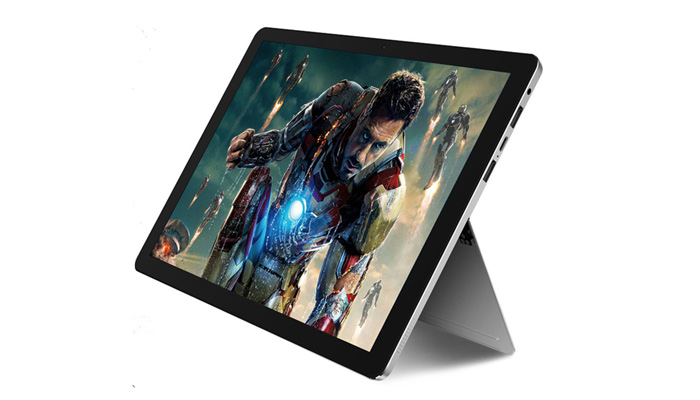 Display
The display on the SurBook is really surprising. You would expect China-made devices to scrimp on components such as the display, but this one doesn't. In fact, it actually has the same exact super-HD screen resolution as the Surface Pro 4.
The display has 1024 levels of touch sensitivity and is fully compatible with Windows Ink making it a great choice for taking notes or creative work.
Manufactured by Samsung, the Chuwi SurBook uses an IPS IGZO panel which is known for its excellent viewing angles and colour reproduction. Coming in at 12.3 inches corner-to-corner and with a 2736 x 1824 display resolution, watching videos on this tablet is a feast for the eyes.
When working with the Chuwi 2 in 1, you're going to be viewing some of the highest levels of detail and crispness available from any display this year.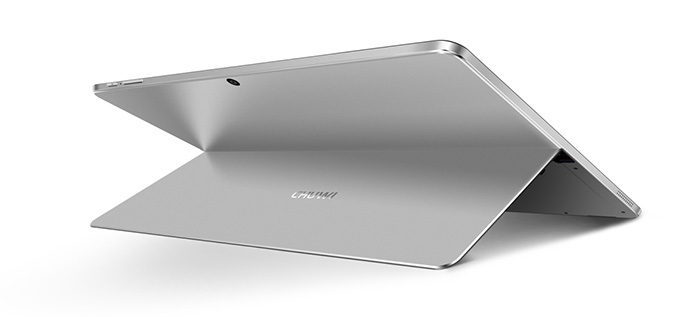 Build Quality
Build quality is excellent too. For a tablet, it feels pretty hefty weighing in at just under 1kg. But once you add the magnetic keyboard, you've got yourself a super-light fully functioning windows laptop that weight a measly 1.5kg, not bad.
It's an area where the SurBook falls short when compared to the Surface Pro 4 which comes in at only 768 grams.
There's a reason for the tablet's heftiness though, the case is constructed out of magnesium alloy, which means that the Chuwi SurBook can withstand minor bumps and daily wear-and-tear easily.
Camera
The SurBook comes with a pretty substandard 5 megapixel rear camera and a 2 megapixel front camera.
While both cameras can shoot passable quality pictures for most people, these aren't photos that you would gladly display on your Instagram account. The front camera can only record videos in 720p and during Skype, the voices sounded flat.
If you like to do a lot of video calls on your tablet, it's best to invest in separate mic and camera accessories.
Battery Life
The Chuwi SurBook has a 10,000 mAh battery. On paper, this sounds impressive, but in reality, it's not. As enormous as this is, this battery just can't give the tablet enough juice to make it last a whole work day of eight hours (with light browsing and word processing).
The required voltage to charge the device coupled with the high-power draw means that the Chuwi SurBook is a power hungry beast. Another minus point for this 2 in 1 is that you have to use the included power brick to charge it. Although it uses the Type-C port, it won't charge from a regular Type-C charger.
The tablet does include fast charge, but unfortunately, the included charger does not include this feature.

Chuwi SurBook – The Verdict
The Chuwi SurBook is probably the best and cheapest alternative to the Microsoft Surface Pro on the market today.
It performs weakly when it comes to battery life but scores highly on most other features. For basic web browsing, creative tasks and office productivity, it's a perfect match.
If you're looking to game or use high-end editing software, then you'll want a more powerful 2 in 1 with a high specc'd Intel processor.
Most likely though, you really don't need to spend that much on an overpriced over-powered device, especially if you're a casual PC user.
Ask your comments and questions below, after the Chuwi SurBook Technical Specifications.

Chuwi SurBook CWI538 – Tech Specs & Connectivity
| | |
| --- | --- |
| Tablet | Chuwi SurBook 2 in 1 |
| Screen Size | 12.3 Inch |
| Pixel Density | 293 |
| Screen Resolution | 2736 x 1824 |
| Screen To Body Ratio | |
| Screen technology | Samsung IGZO, IPS, 3:2 aspect ratio |
| Thickness | 9.4mm |
| Weight | 967 grams |
| Material | Metal |
| Colours Available | Silver |
| Storage | 64GB / 128GB |
| Processor (CPU) | Intel N3450 |
| Graphics (GPU) | Intel HD500 |
| RAM | 6GB |
| Operating System | Windows 10 English |
| IP Rating (Water, dust) | NO |
| Micro-SD Card Tray | N/A |
| Notification LED | NO |
| Finger Print Sensor | NO |
| Infrared | NO |
| USB Type | Type-C |
| 4G Bands | N/A |
| 3G Bands | N/A |
| 2G Bands | N/A |
| SIM Support | N/A |
| WiFi | 802.11 (a / b / g / n / ac) |
| GPS Tech | N/A |
| Bluetooth Version | 4.0 |
| NFC | NO |
| Sensors | Accelerometer |
| OTG | N/A |
| Battery Size | 10000 mAh |
| Fast Charging | YES (Seperate Charger Needed) |