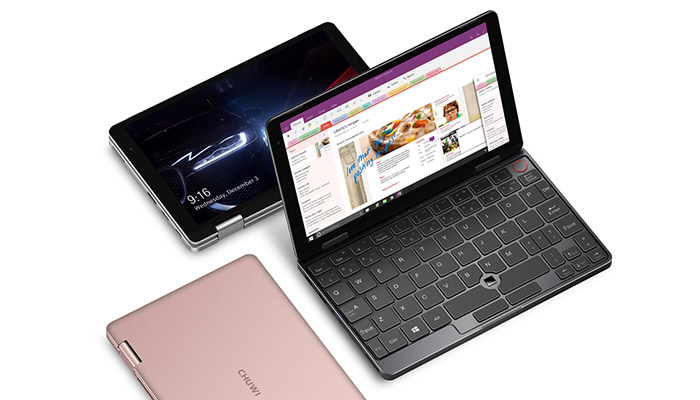 The Chuwi MiniBook is an ultra-mobile PC (UMPC) specifically curated for users looking for portability, a stylish design, and yes – productivity. It gives you access to a touch screen display paired with a physical keyboard that's connected via a 360-degree hinge.
This allows you to use the MiniBook in tablet mode, workstation mode, and all configurations in between. But the most impressive fact is that the entire device takes up the footprint of your typical 8-inch tablet.
Related: Chuwi UBook Pro Review – Windows Surface 2-in-1 Competition!
Now with that being said, some of you might require a bigger and wider display. In that case, we recommend checking out the Teclast F6 Plus – an awesome bang-for-the-buck 13.3-inch convertible laptop.
However, if your main focus is on portability and a compact form factor, then the Chuwi MiniBook is one of the best options on the market.
As such, we have put together a detailed review covering every nook and corner of this device. But first, let's get a brief overview of what the Chuwi MiniBook gets right, and the things that could have been a bit better.
Pros
Compact form factor
2-in-1 convertible design
Bright (450 nit) and sharp 8-inch display
Lightweight at 663 grams
Intelligent cooling system
Fingerprint reader
Cons
The keyboard layout is unintuitive
Below-average battery life
Entry level performance
Noisy fans
Poor webcam quality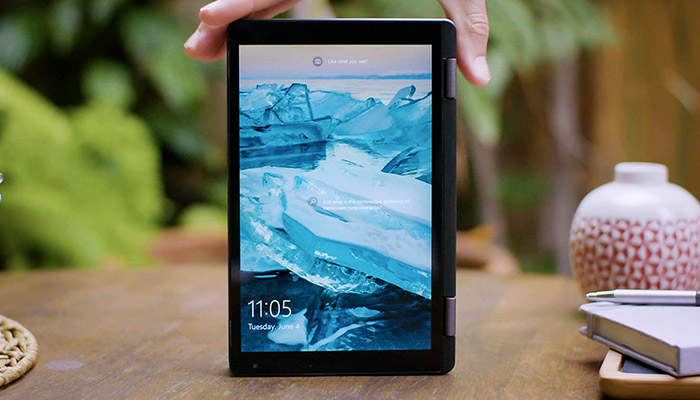 Display
The Chuwi MiniBook offers a gorgeous 8-inch fully laminated IPS LCD display boasting a full HD 1920 x 1200 screen resolution. This gives the screen a modest pixel density of 283 PPI (Pixels Per Inch). This means you will barely notice any pixelation, even while reading text with the screen close to your face.
Not just that, but the device opts for a 16:10 aspect ratio over the standard 16:9 displays which compliments the smaller form-factor. This little thoughtful inclusion gives you more vertical real estate for viewing your charts, articles, and office documents.
In terms of outdoor visibility, the display can get really bright, (up to 450 Nits) allowing you to see everything even under direct sunlight. If I had to find a flaw, then it would be the minimum brightness. Even cranked down to a minimum, it can be a little bright at night.
It's a display that doesn't disappoint and even holds its own next time my iPad Air 3.
Touch Screen
The touch screen on the Chuwi MiniBook is really smooth and responsive. And in case you are looking for more accuracy and precision, the panel offers stylus support, as well.
There is an option to purchase the device bundled with the HiPen H3 Stylus (Amazon) that comes with 1024 levels of stylus pressure sensitivity. This makes it super simple and fun to take notes, write, scribble, and even paint on the device.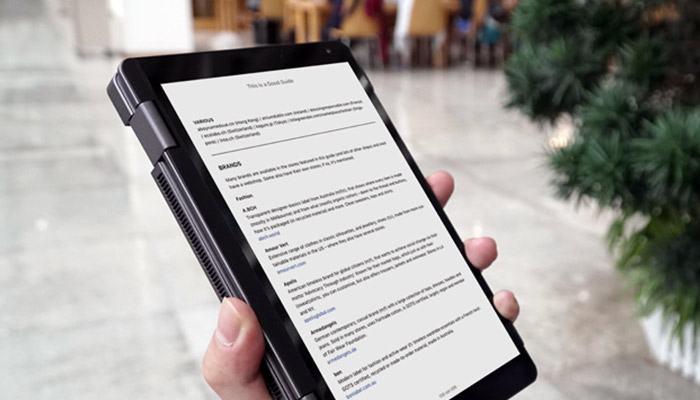 The 360-Degree Hinge
The screen and the body of the Chuwi MiniBook are connected using a 360-degree hinge which gives you tons of flexibility and positions to work from.
For example, when you are editing a document or writing an email, you can orient the device with the keyboard facing you, and type comfortably. However, when you are doing presentations or consuming media with your friends, you can flip the keyboard to the back focussing only on the bright display. Or even put the Minibook into tent-mode for perfect hands-free viewing.
And of course, you can always flip the keyboard all the way to the back and start using the device as a regular tablet.
There are no preconfigured snap-into-place positions, and you are free to create any angle between the screen and the keyboard.
The overall quality of the hinge is pretty sturdy. If you set it to a particular position, it will stay like that unless you change it. But, that is expected, since the device isn't heavy enough to be affected by its own weight.
Display Specs:
8-inch fully laminated IPS LCD display
1920 x 1200 screen resolution
283 PPI
16:10 aspect ratio
1024 levels of Stylus Pressure Sensitivity
360-degree hinge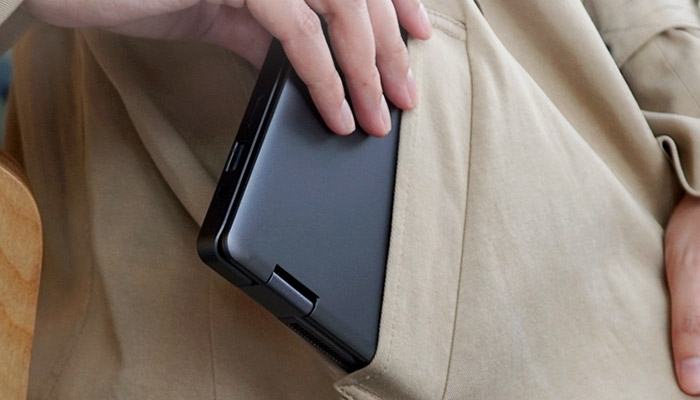 Design & Build Quality
The Chuwi MiniBook is super compact and flaunts the dimensions of an 8-inch tablet, but with the thickness of a typical laptop.
The device's 19.3 mm thickness is attributed to the physical keyboard and the 360-degree hinge. As such, the design does steer away from the modern slim and sleek look that most electronic devices are going for nowadays.
But that being said, it manages to maintain a stylish and professional appeal which makes it a great choice for office environments. This is thanks to the premium metal body design paired with the greyish black colour scheme – a staple office look.
Coming to its weight, the device is around 663 grams, which is super lightweight compared to notebooks but a bit heavy when compared to similarly sized tablets.
This makes it extremely portable and easy to carry around. However, it is heavy enough to strain your wrists if you're holding it single-handedly for longer periods of time.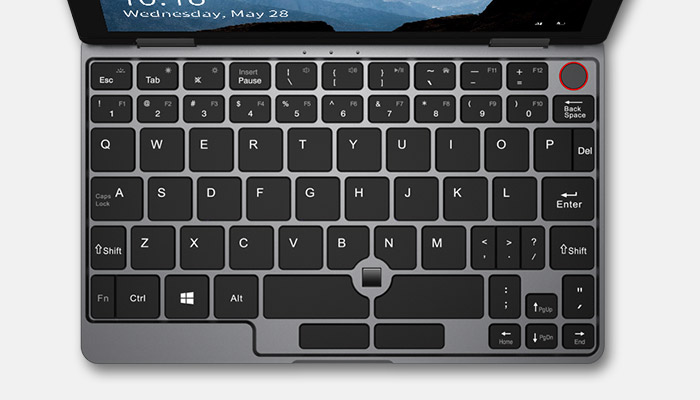 Keyboard and Optical TrackPoint
In trying to cramp a physical keyboard inside the frame of an 8-inch tablet, the Chuwi MiniBook offers a unique keyboard layout that is spacious but eerily unintuitive. This is especially true when you consider that the "A" key and "Caps Lock" are the same.
You have to press and hold the function key – "Fn" and press "A" to turn on Caps Lock. Furthermore, the "Tab" key is moved to the top-left corner, beside the "Esc" key. The punctuations are also bundled in with the direction arrows.
This makes the typing experience really awkward if you are just switching from a regular keyboard.
But eventually, after you get accustomed to the keyboard layout, the typing experience should become significantly better – thanks to the great quality keycaps paired with tactile feedback on every keypress.
Other than this, the keyboard is fully backlit and is bright enough to enable typing in dark environments.
Also, the small form factor makes it impossible to include a trackpad, which is why you get a significantly smaller optical trackpoint as an alternative. It is the size of a typical keycap and positioned at the lower centre of the keyboard, dividing the spacebar.
You can brush your fingers over it to control the cursor, but in my opinion, it is much easier and convenient to revert to touch controls.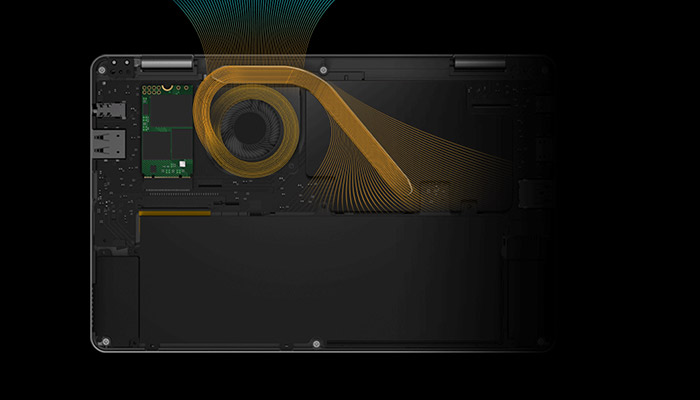 Dedicated Cooling System
The demanding processing power of a workstation when cramped inside the chassis of a typical 8-inch tablet can lead to heating issues. To keep this in check, the Chuwi MiniBook boasts an intelligent cooling system.
It is made up of three main components – a high thermal conductivity copper plate, 2 condensation heat transfer pipes, and a super-thin centrifugal fan. All these components work together to keep the thermals in check and protect the device from overheating.
While using the device, even under heavy workloads, temperatures never went above 76 degree celsius, which is great! However, the only problem is that the fan can get noticeably noisy when pushed to the limit.
Quick Specs:
Ultra Compact Design
Magnesium alloy body
663 gram weight
Compact Keyboard
Optical Trackpoint
Dedicated cooling system built-in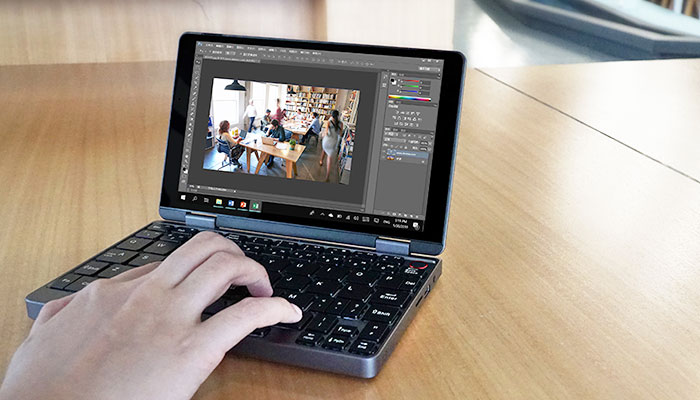 Gaming & Productivity Performance
The Chuwi MiniBook positions itself in the market as a compact portable workstation. It is primarily designed for office use and even comes with a fully loaded version of Windows 10. As such, depending on the type of workloads you will throw at it, it is available with different internal specifications.
This includes different amounts of RAM, storage space, and even processors.
Processor & GPU
The Chuwi MiniBook gives you two CPU options. You can either go for the base model sporting the Intel Celeron N4100, or the more powerful Core m3-8100Y.
The Intel Celeron N4100 is an entry level CPU designed for basic workloads. If you are planning to write some emails, edit documents, browse the internet, and stream videos, then this processor is more than enough.
However, if you are looking for a little more juice to handle more demanding tasks, then you should consider the Core m3-8100Y.
With the small price difference between the two models now, we recommend you go for the Core m3-8100Y with it's larger storage configuration.
Now, the device lacks any dedicated GPU. You have to work with the integrated graphics unit that comes with the processor, which is different depending on which processor you pick.
The N4100 comes with the Intel UHD Graphics 600 whereas the Core m3-8100Y comes with the UHD Graphics 615. As you might guess from the numbering, the latter is significantly more powerful than the former.
But that being said, neither of them can help you play any of the modern AAA titles. You can, however, play some of the older games like DOTA, Counter Strike, and even GTA 5.
The UHD 600 will produce slightly lower frame rates compared to the UHD 615. As such, if you are planning for smoother gameplay and faster graphics rendering, go for the m3-8100Y.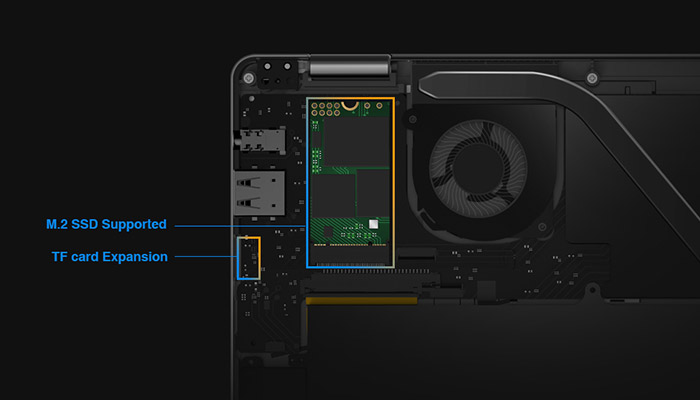 RAM and Storage
In terms of memory, the Chuwi MiniBook gives you the option to choose between 8GB or 16GB of high speed RAM.
For modern systems running Windows 10, 8GB of RAM is pretty much the standard, promising decent multitasking. However, if your workflow requires you to have multiple apps in memory, or open tons of Chrome Browsers, then getting the 16GB RAM version will guarantee a smoother user experience.
Coming to the storage, you get the option to choose between 128GB, 256GB and 512GB of SSD.
The inclusion of a SSD over HDD allows for faster read and write speeds. This means applications load faster along with improved boot time for your Windows 10 operating system.
Furthermore, the device comes with a user accessible SSD slot which you can easily unscrew and add your own higher storage SSD.
CPU: Intel Celeron N4100 or Intel Core m3 8100Y
GPU: UHD 600 or UHD 615
RAM: 8 GB or 16 GB
Storage: 128GB or 256 GB or 512 GB SSD
OS: Windows 10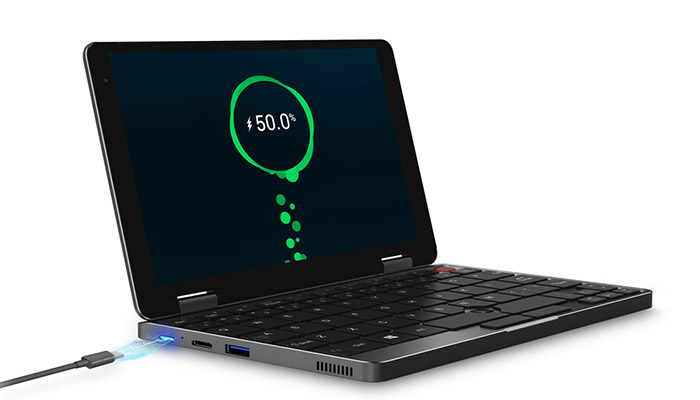 Battery Life
The Chuwi MiniBook packs in a 26.6Wh battery to power all its components. In our time with the device, we found this battery capacity to be a bit lacking. Maybe because of the bright screen, or the centrifugal fan, but we barely got around 5 hours of screen on-time on a single charge.
During the time, we had the screen brightness at 20%, kept it connected to wifi, and pushed it through some basic workloads like writing emails and streaming videos.
In terms of charging the device, you get access to PD2.0 (Power Delivery 2.0) fast charging which can quickly charge the device from 0% to 100% in 1 hour 45 mins. Any PD supported powerbank can charge the Minibook on the go easily doubling the battery life.
Alternatively, you can also charge the device via the USB type-C port in which case, it takes around 2 hours 30 mins to charge the device.
Battery Specs:  26.6Wh battery, USB Type-C charging, PD2.0 Fast Charging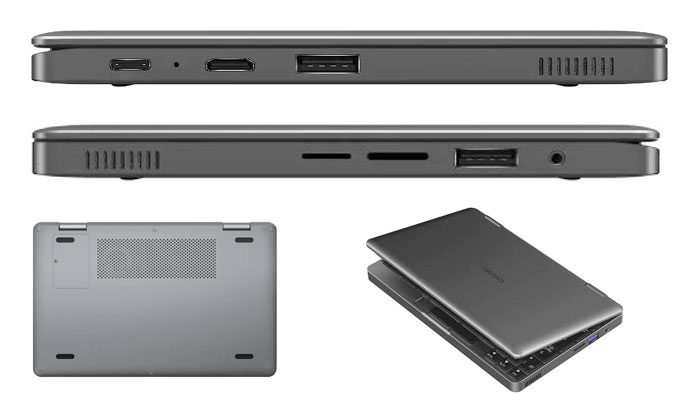 Connectivity
For connectivity, you have access to dual-band WiFi (2.4G|5G) working on the fast 802.11 AC standard. On top of that, you have Bluetooth 4.0 support to help you connect with your wireless peripherals.
Other than this, the left and right side of the device have plenty of ports to help you connect with the other wired devices/peripherals.
The right-hand side has a microSD card slot, USB Type-A 2.0 and a 3.5mm headphone jack. Whereas the left-hand side houses the USB Type-C port, another USB Type-A 3.0 port, and a HDMI port.
You will also find a dedicated fingerprint scanner to the top right corner of the keyboard. It is very fast and responsive, and works flawlessly with Windows Hello unlock system.
Connectivity Specs:
AC Dual-band WiFi 2.4G + 5G
Bluetooth 4.0
Type-A USB 3.0 and USB 2.0 Ports
USB Type-C port
HDMI port
3.5mm Headphone Jack
Fingerprint reader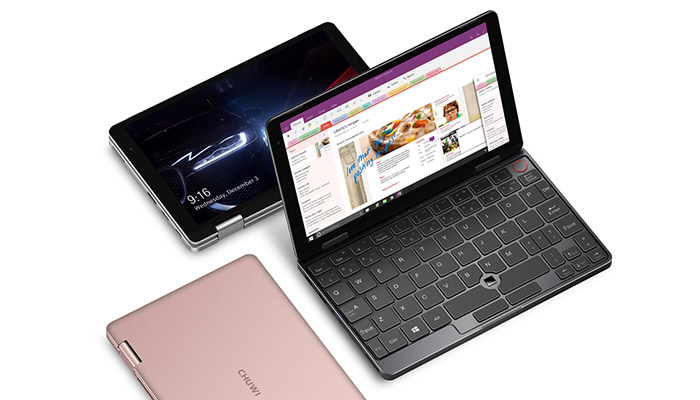 Chuwi MiniBook – The Verdict
With the Chuwi MiniBook, it all boils down to the size.
The device offers a great design paired with powerful internals coming at a price tag that's often below $500. In contrast, a typical 2-in-1 convertible laptop with the same specifications would cost you around $1000.
So when taking an objective stance, the Chuwi MiniBook is a great deal. However, whether or not it is a great deal for you, boils down to your own personal preference.
For some people, the compact form factor with all these awesome features makes it an irresistible offer. And if you are looking for an ultra mini-PC (UMPC), then the Chuwi MiniBook truly is one of the best options on the market.
However, for others, especially for people with bigger hands, or users who like working on a bigger surface area, the Chuwi MiniBook will feel a bit restrictive and cramped up. As such, these people are better off with traditionally sized workstations, and might want to have the Chuwi MiniBook as a secondary backup notebook.