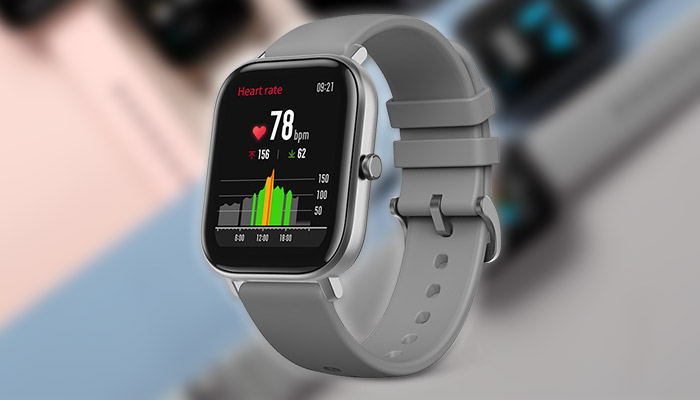 Are you crazy about the look and feel of the Apple Watch, but don't want to shell out the premium price tag? Well, Amazfit has just the device you need – say hello to the new Amazfit GTS.
At less than one-third the price of the fruity competition, the Amazfit GTS is so well crafted that you could easily fool your friends. But really there's no reason too, as this little smartwatch is exceptionally well-built, feels premium and offers plenty of fitness functionality.
So what's the catch? How is Amazfit able to bring such high-quality design while keeping the cost down? Well, simple really, it runs on its own custom Amazfit OS so there are no licensing fees driving up the price. It also skips out on some hardware features which we'll talk about later.
While the Amazfit GTS might look and feel like a high-end smartwatch, as far as features are concerned, it's closer to a standalone fitness tracker with a few bonus apps built-in.
If the idea of an Apple-lookalike isn't up your street, then the Amazfit GTR (Full Review) boasts a more classical design, but with mostly the same features.
So if you're looking for accurate heart-rate monitoring, multi-sport fitness tracking and loads of customizable watch faces all packed into one of the nicest AMOLED designs, then read-on my friend! The Amazfit GTS is the best value-for-money in its category, period.
In this hands-on review, we'll be looking at the Amazfit GTS Pros & Cons, so you can decide if its the right fitness wearable for you.
The Good:
✔️ Looks like the Apple Watch Series 5
✔️ Great design & build quality
✔️ Awesome AMOLED display
✔️ Accurate heart rate sensor
✔️ 100s of Watch Faces
✔️ Excellent battery life
✔️ Affordable
The Meh…
❌ No 3rd Party Apps
❌ No mic or speaker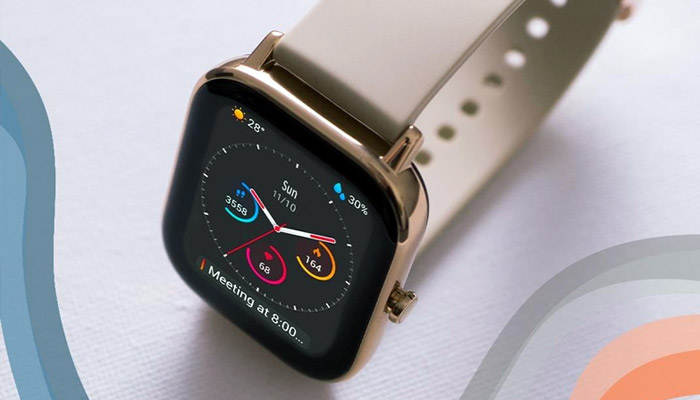 Amazfit GTS: Design & Build Quality
The best thing that the Amazfit GTS has going for it, is its design. It would be an understatement to say that Huami was merely inspired by the Apple Watch. In fact, if imitation is truly a form of flattery, then the Amazfit GTS has got Apple blushing.
But it's not only about the looks, as the Amazfit GTS also nails it in terms of the build quality. Now sure, it isn't as good as the $400 AppleWatch, but it is better than any other $120 wearables on the market.
The body of the GTS is designed with an aircraft-grade aluminium alloy which makes it super sturdy but extremely lightweight. Whereas the straps use a soft-touch silicone material, which feels nice but can get sweaty if you wear it for too long.
Luckily, the device comes with 5 ATM rating, meaning it is water-resistant up to 50m. As such, you can easily wash the watch in a direct stream of water and clean it before you strap it back on your wrist.
Other than this, to complete the design, you have a side button on the GTS which replaces the digital crown of the Apple Watch and is placed at the centre, rather than towards the top. It is also the only physical button on the device.
Quick Specs:
Body designed with aircraft-grade aluminium alloy
Quick-release 20mm silicone strap
Lightweight
Single side button
Rated for 5 ATM, making it water-resistant up to 50m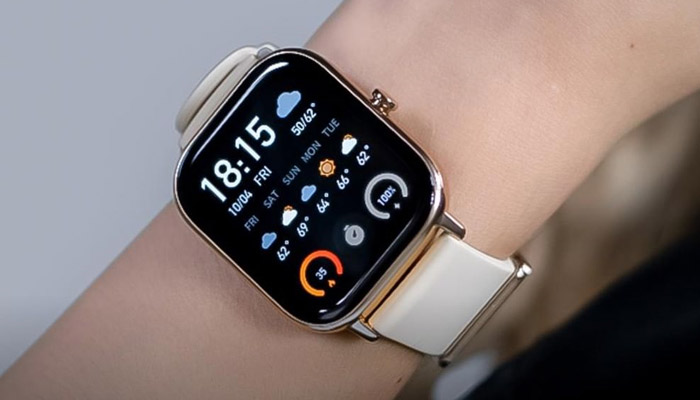 Amazfit GTS: Display
The display quality of the Amazfit GTS also goes toe to toe with the latest gen Apple Watch 5 series.
You get a 1.65-inch AMOLED display boasting a screen resolution of 348 x 442. This results in a pixel density of around 341 PPI (Pixels Per Inch). Now the Apple Watch has a marginally larger display at 1.78-inch, but that results in a lower PPI count of 326.
This means that the GTS has a sharper display compared to the Apple Watch, which is just awesome. You won't have any problem reading texts including smartphone notifications on the small display.
The high-quality screen is then protected by Corning Gorilla Glass 3 to make sure it doesn't get any scratches. You also get an Oleophobic coating applied on top to prevent fingerprint smudges.
Furthermore, the screen of GTS can get really bright making it clearly visible in outdoor conditions, even under direct sunlight. An ambient light sensor is included for auto-brightness adjustment depending on your environment.
Other than this, the GTS comes with an always-on-display functionality. However, it can really take a toll on battery life, and we recommend keeping it disabled unless you really need it.
Quick Specs:
65-inch AMOLED display
348 x 442 screen resolution, with 341 PPI
Auto-brightness sensor
Always-on-Display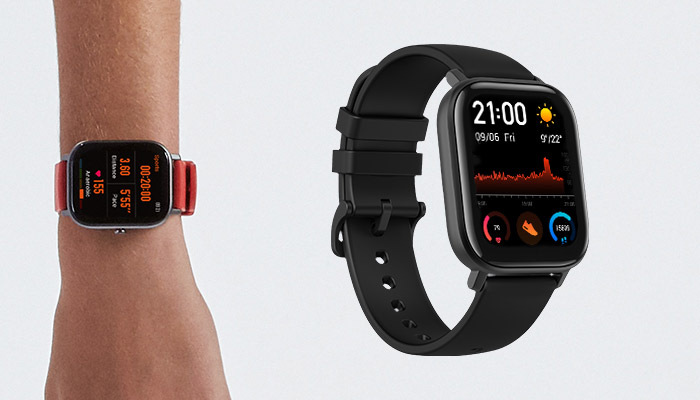 Amazfit GTS: User Interface & Features
This is where most of the illusions fall apart. The GTS works on the Amazfit OS and feels extremely lack-lustre when compared to the watchOS, or even Google Wear OS.
But that being said, the UI on the Amazfit GTS isn't bad. It just has fewer features but Huami has done an excellent job in designing an intuitive user experience around it. You can seamlessly navigate through the UI by simply swiping left and right on the screen.
Most of the main features that come with the GTS are for health and fitness tracking. This includes 24/7 continuous heart rate monitoring, sleep tracking, and access to tons of exercise modes starting from outdoor running to weight lifting, and even swimming.
All tracked data and metrics get sent to the companion Amazfit app and displayed in easily digestible charts which helps you to understand your current status and achieve your fitness goals.
Other than this, a few smart features are also included like the option to control the music playback on your smartphone, as well as a dedicated compass which can even show you the pressure and altitude of your current location.
The watch can also display your notifications from your mobile apps, but you can't respond to them from the watch. Incoming calls will also show up which you can either reject or silence, but cannot receive due to the lack of necessary hardware.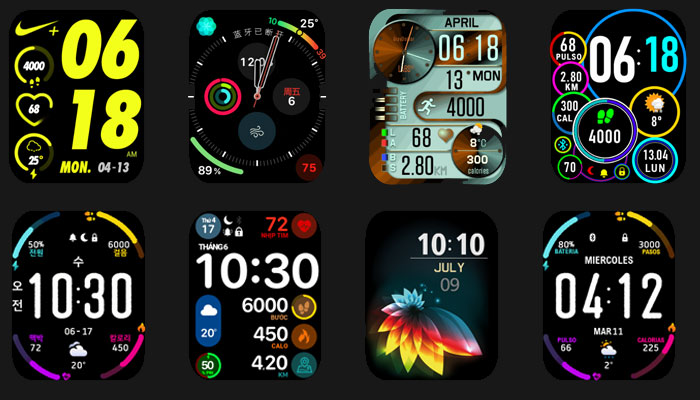 Modular Watch Faces
By default, the Amazfit GTS comes with two modular watch faces – an analogue one and a digital one. Both watch faces contain 7 widgets which you can customize to showcase any of the 17 functions available with the device.
That is to say, you can configure the widget to show weather forecasts, current temperature, your heart rate, how many calories you have burned, the total number of steps taken, and so on. This gives you access to all your necessary information at a single glance.
Now, in case you are not looking for functionality but rather hoping to put on a funky watch face that you will like to see from time to time, that too is possible. However, these are not available from the device itself, and you will need to download them from the Amazfit app.
There are literally hundreds of watch faces to choose from, with each of them looking gorgeous on the AMOLED display. As such, if you are really into customization, then the GTS won't disappoint.
Quick Specs:
Needs to be paired with the Amazfit App
Over 100 watch faces
24/7 continuous heart rate monitoring
Sleep tracking
Tons of exercise modes
Compass
Music Controls
Access smartphone notifications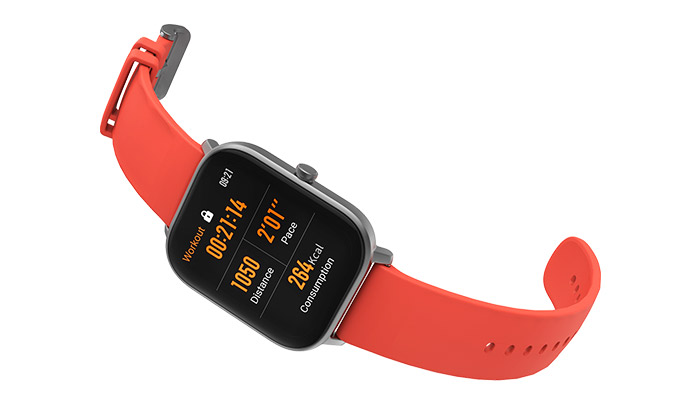 Amazfit GTS: Internal Hardware
Now that we have an idea of the different features and functionalities of the Amazfit GTS, let's dive into the internal hardware to see what makes what possible.
Starting off, the main star of the show is the Biotracker PPG biological tracking optical sensor. It is an extremely accurate heart rate monitor that is on-par with medical equipment.
As you can imagine, with access to such accurate data, you can really stay on top of your health goals.
Other than this, to power the Compass we have a 3-axis geomagnetic sensor paired with an Air pressure sensor. Whereas for steps tracking and sleep monitoring, we have a 6-axis accelerometer that can sense and register the finest of movements.
Built-in GPS is also available, but sadly it isn't that great. In comparison, the Amazfit GTR, which is slightly more expensive and features GLONASS, offers more accurate and faster geo-positioning capabilities.
And finally, after using all these sensors to track your fitness data, the GTS transfers them to the Amazfit app via Bluetooth 5.0. It is also used to access your smartphone notifications and watch faces from the paired smartphone.
However, the GTS lacks a dedicated mic and speaker which means audio input and output is just not possible, thus eliminating the option to take calls directly from the watch.
Quick Specs:
Biotracker PPG Biological Tracking Optical Sensor Heart Rate Monitor
3-axis geomagnetic sensor
Air pressure sensor
6-axis accelerometer
Built-in GPS
Bluetooth 5.0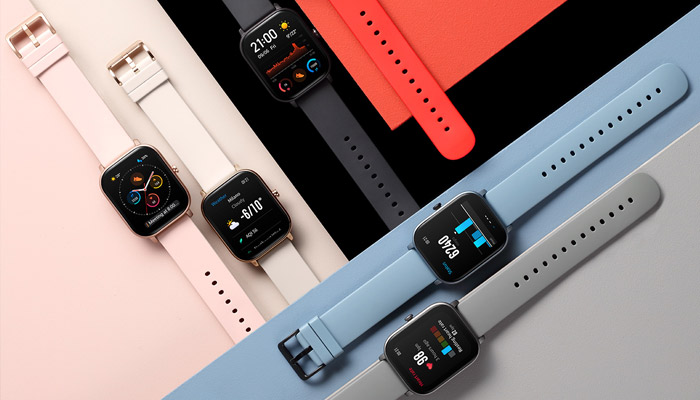 Amazfit GTS: Battery Life
The Amazfit GTS has a phenomenally long battery life that makes it seem as if all Apple Watches come with a leaking battery.
The GTS boasts a 220mAh Li-Po battery that is advertised to give you two weeks of mileage on moderate to heavy usage. Sure enough, we tested it out by activating the 24/7 heart rate sensor, monitoring our sleep every night, turning on the display around 100 times a day, and tracking about 30 mins of exercising per day.
Looking for a smartphone that can keep up with the Amazfit GTS's Epic Battery Life? Check out these Top 10 Battery Life Beast Phones.
And finally, having gone through all of that, we have to admit – exercise does make you feel better – oh, and the GTS does deliver on their advertised battery life. :P
Also, if you choose to run the device in basic watch mode – that is to say if you disable the heart rate sensor, turn off Bluetooth, and kill all other functions, then it can last you nearly 46 days on a single charge.
Now, once this behemoth of a battery finally runs out, you can easily charge it back up using the USB charging dock. It magnetically connects to the bottom of the watch and charges the device using the 2-pins POGO connector. It will take you roughly 2 hours to charge the device from 0% back to 100%,
Quick Specs:
220mAh Li-Po Battery
14 days of battery life on medium to high usage
Charges using a USB-enabled 2-pin POGO connector
Takes 2 hours to charge from 0% to 100%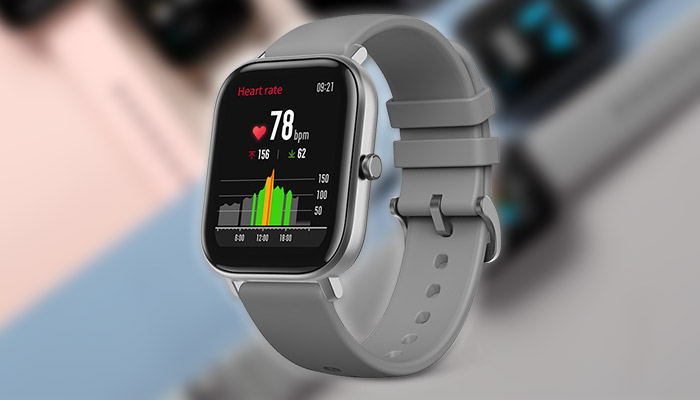 Amazfit GTS: The Verdict
This brings us to the end of the Amazfit GTS review. So, what's the final verdict?
Well, the Amazfit GTS offers a great display, solid build quality, and a design that is more than inspired by the Apple Watch. It also boasts exceptional battery life that can last you for nearly two weeks.
In terms of functionality, the GTS offers excellent health and fitness tracking options but is clearly lacking the typical feature set of a smartwatch. But in its defence, where are you going to find a full-fledged smartwatch for $120?
So overall, if you are looking for a device that costs one-third of that of the Apple Watch, but still manages to capture the same design by sacrificing on some smart functionalities, then the Amazfit GTS is definitely worth a consideration.