There used to be a time when China-made "knockoff" gadgets were the laughingstock of the tech world…
You could either risk your hard-earned cash on a overseas clone that often had horrendous performance and numerous build quality issues. Or fork out for a named brand at home.
Well times have changed…
China is undergoing a design revolution and it's not uncommon to now see 'Designed in China' on the back of a gadget (copying the pioneers of modern tech design, Apple).
With companies like Chuwi not only imitating western gadget design, but becoming tech innovators themselves… the west better watch out.
Chuwi, Who?
Chuwi, a Shenzhen-based tablet manufacturer, is a relatively young tech company. Established only in 2004, they've has been making waves with their tablets and personal laptops in the tech community.
Their devices have earned a reputation for being on par (design-wise) with some of the bigger tablet manufacturers like Microsoft & Lenovo while offering more affordable hardware combinations.
Chuwi's previous tablet offering, the Chuwi SurBook, has been giving the Microsoft Surface line of tablets a run for its money.
The SurBook proved to be so popular in fact, that it quickly raised more than a million dollars in its initial crowdfunding campaign on Indiegogo, an amount which is way, waaay beyond its initial goal of only $30,000.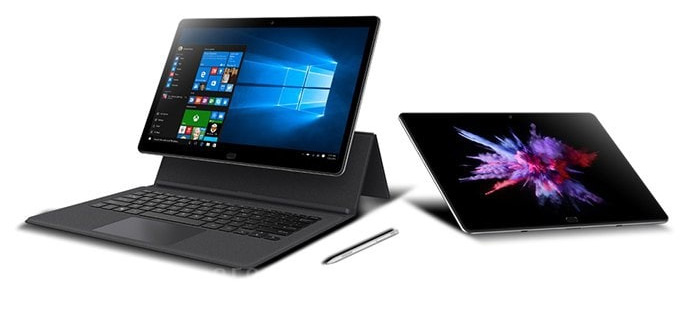 Meet the CoreBook
After the SurBook, Chuwi is back at it again with an ever better tablet-laptop offering. After another successful stint on Indiegogo, the Chuwi CoreBook finally started production late last year.
The company just recently released a second stage prototype of the CoreBook recently, and things are looking very promising at this point.
If you backed the Chuwi CoreBook on IndiGoGo you can expect to receive yours sometime this month. The rest of us will have to wait until units start to hit retailers in next month.
If you haven't already checked out the CoreBook, I've posted the basic specs below.
Chuwi CoreBook Tech Specs:
Intel Core M3 processor (Kaby Lake) with hyper-threading
128GB of onboard SSD storage
8GB of RAM
13.3 inch Full HD 1080p (1080 x 1920 pixels)
10-point touchscreen display
Fingerprint sensor
Windows 10
Optional stylus and keyboard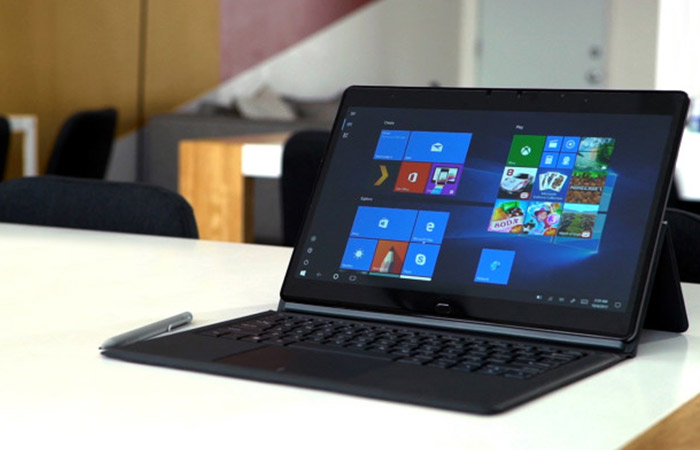 Background
Due to the increasing prices of PC parts, the market for desktop PCs has been at an all time low. However, it's obvious from the number of backers of the Chuwi CoreBook that the demand for ultra-portable laptop-tablet hybrids is still strong.
The Chuwi CoreBook, at its core, is for people who want the power and capabilities of the Microsoft Surface Pro (undoubtedly, the most popular Windows-based tablet out there), but aren't willing to shell a small fortune.
So let's take a look at what the Chuwi 2 in 1 has to offer.
Display
Let's review one of the most impressive features that the Chuwi CoreBook has- its display. The screen measures 13.3 inches and has a resolution of 1080p (1920×1080 pixels).
The brightness is measured at 350 nits which might seem quite low but helps you get the most out of the 8 hours battery life.
And unlike more expensive tablets, the CoreBook actually has a fully laminated screen that not only makes the images on the display clearer, more transparent and colourful, but also makes the whole tablet lighter and easier to hold.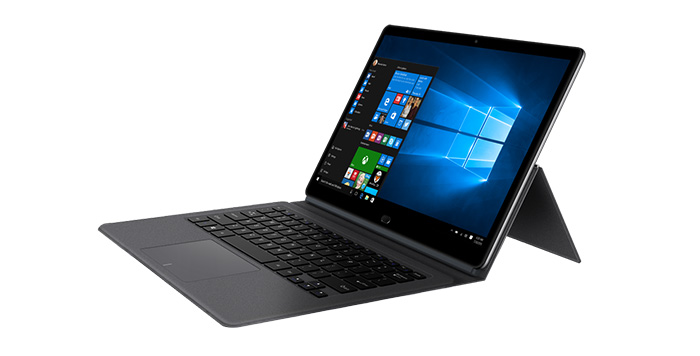 Design
When it comes to aesthetics, the CoreBook actually resembles the Apple iPad more, with its soft edges and curved 2.5D glass. The screen to body ratio is at an impressive 82%, which helps contribute to it's lightweight form factor.
A nice touch is that below the screen is an inbuilt fingerprint sensor allowing you to quickly unlock the tablet.
As for the CoreBook's body, its exterior is made out of aluminium alloy. This material is very thin and light, thus making it apt for an ultra portable machine like the Chuwi CoreBook.
It wouldn't be a tablet without a front-facing camera for video calls. Unfortunately the Chuwi CoreBook only has a 2MP camera located in the centre above the screen. While the camera is adequate enough for quick snaps, the photo quality isn't something to write home about and video is limited to 720P.
When it comes to connectivity, the CoreBook doesn't disappoint. It's widely known that most tablets are lacking in the ports department, but the CoreBook completely bucks this trend.
It has a micro USB port, a 3.5 mm headphone jack, SD card slot, as well as an USB 3.0 Type C port. That's enough connectivity options that most people know what to do with.
Hardware
The processor that power the CoreBook is a beast: the Intel Celeron M3-7Y30. Though it's just a Core M, this processor supports hyper threading and is backed by a very generous 8GB of RAM. That's more than enough juice to get you through most casual computing tasks.
Running at 1Ghz for low intensity tasks, the M3-7Y30 maximised battery life. When you need the power it has turbo-boost feature which clocks the processor up 2.6GHz giving you all the power you'll need.
Since the processor also has integrated graphics (Intel HD Graphics 615), the CoreBook is thereby capable of basic photo editing and video editing, as well as other graphics-intensive tasks.
The Intel HD Graphics 615 can also handle older games remarkably well (or newer games at lower graphics levels and resolutions), so you can do a bit of gaming on the CoreBook.
Just don't expect to be able to play Witcher 3 or Player Unknown: Battlegrounds on this machine- it's just not made for that kind of task.
Keyboard
The CoreBook's keyboard, while not a direct copy of the Surface Pro's, feels very nice to use. The keyboard has a cover and a bracket that can be adjusted to 165 degrees, so you can prop the device in any way you want.
Even the keys themselves feel nice to type on; they are clicky and have a bit of travel to them and don't feel as mushy as keyboards on other portable devices.
Battery Life
While the 8 hours battery life on the Chuwi CoreBook doesn't match it's Microsoft rival. It has a trick up it's sleeve.
The CoreBook will come with 12V | 3 amp quick charging which will lets top up quickly on the go.
Chuwi CoreBook – The Early Verdict
Windows power users, rejoice. There's no need to spend an unholy amount of money just to get yourself a portable device that can run Windows 10.
If it's an ultra cheap Microsoft Surface Pro alternative that you want, then go for the Chuwi 2 in 1, CoreBook.
Or heck, even if you're just looking for an upgrade for you old laptop, why not bag yourself a fully functioning tablet while your at it!
Check out the latest Chuwi CoreBook prices…
Ask your comments and questions below, after the Chuwi CoreBook Technical Specifications.

Chuwi Corebook – Tech Specs & Connectivity
| |   |
| --- | --- |
| Tablet | Chuwi Corebook |
| Screen Size | 13.3 Inch |
| Pixel Density | |
| Screen Resolution | 1080 x 1920 |
| Screen To Body Ratio | 82% |
| Screen technology | Fully Laminated, 2.5D Curved Glass,10-point touchscreen display |
| Thickness | 8.5mm |
| Weight | 1046g (without keyboard) |
| Material | Aluminium alloy |
| Colours Available | Silver |
| Storage | 128GB |
| Processor (CPU) | Intel Celeron M3-7Y30. |
| Graphics (GPU) | Intel HD Graphics 615 |
| RAM | 8GB |
| Operating System | Windows 10 English |
| IP Rating (Water, dust) | NO |
| Micro-SD Card Tray | N/A |
| Notification LED | NO |
| Finger Print Sensor | YES |
| Infrared | NO |
| USB Type | Type-C |
| 4G Bands | N/A |
| 3G Bands | N/A |
| 2G Bands | N/A |
| SIM Support | N/A |
| WiFi | 802.11 (a / b / g / n / ac) |
| GPS Tech | N/A |
| Bluetooth Version | 4.0 |
| NFC | NO |
| Sensors | Accelerometer |
| OTG | N/A |
| Battery Size | 34.2Wh |
| Fast Charging | YES |