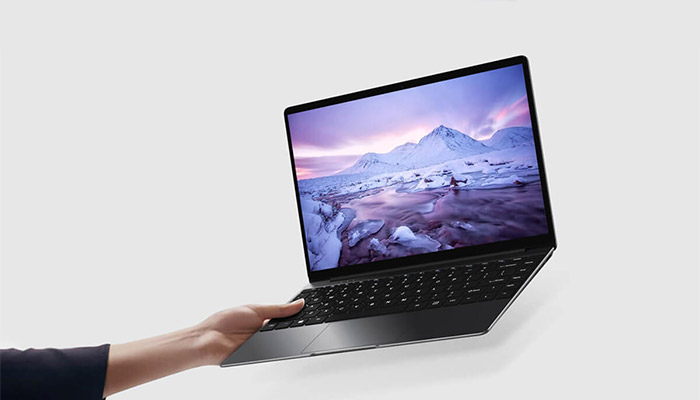 Chuwi has made a name for itself by following a simple formula – deliver entry-level laptops at super affordable prices, whilst boasting premium quality designs.
However, with the AeroBook Plus, has Chuwi bitten off more than it can handle?
First of all the AeroBook Plus laptop is targeted at the mid-range market with a $500 price tag, putting it in direct competition with the likes of Lenovo and Huawei. Where it separates itself though, is by including a UHD display making it one of the cheapest 4K Laptops on the market.
Now, in order to bundle in such a premium quality display, Chuwi had to cut some corners which they did in terms of performance. They have gone with an older Intel Core i5 (6th Gen) CPU which is currently more than a few years old.
As such, the Chuwi AeroBook Plus isn't your typical mid-tier all-rounder ultrabook. Instead, it is specifically catered to a niche audience looking for seamless 4K media consumption at a budget price point.
Now, as of June 2020, the AeroBook Plus is available for worldwide shipping.
So, if you're asking yourself "should I buy this affordable 4K ultrabook?". This full in-depth review of the Chuwi AeroBook Plus is here to help you make up your mind.
But first, let's quickly go over the different pros and cons of the laptop to get a basic idea of what to expect.
Fancy Yourself a Budget Windows Laptop with Apple-looks & an Intel i5?

Pros:
15.6-Inch IPS 4K Display
94% sRGB Color Gamut
Full-Metal Chassis
Lightweight at 1700g
Powerful cooling system
Loud bottom-firing stereo speakers
Fast charging speeds
Cons:
Poor quality webcam
Battery life
Display bezels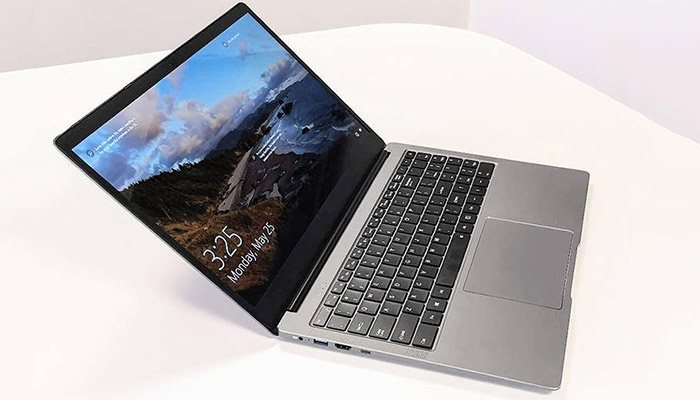 Display
The 4K display on the Chuwi AeroBook Plus is definitely the key selling point for the laptop.
You get a 15.6-inch IPS display boasting an impressive 3840 x 2160 screen resolution. Crunching the numbers, you get around 282 PPI (Pixels Per Inch). As such, you won't notice any sort of pixelation and can expect a super-sharp display quality. You're in the realm of smartphone quality displays now!
In terms of colour accuracy, the 4K display got an impressive score of 94% sRGB on SpyderX Pro (amazon). This is a bit lower than the advertised 100% sRGB by Chuwi, but no doubt, it's a big step up compared to the competition. Other than this, we got a score of 73% on AdobeRGB and 76% on DCI-P3.
These figures mean you will enjoy true to life colours on the Chuwi AeroBook Plus. Even making it a good choice for light video & photography work.
Coming to the brightness, the laptop can go up to an impressive 340 nits, making it easy to see in bright settings and close to windows. But on the flip side, even at the lowest brightness configuration, the display is a little too bright for use in the dark.
At this point in time, there's no option for an anti-reflective display option, but it's not a huge issue with the high brightness. I personally prefer the IPS glare display as the colours really pop.
Quick Display Specs:
15.6-Inch IPS Glossy Display
3840 x 2160 4K Resolution Retina Screen
282 PPI
60 Hz Refresh Rate
340 nits of brightness
94% sRGB Color Gamut – Tested using SpyderX Pro
16:9 Aspect Ratio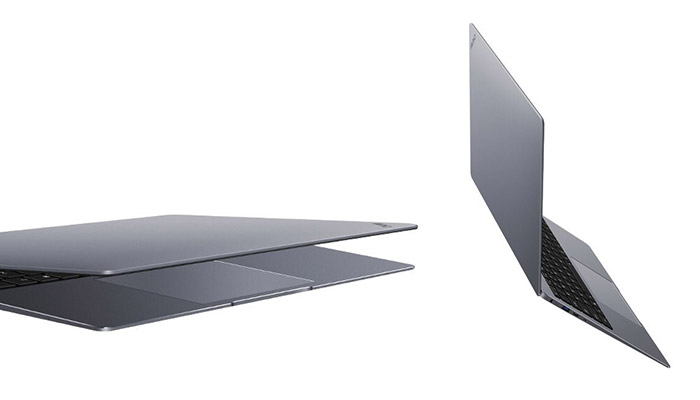 Design & Build Quality
In terms of design, Chuwi always manages to deliver premium quality aesthetics and the AeroBook Plus is no different.
You get a full-metal chassis paired with a matte finish design. This is topped off with a super-slim form factor, measuring only 15.9 mm in thickness.
In your hand, the Aerobook feels great. There is no creaking when applying pressure to the frame making it a durable choice. For a 15.6″ ultrabook, the 1.7kg weight is great & on-par with other thin & light laptops.
Dedicated Cooling System
The Chuwi AeroBook Plus features a frost cooling system to help keep the thermals under acceptable levels.
It is a basic configuration using a high-efficiency vacuum liquid cooling system paired with a high-density copper alloy radiator. The fan sucks in the air from the bottom vent of the laptop and pushes it out the back.
Under high-intensity workloads, especially when the CPU usage hits ~100%, the fan gets noticeably louder with a distinct hissing noise. But on the plus side, it does a terrific job at keeping the internal temperatures in check. We rarely noticed any performance lag because of thermal throttling.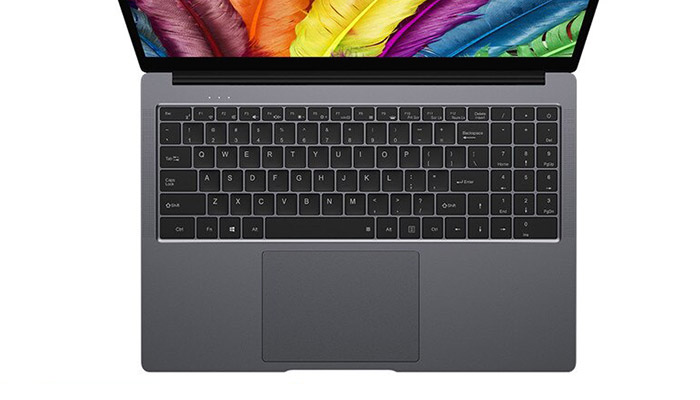 Refined Keyboard and Touchpad
Lifting up the display on the Chuwi AeroBook Plus, you are greeted with a full-sized keyboard complete with a number pad for all you Excel junkies. This is paired off with a really large touchpad with support for Windows 10 gestures.
Now many pre-release reviews (using the engineering sample) complained about the spacebar not registering a keystroke unless hit on the centre. Also, the touchpad had precision issues where the cursor jumped from one place to another from the slightest touch.
Well, we are pleased to say that all these problems have been resolved with the commercially released version of the laptop, and you shouldn't notice any of these issues on your device.
Camera & Speaker
At the top of the screen, the AeroBook Plus sports a webcam paired with two microphones on either side.
The webcam delivers HD quality videos at 30fps which isn't recommended for professional video calling. The audio capture isn't great either and can make your voice sound a bit shrill and tinny.
However, it is a completely different story with the included stereo speakers.
The device has two bottom-firing speakers that reflect downwards off the surface where you are placing the laptop. These are really good in quality. You can expect loud audio with decent mids and bass. This, paired with the awesome 4K display, really makes the Chuwi AeroBook Plus excellent for multimedia consumption.
Quick Specs:
Premium Quality Full-Metal chassis
Ultra-thin build 15.9mm
1.7kg weight
Frost Cooling system
Full-sized keyboard 2.4mm key distance – good feedback
Large touchpad
2-Stage Backlit Keyboard
HD webcam
Loud bottom-firing stereo speakers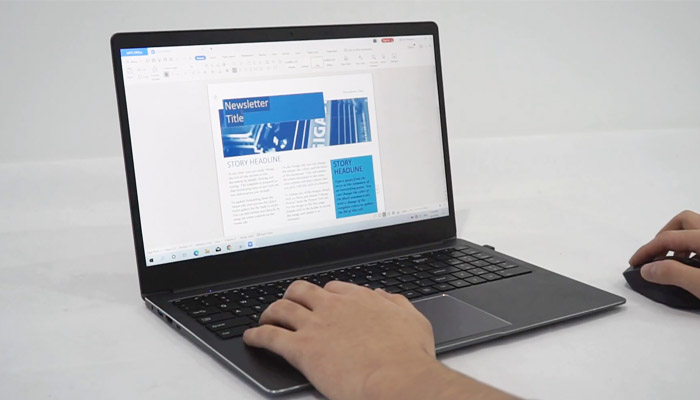 Performance

The choice to go with the Intel i5 6287U CPU on the Chuwi AeroBook Plus really invokes mixed feelings.
On one hand, we have a solid mid-range i5 processor from Intel. However, it is a 6th gen CPU being used in 2020 – an era of 10th gen processors.
But with that being said, what actually matters isn't how we feel about the CPU, but rather how it performs. So let's take a more in-depth look at the numbers to get an objective idea.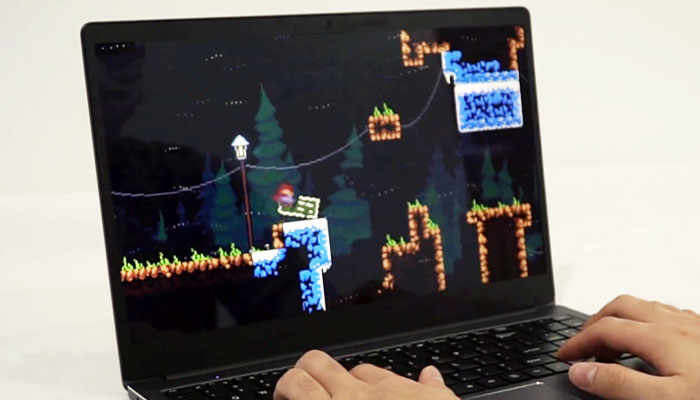 CPU & GPU
To keep the price in check but still give you a strong enough processor compatible with a UHD display, Chuwi had to turn the pages of time and come to the i5 6287U.
But the question remains, is a mid-tier chipset from 4 generations back, better than a modern low-tier model? Well, let's put it against one of the most popular entry-level CPUs – the N4100, and see what Geekbench has to say about that!
The Intel Celeron N4100 has a Single-Core score of 382 and a Multi-Core score of 1163. Now, the Intel i5 6287U clearly beats these numbers by a significant margin with a Single-Core score of 799 and a Multi-Core Score of 1819.
However, if you are looking for some real-world comparisons, then think of the MacBook Pro – the 2016 edition, which used the exact same 6th gen i5 CPU.
In our time testing the chipset we experienced super smooth performance while going through basic day to day workloads like browsing the internet, doing some basic office work, and so on.
The provided integrated graphics is also powerful enough to handle light gaming. We got around 40fps when playing Counter-Strike at 1080p.
But all things considered, the internals aren't just strong enough to let you take full advantage of the 4K display. You won't be able to edit 4K videos or large high-res images.
However, it is strong enough to let you play 4K movies, making the laptop more geared towards multi-media consumers rather than creators.
RAM & Storage
The AeroBook Plus comes with the option to choose between either 8GB or 16GB of LPDDR4 RAM.
Currently, 8GB is the standard for Windows 10 laptops which will ensure smooth multitasking. However, if you want to use your system more carelessly, leaving a bunch of apps open in the background or work with tons of Chrome tabs, then we recommend going with the 16GB model.
You also get to choose between 256GB or 512GB of SSD for storage depending on how much space you need for your apps and other files & folders. However, we would like to highlight the use of SSD over HDD which promises faster-loading time for your apps as well as faster boot time for the operating system.
Now, the preconfigured SSD is installed internally. However, you do get an external slot that you can unscrew and install up to 2TB of SSD if and when necessary. This means you are never going to run into any sort of storage issue with the laptop.
Quick Performance Specs:
Intel i5 6287U CPU
Iris Graphics 550
Geekbench Benchmarks – Single-Core score of 799 and a Multi-Core Score of 1819
4M Cache
8GB/16GB LPDDR4 RAM
256GB/512GB SSD
1 External SSD Slot for expansion
Windows 10 Home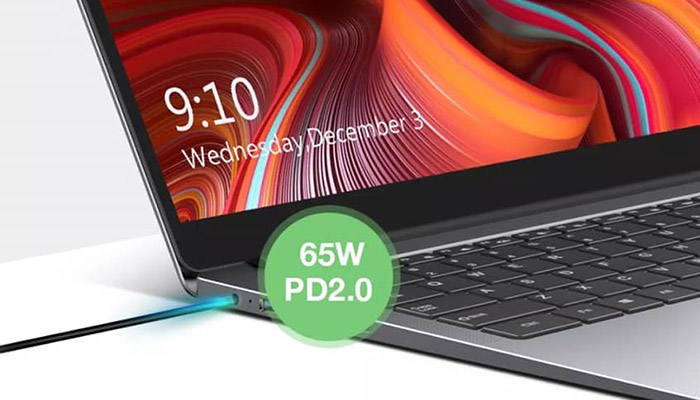 Battery
The Chuwi AeroBook Plus comes with a beefy 55Wh Li-Po Battery to power its internals. However, the older gen CPU along with the 4K display is a bit power-hungry, leading to mostly average battery life.
We tested the battery at 50% brightness and constantly connected to the Wifi. During the time, we streamed a couple of 4K videos on YouTube, watched a few episodes of Rick and Morty on Netflix, and even played some Counter-Strike. This was occasionally interrupted by a few productive work sessions of editing docs and sending emails.
We barely managed to touch 5 hours before the battery hit 0% and the system turned off.
That being said, the AeroBook does support both DC charging as well as PD 2.0 charging – Power Delivery through USB. Not only does it offer extra convenience but also allows you to quick-charge your laptop to 60% in just over an hour.
Quick Battery Specs:
55Wh Li-Po Battery (5 hours of Battery Life)
Supports both DC and PD2.0 quick charging
60% battery charge in 1 hour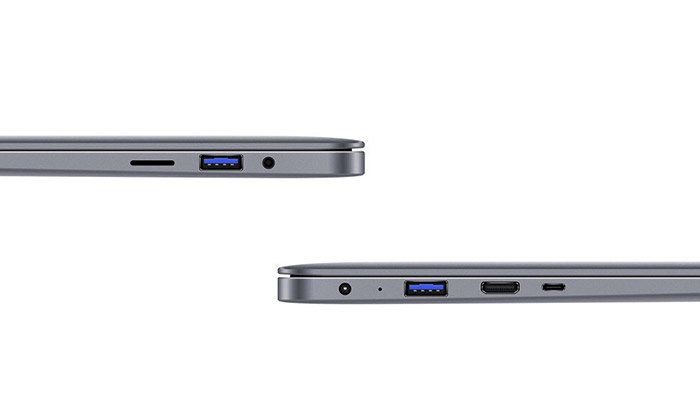 Connectivity
To get you connected to the internet, the Chuwi AeroBook Plus features dual-band wifi (2.4G|5G) running on the AC standard. Whereas, to connect you to your wireless devices, the laptop comes with Bluetooth v4.2.
Other than this, the laptop gives you access to a decent number of I/O ports as well.
To the left side of the device, you have the main DC port for charging, along with the USB-A 3.0 port, an HDMI A and a USB Type-C. Whereas, the right-hand side finishes off with another USB-A 3.0 port, along with a 3.5mm headphone jack, and a MicroSD card reader.
Quick Connectivity Specs:
Dual-Band Wifi (2.4G|5G)
Bluetooth 4.2
2 x USB-A 3.0 Ports
USB Type C Port
5mm Headphone jack
1 MicroSD card Reader
1 HDMI A
1 DC Power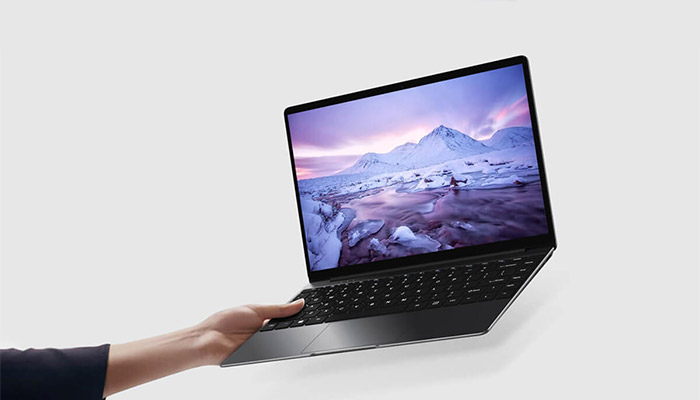 Chuwi AeroBook Plus – The Verdict
Going over all the specs and features that come with the AeroBook Plus, we have to say that Chuwi really thought things through with their latest laptop.
They could have offered a basic mid-tier laptop typical of a $500 price tag. But no! They went for something niche and much more targeted.
You get a 4K display at this price point which is unheard of and unrivalled by any other competitor. As such, to keep the prices low, you get access to a 6th gen i5 CPU that is only strong enough to play 4K videos and deliver low-to-mid-tier performance.
But that being said, the AeroBook Plus was never meant to be this powerful 4K video editing workstation. But instead, it caters to users who are mostly interested in media consumption and have grown sick of the regular ol' FHD displays.
Do we recommend the Chuwi Aerobook Pro? There's no clear answer on this one. It's certainly not a no-brainer. You'll have to decide whether the 4K display and medium-level performance all packed into a thin & light chassis is right for you.

We're confident you'll be able to get some serious discounts on the Aerobook Plus as newer Chuwi models are released.
Available Now