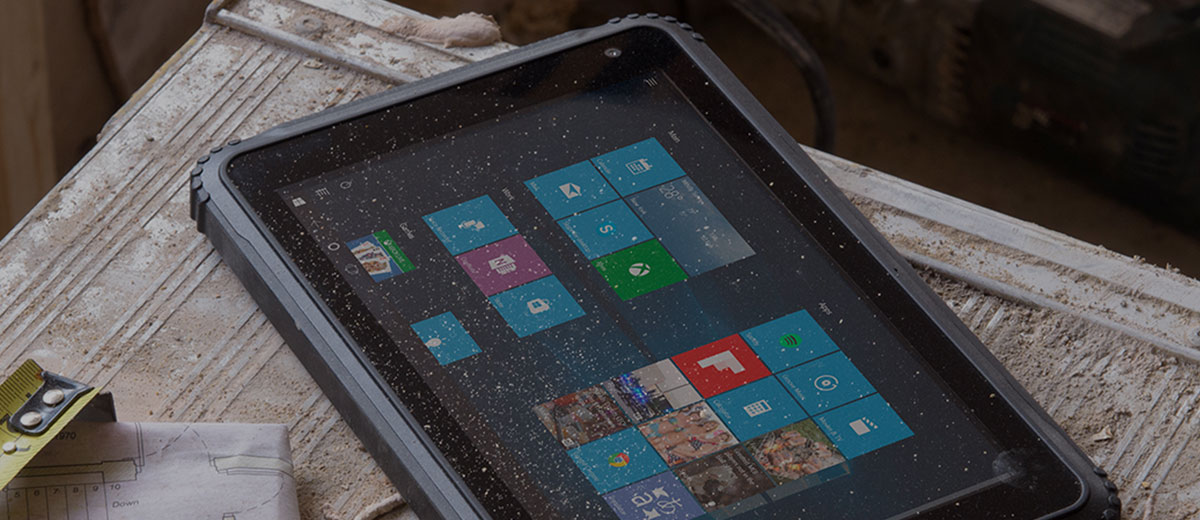 The Caterpillar T20 Touch Tablet offers an impressive 1.8 metre drop protection combined with 1m submersion
Tough & rugged tablets haven't really taken off in the same way that super tough smartphones have. Well, that's all about to change as Caterpillar have released a Windows 10 tablet that is drop certified to 1.8 metres and can be submerged underwater up to depths of 1 metre for 30 minutes.
But hang on… haven't there been waterproof and drop-proof cases for tablets like the iPad for years. Like this one from Pepki on Amazon? So, it's really a question of what extras can the Caterpillar T20 tablet offer us and for what price?
Caterpillar have made sure this tablet is ready for anything by making it drop-proof from up to 1.8 metres, making it ideal for anyone working on a building site, or as clumsy as me.
Caterpillar are also confident in their build quality as they've included an impressive 24 month warranty which is double the usual warranty you get with most tablets.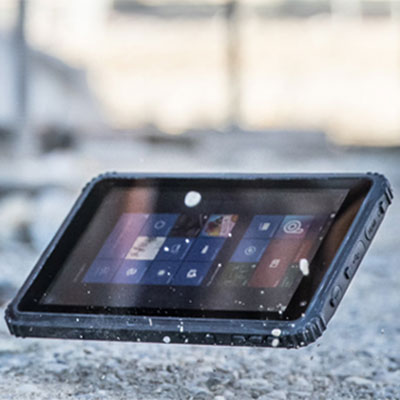 So with my curiosity peaked, let's take a deeper look at the T20 tablet specs and see what it has to offer in terms of Design, Tough Credentials, Performance and Battery Life.
The Good

Full Windows 10
4G Ready
1.8m Dropproof + IP67 (1m/30min)
Gorilla Glass + Protector
Mini HDMI Out
24 Month Warranty
The Bad

Only 2GB of RAM
800 x 1280 resolution
No Fast Charging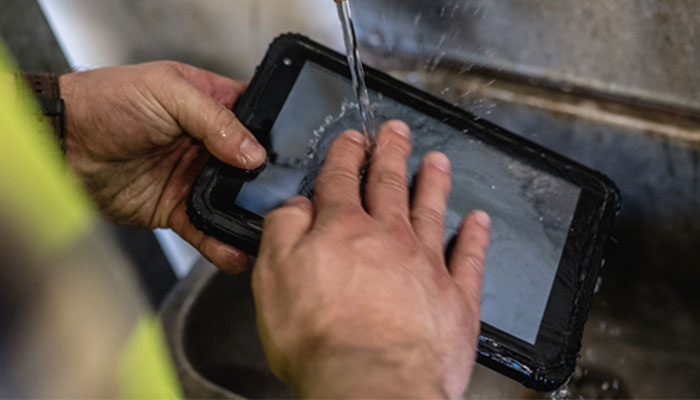 Design, Display & Tough Credentials
The Caterpillar T20 tablet is all about tough & rugged credentials! The 8 inch display is made using Corning Gorilla Glass with an extra factory fitted screen protector on top of this… so you know this is a tablet display that's going to be one tough mudda-fudda!
While it may be protected it's not going to be pretty with only an 800×1280 resolution, those pixels are going to be on display for everyone to see.
In terms of build quality, the Caterpillar T20 is made from a polycarbonate with all 4 corners of the device reinforced with a shock resistant textured rubber. All the ports are also covered to protect them from dust, dirt and water.
With an IP rating of 67 it means that the Caterpillar T20 is able to be submerged for up to 30 minutes at a depth of 1m. There's also a textured back to make it easier to grip when wet.
Its not clear from the specs whether the tablet would become water damaged if the port were sealed incorrectly, so it may leave it open to human error.
I can see the rugged tablet from Caterpillar being used by builders, architects, plumbers and anyone who has a job outside of an office… and of course, some Bear Grylls wannabees…
Screen Tech Specs: 8 inch Display, 800 x 1280 resolution, Gorilla Glass, 189 PPI
Colours Available: Black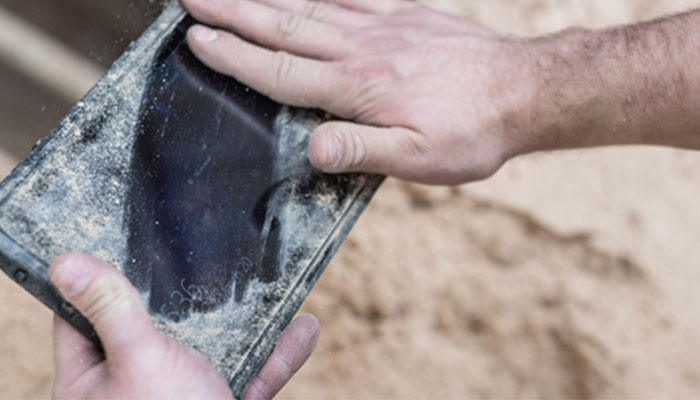 Performance
The Caterpillar T20 is fitted with the Intel Atom Quad-Core processor which allows Windows 10 to run smoothly on the tablet. This is great for any engineers or architects for example who might need to access the full version of Windows while on the go.
Since the T20 is running the full version of Windows 10, the Intel Atom chip combined with only 2GB's of RAM means that it'll be only good for light users. Don't expect run any advanced application smoothly.
Unfortunately, the T20 tablet doesn't come with NFC or wireless charging. It's a shame as this is a feature which goes hand-in-hand with rugged tech as there's no need to fiddle around with wires when you're covered in mud, water or dust or risk some getting inside the device via the ports.
The T20's 64 GB's of onboard storage can be extended to 128GB's using the Micro SD card slot, so no problems there.
CPU: Intel® Atom Z8350 (Quad-core) 1.44 GHz
GPU: Intel HD Graphics 400, 500 MHz, 12 cores
RAM: 2 GB
Storage: 64GB
Expandable: Yes (2nd SIM slot up to 64GB)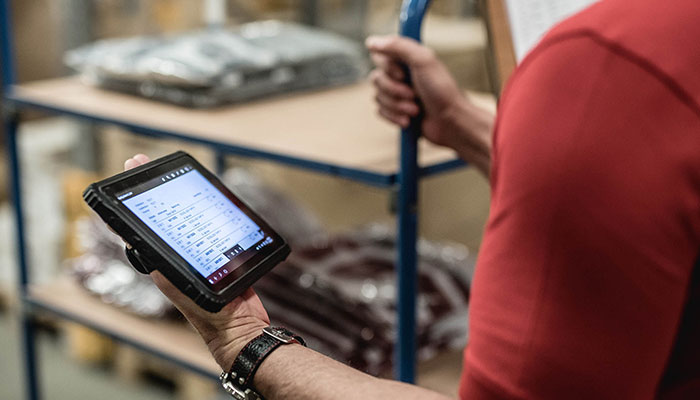 Battery Life
The Caterpillar T20 comes with a beasty 7500mAh battery which will last you well into your second day with normal usage. It's a shame there's no fast charge, but 7500mAh should last you the day.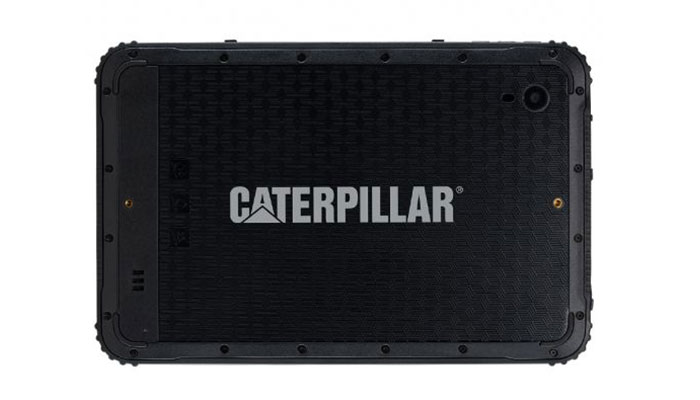 Camera
The camera on the Caterpillar T20 isn't going to win any prizes either with only a 5MP lens. The selfie cam is also under specc'd at only 2MP which is going to make Skype and video chat quality suffer. You won't even be able to have HD Skype call… sort it out Caterpillar!
If you're using a tablet like the T20 for work, you're going to want to take the occasional high-quality photos.
Rear Camera:
Front Camera (Selfie time):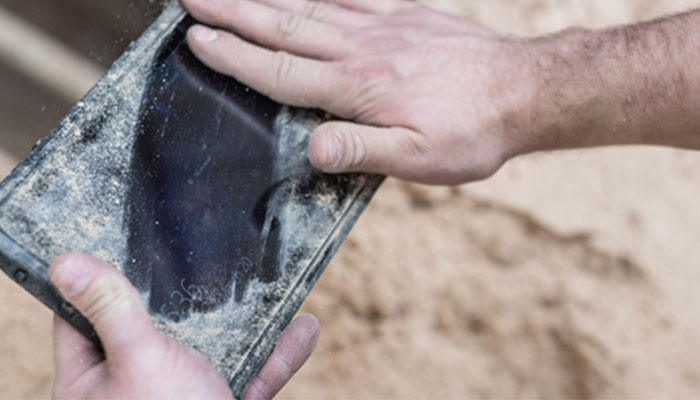 Caterpillar T20 – The Early Verdict
Overall the Caterpillar T20 tough tablet has its highs and lows. It's disappointing on the specs front only featuring 2GB's of RAM, an under powered Intel Atom CPU coupled with low resolution cameras and a low resolution screen.
On the plus side it does come with a 24 month warranty, IP67 rating, 1.8m dropproofing and a big battery.
Tech Specs & Connectivity
Looking for the Caterpillar T20 Tech Specs? We've got your covered in our full details table. If you've got any questions don't forget to comment below!

UK Network Coverage? Yes, the Caterpillar T20 Tough Tablet comes with full UK Support for all carriers.
 
Smartphone
Caterpillar T20 Tough Tablet
Screen Size
8 inch
Pixel Density
189
Screen Resolution
800 x 1280
Screen To Body Ratio
Screen technology
Gorilla Glass
Thickness
14mm
Weight
650 grams
Material
Polycarbonate
Colors Available
Black
Storage
64GB
Processor (CPU)
Intel® Atom Z8350 (Quad-core) 1.44 GHz
Graphics (GPU)
Intel HD Graphics 400, 500 MHz, 12 cores
RAM
2GB
Android Version
Windows 10 (Home)
IP Rating (Water, dust)
IP67 (1 metre for 30 minutes)
Micro-SD Card Tray
YES
Notification LED
YES
Finger Print Sensor
NO
Infrared
NO
USB Type
Micro-USB
4G Bands
FDD: B1 (2100MHz) / B3 (1800MHz) / B7 (2600MHz) / B20 (800MHz) + (B2/4/5/8/12/17/19)

1, 2, 3, 4, 5, 7, 8, 20

3G Bands
WCDMA: 850, 900, 1900, 2100MHz

1, 2, 5, 8

2G Bands
GSM: 850, 900, 1800, 1900MHz

2, 3, 5, 8

SIM Support
Dual SIM – Micro x 2
WiFi
802.11(a/b/g/n) 2.4GHz/5GHz
GPS Tech
GPS, A-GPS, Glonass
Bluetooth Version
4.1
NFC
NO
Sensors
Accelerometer
OTG
NO
Battery Size
7500 mAh
Fast Charging
NO