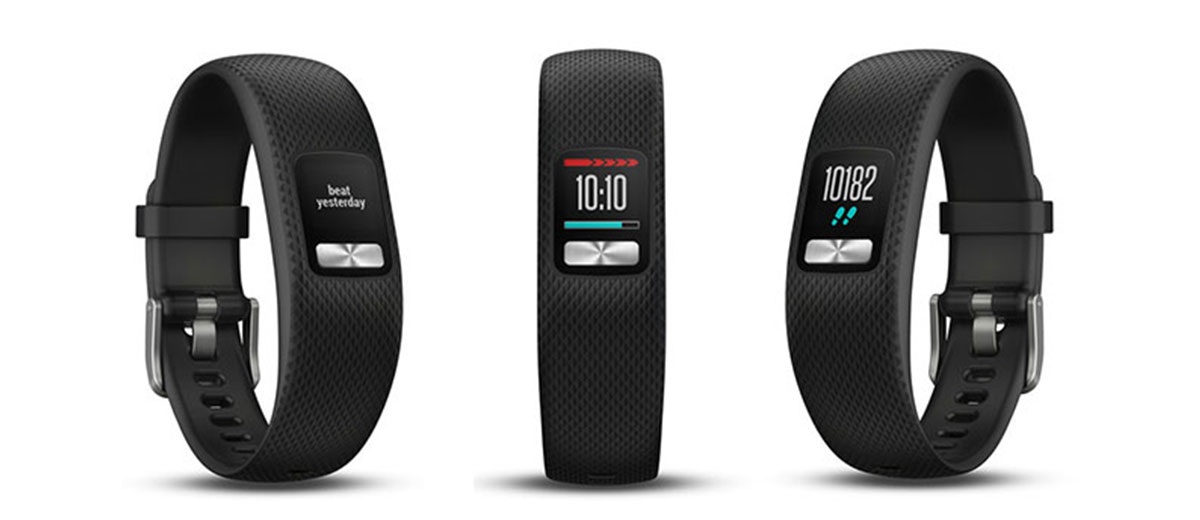 Garmin's latest fitness band uses retro batteries to give a full year of battery life!
If you've owned a smartwatch or fitness tracker before you'll know that one of the most annoying chores is charging the little bugger. Well, the new fitness tracker from Garmin solves this with a battery that only needs to be changed just once every 365 days!
You can now track your walking, swimming and sleep patterns continually without adding another device to the 'remember to charge list'.
The Vivofit 4 is perfect if you're travelling the world, an avid hiker or if you're just plain lazy when comes to charging your gadgets.
To achieve this epic battery-life, some sacrifices have had to be made so it's missing a few common smartwatch features like a heart rate monitor and GPS.
One thing it does have however is a water rating which allows you to wear it in the shower, when you're getting sweaty in the gym or doing lengths in the pool… you'll be able to track it all thanks to the ATM 5 housing.
When compared with similarly priced smartwatches like the Amazfit Bip which does have GPS and a heart rate monitor I think Garmin have missed a trick by not including these features on the Vivofit 4.
However, if battery life is a deal breaker for you and you're not fussed about GPS then the Vivofit 4 is a solid option for you.
The Good
1-year battery life
Garmin Connect App
Use while Shower & Swimming
Budget-friendly price tag
Auto detects activities
The Bad
Temperamental pairing issues
Not touch screen
Doesn't track Heart Rate
No GPS
No Backlight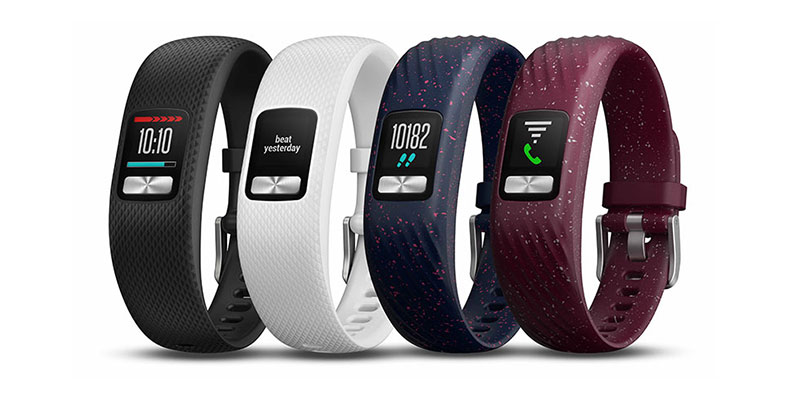 Tracking & Fitness Features
The Vivofit 4 is a stylish lightweight fitness band that'll track your steps, sleep, distance and calories burned. It also has smartwatch functionality to show you the weather, set alarms, countdown timer and even find your lost phone.
What sets the Vivofit 4 apart from the competition is that its rated waterproof to 5 ATM. This means that you can happily take the band swimming, snorkelling and wear it in the shower every day without worrying. Just don't take it scuba diving or on any extreme water sports.
Another cool feature is that the Vivofit 4 also has built-in AI that auto detects walking, running, biking and swimming so there's no need to fiddle around before starting your workout.
Garmin understands that a lot of us now work in sedentary environments so they've designed the Vivofit 4 with a trick up its sleeve. The 'move bar' is a display element that fills up on the screen the longer you stay still… a constant but healthy reminder that you need to get off your fat arse and have a stretch :D.
Having a constant visual reminder to move around is a lot more effective than having the standard smartwatch that vibrates every 30 minutes.
If you're wanting to get the whole family on the fitness wagon, you can also challenge your kids to step challenges via the Toe to Toe Challenge function. It does this by wirelessly connecting to your child's Vivofit Jr. 2 and displays the results via the Garmin Connect app.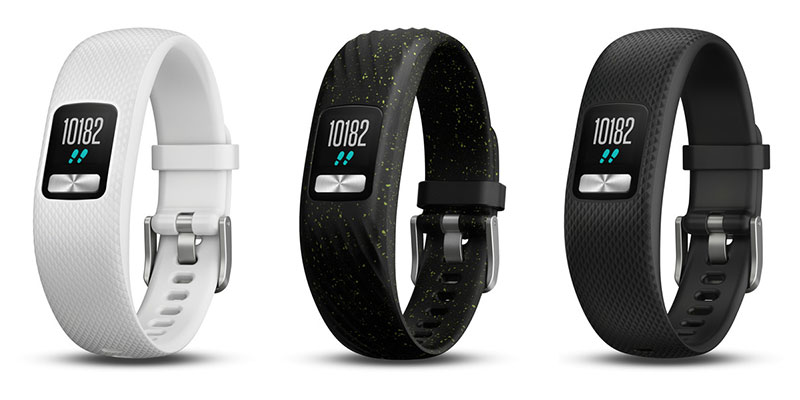 Design & Display
The Vivofit 4 is lightweight at just 25 grams for the small & medium or 25.5 grams for the large. Made of silicone the watch strap comes in lots of different colours: black, white or the speckled range in either blue, black or plum purple.
Although it has a low resolution of 88 x 88 mm, because of the small screen size (11 x 11 mm) it actually has a respectable PPI of 287 which means the screen is easy to read at a quick glance.
Unlike the Vivofit 4's predecessor the Vivofit 3, this watch doesn't have a backlight which means you won't be able to use it at night.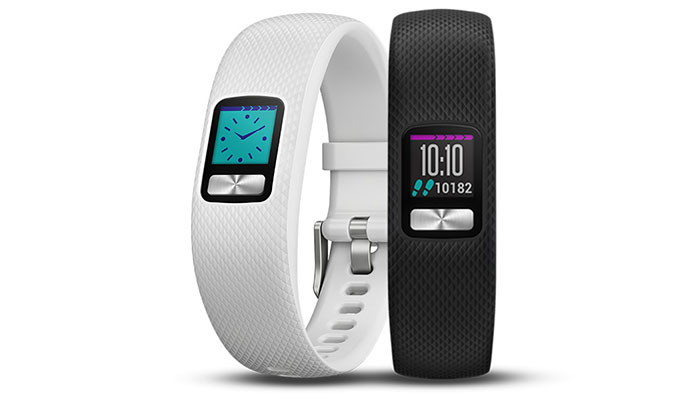 Battery life & Connectivity
So what is this wizardry which makes the Vivofit 4 battery last for a whole year?
The secret is in the old style silver oxide watch battery that's used. As mentioned earlier, the use of this type of battery means that although you get a fantastic long battery life, there are limitations on functionality.
But for the price and features you're getting with the band I think you're still bagging a great deal. As long as the materials don't break down, you're also never going to have to worry about battery degradation which plagues all modern gadgets without removable batteries.
Finally, the Vivofit 4 is compatible with both Android & IOS using its Bluetooth and ANT+ function, however, there have been issues with temperamental connectivity in recent reviews.
The ANT+ function means that you can track your activity in real time through the Garmin Connect app.
ANT+ is a system designed by Garmin which allows users to essentially sync data like heart rate monitoring using minimal power between athletic devices. Depending on what device you have depends which 'device profiles' you'll have built into your device, aka what sensors are built in.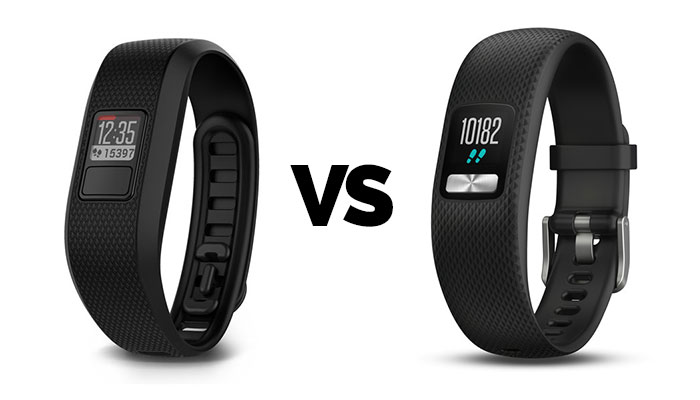 Vivofit 3 vs Vivofit 4 – What's the Difference?
So, you've already bought into the Garmin Ecosystem and got on with fitness train with your Vivofit 3, should you upgrade it to the newest version? Here I'll go through the differences between the 2 devices so you can decide for yourself!
In terms of build quality and design the 2 smartwatches are similar with both having a home button on the front and with just a grams difference between them, the weight will feel the same. You will notice a difference between the thickness as they've shaved 1.6mm off so the Vivofit 4 is a slimmer beast.
Features wise they are exactly the same plus they have the same connectivity via Bluetooth and ANT+. They can also both be used in the shower and while swimming.
The Vivofit 3 and 4 have exactly the same stonking battery life of one year so there's no difference there, however, screen wise, the Vivofit 4 does have a larger screen (88mm instead of 64mm) though you are losing the backlit screen which the Vivofit 3 has.
Overall there is a small price difference of around $10 between them, so unless you're impressed by the more stylish Vivofit 3 straps (I have to admit they are snazzy) then you are better off sticking to your trusty Vivofit 3.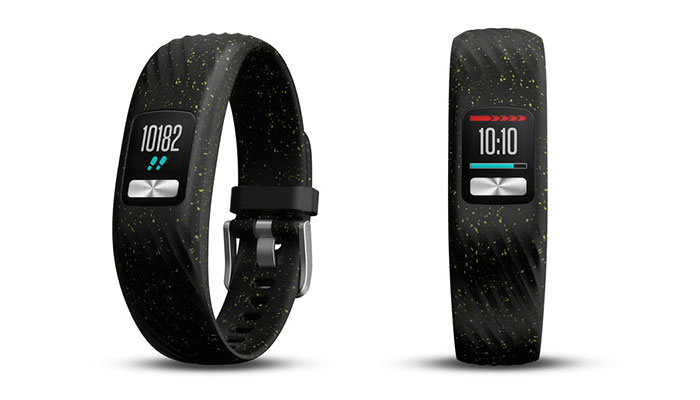 Garmin Vivofit 4 – The Verdict
Overall, this is a solid offering for the price band. Although it is missing some key features like GPS & heart monitoring, the area in which the Vivofit 4 really shines in with the battery life. Having the freedom to use your watch everyday while it automatically tracks your activities and steps is a win in my books.
So if you're sick of forever recharging your devices or getting to the gym only to realise your sports watch is out of juice, this is the fitness band for you!
The Tech Specs
| |   |
| --- | --- |
| Wearable | Garmin Vivofit 4 |
| Screen Size | 0.43 Inch |
| Pixel Density | 287 |
| Screen Resolution | 88 x 88 mm |
| Screen technology | Sunlight-visible, transflective 8 color memory-in-pixel (MIP) |
| Thickness | 9.4 mm |
| Weight | 25 / 25.5 grams |
| Material | Silicone |
| Colours Available | Black, White, Speckled (purple, black, blue) |
| Bluetooth | 4.0 |
| GPS | NO |
| IP Rating (Water, dust) | 5 ATM |
| Sensors | Accelerometer |
| Notification | |
| Battery Life | 365 days |
| Battery Size | 2x SR43 (replaceable) |