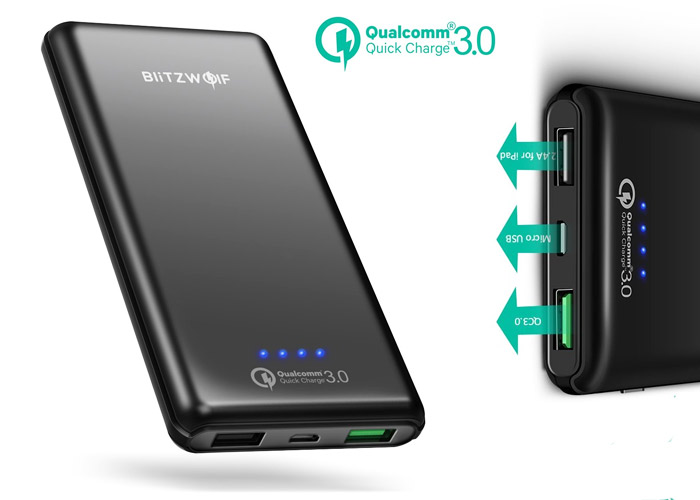 Can the BlitzWolf P6 muscle it's way to become the Power Bank Pack Leader?
Choosing a power bank used to be a simple process, you'd pick the size you needed and off you went! With the advent of fast charge, there are now multiple technologies you have to look out for.
In this review, I'll be looking at the BlitzWolf P6 power bank which has been specially designed to work with Qualcomm Quick Charge 3.0 (QC3.0) ready smartphones.
If your phone isn't Qualcomm QC ready then this isn't the power bank for you. Don't worry I've added a list of the popular smartphone supported at the end of this review.
I'm assuming you've now checked the list and your phone supports Quick Charge. So let's take a look at the BlitzWolf P6 Power bank and see whether it's worthy of our attention.
Update: 30% Off Amazon Code – C3HC3NGQ (limited offer)
[column size=one_half position=first ]
The Pro's
Qualcomm Quick Charge 3.0
18 Month Warranty
Branded Good Quality Cable
10000mAh Charge
[/column]
[column size=one_half position=last ]
The Con's

Plastic construction
Fingerprint magnet
[/column]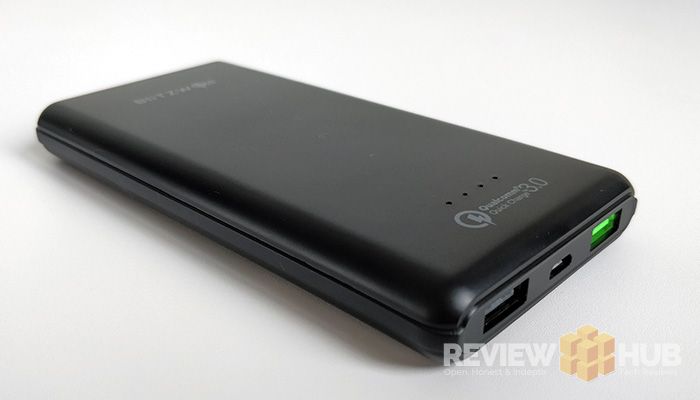 Design, Build Quality & Features
The BlitzWolf P6 Power Bank comes well packaged in a small branded box. Once open, you'll find the P6 is made from a matte black plastic which looks neat but does easily pick up fingerprints.
Squeezing and applying pressure to the P6 does reveal quite a bit of creaking. While the plastic build does keep the weight down, I can see the exterior easily cracking if dropped.
It's nice to see that there aren't any rough edges or uneven joins, as BlitzWolf has used a premium moulding company for their parts.
On the end of the BlitzWolf P6 power bank, you'll find two full-sized USB ports and a micro-USB for charging. The green USB on the right is Qualcomm Quick Charge 3.0 ready and performed well during our testing on the Xiaomi Mi Mix 2.
For the test we first drained the Xiaomi Mi Mix 2 battery to zero. Then plugged it into the P6 Green USB Port.
Xiaomi Mi Mix 2 – QC3.0 Charge Speed Test
0-50% Charge = 30 min
50%-90% = 60 min
Above the USB slots are 4 blue LEDs that show the available charge left in the device. Finally, on the right, there is a clickable power button but most devices automatically start charging.
Finally, a nice design touch is that the USB to Micro-USB cable included in the box is branded with the BlitzWolf logo.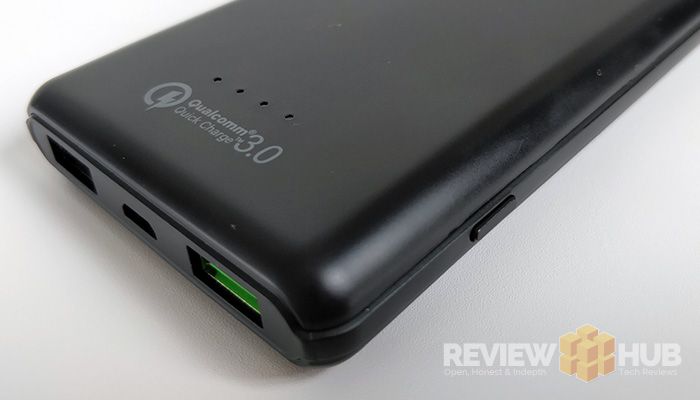 What is Qualcomm Quick Charge 3.0?
So, if you haven't heard of Qualcomm or quick charging I'll give a little background to it. Quick charging allows high levels of current to flow to the battery which tries to maximise it's charging efficiency.
While not the latest version, Qualcomm Quick Charge 3.0,  will still charge your phone up to 4 times faster than your conventional charger.
An added benefit of QC 3.0 is the Intelligent Negotiation for Optimum Voltage (INOV). What now? This means that the QC3+ enabled chargers can vary the voltage accordingly to the handset.
BlitzWolf P6 Power Bank – The Verdict
There's huge competition for power banks on the market today and with such a large selection, why should you chose the BlitzWolf P6 Power Bank?
For the Qualcomm Quick Charge 3.0! Design-wise its a bit plain and the plastic doesn't feel very premium. Functionality-wise it charges and it charges fast as long as you have a QC enabled device.
Do I recommend the BlitzWolf P6 Power Bank? Only if you have a QC3+ smartphone and don't plan on dropping it very often :D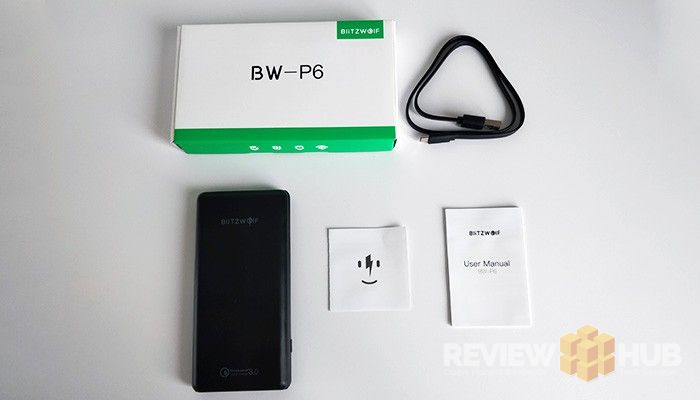 The Tech Specs
Capacity: 10000mAh
Efficiency: 80-85%
Input Port: USB
Input: 5-9V
Output Port: USB
Output: 5V/2.4A; 5V/3A, 9V/2A, 12V/1.5A(QC3.0)
Fast Charging: QC2.0 / QC3.0, AFC, Apple 2.4A (Green port)
Weight: 265g
Size: 139mm x 68mm x16mm
Warranty: 18 Months
Current Popular Smartphones with Qualcomm Quick Charge Support
[column size=one_half position=first ]
Xiaomi Mi Mix 2
Sony Xperia XZ
Nubia Z11
Nokia 6, 7, 8
LG G5, G6
LG V20, V30
[/column]
[column size=one_half position=last ]
The Con's

Blackberry KEYone
HTC 10
HTC U11
+ many more
[/column]
For more information on support please visit the Official Qualcomm Quick Charge Support Page.