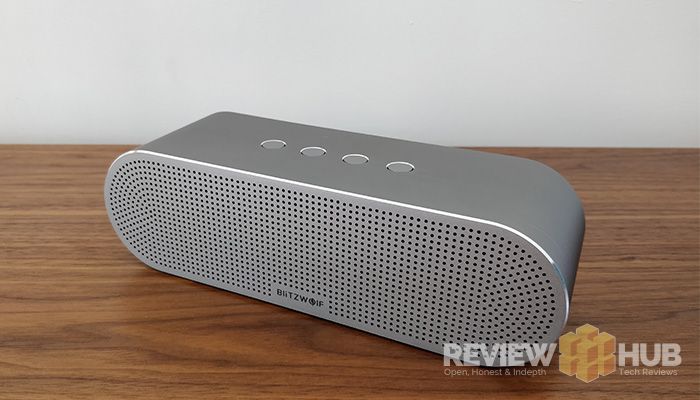 AOOOOOW All Hail the BlitzWolf BW-AS1 Wireless Speaker… but will it get full moon marks?
If your last Bluetooth speaker had you howling for better sound & build quality, then the BlitzWolf Bluetooth might be for you.
Taking only 570 days from the initial idea to a finished retail product, the BW-AS1 has hit the market fast. Originally a Kickstarter Campaign, the BlitzWolf speaker impressively hit 200% of their financial goal and immediately went into development.
It's easy to see why it was such a successful campaign with its Apple-like aluminium looks and easy-on-the-wallet price tag.
But looks aren't everything, especially in the Bluetooth speaker market. So let's take a look at the Sound Quality, Design, Battery life and Connectivity in this full hands-on review.

The Pro's
Impressive Sound Quality
High Max Volume with Zero Distortion
Beautiful Aluminium Design
Lightweight & Portable
Solid Build Quality
The Cons

Button graphics are slightly misaligned
Annoying flashing LED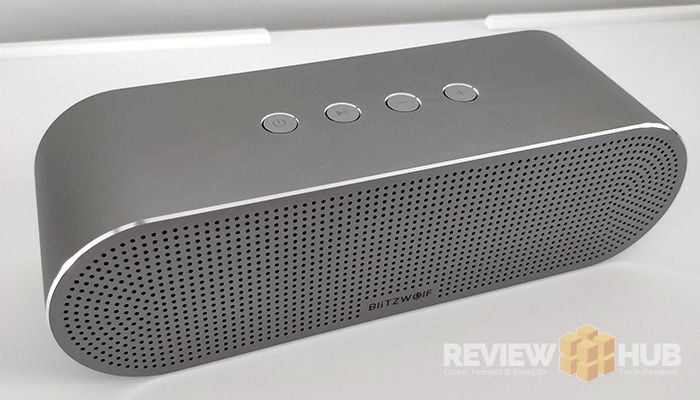 Sound Quality
The most important factor to consider when buying a portable speaker is how it sounds, so let's get right into the important stuff.
The BlitzWolf BW-AS1 has two 10 watt drivers which pack a big punch! The mids and highs are clear but lacking a little brightness. Where the speaker really shines is in the bass department where it sends out a solid rounded sound.
Putting the BlitzWolf BW-AS1 speaker onto a wooden cabinet only amplifies the excellent bass.
Having listened to a wide variety of music to test this little cub, it put it into the category of a great all-rounder.
Podcasts, Audiobooks, Reggae, Acoustic, Rock, Dance & pop all played well. The music is clear, and the soundstage belies the speaker's small size. You can't pick out each individual sound in the mids & highs, but it does a good job when you consider the low price-tag.
To test the distortion levels, I played a variety of Rock tracks at maximum volume. There's little to zero distortion to be found which is nice.
I think we're onto a winner!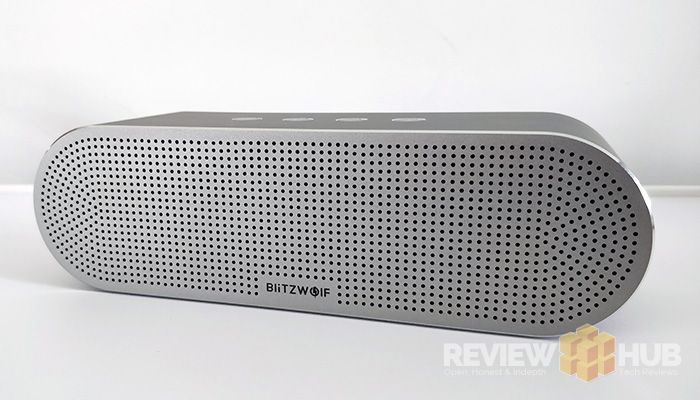 Design & Build Quality
The BlitzWolf BW-AS1 is every bit a grey beauty as its feral cousin the timber wolf. Usually, grey or silver speakers aren't something to write home about, but the sleek finish on this one just looks gorgeous.
The BlitzWolf BW-AS1 speaker looks super modern and fits right in with my minimalist white standing desk. #hipster
The main piece of the speaker is made a solid piece of aluminium oxide which is bent around into soft curves. It looks like the back panel has then been glued on so can't be removed.
Where the backplate has been attached, it's not a perfect seam but it's also nothing to worry about.
As the main piece is a solid aluminium alloy, it means that this speaker is tough. I can easily stand of the speaker without any denting or creaks. That's about 65KG of downwards force.
The only small niggle I have is that the printed button graphics on top of the speakers aren't perfectly aligned. They do have a very satisfying click to them though.
Colours Available: Silver wolf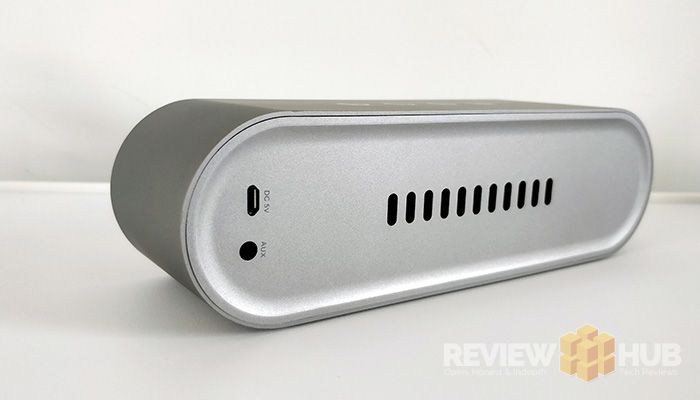 Battery Life & Connectivity
Under the hood, the BlitzWolf BW-AS1 has 2 2600mAh batteries giving it an almighty 5200mAh of power. This is enough juice to keep the party going for up to 11 hours.
Although it doesn't have fast charge, the speaker only takes 3.5 hours to reach 100%.
In terms of connectivity, there are a few options available with the BlitzWolf BW-AS1. Connecting via Bluetooth 4.0 is easy and it connects quickly. You can also connect via the Aux in port with the 3.5mm audio cable included in the box.
There is a slightly irritating blue flashing light behind the front grill which flashes blue once its connected and alternates between red and blue while its charging and playing music.
You can see our Bluetooth connectivity test results below:
3-meter distance: Excellent
6-meter distance: Excellent
10-meter distance: Good
Separate hard wall room: Good
I would recommend using the speaker within your line of sight, however, as the connection did fade once it was on the far side of the solid wall.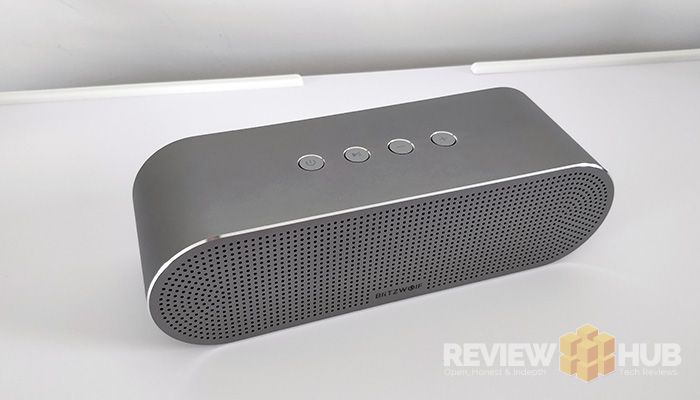 BlitzWolf BW-AS1 – The Verdict
Overall, I'm a big fan of the BlitzWolf Bluetooth speaker. The solid build-quality and super-loud max volume are impressive for the price.
It's powerful enough to get the party started, plus it doesn't weigh a ton.
Do I recommend the BlitzWolf BW-AS1 Speaker?

Yes, this is a speaker is a survivor and delivers decent audio at high volumes.
BlitzWolf BW-AS1 Wireless Speaker – Tech Specs
| |   |
| --- | --- |
| Model | BlitzWolf BW-AS1 Wireless Speaker |
| Colours Available | Silver |
| Material | Aluminium Alloy + Plastic |
| Interface | Micro-USB + Aux in 3.5mm |
| Bluetooth Version | 4.0 |
| Headphone Jack | YES |
| SD Card Slot | NO |
| Wattage | 10 watts x2 |
| Dimensions | 63.5 x 63.5 x 205.7 mm |
| Weight | 748g |
| Play Time | 11 Hours |
| Battery Size | 5200mAh / 5 volts |