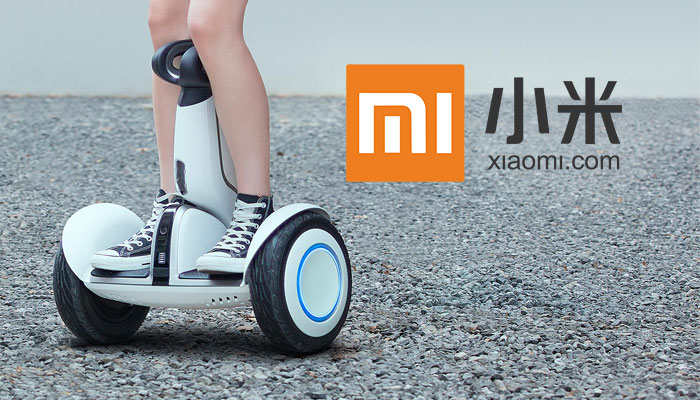 Xiaomi are now making literally everything! And we love them for it! Here's some of the best Xiaomi gadgets you've probably never heard of!
It used to be the case that there was only one option when buying into a high-end eco system of sleek aluminium gadgets and cutting-edge software. You'd become an Apple Fanboy!
Well now you have another option… to become a Xiaomi Fanboy or part of the 'Xiaomi Tribe'. And the best bit, it's super easy to kit-out your entire home with Xiaomi made tech!
Xiaomi makes everything… Smartphones, Tablets, Laptops, TV's, TV Boxes, Electric Scooters, Drones, Rice Cookers, Smart Lights, Kettles, Headphones, Speakers, Robot Vacuum Cleaners, Segways, VR Headsets and now even home furnishing and fashion!
So if you haven't heard of the Chinese Giant Xiaomi before, then shame on you! They've won a whole host of design & innovation awards for their huge selection of products!
Looking for the best Xiaomi Smartphones? – Top 5 Xiaomiphones For Every Budget
So here it is… The Best Xiaomi Products You Never Knew Existed!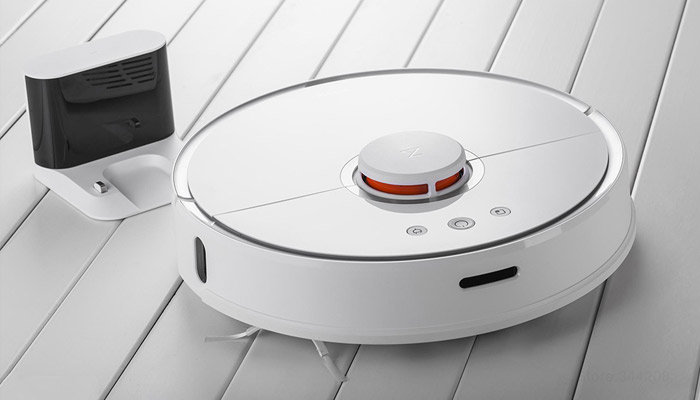 Xiaomi Mi Robot Vacuum Cleaner V2 (Roborock S50)
If you're still vacuum'ing your own floors, then I've got news for you! You can now grab yourself a little hockey puck shaped robot that'll clean your home while you're out at work!
While the Xiaomi Mi Robot Hoover isn't the only option on the market, it's the only Xiaomi option that will complete your Xiaomi Fanboy home fantastically!
We're currently testing the Xiaomi Mi Robot Vacuum here at Review Hub HQ. We'll link to the full review soon. You can check out more details on the Roborock S50 model or view the latest prices below.
The intelligent little bugger uses lasers to map out your home, clean it edge-to-edge and then will even go back to it's charging station all on its own. It'll practically pay for itself as you can happily tell your kids to sod off. 'No chore money for you!'.
Tech Specs: 2.5 Hour / 250 square meter – Per Clean, APP managed, Laser Room Mapping, Self Charging, Edge Cleaning, Brushless DC motor.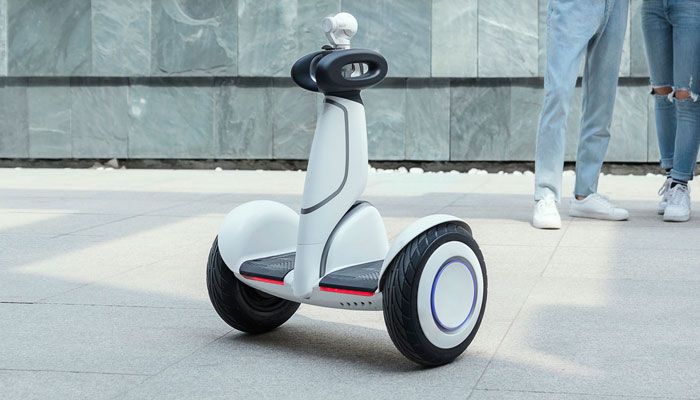 Xiaomi Ninebot Plus Segway
The new Xiaomi Ninebot Plus self balancing scooter has to be one of the coolest pieces of tech they've ever made. Fully equipped to drive loads of up to 100kg around for 25km with top speeds of 18Km/h, the Ninebot Plus isn't messing around.
The Ninebot Plus is also smarter than you're average segway, coming loaded with lots of cool features. Use the shopping bag attachment and the Ninebot Plus will follow you around carrying up to 20kg of shopping.
If you've never heard of Ninebot before, then you should really check them out. There recent Ninebot C has even made it onto the UK TV Commercials.
You can call your Ninebot Plus remotely like a futuristic valet service or just ride it around laughing us mere mortals and our archaic movement traditions. More Xiaomi Ninebot Plus information.
Tech Specs: 800 watt motor, max 35km range, 11 inch anti-slip wheels, headlights, brake lights, Bluetooth 4.0, remote included, max speed 18km/h.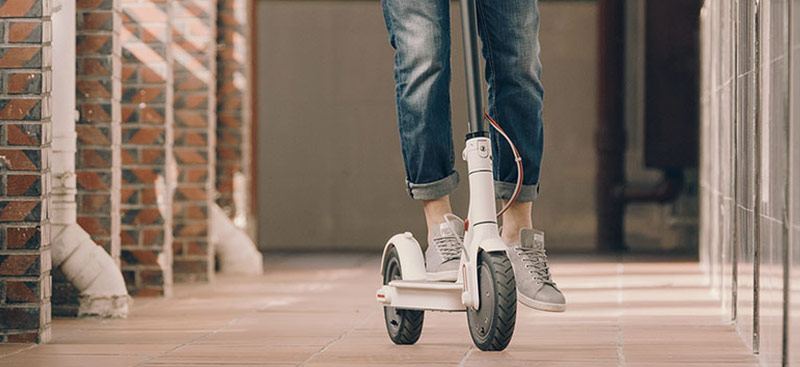 Xiaomi M365 Folding Electric Scooter
The Red Dot Design Award Winning M365 Electric Scooter from Xiaomi has to be the best looking electric scooter on the market. It's sleek, all aluminium and has a top speed of 20km/h with a max range of 30km.
It comes with a built-in headlight, brake light, Kinetic energy recovery E-ABS anti-lock brakes while still folding down to be easily stowed away when not in use.
Xiaomi have also developed a companion app for the scooter which will record all your riding stats and synchronise to your smartphone via the onboard Bluetooth. The Xiaomi M365 is one Electric Scooter you won't want to miss out on! More Xiaomi M365 Information.
Tech Specs: 280 watt motor, max 30km range (eco mode), Kinetic Energy Recovery System, LED Headlights, LED Brake Light, max speed 20km/h.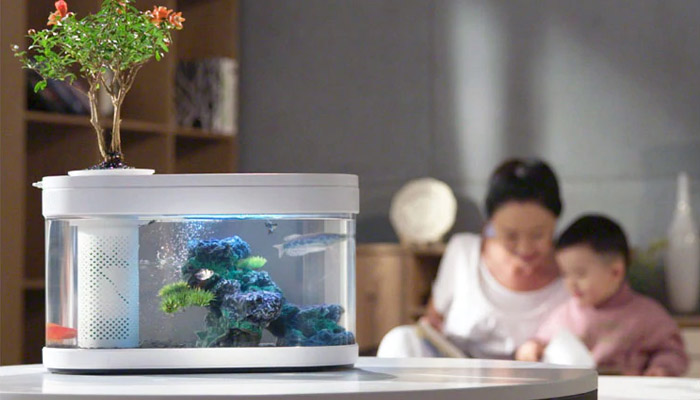 Xiaomi Geometry Fish Tank
It's hard to find inspiration when you're surrounded by an unsightly mix of corporate bumf and personal clutter. Bring a sense of calm and elegance to your drab desk or messy bedroom with the beautiful Xiaomi Geometry Fish Tank.
Mind you, this isn't your typical aquarium. Weighing 1kg, this compact aquaponics fish tank cleverly combines two things we love (read: fishes and gardens) without the baggage that comes with caring for either.
Because looking after a plant and a pet fish at the same time isn't easy-peasy, the Geometry Fish Tank comes with intelligent control that facilitates water change and a four-stage filtration system that keeps the tank clean.
Its water pump, in conjunction with a sophisticated purification system, is powered by a USB cable. Simply connect the tank to a power point or power bank once a day to keep the water clean and get oxygen flowing into the aquarium. And to make this nature-inspired adornment even more interesting, illuminate the tank with integrated LED lights that shifts between the colours green, pink, blue, purple, and turquoise.
With this modernistic aquarium, you neither have to change the aquarium's water daily nor should you keep opening the contraption just to feed Olivia the goldfish. Simply put this handy piece of oasis on a coffee table or your office desk for an instant touch of class. Besides, Olivia will love the attention!
Tech Specs: One-button smart pumping, independent feeding port, adjustable oxygen supply, five LED color atmosphere scenes, 5V low voltage safety control system, PMMA + ABS material, 1000g
Xiaomi Mi Electric Smart Kettle
That right, Xiaomi also make Smart Kettles! They've got 2 versions, the standard kettle and the thermostat kettle. Both models come in the classic all white Xiaomi design and look a hell of a lot better than most kettles on the market.
You can control the Xiaomi Thermostat Kettle temperature from the Xiaomi Mi Home app making sure your green tea doesn't turn bitter and bringing out all those delicate flavours.
The best bit, it's no more expensive that a normal kettle you'd find on the high-street. Xiaomi Thermostat Kettle – More Information.
Tech Specs: 220v, 1.5l capacity, 1.6kg weight, PP + Stainless steel, 12 hours thermostat, customisable water temp, app connectivity.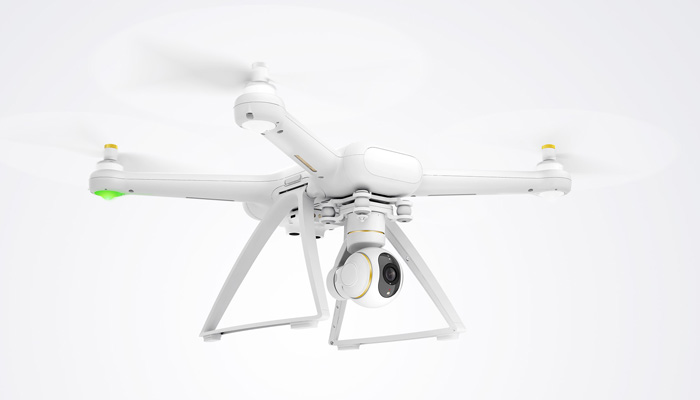 Xiaomi Mi 4K Drone
When most of us think high-end drones we think DJi, but now Xiaomi have their own 4K quadcopter as well. At less half the price of the top level DJi Phantom, the Xiaomi Mi Quadcopter still managed to feature a built-in 4K stabilised cam.
It doesn't shoot higher than 30fps at 4K yet, so loses to the Phantom on that front but has a similar flight time at 27 minutes and many of the same features.
Check out the full YouTube review on then Mi 4K Drone by RedSkull.
Tech Specs: 4K 30fps, integrated gimbal camera with 3-axis stabilisation / 6-axis gyro, GPS + GLONASS, Low voltage return, geofencing protection, waypoints, tap to fly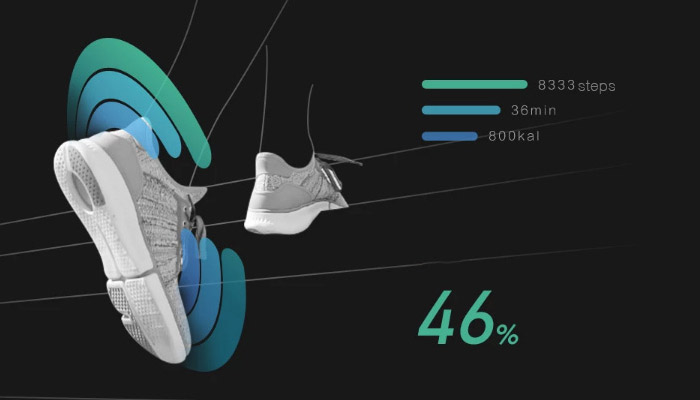 Xiaomi Mi Smart Shoes
It may look like your average trainers but the Mijia Smart Shoes actually comes with a chock-full of brilliant features. Its lightweight build and breathable fabric makes it ideal for your morning jog or getting busy at the gym.
It also has a reflective strip at the back of the heel and a reflective thread woven into the shoelaces, which makes late-night runs around the neighbourhood safer. Best of all, it comes with an Amazfit Intelligent Tracker fits into a compartment underneath the insole.
The tracker monitors your movements and shows you the total distance you covered every time you move, walk or run via the Mi Fit app. Pairing the module with the app is as easy as turning on your phone's Bluetooth, shaking the module, and letting the syncing begin.
The Mi Smart Trainers are the footwear that'll keep in control of your fitness goals. It's a better alternative to a fitness boot camp coach incessantly screaming "keep running, muppets!" right in your ear.
Tech Specs: Anti-slip rubber outsole, shock-resistant EVA midsole, sweat-absorbing fabric, built-in smart chip compartment, IP67 waterproof Intel Curie module with 6-axis sensor, accelerometer, and gyroscope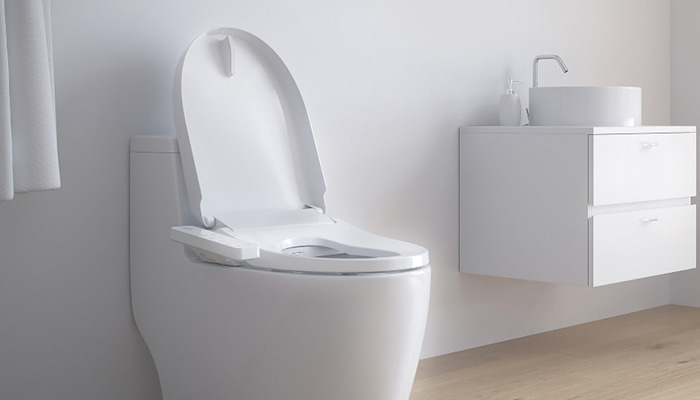 Xiaomi SmartMi Smart Toilet Seat – Hell Yeah!
No part of your home is left forgotten. While in the west we haven't quite got to grips with bathroom smart tech as fast as our eastern counterparts, thanks to Xiaomi you no longer have to live in the lavatory dark ages… transferring yourself awkwardly to that old porcelain bidet…
The Xiaomi SmartMi toilet seat offers the ultimate in bathroom comforts. It's self heating, self regulating UV antibacterial nozzle is ready to hot wash, cold wash & massage.
Other features include a soft close lid, PP hygienic cotton water filter, dual-self cleaning nozzle and LED night illumination.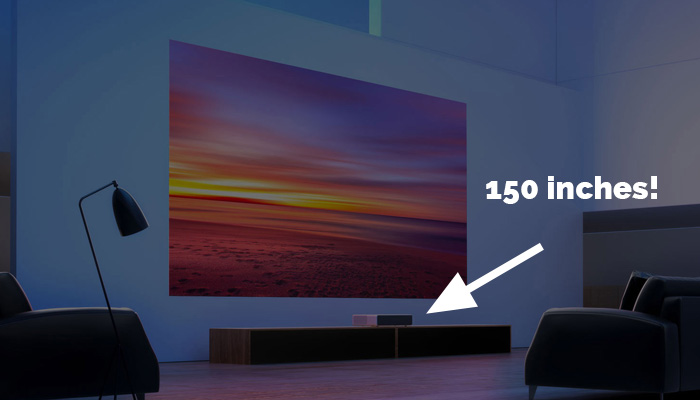 Xiaomi Mi Ultra Short Throw Laser Projector
Another one of Xiaomi's super-cool but super expensive gadgets is their short throw laser projector which can display 150 inch footage while being placed just 50cm away from the wall.
If you're looking for a living room setup where the TV isn't the centre of attention, a short throw projector is perfect. While it still isn't as bright as traditional TV's during daylight, it really comes alive at night thanks to the true Full HD capabilities, 3000:1 ratio and 5000 lumen laser.
Unlike traditional projectors, you don't need to worry about lamp lifetime as the Mi Ultra Short Throw Laser comes with 25000 hours. That's 17 years if you watch for 4 hours a day.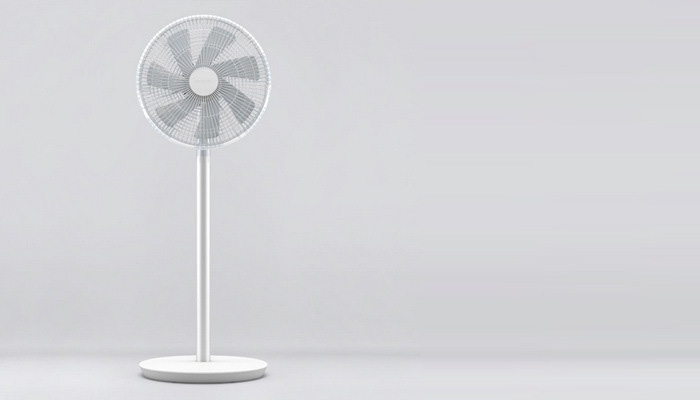 Xiaomi Mi Natural Wind Fan
If you thought that the common fan had already been cracked? then think again. The team behind the Xiaomi natural fan believe that the best wind comes from mother earth.
They recorded the patterns of nature's natural wind and created a fan that mimics this. So if you haven't quite reached the ultimate state of Zen during your recent meditation sessions… maybe it's because of the unnatural fan wind in your home…
All the mumbo jumbo aside, it's a pretty cool looking fan and it's smart enabled meaning you can completely control the fan patterns, wind speed and more from via the companion app.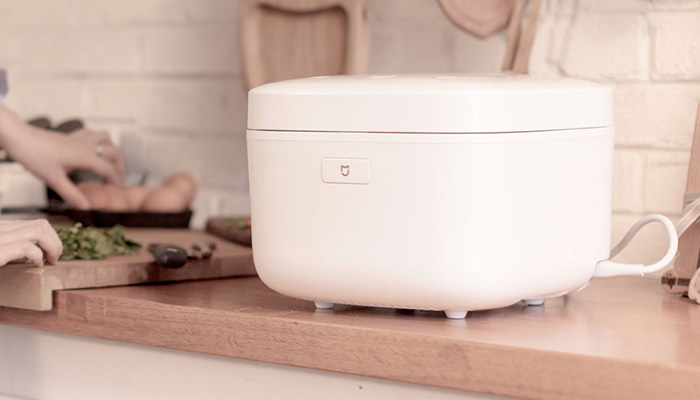 Xiaomi Rice Cooker
Chuck your old Rice Cooker in the bin… right now! The Xiaomi Rice cooker is beautiful! The white minimalist look combined with future tech features is heavenly!
Electromagnet surround heating…. 200 rice menus… also good for soups and stews…
This little kitchen-friend is here to make you the perfect rice every time! If only we could work out the Chinese instructions…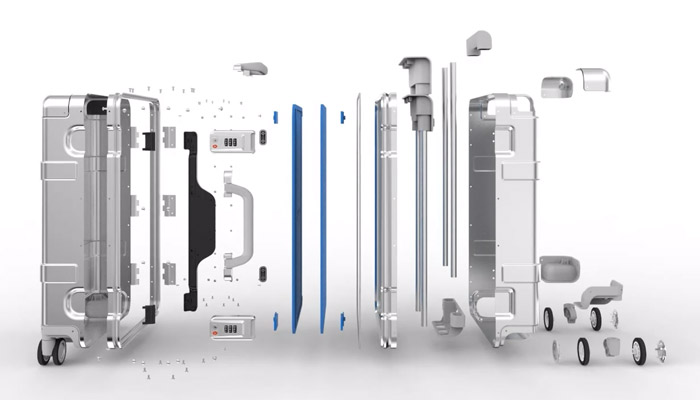 Xiaomi Bluetooth Suitcase
Winner of the German 'IF' Industrial Design award, the Xiaomi Bluetooth enabled suitcase is trying to revolutionise the way you travel.
With it's all-metal aluminium-magnesium alloy exterior you're going to get a few compliments, although no one will hear you coming thanks to the super smooth ultra silent wheels.
So what makes the Xiaomi Suitcase different from you're regular old suitcase? Apart from the high-end design and outrageous price-tag, the Xiaomi Suitcase is Bluetooth ready. You can unlock the suitcase wirelessly, get alerts when it's out of range and other features which still don't justify that enormous price-tag.
That being said, they offer a non-Bluetooth version with the same high-end construction for a lot less. So fear not, Xiaomi fanboy you will go to the ball airport.
Tech Specs: Twin bearing ultra-silent wheels, Aircraft Grade Super Strong, TSA Compatible Locks.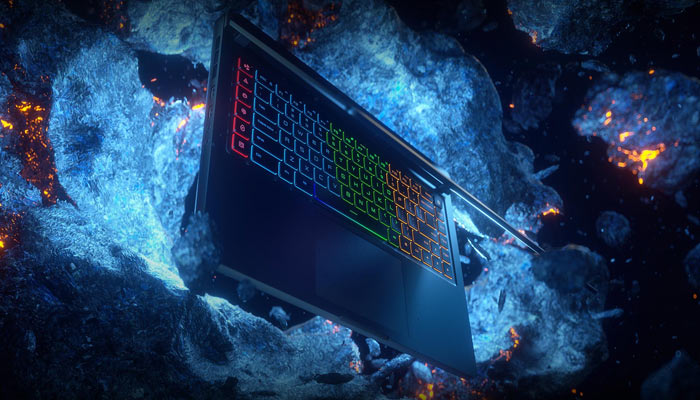 Xiaomi Mi Gaming Laptop
This 2nd generation model offers faster RAM, faster wireless card (gigabit Intel wireless AC), and faster SD card reader than its predecessor.
Aside from being a little lighter, the Mi Gaming Laptop brags a full-HD display, a 9th-generation Intel Core i7 processor, and a better thermal management system. Bring all these together and you get a laptop that easily handles resource-heavy games at high settings (1080p) without heating up noticeably.
Overall, Xiaomi's gaming laptop offers a decent price-performance ratio with Dolby surround sound, a robust case, and fairly slim bezels. It may not be the quietest laptop on the market but it certainly gets plus points for a clean design and good thermals. The only thing left on our wish list for the next iteration of the Mi Gaming Laptop is a better battery life as it currently sports a 55 watt-hour battery that lasts around 4 and a half hours of mixed use.
Tech Specs: 15.60-inch display, 1920 x 1080 pixel resolution, 9th-gen Intel Core i7-9750H, Nvidia GeForce RTX 2060 graphics, 8GB RAM, Windows 10 Home, 512GB SSD, 2.60 kg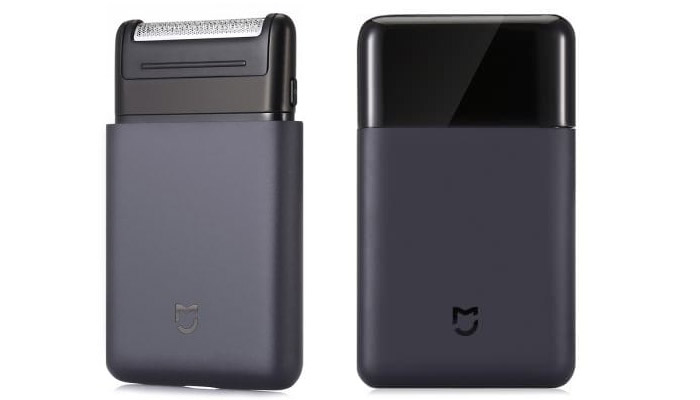 Xiaomi Mi Shaver
Xiaomi have even put there heads together to create themselves the Mi Shaver. Featuring USB Type-C, 60HRC Japanese steel and a 7800rpm motor… it sounds kinda cool.
It's a business man's travel friend, meant to whip off that 5 o'clock shadow and keep you looking the part between meetings. Although, with a max cutting length of 2mm, any of the Xiaomi tribe that wear beards for fun are going to be disappointed.
If the only reason you buy this is to tell people your shaver is USB Type-C, I won't judge… heck I touted about my toothbrush being WiFi ready for years! :D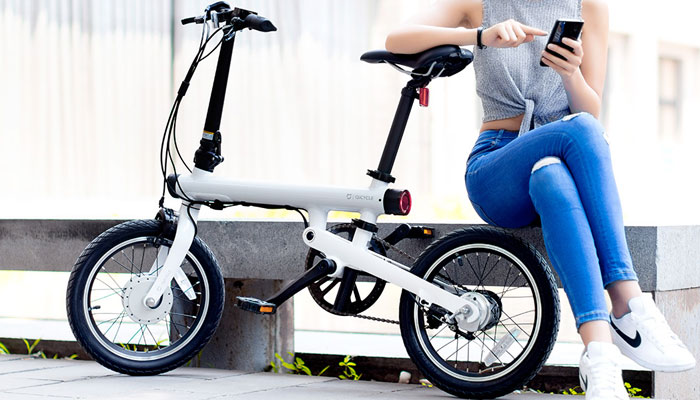 Xiaomi QiCYCLE EF1 Electric Folding Bike
Xiaomi really do have fingers in many pies! They've teamed up QiCycle to make a range of smart enabled bicycles.
The QiCycle EF1 is their fold-up electric model that comes with all the cool features you'd expect from Xiaomi. With built-in headlights, brake lights, an aluminium alloy build and a 200 watt motor, it's a cool bit of kit.
The companion app connects via Bluetooth and will feed you all your cycling data right back to you. It's definitely in my top 5 coolest Xiaomi gadgets!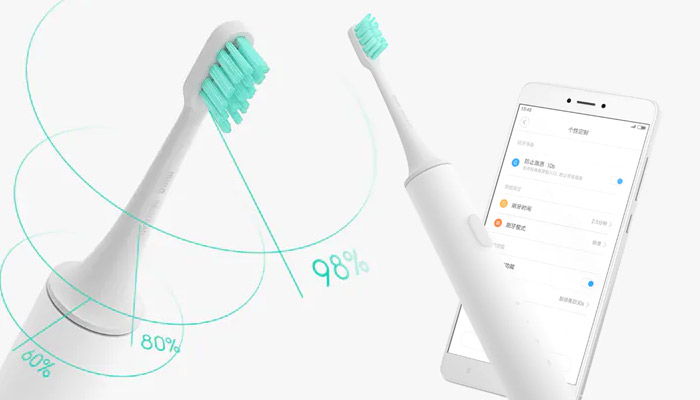 Xiaomi MiJia Sonic Toothbrush
Never picked an electric toothbrush ever? We can't blame you. Come to think of it, we've been taught to brush our teeth the conventional way even before we learned the alphabet. It doesn't help that most oral hygiene brands put ridiculous price tags on the item. Decently priced, the Xiaomi Sonic Toothbrush should be a great entry to the world of precise brushing.
The Mijia Sonic Toothbrush has a sonic motor that revs brushstrokes of up to 31,000 per minute, instantly resulting in a thorough clean. While the raw figure might scare those with sensitive gums/teeth, you can actually set the brush to a gentle cleaning mode.
Customize the brushing experience in-app via the Mi Home application, which also keeps track of data like brushing duration, evenness (whether you've dedicated equal amount of time to every tooth), and coverage (if you've brushed every tooth). It's a bit of a missed opportunity that the toothbrush and the app can sync data only after every brushing session, though.
Tech Specs: High-efficiency magnetic levitation motor, high density metal-free brush head, 3 cleaning modes, app control with Bluetooth function, 6 built-in sensors, charging dock, compact body with IPX7 waterproof rating, 700mAh Li-ion battery, 12+ hours charging time.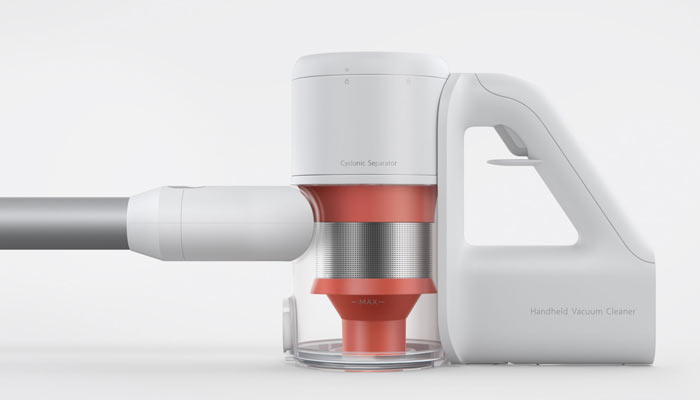 Mi Handheld Vacuum Cleaner
The Mijia Cordless Vacuum Cleaner looks like it's designed to go toe to toe with Dyson's best with its high-end configuration and impressive power.
Suction power and battery life are the primary selling points of any wireless vacuum cleaners and the Mi Handheld Vacuum certainly holds its own in this regard. With a nominal capacity of 100 AirWatt (350 Watt) and an engine speed of 100.000 RPM, the vacuum delivers a sizeable 23.000 Pascal (Pa) suction power. And with its 9-cone tornado engine technology and 350W DC brushless digital power motor working together, you can spot-clean everyday dust and dander on carpets, floors, and upholstery with absolute ease.
On standard mode, the Mi handheld vacuum can run approximately 30 minutes but lasts much less on turbo. Clearly designed to hit hard and fast, the Mi Handheld Vacuum gets rid of everyday mess like some fodder character in a slasher film.
Tech Specs: 350 Watt brushless motor, 23.000 Pa suction power, speed 100.000 rpm, dust locking system, multi-function brushes, 9-cone fan, built-in battery, 30 min. standard runtime, 60 min charging time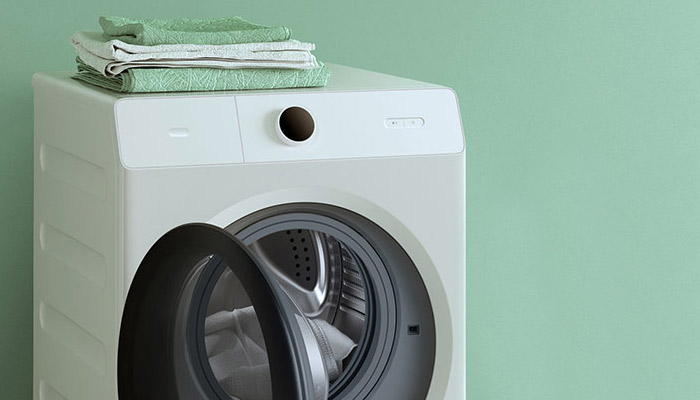 Xiaomi MiJia Internet Washing Machine and Dryer Pro
The Mi Washing Machine + Dryer comes with features brilliant enough that you'd wonder how anyone haven't thought of it. It has smart detergent dispensing mechanism and it even supports remote control function via Mi Remote app, which essentially turns your Android smartphone into a universal remote control for your washing machine and many other IoT products. Just don't try using it to prank a friend's smart home setup… that'd be felony.
Xiaomi's smart washing machine and dryer comes programmed with 21 washing modes (e.g. strong, daily, air washing, baby, fast, single dehydration, etc.). In case you haven't been paying any mind to your weekly visit to the launderette, note that most washing machines are limited to 10 washing modes. And for families with rather curious kids, there is a child lock function provided, too.
"Smart" isn't something you often associate with washing machines, but the Mijia Internet Washing Machine and Dryer Pro seems to be the exception.
Tech Specs: BLDC variable frequency motor, 21 washing modes, 10kg load capacity (washing), 6kg load capacity (drying), 134 lbs, 120V, steel material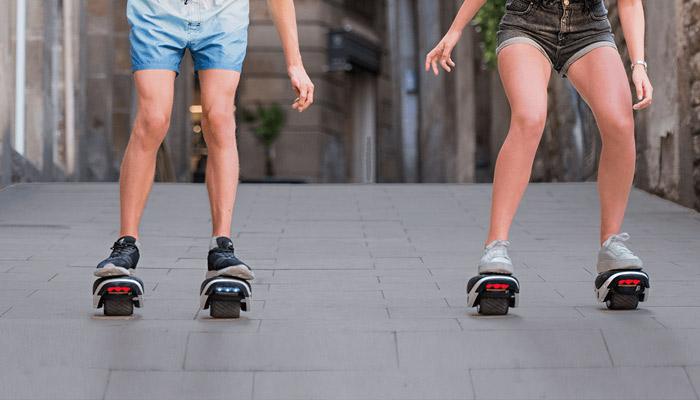 MiJia Ninebot Balance Wheels (Drift W1)
If you've been hunting for an unforgettable Christmas gift to surprise your nieces and nephews, or even your child, the Xiaomi Mijia Ninebot Double Balance Wheels might just be the perfect pickup. Time to scratch those outdated hoverboards off your list for a change, shall we?
By the looks of it, these futuristic roller skates are designed to match the foot of a child aged 5 and up. Xiaomi indicates that the maximum load you can put on the wheels is 80kg, which means kids-at-heart can always hop on them for kicks, too.
While you'd naturally wonder if mastering these awesome playthings will come at the price of bruises and broken teeth, the makers of the Ninebot Double Balance Wheels insist that it'd literally take three steps before your little rascals will be zipping by pavements and parks on these rollers. All your young 'un has to do is balance, indicate the direction, and she'd be off!
Tech Specs: Self-balancing design, Ninebot integrated design, alloy-integrated die casting chassis, 18650 Battery pack + BMS system, 80kg weight capacity, 10 km/h max speed, 80 min. running time, intelligent BMS, segway-ninebot integrated design, safety alarm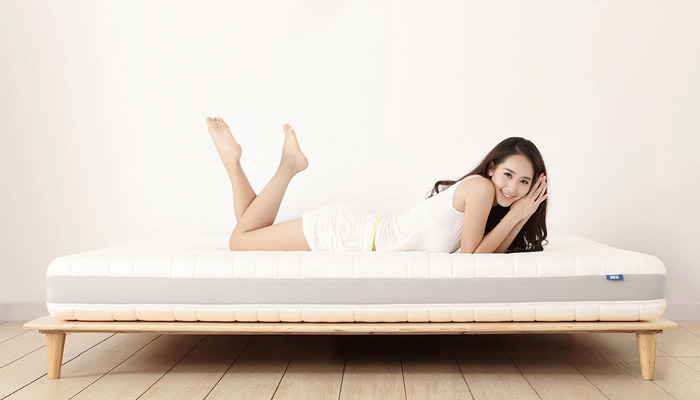 Mi 8H Latex Mattress M3
Technology has been designed primarily for the purpose of comfort and Xiaomi goes full-on tongue in cheek on that adage with the Mi 8H Latex Mattress M3.
This Xiaomi spring mattress boasts of impressive cooling features, but the highlight of the product is its individually acting reinforced carbon steel springs. The springs afford motion isolation and that means your significant other won't feel your movement during sleep. It helps if he or she isn't a light sleeper, but it'd be much better getting a hand from this cleverly designed product. The mattress is even built with 7 zones with varying spring firmness to ensure proper body alignment as you get a shuteye. Why aren't all mattresses made like these?
From the looks of it, the Chinese brand is certainly serious about putting everyone in the Xiaomi tribe to bed.
Tech Specs: Eco-friendly materials, cooling features, perfect body support, individually acting springs, hypoallergenic and antibacterial latex, waterproof cover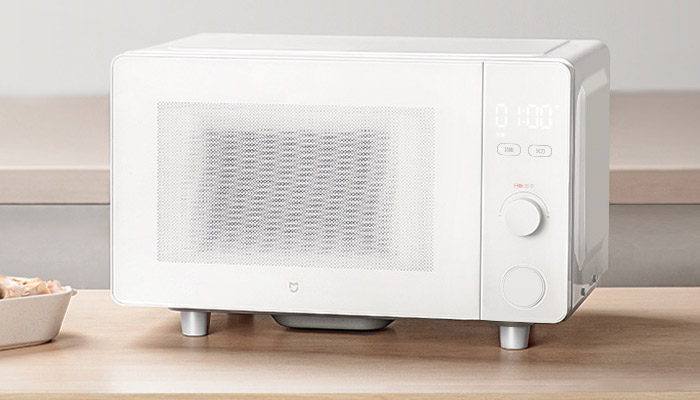 Xiaomi Mijia Smart Microwave Oven
For folks constantly on the go, a microwave oven is an absolute godsend. Just pop in a ready meal, wait for a few seconds, and that's lunch! This Xiaomi smart oven will have you coming home to chilli crab linguine or venison lasagne at a touch of a button on your smartphone.
The Xiaomi Mijia Smart Microwave Oven isn't just "smart" by virtue of its app control capabilities. It also has built-in WiFi module so you can operate the appliance by voice command via Xiaomi AI speakers. The Mi app even comes built with 11 selected recipes for a one-click cooking.
What makes this smart oven better than the ones you find on the market? One word: price. Don't be surprised if this smart piece of technology slowly becomes an essential piece in kitchens across the country.
Tech Specs: Omnidirectional microwave reflection, 700W Toshiba-imported magnetron, flat panel heating, 60-second high-fire fast-heat mode, four cooking modes, 20L capacity, Wi-Fi 802.11 b/g/n/ 2.4GHz module support, remote control via mobile app and Xiaomi AI speakers, 10.8KG
Let me know in the comments below, what's your favourite Xiaomi gadget?
More Xiaomi awesome will be added soon!
FAQ – Who are Xiaomi Mi?
Officially Xiaomi, but sometimes called Mi for short, let's find out who the heck this Chinese manufacturing giant is?
Confusingly, the 'MI' logo actually stands for 'Mobile Internet' but someone in the branding team decided it looked better with a small case 'i' in the product range, hence the Xiaomi Mi range.
Xiaomi was officially founded in April 2010 as developers of their own Android operating system MIUI. After a few series of funding, Xiaomi went on to announce their first smartphone, the Xiaomi Mi 1 which was released in 2012 featuring a Snapdragon S3, 1GB or RAM and a 4 inch display.
In the beginning, they were online only but then went on to open their first physical store in China, in 2015. Just two years later in 2017, Xiaomi celebrated opening their 100th store and continue to expand inside & outside of China.
Fast-forward to 2023 and Xiaomi are a household brand that millions of people around the world trust for their sleek minimalist design and long lasting build quality.
Side Note: I recently visited their store in Singapore which had a clean white Apple-like feel to it, but ultimately, was lacking a lot of the more recent Xiaomi gadgets.

After successfully manufacturing smartphones, Xiaomi was on the lookout to expand its product lines. It did and still does this by acquiring smaller tech companies. It then integrates them into their product line.
You can see examples of these as they often have their own Xiaomi labels: Xiaomi Mi (smartphones), Xiaomi Redmi (budget smartphones), Xiaomi Yi (camera & home security), Xiaomi MiJia (Cameras), Xiaomi SmartMi (smart home), Xiaomi Ninebot (electric scooters / vehicles) and so on…
FAQ – Can you trust Xiaomi?
Wait, hang on. Didn't you just say that Xiaomi is based out of China? Can we really trust a Chinese company with our data?
I'm going to start by saying that I'm not a cybersecurity expert. And then continue with… Xiaomi have been releasing smartphones for 6 years with little incidence.
Personally, my experience with Xiaomi has been positive and we recommend their products here at Review Hub.
So back to the question… Can you trust Xiaomi? So far, they've got a proven track record of being trustworthy and reliable.