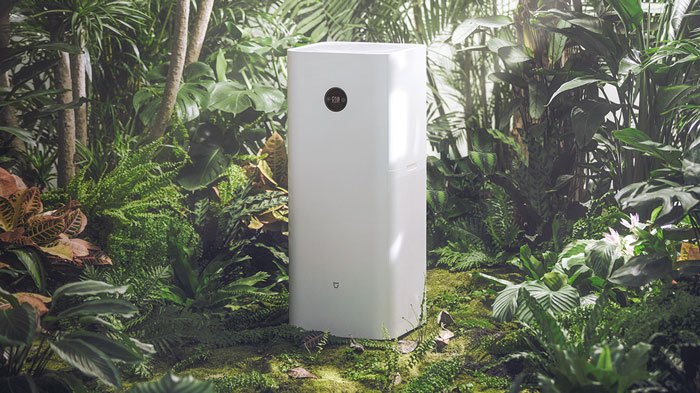 You wouldn't be reading this article if you didn't already know that air in your home is filled with potentially harmful particles such as pollution, VOCs, pollen, dust, mould spores and pet dander.
But did you know that allergies on the rise with 20% of Brits affected according to Allergy U.K. That's why it's more important than ever to find a reliable solution.
I live part of each year in Southeast Asia, where I wage my yearly battle against pollution. You might say I've become a bit of an expert with over 20+ purifiers having made their way into my home over the last 5 years.
While they didn't make it into this list, The Ultra-Premium Dyson Air Purifiers offer great all-in-one solutions for those without a budget.
My adopted city in the mountains of Thailand regularly makes it onto the top 10 most polluted cities in the world chart between Feb & April each year, with PM2.5 levels of 400+. (The perfect testing grounds).
But… I bet you didn't know that cooking indoors even with an extraction fan turned on can send your PM2.5 levels skyrocketing.
So whether you're trying to combat pollution, allergies, dust or smells, every air purifier on this list has been hand-selected for its value-for-money, filtration abilities & smart features.
There's even one that comes with an inbuilt probiotics mist diffuser… but first, here's our No.1 Home Air Purifier Choice!
The Best Home Air Purifiers – 2021 Edition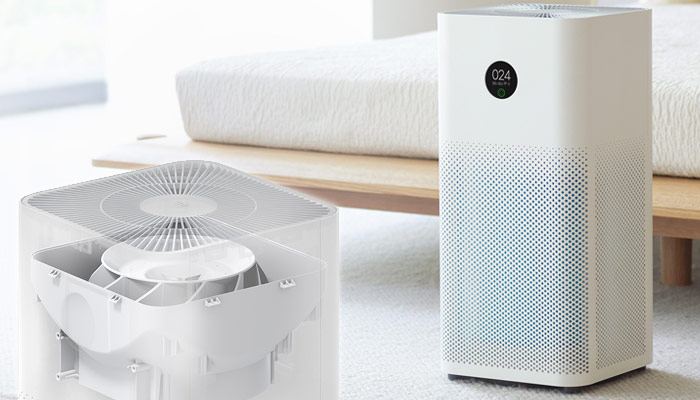 No.1 Xiaomi Air Purifier 3H – The Best All-rounder Air Purifier
✔️ HEPA13 Filter
✔️ Quiet Fan
✔️ Stylish Design & Touch OLED Display
✔️ Xiaomi Smart Home App
The Xiaomi Air Purifier is our number one choice for the best air purifiers on the market. It's a low-cost option, that comes with many features typically reserved for much more expensive purifiers.
This model has an impressive CADR of 300m³/hr – meaning it can clean up to and beyond 300 cubic meters of air per hour. That enough for apartments or a large room in a house. In 2019, Xiaomi also upgraded all their air canisters to HEPA13 models for improved particulate extraction.
It also detects humidity, temperature and has malfunction alerts built-in letting you know if it's been turned off or unplugged.
Now Xiaomi makes a whole range of Air Purifiers, so why the 3H?
While on paper, it looks very similar to the 2H, 2C (cheaper options), it has some advantages. For starters, you can fully control it via the touch panel for easy adjustments. No need to open the app to quickly change the fan speed.
And the main advantage is noise. The fan on the 3H is around 30% quieter thanks to its suspended fan design.
I've personally been using Xiaomi Air Purifiers for around 4-5 years and my original 2S still works great!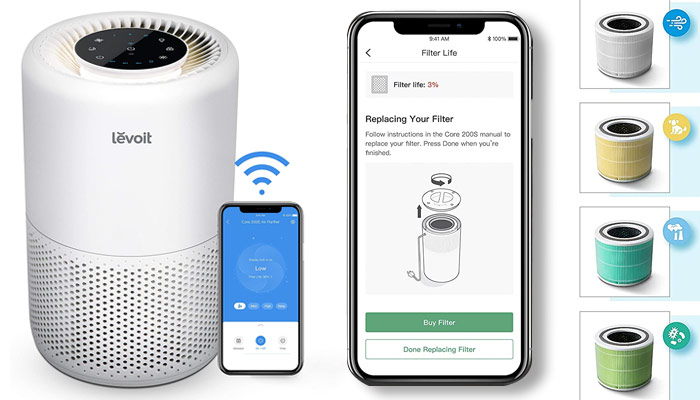 Levoit Core 200S – Small But Mighty!
✔️ HEPA13 Filter
✔️ Great For Small Rooms
✔️ Levoit App + Alexa Voice Control
Levoit has jumped on the smart bandwagon and upgraded its super-popular range of air purifiers with a smartphone app. Look for the 'S' at the end of their names, as they also make the 400S which is designed for larger rooms and comes with the same smarts.
If you're buying an air purifier to combat a specific pollutant (Mould, Pets or Toxins), you'll be happy to know Levoit has 4 targeted filter systems to choose from. Each one also includes the HEPA13 cylindrical filter so you're not losing out.
Good for rooms of up to 17m2, this little purifier is one of the quietest we've tested with an exclusive night mode for those that don't want to be disturbed.
Well worth checking out, if you're only looking to improve the air quality in a smaller room.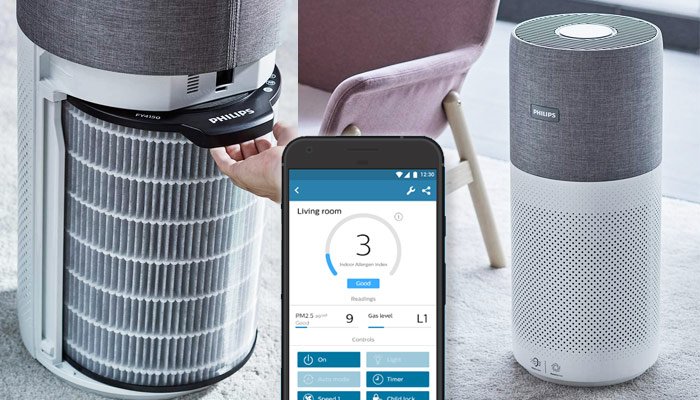 Philips Expert Series 3000i Air Purifier (AC3033/30)
✔️ HEPA13 Filter
✔️ Premium Design
✔️ Auto-Ambient Light
✔️ Philips Smart App + Voice Control
Again, I'll admit this is again on the pricey side, but it has a few tricks up its sleeve that'll separate it from the competition.
The Philips AC3033/33 belongs to their flagship 3000 Expert series. This means it uses their most advanced filters yet (HEPA13 and then some), which can filter out particles 0.003 microns of size. That means that pretty much everything including virus, pollution, gas and bacteria. Plus the usual pollen, pet dander etc.
And yeah I know, you're still thinking about that hefty price tag, but in terms of air filtration (520 m³/hr) it can handle rooms as big as 125m² … that's 2-3 times what most others on this list offer. That means you can either purifier a bigger area or keeps those fans running much quieter.
Oh and let's not forget that it has a beautiful Scandinavian fabric-wrapped design that'll add a little Hygge to your home.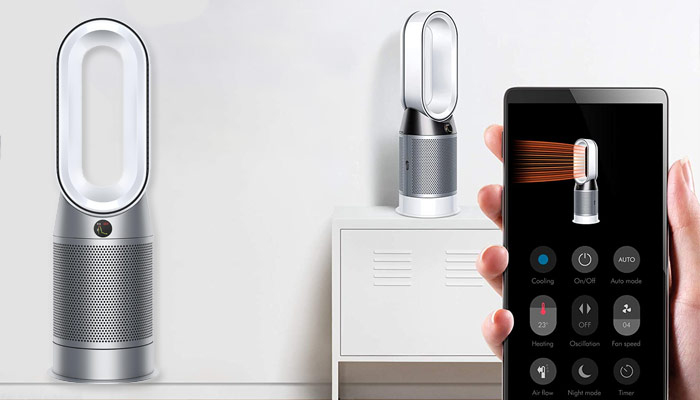 Dyson Air Purifier Hot & Cool – Heater, Fan & HEPA Air Purifier
✔️ HEPA13 Filter
✔️ Hot & Cool Air
✔️ Alexa Voice Enabled
I bet you didn't know that Dyson also made an Air Purifier. Well, it's a bit of a go-go-gadget fan that not only removes PM2.5 but also can send targetted heat your way.
Certified asthma and allergy friendly, this really is a unique device from the innovative guys at Dyson. There's also a taller model that has a much larger fan but loses the heating functionality.
Also well as the iconic bladeless design, this purifier is packed with tech for live PM2.5 readings as well as being voice-ready via Alexa.
So what's the catch? Well… it'll make a serious dent in your wallet.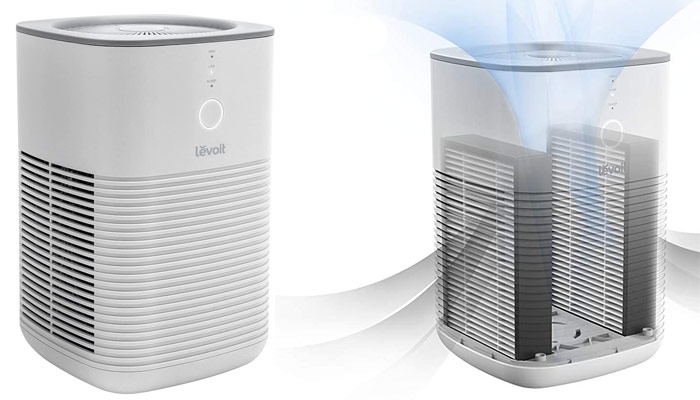 Levoit Dual Filter Desktop Air Purifier – Great Design
✔️ Dual HEPA13 Filter
✔️ Lights Off Quiet Night Mode
✔️ Low-cost Filter Replacements
Another great air cleaning option for small rooms is the Levoit Desktop Purifier. Although named the desktop, there's no reason you can't use it on the floor either. Suitable for rooms between 10-15m², the minimal design would fit anywhere.
Since there's no PM2.5 detector built-in, you'll have to either use a portable one or just trust the purifier is doing its job. The filter is HEPA13 with a dust cover and activated carbon layer to reduce odours as well.
Backed up by a 2-year warranty, you can't go wrong with this neatly design yet budget-priced air purifier from Levoit.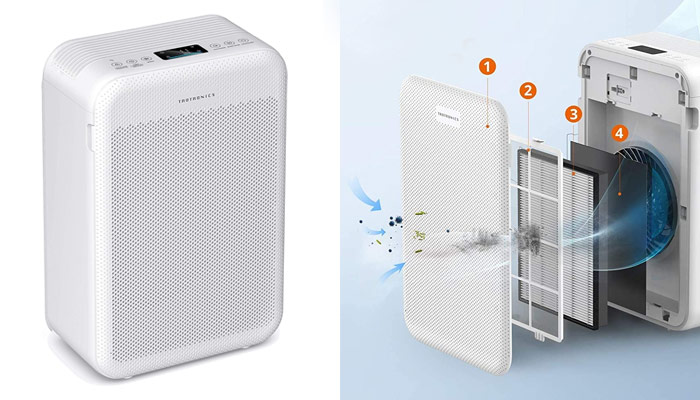 TaoTronics Air Purifier – Great for larger spaces
✔️ HEPA13 Filter
✔️ Colour PM2.5 Sensor Display (+Sleep Mode)
✔️ Low-cost Filter Replacements
The Taotronics Air Purifier ditches the smarts in favour of traditional 6 manual buttons. It's a no-frills option that offers a bright PM2.5 sensor reading on top and thanks to its minimal design will blend into your easily.
It made it onto this list thanks to its low-cost filter replacements and quiet fan. On fan speed 1 & 2 with a substantial airflow coming out the top vents thanks to a max CADR of 236 m³/h.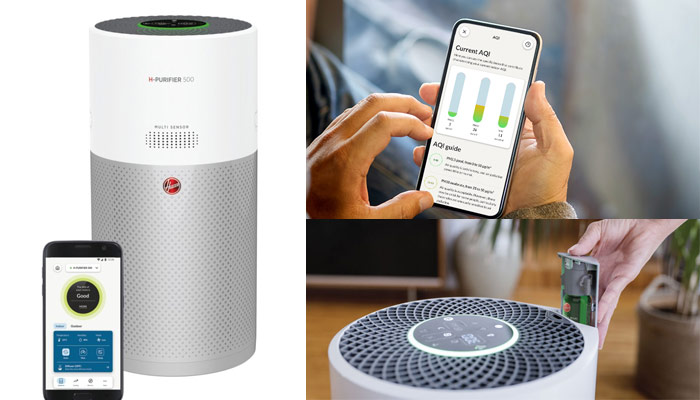 Hoover H-PURIFIER 500 – Something a little different…
✔️ HEPA13 Filter
✔️ Smart Pollen Modes
✔️ Alexa & Google Home ready
✔️ Large-room Suitable
How about an Air Purifier that comes with a compartment to your essential oils, or Probiotic mist?
That's exactly what the Hoover H-Purifier 500 is offering, to coat your home in either some natural smells or a special coating of probiotic (good bacteria) mixture which they claims will kill the bad bacteria.
Okay, let's forget about the whacky mist for a minute, as that's optional and let's see what else the H-Purifier 500 has to offer.
It's got a serious sensor inside which keeps an eye on Carbon Monoxide, VOCs, PM2.5, PM10 as humidity & temp. It uses a simple colour-coded light ring on top or you can set up alerts in the app. It's Google Home & Alexa-ready as well as having a built-in retractable power cable.
The downside? It's a tad expensive for both the unit and the filter replacements.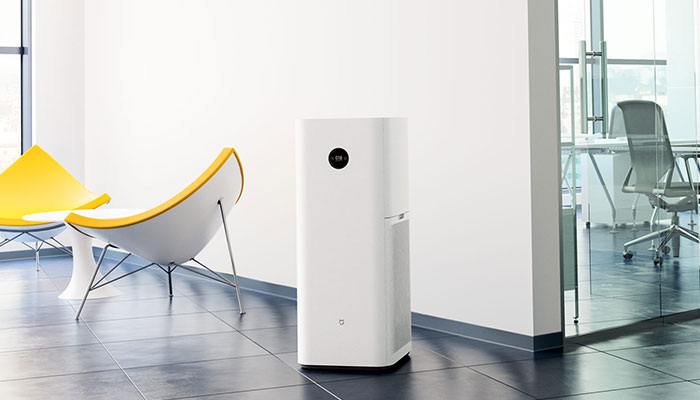 Xiaomi Air Purifier Pro – The Best For Large Rooms / Homes
Now if you're lucky enough to live in a house with rooms over 100m2 then I'm jealous, but you'll be needing something a little more powerful to clean your air.
That's where the Xiaomi Air Purifier Pro comes in. It's a beast, twice the size of the 3H, but uses the same minimal design allowing it to blend into your home without a problem.
If however, you don't live in such a spacious abode, then you're much better off buying multiple purifiers and setting them up in each area of your home.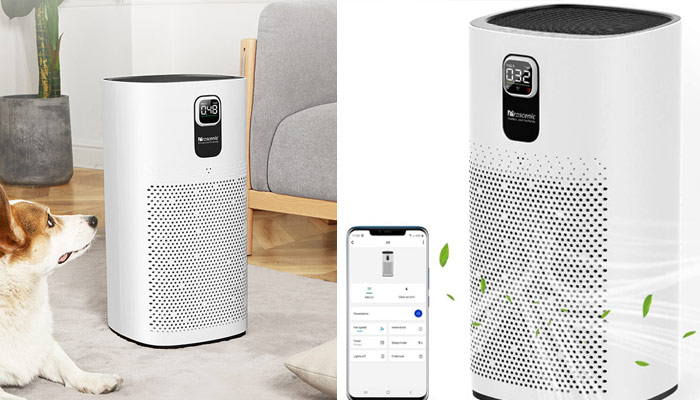 Proscenic A9 Air Purifier – Worth a mention.
✔️ HEPA13 Filter
✔️ Smart Pollen Modes
✔️ Alexa & Google Home ready
✔️ Huge Airflow – 460 m³/h
Thanks to a quiet-ish but powerful fan, the Proscenic A9 manages to circulate the air in your room quickly without disturbing you.
It has 5 physical buttons on the top, but you'll want to download the app where you can take full control of the A9 Air Purifier.
Apart from a cheesy tagline under the Proscenic logo 'Endless Love For Family', the design of the unit is clean. It's very much a clone purifier of the 3H above but that's not a bad thing.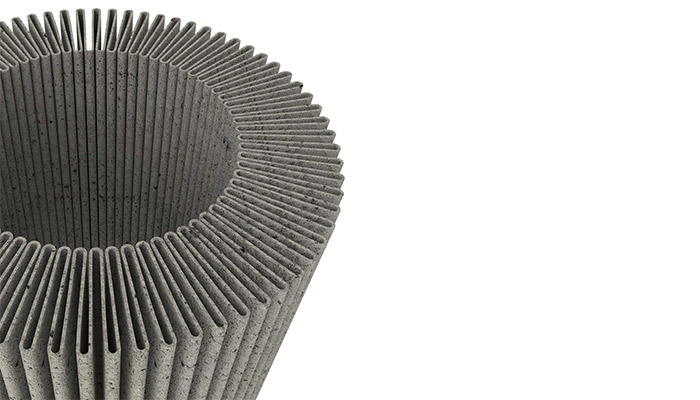 Air Purifiers FAQ
If you've never owned an air purifier before, then you're bound to have some questions. We've answered the most common questions below, but if you need any advice just leave us a comment and one of our team will do their best to help you. : )
Is it important to use an air purifier?
Air purifiers are important for many reasons. Air pollution is the biggest concern, due to its short and long-term effects on our respiratory system.
Airborne particles have been linked to asthma attacks and other lung diseases like chronic obstructive pulmonary disease (COPD). Air quality has also been connected with heart conditions, as well as cognitive decline and dementia.
Air pollution is also connected with other health risks, such as cancer, Alzheimer disease, Parkinson's Disease and more.
Studies have shown that those living in areas where air quality is poor can experience a variety of physical ailments from eye problems to neurological conditions. Air purifiers are an effective solution for many people who may be experiencing these health issues.
The way that air purifiers work is by taking the indoor air and removing chemicals, particles and odours that would otherwise be present in your living space.
Air quality can have a major impact on those with asthma or other respiratory conditions as well as allergies. The most effective air purifiers will remove about 99% of all particles
What is a HEPA13 Filter?
HEPA (High-Efficiency Particulate Air) filters are designed to trap and remove particles. A HEPA filter does not reduce gases, which is why they don't work well for smoke or carbon monoxide.
HEPA filters are rated A, AH and H13. The higher the rating (A being lowest), the better they filter air particles.
While all three ratings are capable of trapping 99% or greater of airborne particulates 0.03 microns in size, a HEPA 13 can also capture larger particles such as pollen and pet dander.
HEPA13 vs HEPA12
HEPA13 filters have an efficiency rating of 99.97% for particles as small as 0.12 microns in size, whereas a HEPA 12 filter is rated at 98%.
The higher the efficiency, the more effective your purifier will be at capturing all sorts of pollutants from your air and protecting you from them!
How to make your Air Purifier's HEPA13 filter last longer?
If you're using a HEPA13 filter, it's important to have your filter replaced when necessary. However, there are some things you can do to help make the filter last longer.
Turn off air purifiers in rooms your not using them. Most smart air purifiers allow you to set schedules up. So if you have regular work hours, you can set the air purifier to turn on 30 minutes before you arrive home.
Apply 3M Filtrate to the outside of your filter.
What is sleep mode on an Air Purifier? And should I use it?

Sleep mode on air purifiers is a mode where the fans spin at a much slower speed, so are quieter, often the unit will also turn off any lights as well.
I'm personally not a fan of sleep mode on air purifiers. That being said, I enjoy the white noise hum of fans and air-con units. If you pick an Air Purifier with a smart app, like the Xiaomi options above, they'll let you tailor the fan speed RPM very finely. This way you can choose the best balance between noise and low PM2.5 levels.
My rule of thumb is that if your PM2.5 levels are low enough when using the 'sleep mode', then that's great. If not, turn up the fan speed a little.