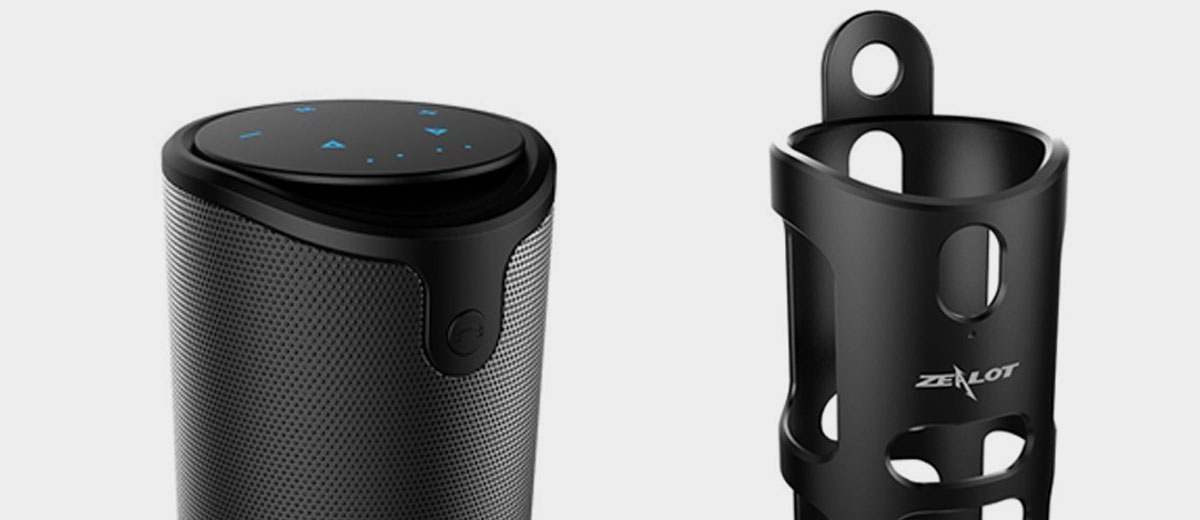 The Zealot S8 seems to have it all… but… with one big flaw…
Whether you're at a summer picnic, chilling at the beach or dancing in your bedroom… if you're anything like me? (coughawesomecough)… you'll always have your Bluetooth speaker by your side!
The latest Bluetooth speaker to fall into my lap is the Zealot S8. It stands out from the crowd by offering some vibrant colour choices, a bike-ready silicone mount and an inbuilt micro-SD card slot so you can save battery and ditch the BT connection altogether…
For me, there are three components that go into turning a Bluetooth speaker from a piece of junk… to a lifetime music buddy! It's portability, ruggedness, battery life and most importantly… sound quality!
…the Zealot S8 delivers with a premium design…
So that's exactly what I'll be judging with the Zealot S8 portable speaker in this full hands-on review! But first, check out my Pro's & Cons.
This week's best Zealot S8 deals below…
Pros
Bluetooth Connectivity
Doubles up as Power Bank
Soft touch plastic cover
SD card playback
Cons
Heavy (423g)
Sound quality
Distorts at high levels
LED flashes while playing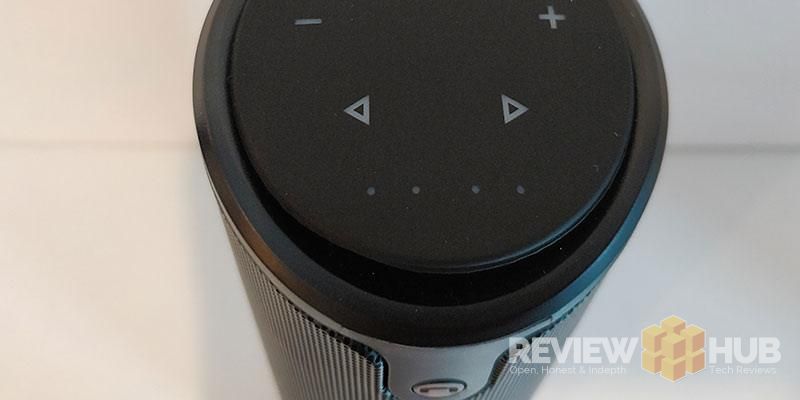 Sound Quality & Features
The speaker is designed with adventurous types in mind as it fits snugly in your bikes water bottle rack. They've even included a caribena which you can slip through the silicone case and attach to your bike for extra support.
One unique feature is the addition of an SD card slot meaning that you can play music without using Bluetooth. The SD card function is super simple & easy to use. Once you slot the card in the speaker it will say 'music mode' then you can use the controls on the speaker.
To test the Zealot S8 speaker's sound quality I listened to a variety of music from some bass heavy Dubstep, to a cheeky bit of Mozart and some of my favourite Bieber hits (guilteee). I found that the highs and mids are clear though lacking a full sound and verging on the tinny side.
While the highs are very clear and piercing which is perfect for Podcasts, when you've got a track with stacks of bass or a low singing voice, the bass levels lack clarity and sound muddy.
If you're a bass head that loves blasting your speaker, you'll be feeling deflated as the volume distorts just as much at 50% as it does a 100%…but at least its consistent, right?!
… Perfect for Podcasts …
Overall the sound quality is poor. The bass is lacking clarity and it focuses too much on the treble leaving an overall sound that lacks richness.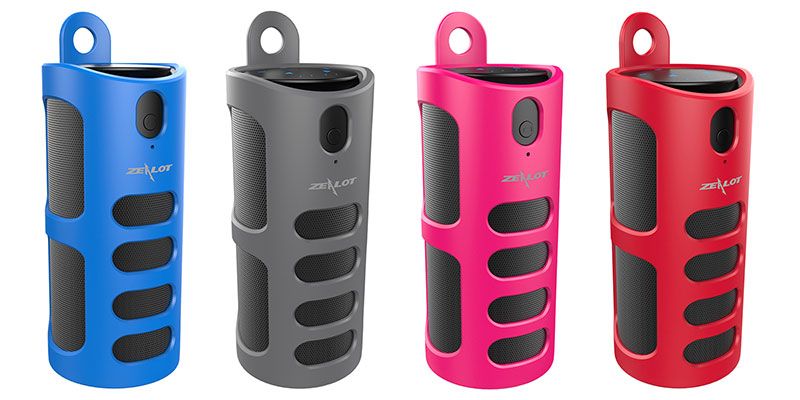 Design & Build Quality
Overall the Zealot S8 speaker has a satisfyingly premium feel and weight to it. The speaker feels solid and doesn't creak when you squeeze or twist it.
To control the speaker you'll find 4 soft touch buttons which are used for the volume, skip and the mysterious 'M' button. There's also 4 handy blue LED bulbs for the volume indicator although rather annoyingly these flash while the speaker is in use.
Impressively, nearly the whole body of the speaker is covered with the speaker grill though disappointingly most of the time we still only get forward facing sound.
At the back, you'll find a soft plastic flap covering the on/off switch, SD card slot, USB port, 1.5 mm headphone jack and the mini USB charging port. This is definitely a useful feature to keep dust and dirt out of the ports when you're cycling through muddy puddles!
Overall the Zealot S8 is stylishly designed though frustratingly, the silicone cover does pick up a lot of fluff during use, as you can see in the picture below.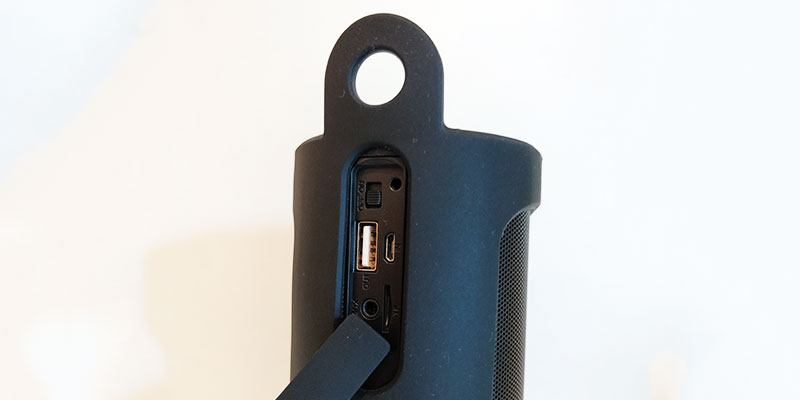 Battery Life & Connectivity
The Zealot S8 is powered by a 4000mAh battery which although promises 12 hours I still got a respectable 8-10 hours playback to party to. Testing the Bluetooth connectivity strength, I managed to get a clear signal through multiple walls and up to 8 metres away from the speaker.
For those lazy listeners, the speaker even gives you an audio announcement when the battery is low so there's no need to even check the device.
The call function which will answer cell phones calls but not calls over WiFi like Facebook or Whatsapp. To answer the call you simply press the phone symbol and the call will connect immediately.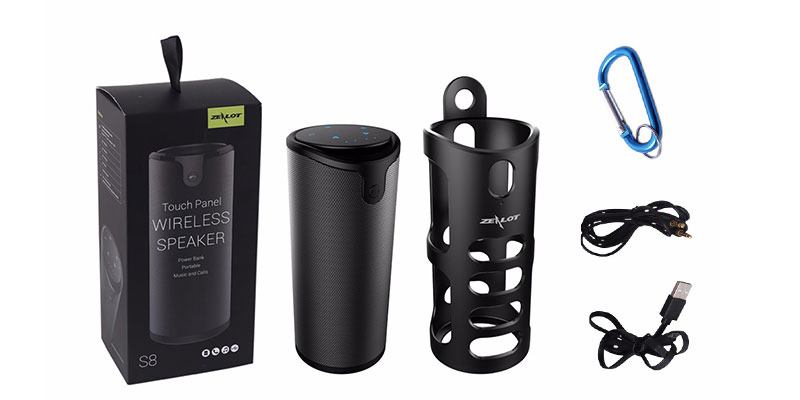 What's in the box?
The Zealot S8 speaker comes in a premium well-packaged box with plenty of accessories. Inside the box, you'll find instructions, an aux cable, a black caribena, a instructions booklet and a charging cable.
The Zealot S8 Verdict
The Zealot S8 is a premium product which they've spent a lot of time designing but it lets itself down with the most important part… the sound quality.
I like the fact the speaker also doubles as a power bank and the protective case is a helpful extra if you're using the speaker whilst out and about.
Does the Zealot S8 cut the mustard? Not really…