The UHANS MX is the super-budget almost bezelless smartphone that you'll love! Budget-bezelless-heaven!
You'll soon be able to get your hands on the UHANS MX, a super-budget smartphone that comes with an impressive screen-to-body-ratio that's previously been reserved for much more expensive handsets. The MX doesn't fit the mould, as most handsets in this price range are made from cheap plastics, don't offer much in terms of design and certainly don't offer a tri-bezelless display!
With its sleek glass sandwich design, the UHANS MX really is a budget phone in disguise. Hurray… bezelless displays and premium materials have finally trickled down into the super-budget arena!
Compared to similarly priced phones like the Hafury Mix and the Blackview A7 3G, the UHANS MX is a front-runner with a much higher screen-to-body-ratio and that oh so glossy premium front and back glass. Where else can you buy a tri-bezelless phone for less than the price of your weekly groceries shop!?
… A Screen-to-body-ratio to make all your friends jealous! …
Not only does the little 5.2 inch MX punch above its weight in terms of the premium materials, it also features a front-facing fingerprint reader, 2GB of RAM and 16GB Storage plus Android 7. There's got to be a catch right?
Let's take a closer look at the UHANS MX in terms of Design, Display, Performance and Connectivity.
Super-budget Borderless Tech Is Here!  Check out the latest UHANS MX deals below…
The Good
Super Low Price Tag
Fantastic screen-to-body-ratio
Glass Sandwich Design
Front facing fingerprint reader
Slim design (8.5mm)
The Bad
No 4G
No LED notification
Bottom Camera Placement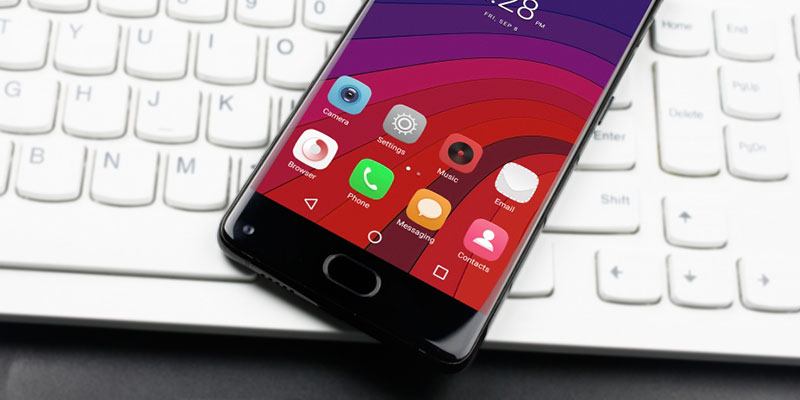 Design, Display & Build Quality
The UHANS MX comes with an impressive tri-bezelless 5.2 inch HD display that we normally only see on much more expensive smartphones like the Xiaomi Mi Mix. Although it isn't packing a full HD display (1280×720), I wouldn't expect it to as it is packing a super wallet-friendly price tag.
In terms of design, the UHANS MX features a sleek glass sandwich design with an aluminium metal frame holding the two sides together. At the front, there's the home button which doubles as the front facing fingerprint sensor. To the left of this is the selfie camera, which although its unusually placed at the bottom, there's a simple way to fix this problem! Just turn your phone upside down and it's like any other other selfie cam!
… Super-Budget Awesomeness Is Here! …
The UHANS MX isn't bezelless in its truest sense with the small bar at the top and a few mils either side but that doesn't matter because this phone is awesome and all about that screen!
Powering the 5.2 inch display is a non-removable 3000 mAh battery but with a resolution of 1280×720 coupled with a low powered mobile CPU, you'll easily be able to get a full days use.
While the UHANS MX isn't the lightest phone on the market weighing in at a hefty 184g, it doesn't really matter as it's one of the best-looking budget phones to come out recently!
Screen Tech Specs: 5.2 inch display, 720 x 1280 resolution, 282 PPI, IPS Fully Laminated
Colours Available: Black Only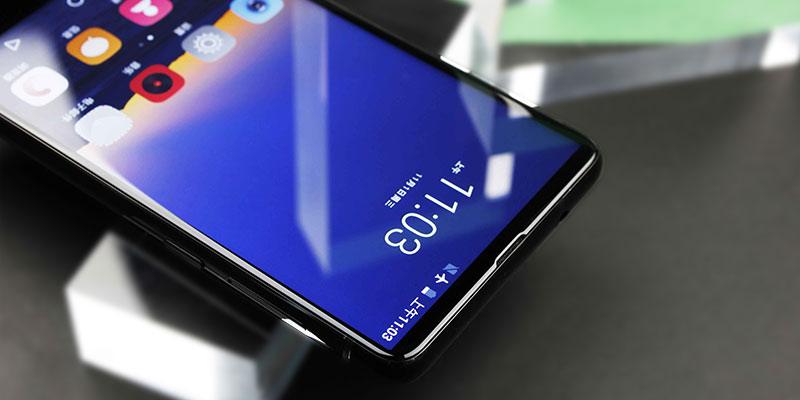 Performance
The UHANS MX comes with the MediaTek 6580 quad-core CPU that runs at 1.3 GHz. It's a budget chip that'll be great for light Android users who mainly use their phones for messaging, browsing and social media.
If you're looking for a gaming device you might struggle a little with the Mali 400-MP2 graphics as it's on the low end of the performance spectrum. 2D titles will run okay but you'll start to struggle with any intensive 3D games.
It comes with 2GB's of RAM and 16GB's of storage as standard with an option to extend this further to 128GB's with a Micro SD card. When we compare the UHANS MX to two similarly priced phones, the Blackview A7 3G and the Hafury Mix, you find that the MX wins on both occasions.
Vs the A7, the MX has twice the onboard storage (8GB vs 16GB) and compared to the Hafury Mix where the hardware specs are almost identical, the MX's design and display are streets ahead.
If you know of a budget 3G handset that beats the UHANS MX then make sure you comment below!
CPU: MediaTek MTK6580 (1.3GHz Quad-core)
GPU: Mali 400-MP2
RAM: 2 GB
Storage: 16GB (expandable Micro-SD 128GB)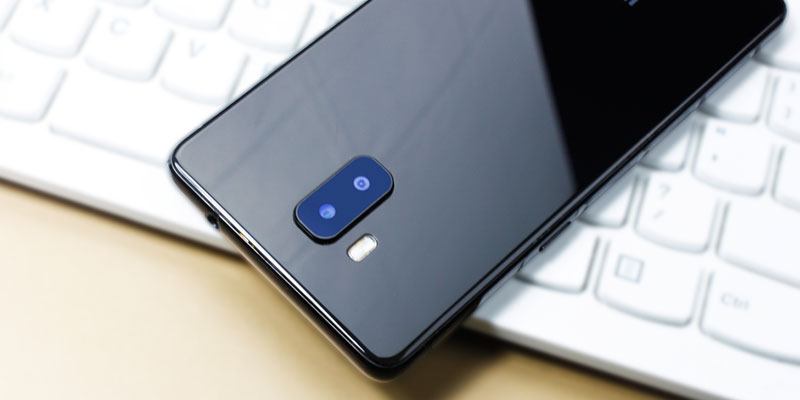 Camera
UHANS hasn't given anything away about the performance of the camera so far only mentioning the basic specs online. Once we get our hands on a retail unit we'll be able to give our full camera review, but until then, don't expect great things… Since it's in the super-budget price-bracket… expect super budget photos!
You never know though, the MX has been full of positive surprises so far and we might get lucky again with the camera. I'll update this with a full sample album soon.
Rear Camera:
8MP
Dual Lens Setup
Dual LED Flash
Front Camera (Selfie time):
What's in the box?
You'll not only be getting the beautiful tri-bezelless MX smartphone, also included is a: USB wall charger, micro-USB to USB cable, instruction booklet, 2 screen cleaning wipes and a screen protector.
The addition of a screen protector is nice, but I would have liked to have seen a case as well which is becoming the standard for lots of mobile brands. Ahhh, we can't have it all though, especially at this price!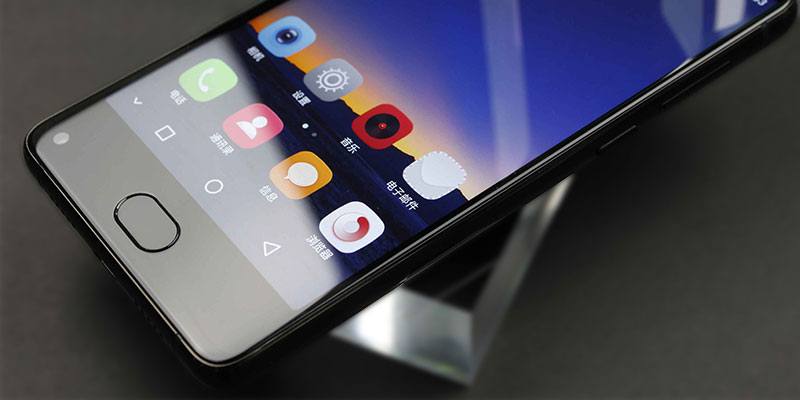 UHANS MX – The Early Verdict
The UHANS MX is a great option for light Android users who want an affordable but stylish phone.
I'm sure teenagers will be rejoicing everywhere this Christmas when they unwrap a phone that not only looks awesome but also keeps mum & dad's wallet happy!
But… the MX isn't just for kids as its smaller 5 inch display coupled with its overall small form factor is going to appeal to adults as well. In a world where it's not uncommon to see 6 inch smartphones squeezed into the back pocket of skinny jeans, the 5 inch MX is a refreshing alternative.
The best feature of the MX that blows away all the other competition in this price-range has to be that beautiful display! While it's not edge-to-edge, it covers most of the front of the phone rivalling some of the best (much more expensive) phones this year!
If you can live without the 4G, and only play the occasional light game, then you'll be more than happy with the UHANS MX. Review Hub Recommends!
See the latest UHANS MX Deals below…
Tech Specs & Connectivity
Looking for the UHANS MX Tech Specs? We've got you covered in our full details table below. And don't forget if you've got any questions just head to the comments section.
UK Network Coverage? Yes, the UHANS MX comes with full UK Support for all carriers.
| | |
| --- | --- |
| Smartphone | UHANS MX |
| Screen Size | 5.2 inch |
| Pixel Density | 282 |
| Screen Resolution | 720×1280 |
| Screen To Body Ratio | |
| Screen technology | TFT IPS Fully Laminated |
| Thickness | 8.5mm |
| Weight | 184 grams |
| Material | Glass Sandwich / Aluminium Frame |
| Colors Available | Black |
| Storage | 16GB |
| Processor (CPU) | MediaTek MTK6580 (1.3GHz Quad-core) |
| Graphics (GPU) | Mali-400 MP2 |
| RAM | 2GB |
| Android Version | 7 Nougat |
| IP Rating (Water, dust) | NO |
| Micro-SD Card Tray | Yes – Uses 2nd SIM Slot (128GB max) |
| Notification LED |  NO |
| Finger Print Sensor | YES (Front / Home Button) |
| Infrared | NO |
| USB Type | Micro-USB |
| 4G Bands | NA |
| 3G Bands | WCDMA: 900, 2100MHz |
| 2G Bands | GSM: 850, 900, 1800, 1900MHz |
| SIM Support | Dual SIM – Nano x 2 |
| WiFi | 2.5 GHZ |
| GPS Tech | GPS |
| Bluetooth Version | 4.0 |
| NFC | NO |
| Sensors | Ambient Light Sensor, Gravity Sensor, Proximity Sensor |
| OTG | |
| Battery Size | 3000 mAh |
| Fast Charging |  NO |