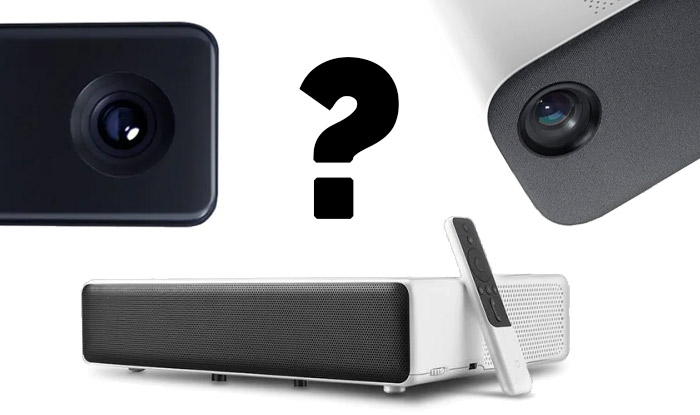 Now that Xiaomi has multiple projectors retailing, let's find out which is the best fit your home cinema setup
Only a few years ago, Xiaomi had one projector available for sale, their original MiJia 1080P Laser Projector. But with Xiaomi's growing base of companies, expert knowledge and cutting edge tech facilities, they now have 4 different models to choose from.
Related: Best Xiaomi Stuff You Didn't Know Existed
From ultra-performance 4K laser projects like the Xiaomi WeMax One Pro to ultra-portable optical options like the Xiaomi MiJia Home Projector.
But the question is: Which Xiaomi Projector is right for your home setup, budget and preference? By the end of this article, you'll have the knowledge to decide if a Xiaomi projector is the right fit for your home cinema setup.
I'll explain the pros, cons and features of each mode and link to our full projector reviews when available.
Side Note: All the Xiaomi projectors listed below can output a minimum native 1080P picture. All have included remotes, but support full control via the Xiaomi App.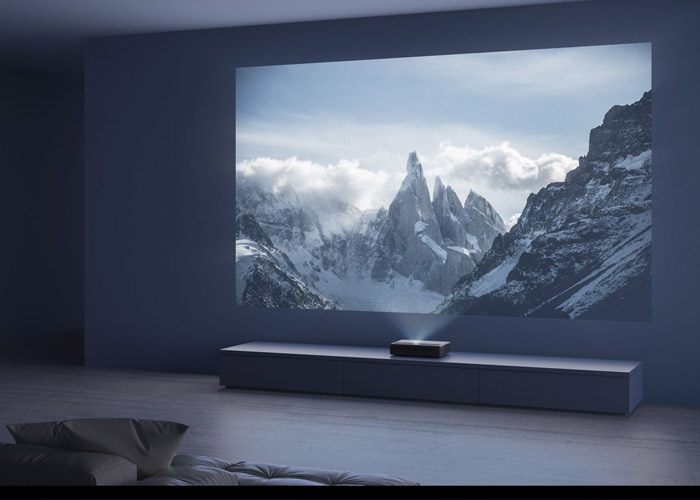 Xiaomi MiJia Laser Projector 4K (WeMax One Pro)
The successor to the Xiaomi WeMax One (non-pro), this updated short-throw laser projector now boasts a native 4K resolution.
While traditional projectors need to be roof-mounted or awkwardly placed behind your sofa, the WeMax One Pro can project a 150″ image from only 50cm. You can easily replace your giant imposing TV setup for a small minimally designed black box, all while doubling your image size. Exciting right!?
And thanks to the projector position, the inbuilt speakers are sound direction sounds natural and is perfect for casual watching. Movie-time though, you'll want speakers with a bit more oomph. If your neighbours aren't complaining… then you can't really call it a home cinema setup.
In a dark room, this projector can't be beaten thanks to its epic size, 4K resolution, candy popping colour reproduction and even HDR10 support. You're dealing with a top-end projector that'll transform your living room into home cinema setup your friends will be jealous of.
Now, it's not all good news. Even with the impressive 5000 lumens created by the ALDP laser, it can't compete against your TV's brightness in the daytime.
There is a way to overcome this and it comes in the form of an anti-light projection screen. This works by accepting light only from below and blocking light from other directions. This gives you the daytime TV brightness levels while being minimal and stylish.
Xiaomi sells an official companion projection screen, or you can check out NexiTech's 3rd party installation of an advanced anti-light projection screen here. There is a downside though, these screens are expensive and very heavy.
My advice? Get some blinds and, maybe if you're dedicated, paint your walls as well.
Price: $$$$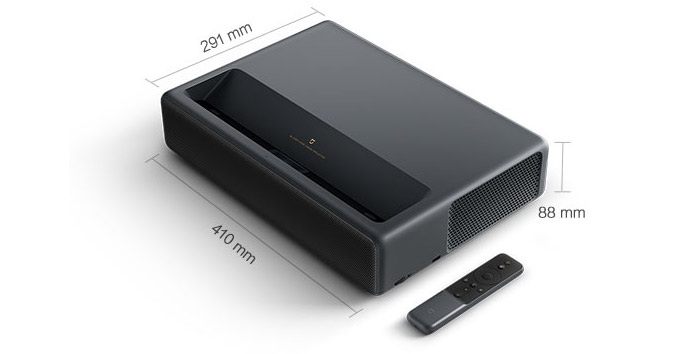 Xiaomi WeMax One Pro – Key Specifications
Projection Type: ALDP Laser
Recommended Screen Size: 80″ – 150″
Native Resolution: 4K (3840×2160) + HDR10
Sound: Inbuilt Speakers (Support: DOLBY + DTS)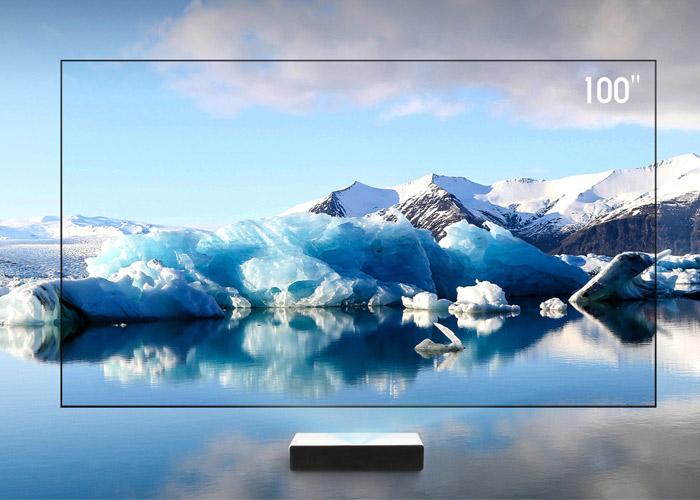 Xiaomi MiJia Laser Projector 1080P
Now that it's been a few years since the release of Xiaomi's first laser projector, there are some great deals available online.
It has many of the same features as the WeMax One Pro above but not the native 4K support. You get the same inbuilt speakers, HRD support and max 150″ short-throw design.
Now it's worth mentioning that while the Xiaomi MiJia Laser Projector supports 4K, this is very different from being able to project native 4K. The support aspect means you can input a 4K signal and the projector will downscale this to 1080P and then project a 1080P output.
Whether you pick this model over the WeMax Pro will depend on whether you want to future-proof your purchase (albeit at a price) and whether your content library is already heavy in 4K titles.
Price: $$$

Xiaomi MiJia Laser Projector (1080P) – Key Specifications
Projection Type: ALDP Laser
Recommended Screen Size: 80″ – 150″
Native Resolution: 1080P (1920×1080) HDR Support
Sound: Inbuilt Speakers

Xiaomi MiJia Projector (TYY01XM)

if you're starting to see a trend, it's that Xiaomi created beautiful looking projectors. The 1080P MiJia Projector is no exception it's dark powder-coated aluminium chassis and high gloss front panel.
Full Review: Xiaomi Mijia DLP Projector
The LED itself is protected by a glass lens and the cooling has been improved significantly thanks to the large perforated area and aluminium heat transfer. This means the inbuilt fan is barely noticeable.
The big selling point of this projector is simplicity. Setup is a breeze thanks to the 3-second autofocus and wide 45-degree trapezoidal correction. This means you can place the projector on a side table without any distortion to the image.
The image quality itself is good, but not excellent. Its suffers in daylight from typical washout, but, for the price, colours are punchy and accurate. You'll also need some room as unlike the short-throw projectors above, you'll need to place it 244cm away to get a 100″ image.
Inside there are 2x 10w speakers which are comparable to most decent TV speakers. Perfect for casual watching and YouTube but you'll want to add speakers for gaming and movies.
And this brings us to this projectors biggest weakness, connectivity. The Xiaomi MiJia projector only has a 3.5mm audio connection and is missing optical.
Finally, this projector can also be mounted to the roof by removing the 4 screws on feet and attaching the Xiaomi mounting plate. For me though, the selling point of this projector is the small footprint allowing you to easily set up when needed.
Price: $$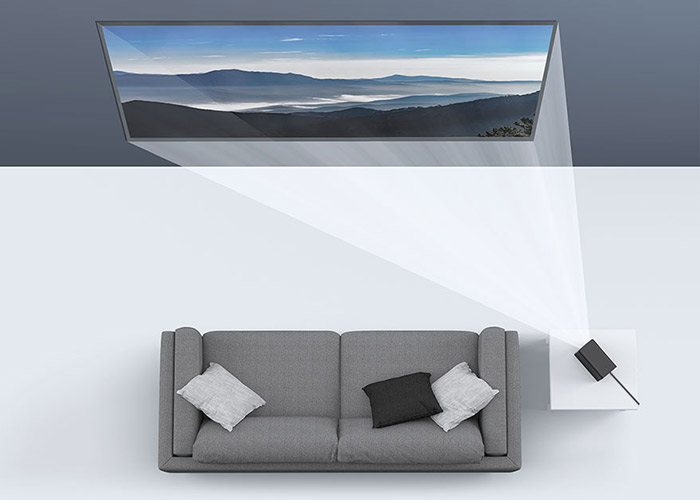 Xiaomi MiJia Projector (1080P) – Key Specifications
Projection Type: Optical LED (Texas Instruments TRP)
Recommended Screen Size: 60″ – 150″
Native Resolution: 1080P (1920×1080) HDR Support
Sound: Inbuilt Speakers (2x 10w | Dolby, DTS HD)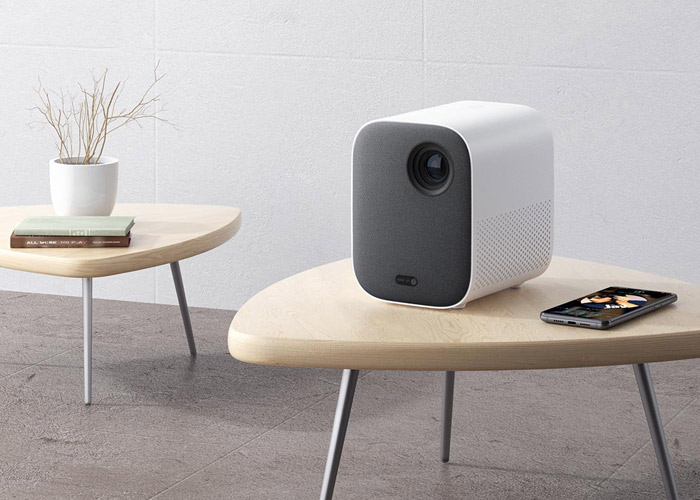 Xiaomi Mi Home Projector (Youth Edition, MJJGTYDS02FM)
The Xiaomi Mi Home Projector (Youth Edition) is the most portable of the bunch weighing in at only 1.3kg while still supporting a native 1080P picture. It's small with a height and depth of 15cm.
At around half the price of the MiJia Projector above, it's expected that we lose some of the premium design. Not a lot though as Mi Home Projectors white plastic shell coupled with a fabric front piece still outshines most of the budget competition.
Underneath the LED lens you'll spot that it's using a dedicated camera for the auto-focus feature. You can also tweak things though the settings for angles walls and keystone correction.
The picture itself is brighter than you'd expect in this price range, although still not a daylight-ready projector. Colours are punchy thanks to the 500ANSI brightness rating and even the speakers don't disappoint considering its size. They are clear with decent mids, but nowhere near the bass that you'd want for watching movies or gaming.
In terms of connectivity, we see the same as the MiJia 1080P, with a USB 3, HDMI and 3.5 audio jack. Great if you want to power a streaming stick or attach your portable hard-drive / memory stick.
Price: $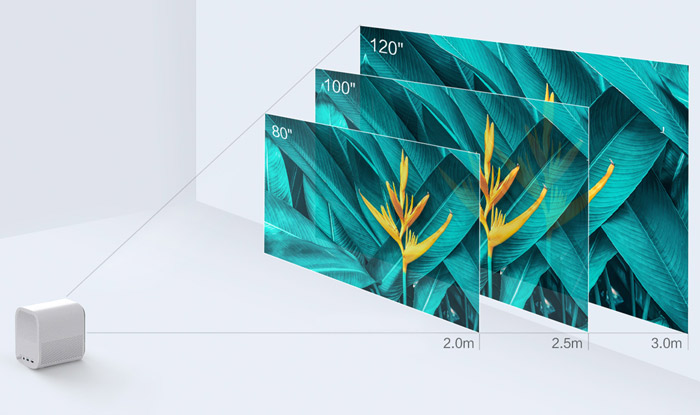 Xiaomi MiJia Projector (1080P) – Key Specifications
Projection Type: LED Optical
Recommended Screen Size: 80″ – 150″
Native Resolution: 1080P (1920×1080)
Sound: Inbuilt Speakers (Dolby, DTS)
---
Where to buy a Xiaomi Projector from?
Depending on where you're based, you can now head onto the high street and buy your next Xiaomi projector directly from the Xiaomi retail store. It's always wise to call ahead though, as I've visited Xiaomi stores in 5 different countries and they all stock different big-ticket items.
If you're not lucky enough to have a Xiaomi store nearby then don't worry as it's 2019. So you can head online and it delivered directly to your door. There's plenty of online stores that stock all the latest Xiaomi projectors. If you can though, choose a to have your item shipped from within your region to avoid extra import taxes.
Anything else I should be aware of before buying a Xiaomi Projector?
The first thing to be aware of that being an early adopter of Xiaomi products isn't always a good thing. Xiaomi products are created for the Chinese market first. So if you're importing a Xiaomi Projector you might have to either change the language settings or wait for an English ROM to become available.
Another point worth mentioning is that not all of the Xiaomi's inbuilt software will work in the west. So when buying as an early adopter or as a non-global version, you'll get access to all the functionality of the projector but not all the China specific media options (these include things like Voice Search, Western Apps).
You can sideload apps such as Netflix & YouTube.
Not a big deal, as you can easily attach the projector to your media streaming stick, phone sharing or computer.
Another con to buying Xiaomi products designed for the Chinese market is that it's not uncommon to see adverts in the OS. While Xiaomi products designed for European audiences manage to escape this.
What do you think of Xiaomi's projector lineup? Comment below.