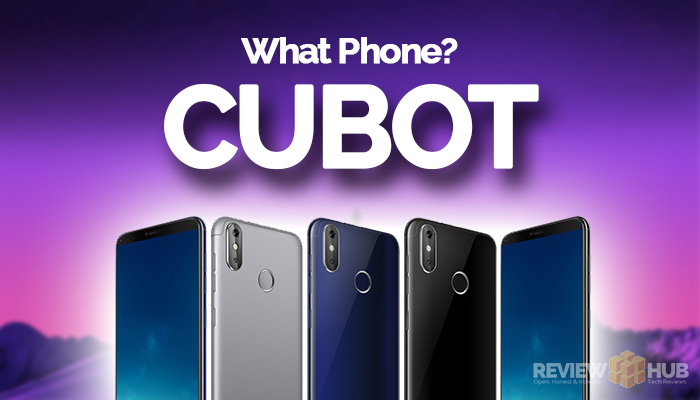 Update: We no longer recommend Cubot Smartphones to our UK readers. Please check out the following articles:
Cubot has released more than a few new smartphones over the last 6 months and that's why we've created this 'Top 5 – Cubot Phone Guide'.
This guide is here to help you decide if there's a Cubot phone out there that's perfect your smartphone needs.
Nobody wants to buy a new smartphone only to find out it's already a year old. Or worse, that it's slow, poorly built and quite frankly, a junk phone.
But can we trust the smaller mobile brands like Cubot?
Is a question I hear a lot, as well as "are Cubot phones reliable?" and "Surely you can't get a decent mobile phone at that price!?"
Well, the simple answer is yes. Yes you can.
Cubot has been working hard over the last couple of years to overhaul and improve its smartphone range. While they've always reliable, their 2017 smartphones lacked style compared to brands like UMiDigi.
Their most recent phones features better displays, improved designs and best of all… they keep the wallet-friendly price-tags.
So how do you get your hands-on a Cubot smartphone?
In the past, you had to crawl eBay or shop overseas to buy a Cubot mobile. Now you can find them at your local Amazon.
Top Tip: The best deals still come from the import market, where they often have sales of up to 50%. The downside… longer delivery times.
So let's get to it, here are The Best Cubot Smartphones Available in 2020.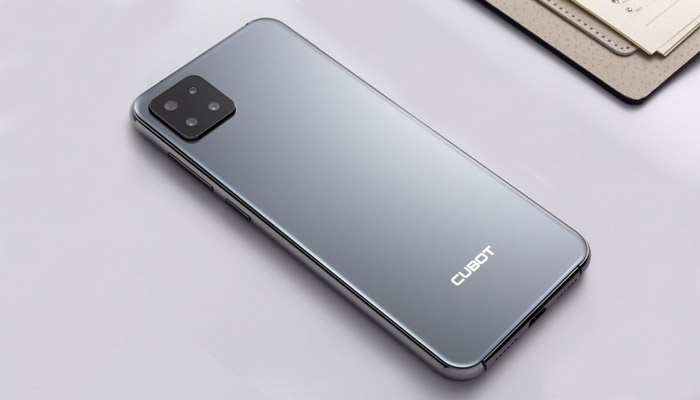 Cubot X20 Pro – New Flagship

It's official! Cubot has released its new flagship device. Replacing the X19 is the all-new glass iPhone 11 clone-phone, the Cubot X20 Pro!
Clone-phone or not, I'm not complaining when you can have Apple's good lucks combined with Cubot's ultra-low pricing. The camera setup on the X20 Pro isn't to be sniffed at either.
You can read our full review here: Cubot X20 Pro Review.
The Cubot X20 Pro is battling it out in the same price-bracket as our other Favourite Budget Phones.
Cubot X20 Max – Available Now

Cubot P30 – The Best Choice Cubot Phone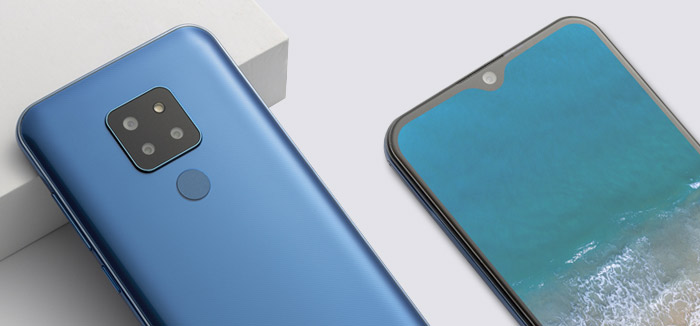 Why not save yourself a big chunk of cash by opting for the Cubot P30 instead of the Cubot X20 Pro.
While you are getting a slightly slower Android experience, you're still getting the same triple rear Sony camera setup, great battery life and the same excellent WiFi and 4G dual-SIM connectivity.
The display is Full HD, vivid and works well outdoors thanks to a high max-brightness. In your hand, the 6.3″ Cubot P30 is actually easier to manage as its 20 grams lighter than the X20 above.
We highly recommend the Cubot P30 as a great Android budget choice that doesn't compromise.
Cubot Power – The Beast (Performance + Battery Life)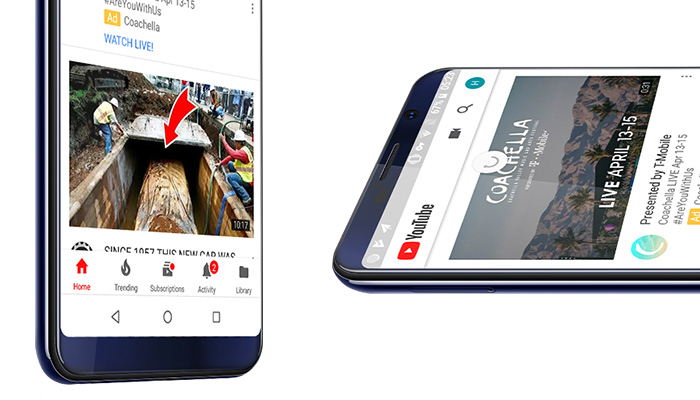 Relegating the Cubot H1, H2 & H3 to smartphone graveyard is the Cubot Power. Inside we find an enormous 6000mAh battery that will easily last you for 2-3 days charge-free. You can even charge your other gadgets via the inbuilt OTG feature.
Related: Smartphones With Amazing Battery Life (5000mAh+)
Although the Cubot Power is a battery-life focussed smartphone, it has managed to stay slim at only 10mm's thick. And it doesn't skimp when it comes to performance either. Featuring the excellent Helio P23 processor, coupled with 6GB's of RAM and 128GB's of storage, you could say it's Power-house.
If the Power sounds like a good fit for you, first check out our full Cubot Power hands-on review.
Finally, the Cubot Power offers a bright, vibrant and crisp full-HD display. Viewing angles are excellent and build quality is spot on. Originally on selling at the time of release for around the £249.99 mark, you can now pick one up for half that.
Cubot X19 – The All-Rounder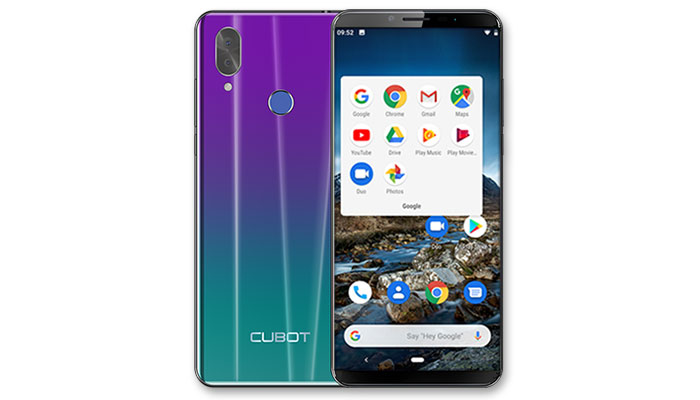 Available in a stunning twilight gradient or a high gloss black, the Cubot X19 encapsulates what you'd want from a low-cost smartphone. It's Stylish, Lightweight, Speedy & Cheap.
The Helio P23 Octa-core mobile CPU offers excellent performance which is backed up by a healthy 4GB's of RAM. Storage-wise, the 64GB's on offer is more than enough space, but if needed, you do have the option to add a micro-SD card (Max 128GB).
The display is super crisp thanks to Full HD resolution and also offers punchy colours, excellent brightness and slim bezels.
The final big positive you're getting with the Cubot X19 is a large 4000mAh battery. No need to worry about running out of juice halfway through the day with the X19.
Other key features include: an RGB notification LED, USB Type-C and a bloatware-free version of Android 9.
Cubot R19 – The Budget Beauty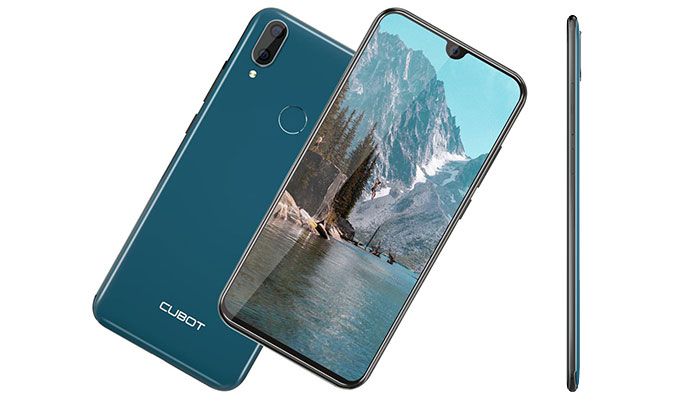 The R19 is Cubot's latest all-display budget smartphone. With a tiny camera cutout at the top, the HD display becomes the design wow-factor.
If you find most modern smartphones too big, then the modest 5.71″ display will be a big bonus. Another benefit of the smaller display (1520×720 resolution) is that it scores an impressively crisp retina PPI of 295.
Taking a look at the R19's performance and we see that it's powered by one of MediaTek's newer A-range Helio CPU's. These chips are designed to achieve the optimal balance between entry-level battery life and smooth Android 9 performance.
And that's good news as the Cubot R19 has a modest 2800mAh lithium-ion cell. Backing up the A22 CPU is a generous 3GB's of RAM and 32GB's of onboard storage (expandable up to 128GB Micro-SD). It's a true Dual-SIM device, with dedicated ports for 2x Nano-SIM and 1x SD Card.
Summing up, the R19 offers a decent entry-level display packed into a small form factor phone. While the fastest Cubot phone, the performance is solid and also features Cubot's signature bloatware-free version of Android 9.
Cubot P20 – Still Excellent Value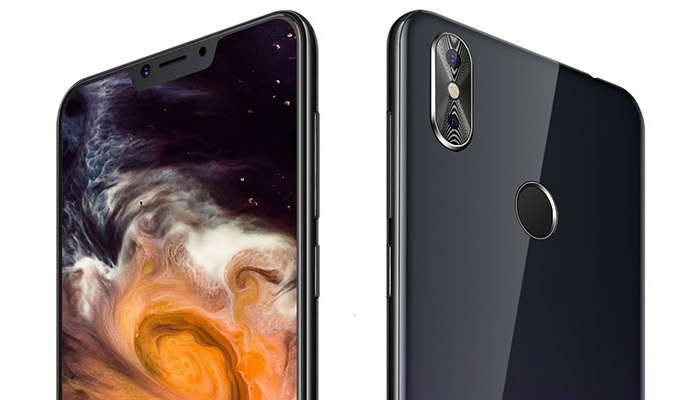 Update: The Cubot P20 was one of our favourite 2018 smartphones. I've left it in this list as even in 2019, it still has a lot to offer, but now at an even lower price-point.
The P20 was Cubot's first smartphone to feature a top notch. Love it or hate it, it's a vital step on the way to truly bezel-less smartphones.
If you want to know everything there is to know about this phone? Check out our full: Cubot P20 Hands-on Review
The huge 6.18″ display is again Full HD offering great viewing angles and colours that pop. While not one of MediaTek's Helio range, the 8-core MT6750T (1.5GHz) processor is more than capable of running Android smoothly. It features a big.LITTLE architecture which in simple terms means; you get improved battery life.
Using a slimmer screen design than the Cubot Power, the P20 comes with a 19:9 aspect ratio. This means that even at 6.18″ it's still easily held in one hand.
Related: The Cubot P20 made it into the Budget Section of the Best Bezel-less Smartphones. Check out the competition.
Cubot has also managed to keep the P20 slim with a thickness of only 8.5mm. All while squeezing in an impressive 4000mAh battery that's fast charge-ready. And wait there's more. It's impressively light at just 156 grams.
Other key features include Full UK 4G Support, 20MP Samsung camera, 13MP Selfie, 128GB expandable memory card slot and a bloatware-free version of Android 8.
Get your Cubot P20 while it's hot!
Cubot Max 2 – Your Netflix Companion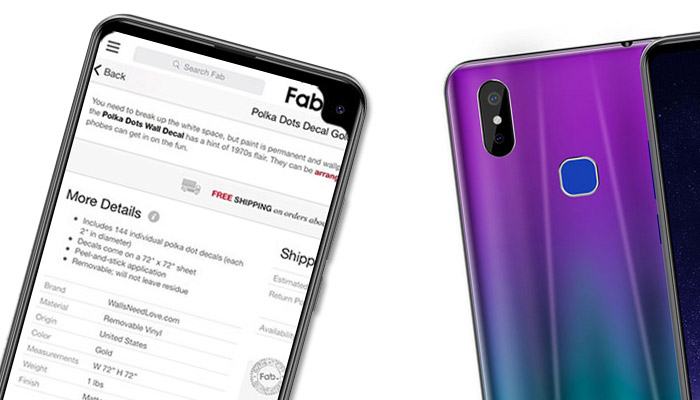 The bigger the better right? Well, how does a 6.8″ smartphone sound?
That's exactly what you get with the Cubot Max 2. Competing against the likes of the Xiaomi Mi Max 3, the Max 2 hits the sweet spot with mid-level performance and a massive 5000mAh battery.
Related: Smartphones with EPIC Battery Life
It's disappointing to not see a Full HD at this size display. With a resolution of 1352×640 stretched across 6.8 inches, we see a fairly low pixel density of 219. This doesn't affect videos too much, but up close, text lacks sharpness. On the plus side, the display is bright with vibrant colours.
Performance-wise, the Cubot Max 2 uses the capable Helio P22 chipset combined with 4GB's of RAM. This allows the Android 9 OS to run smoothly even with lots of apps open at once.
The onboard storage is 64GB's, and once again, it's expandable by up to 128GB. Although you will have to sacrifice the 2nd SIM slot in favour of a Micro-SD Card.
The Cubot Max 2 is a good alternative if you're budget won't stretch to the Full HD Xiaomi Mi Max 3.
Cubot Quest – The Tough Phone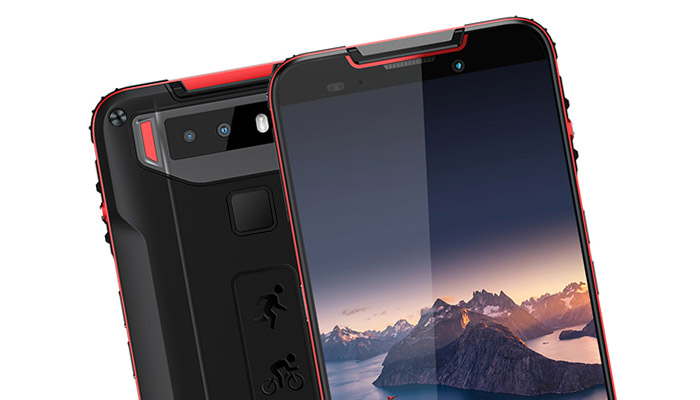 Cubot has been making tough & rugged smartphones for a few years now, but none have ever matched up to the fierce competition from Doogee & Oukitel.
It's good news this year though, as the Cubot Quest made it into our list of the Best Tough & Rugged Smartphones.
The quest takes a different approach to its tough phone aiming itself firmly at the budget end of the market. You can think of the Quest as a smaller version of the Cubot X19 above. Performance-wise the two phones are very similar.
However, the Cubot Quest offers: NFC, an IP68 Waterproof rating and protection against extreme weather conditions and drops.
Related: View all of our Waterproof Smartphones.
Leave a comment below with your favourite Cubot smartphone!
Thanks for taking the time to read this guide, if you found this article useful please share and feel free to ask any questions or share your experiences with Cubot phones in the comments below.