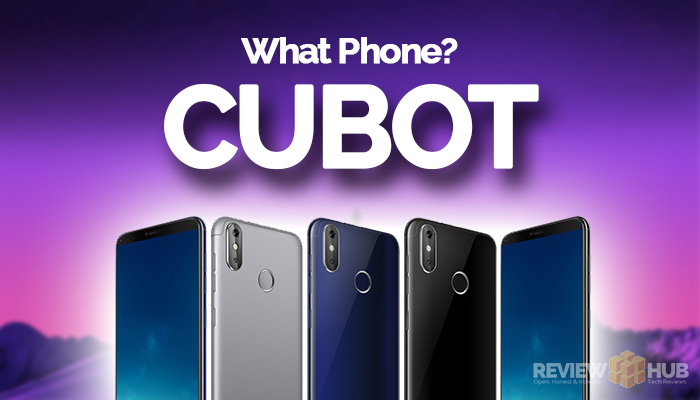 Cubot have released more than a few new smartphones over the last 6 months and that's why we've created this 'Top 5 – Cubot Guide'. To help you decide if there's a Cubot phone out there with your name on it.
Nobody wants to purchase a new smartphone only to find out it's already a year old, or even worse a slow, buggy nightmare of a mobile.
Since you've found this page, then you're most likely looking to grab yourself a Smartphone bargain. You're also probably a savvy mobile consumer who wants to reap the benefits of going for a lesser-known mobile brand.
But can we trust the smaller mobile brands?
Is a question I often here, as well as "are Cubot phones reliable?" and "Surely you can't get a decent mobile phone at that price!?"
Well, the simple answer is, Yes. Yes you can.
Cubot has been working hard over the last 12 months to overhaul and improve their smartphone range. While a little underwhelmed by Cubot in 2017, they've now made the jump to Android 8 Oreo for all their new 2018 releases.
While Cubot phones don't come with the latest designs, the thinnest bodies or flagship performance… (Update: Check out the P20 below!) they do get it right when it comes to reliability. While some manufacturers push out phones with buggy software and poor build quality, Cubot have always offered the finished product at fantastic prices.
How easy is it to get my hands-on a Cubot smartphone?
In the past, you had to crawl eBay to bag yourself a Cubot mobile. Now you can find them on your local Amazon (at a premium) and also on almost every popular tech e-commerce store. It's up to you whether you want to save big time by importing a smartphone or go for the convenience & speed of Amazon.
So let's get to it, here are The Best Cubot Smartphones Available in 2018. Check out our handy side-by-side comparison below before exploring all of the Cubot Smartphones in this Top 5.
Top 5 Cubot – Side-by-side Comparison
You can check out our side-by-side comparison below before we go indepth on the Pros & Cons of each smartphone.
You can often get a much better deal importing a smartphone, but you'll have to wait longer for delivery.
Model
Cubot Power

Cubot P20

Cubot X18 Plus

Cubot Nova

Cubot J3 Pro
Display
(Resolution)
5.99″ Full HD+
6.18″ Full HD+
5.99″ FULL HD+
5.99″ Full HD+
5.5″ HD (960×480)
Processor
8-cores
MediaTek Helio P23 (2.5GHz)
8-cores
MediaTek MT6750T (1.5GHz)
8-cores
MediaTek MT6750T (1.5GHz)
Quad-core
MediaTek MT6739 (1.5GHz)
Quad-core
MediaTek MT6739 (1.5GHz)
RAM + Storage
6GB + 128GB
4GB + 64GB
4GB + 64GB
3GB + 16GB
1GB + 16GB
Battery Life
6000mAh
4000mAh
4000mAh
2800mAh
2800mAh
Weight
215g
167g
175g
170g
154g
Amazon from
£269.99
£189.99
£169.99
£129.99
£94.99

Amazon

Amazon
Amazon
Amazon
Amazon
Amazon
Import from
£189.99
£109.99
£169.99
£94.99
£74.99

Retailers

GearBest
GearBest
GearBest
GearBest
GearBest
Cubot Power – The Beast (Power + Battery Life)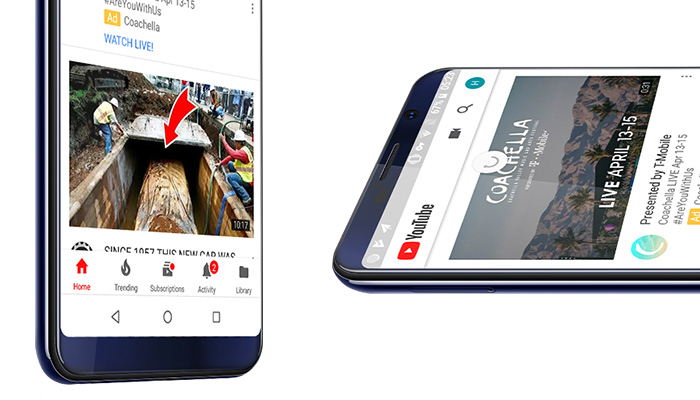 Relegating the Cubot H1, H2 & H3 to smartphone graveyard is the Cubot Power. If that name sounds familiar? It's because Ulefone originally coined it for their own big battery smartphone range (Ulefone Power, Power 2, Power 3, Power 3S & Power 5)
Related: Smartphones With Amazing Battery Life
Although primarily a battery-life focussed smartphone, the Cubot Power isn't shy when it comes to performance. It features the excellent Helio P23 processor, coupled with 6GB of RAM and 128GB of storage.
While the Cubot Power weighs in at a hefty 215 grams, thanks to that enormous 6000mAh battery, its stayed relatively slim at a pinch over 10mm. No easy feat with a battery that big.
Design-wise, the Cubot Power looks the part with thin bezels and the modern slimmer 18:9 display aspect ratio. The panel used is full HD giving a bright & vibrant picture.
So what's the catch?
Having a huge amount of, well… everything, comes at a price. The Cubot Power is the most expensive Cubot smartphone they've ever made coming in at £200 on the import market and £260 local.
Check out the links above as there are often big discounts to be had when importing. : )
Cubot P20 – The Notch'd Beauty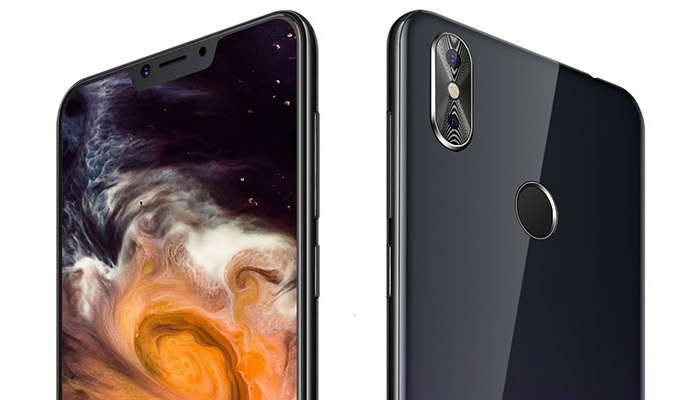 Named after the uber-popular Huawei P20, the Cubot P20 is their first smartphone to feature the top notch. Love it or hate it, it's a vital step on the way to truly bezel-less smartphones.
Full Review: Cubot P20 Hands-on Review
The huge 6.18″ display is Full HD and powered by the MediaTek MT6750T Octa-core processor. While not one of MediaTek's Helio range, the 1.5GHz still features big.Little architecture to help you save battery.
They slimmed the display down to a 19:9 aspect ratio, making the 6.18″ beast a little easier to grasp one-handed.
Related: The Cubot P20 made it into the Budget Section of the Best Bezel-less Smartphones. Check out the competition.
Cubot has managed to keep the P20's thickness at only 8.5mm while squeezing in an impressive 4000mAh battery (2amp fast charge). What's more impressive is that it only weighs 167 grams.
Other key features include Full UK 4G Support, 20MP Samsung camera, 13MP Selfie, 128GB expandable memory card slot and bloatware-free stock Android 8
I can tell already that the Cubot P20 is going to be a hot seller!
Cubot X18 Plus – Performance Meets Style

While the Cubot X18 Plus isn't their latest smartphone (released in March 18), it still deserved a place on this Top 5 Cubot List.
Featuring an impressive 4000mAh battery, a large 6″ Full HD display, 4GB of RAM and 64GB's of storage… it's got lots in common with some of my favourite 2018 smartphones!
This is all crammed into a sleek 8.5mm body that weighs in at only 177 grams. Compared to the X18 released around 3 months earlier, the X18 Plus dominates in every way.
The screen bezels are slim, the display edges are curved and the colours are crisp & vibrant. You can grab the X18 Plus online now for around £130 ($170 | €150), which is a steal.
Update: Or was a steal until they released the Cubot P20 above!
For more info & specs: Check out 'The Cubot X18 Plus – Overview'
Cubot Nova – Budget All-Rounder

One of Cubot's latest smartphones is the Cubot Nova. Available now, it uses one of MediaTek's latest power-efficient quad-core processors.
You can think of the Nova as a 'lite' version of the Cubot X18 Plus. It comes with the same high screen-body-ratio and design but downgrades the hardware, which upgrades the price (in a good way).
One of the most significant selling points of the Cubot Nova over the Cubot Note Plus is that the Nova comes with the latest Android 8.1 operating system. This gives it the latest security and software features from Google.
There's still an argument to be made for the Note Plus though. As it comes with that excellent Full HD display. (You can check out the Note Plus below after our Top 5).
Back to the Nova and we see 16GB's of onboard storage and you'll be happy to know that it comes with a dedicated Micro-SD card slot. This means that you can have 2 SIMs and a memory card all active at once.
Cubot J3 & J3 Pro (4G) – Super-budget Value Phone
The Cubot J3 & J3 Pro are both examples of what Cubot do best… Create super-budget smartphones!
Both phones come with 1GB of RAM, 16GB's of storage and run on Android Oreo – Go Edition. The Go Edition is Android's super-lean version of Oreo that let's lower-powered smartphones with less RAM run smoothly.
The Cubot Power J3 Pro has the addition of 4G, a larger 5.5″ display, newer MediaTek CPU and larger 2800mAh battery.
Now onto the best bit. On the import market, you'll be able to get your hands on the Cubot J3 for under £50 and the Cubot J3 Pro for under £75.
Cubot King Kong 3 – The Rugged Battery Beast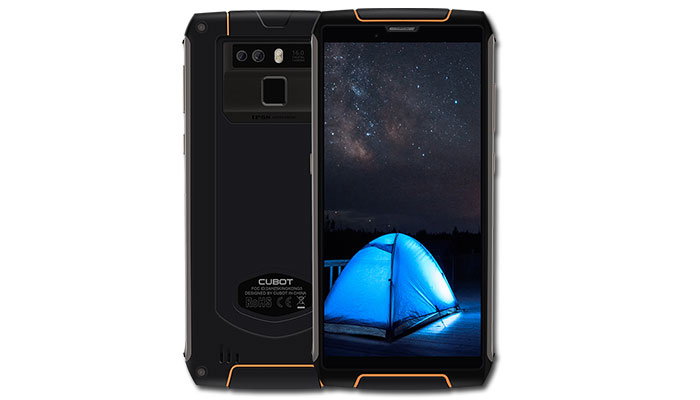 While the original Cubot King Kong (below) was more of a Kid Kong with its budget hardware and small battery, the King Kong 3 means business!
The battery had been bumped up to a healthy 6000mAh, we get 4GB RAM + 64GB storage (expandable up to +128GB), Android 8.1, the power-efficient Helio P23 8-Core chip, Type-C fast charging, dual-band WiFi plus NFC.
The drawback is that it doesn't use a full HD display opting for a 1440×720 Gorilla Glass 3 protected panel instead. For more information check out our Cubot King Kong 3 – First Look Review.
Interested in more Tough & Rugged smartphones? Check out The Best Tough & Rugged Smartphones – 2018 Edition.
2017's – Best Cubot Smartphones (Grab a bargain!)

Some of the 2017's Cubot smartphones can be picked up at bargain prices! These smartphones are definitely worth checking out!
Head to page 2 or use this: Link to Page 2 for some amazing deals