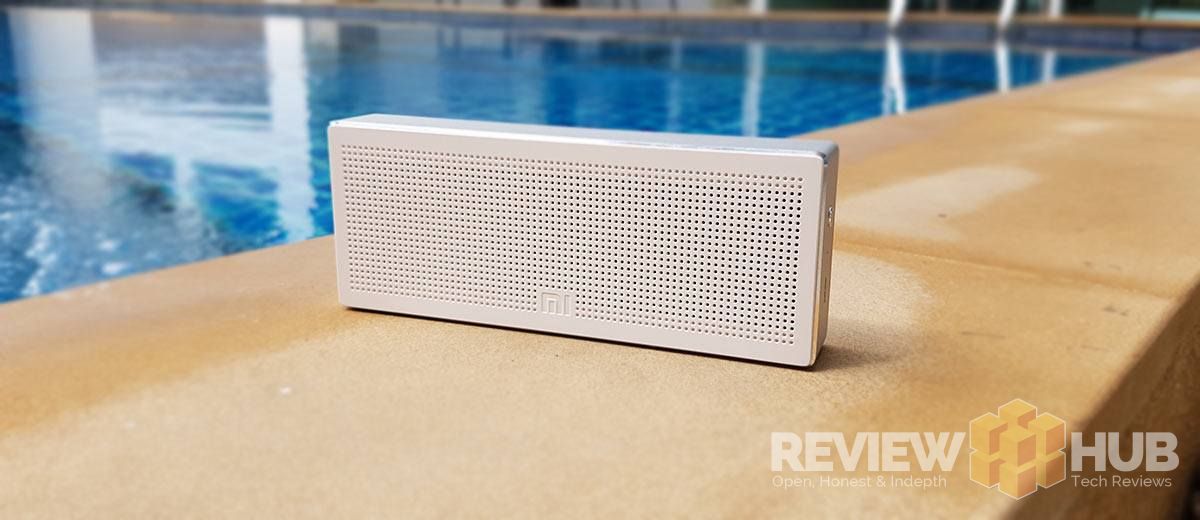 The Xiaomi Mi Square Box Speaker offers craftsmanship, battery life and a full rich listening experience…
Original Reviewed: 7/1/18 | Updated: 3/2/19
There's a reason why Xiaomi has taken the world by storm in recent years making innovative tech products left, right and centre while receiving high-praise from reviewers like me.
While it's not rocket science, Xiaomi managed to combine premium materials, excellent designers and a sense of minimalism altogether to create products like the Xiaomi Mi Square Box Bluetooth Speaker.
Packing 2 x 2.5watt speakers into a lightweight body sounds a lot like every other underpowered Bluetooth speaker out there. But… more watts doesn't always mean better sound which I found out during my ears-on time with the Mi Square Box.
Cranking up the volume up… you realise what a brilliant bit of audio kit it is… pick it up and you'll feel it vibrate wildly giving you a sense of its power… but, put the speaker down and the vibration disappears leaving you only with well equalised and rich sounds…
I'm going to let you onto a secret early in this review… the Xiaomi Mi Square Box speaker is awesome value for money and one of my favourite budget speakers ever!
Want to find out why?
Check out my Pro's & Cons before I deep dive into the Mi Square Box Design, Build Quality, Sound Quality, Battery Life & Connectivity…
Grab the best value small speaker available…
The Pro's
Rich Sound Quality
Portable & Lightweight
Premium Build Quality
Excellent Battery Life
Low Price-tag
The Cons

No Headphone Jack
No manual volume
Power Button Graphic Misaligned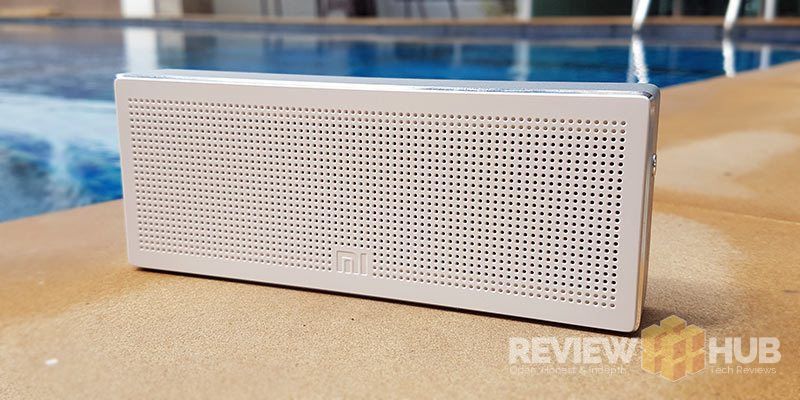 Design & Build Quality
If you've read my recent review of the Xiaomi Cannon Bluetooth Speaker, you'll know that Xiaomi are capable of producing high-end ultra-modern speaker designs. So the question is… does the Xiaomi Mi Square Box belong in the same award-winning category as its little brother?
Not quite… unlike the Mi Cannon, the Mi Square Box design follows that of a traditional Bluetooth rectangular speaker. There are two versions available, the Black Mi Square Box uses a honeycomb polygon pattern on the front and back, while the white version uses a more subtle circular dot pattern.
But… neither of these designs are particularly groundbreaking.
That isn't to say that the Mi Square Box isn't well designed or well-made. Quite the opposite. The Mi speaker is one of my favourite Bluetooth speakers and still gets used regularly thanks to it being sturdy, lightweight and having excellent sound quality.
The frame of the Mi Square Box is made from a single piece of thick aluminium with the edges being chamfered to a high-polish for effect. Where the front plastic speaker grill meets the aluminium is seamless showing excellent attention to detail.
Underneath there are two rubber feet which keep the speaker from slipping and also help to dampen out the vibrations created by the drivers inside.
Looking at the right side of the speaker you'll find the single button which has a premium click to it, although, on my unit the power symbol printing was slightly misaligned.
Xiaomi have done a great job with the Mi Square Box speaker design & build-quality, the cold aluminium and sturdy frame feels great to hold and it oozes a level of craftsmanship not found on most plastic speakers. My only quibble is the button symbol alignment.
Colours Available: Black Honeycomb & Minimalist White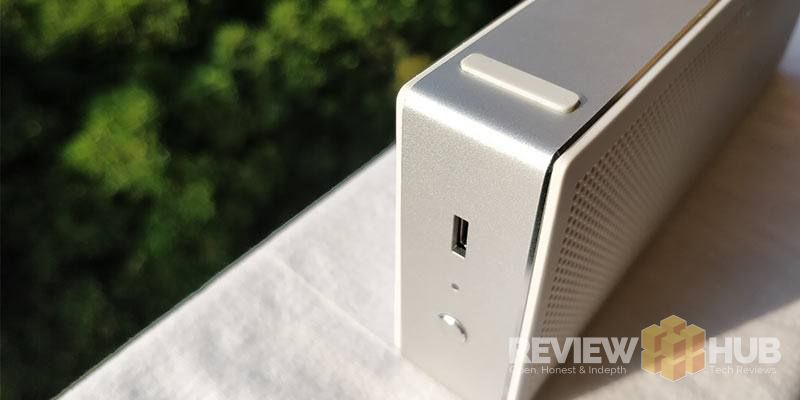 Sound Quality
The most important part of any Bluetooth speaker review has to be the sound quality. It can be the fanciest, best designed speaker in the world… but… if it can't punch out rich undistorted sound then it might as well become a paperweight…
So… you'll be happy to know that the Xiaomi Mi Square Box sound quality is awesome! For such a small and lightweight speaker, it punches well above its weight producing a rich clear sound with plenty of bass.
I have both the Xiaomi Cannon speaker and Mi Square Box. When comparing sound quality between the two, the Square Box wins hands down… it's just nowhere near as good looking!
I mentioned the two large rubber feet on this speaker earlier and now I'm going to explain why they're so important. This little speaker vibrates like hell when you turn up the volume, but thanks to the clever shock absorbing feet you won't notice this until you pick it.
I've been using it as a replacement TV speaker (while travelling) for last few months and it's slim enough to sit on top of a 40″ Samsung TV while connecting to my TV box via Bluetooth effortlessly.
It's a great all rounder speaker… whether your listening to music, movies or audiobooks the Xiaomi Mi Square Box hasn't let me down yet.
You won't be hosting any parties with a speaker this size but for personal listening you're getting a rich & even sound with a good level of bass that you'd expect from a speaker twice the price.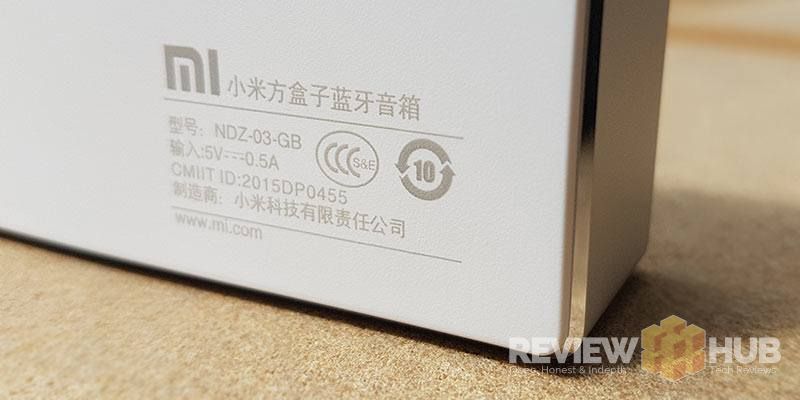 Battery Life & Connectivity
Battery life is excellent, thanks to the Mi Square Box only using 2 x 2.5 watt speakers and having a 1200mAh battery built-in. You'll get anywhere between 8-12 hours depending on what volume you have the speaker set at.
This easily gives you at least a full days listening before you need to recharge. You can charge the speaker while it's still in use letting you extend the battery life via a powerbank or have mains connected via USB.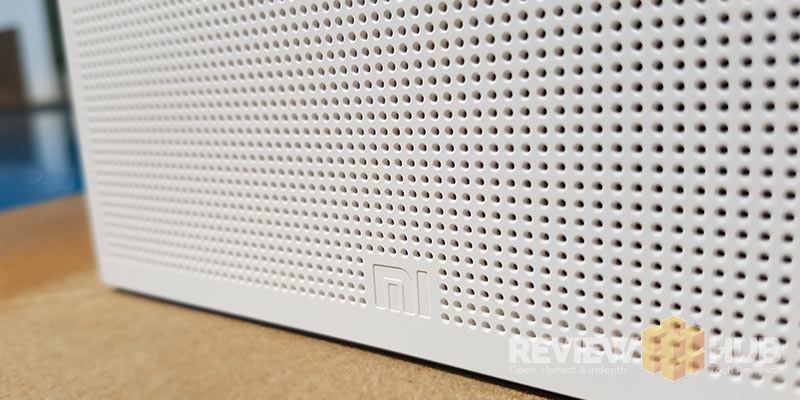 Xiaomi Mi Speaker – The Verdict
The Xiaomi Mi Square Box certainly isn't the best sounding small speaker available, nor is it the best designed small speaker…
What it is… is the best value all-rounder small speaker that we've had our hands-on here at Review Hub.
Do I recommend the Xiaomi Mi Square Box Speaker? 100%, it's a great value speaker with excellent build quality.

It's a no-brainer! See this week's best Mi Square Box speaker deals…
Xiaomi Mi Square Box Bluetooth Speaker – Tech Specs
| | |
| --- | --- |
| Model | Xiaomi Mi Square Box Speaker |
| Colours Available | White Dots & Black Polygons |
| Material | ABS / Aluminium |
| Interface | Micro-USB |
| Bluetooth Version | 4.0 |
| Headphone Jack | NO |
| SD Card Slot | NO |
| Wattage | 2.5 watts x2 |
| Dimensions | 124 x 60 x 27mm |
| Weight | 227 grams |
| Play Time | 10 Hours |
| Battery Size | 1200mAh / 5 volts |