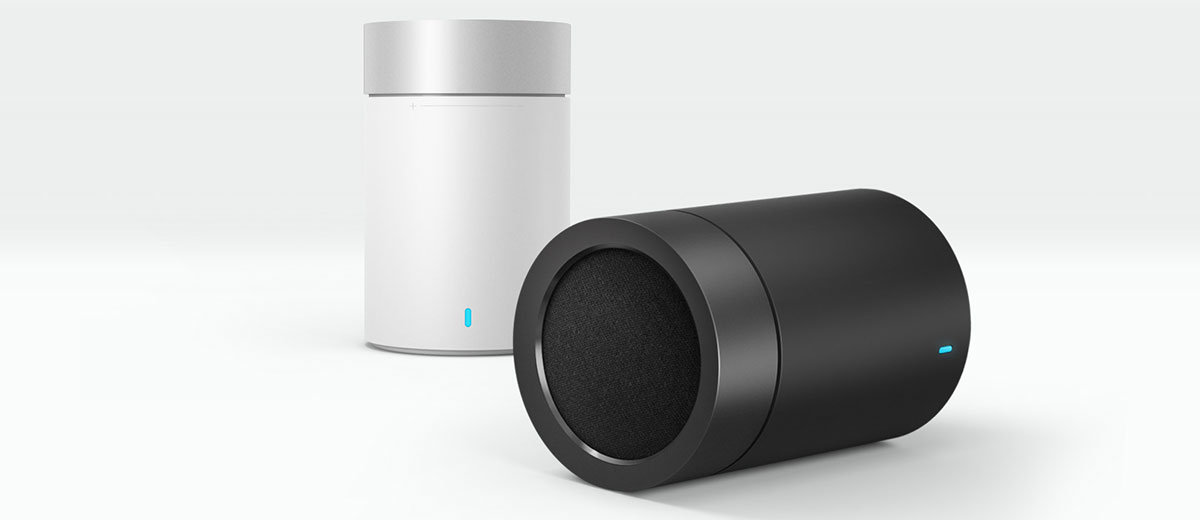 Hands-on with the 'IF Design' Award-Winning Xiaomi Mi Cannon Bluetooth Speaker
Original Reviewed: 7/1/18 | Updated: 6/2/19
Xiaomi have a regular habit of taking inspiration from Apple's design portfolio and applying it to new product ranges. The Xiaomi Mi Cannon Speaker is their latest example and even won an 'IF' design award for its efforts.
But… you don't have to be an Apple fanboy to appreciate great design. The little Mi Cannon (V2) speaker from Xiaomi looks awesome pretty much anywhere next to any setup!
If you've not heard of Xiaomi before, then you're in for a treat as they (like Apple) are masters of creating high-end devices that are especially pleasing to the eye and best of all… use high-end premium materials.
The best bit is (unlike Apple) that they focus on creating products that are not only awesome but also very affordable… Thanks to Xiaomi, we can all now have beautiful gadgets without forking out huge bundles of cash…
To give the Mi Cannon Speaker (V2) a fair review, I've been using it daily for a full month. I've been taking notes on the awesome design, excellent build quality and impressive sound quality… wait… did I just give it all away already?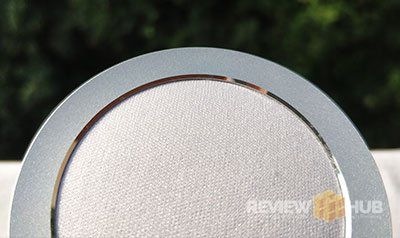 Not completely… as there are a few reasons why you might want to skip the Xiaomi Mi Cannon Speaker altogether and check out my favourite budget Bluetooth speaker…
Check out the award-winning Xiaomi Mi Cannon Speaker… (£21 | $27 | €24)

The Pro's
Uber Premium Design
Tactile Volume Dial
Excellent Clarity in Mids / Highs
Low Price for a High-end Design
10/10 for Podcasts / Audiobooks
The Cons

Low-medium Bass
Max volumes loses richness
No headphone jack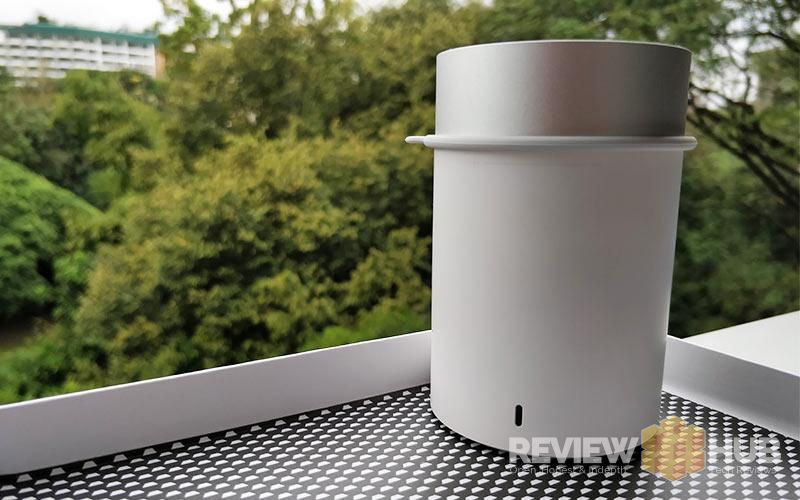 Design & Build Quality
Nothing excites me more than when I get a new gadget that nails it in the design department! The moment you lay your hands on the Xiaomi Mi Cannon speaker you know you're dealing with a high-end product… except you aren't…
The Mi Cannon speaker is a budget speaker… with a budget price-tag… but it feels like so much more! From the soft touch aluminium design… to the twisting volume dial… to the subtle blue LED light… everything seems so effortless…
It comes with a silicone ring which sits between the volume dial and cylindrical speaker bass… once you remove this… you gently push the volume ring downwards to turn on the speaker… all this is invisible to onlookers… but you know it's happened because of the subtle tactile feedback of the ring click…
Subtlety… minimalism… effortless…
I'm seriously in love with the speaker design… I just wish they made a bigger version with more umphhhhh!
Colours Available: Get the White Version Only! (Black available)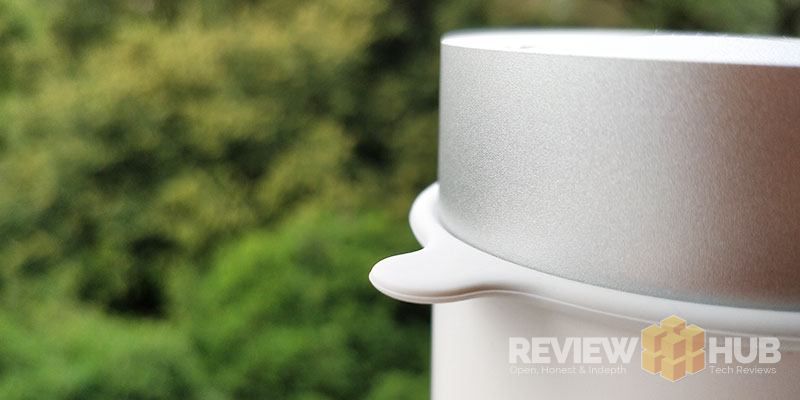 Sound Quality
So… you've made it this far… I know it got a little weird before… I just really like good design! :D
The Xiaomi Mi Cannon Speaker even won an 'If Design Award', but… hold your horses… as none of this matters if it can't punch out some serious sound.
Listening to Mi Cannon Bluetooth speaker, the first thing you'll notice is that it pushes out true 360 sound thanks to the single upwards firing speaker.
To test the speaker, I got all scientific… and… listened to some of my favourite music… Awesome Track No.1 & Awesome Track No.2.
Then I set my Spotify (high quality) to random and listened intently… I also played a few of those Dolby CD Tests just for fun… to see how the speaker would perform if paired up for watching films.
My overall thoughts about the little Xiaomi Mi Cannon speaker are good. While the max volume isn't the highest you get some really clear mids and highs. The bass is somewhat lacking but I put this down to the small size.
It's a real step up from any inbuilt laptop speakers… but I know that's not hard… The sound quality is rich, even & full without any hints of over-treble even with the bass being light. It's a decent speaker… it just won't blow your socks off.
If you play a lot of the radio shows or podcasts with occasional music thrown in then the Mi Cannon Speaker is a perfect match.
If you're an avid music listener you might find the Mi Cannon Speaker just too small and underwhelming. Don't worry though… I've got the answer for you!
I've also been reviewing the Xiaomi Mi Square Box Speaker. The sound quality hands-down beats the Mi Cannon speaker while the price is similar… the battery life comparable… the Mi Square Box comes with stronger bass, richer sound and similar highs…
Here lies my conundrum… Award Winning Design Vs Better Sound Quality…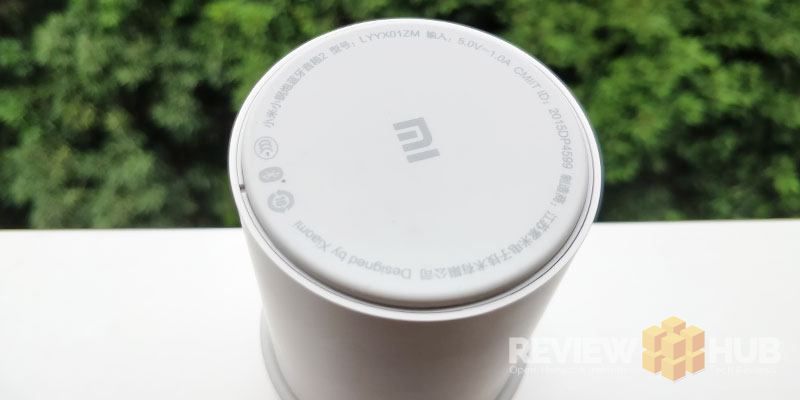 Battery Life & Connectivity
Battery life on the speaker is excellent with around 7 hours playback before it needs charging. Connecting to the Xiaomi Mi Cannon Speaker works first-time every-time and it remembers the last device for automatic reconnection.
As a little reminder of the Mi Cannons Chinese roots… each time you connect to the device it speaks in Mandarin… I kinda like this… but I understand it's not for everyone.
What's not so great is the Bluetooth distance. As soon as you change rooms or move more than 4-5 metres away from the Mi Cannon you'll hear the audio crackle and break up.
It's Bluetooth speaker that you'll want to keep nearby… but that's okay because you'll want to stare at it all day anyway… as its beautiful!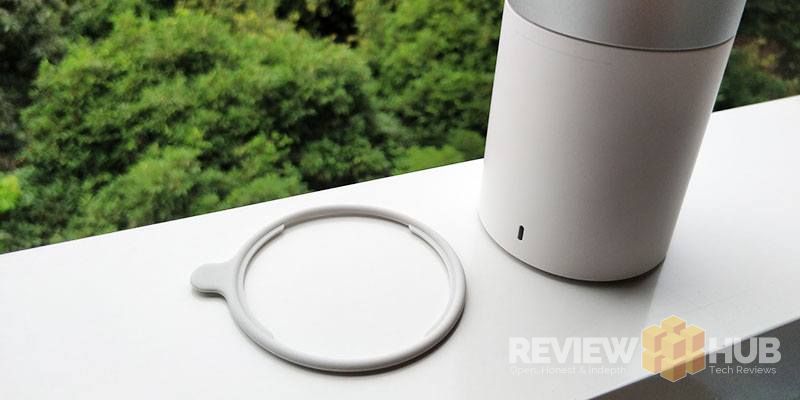 Xiaomi Mi Speaker – The Verdict
I'll go as far as saying that the Xiaomi Mi Cannon Speaker is the best designed, best looking budget speaker you can get your hands on 10/10!
But… that's only one aspect that goes into making a Bluetooth speaker awesome! We also want excellent battery life – 9/10… great connectivity – 6/10… and finally great sound quality… 6/10…
Do I recommend the Xiaomi Mi Cannon Speaker? Absolutely YES… but only because I'm a design-fanatic… you, on the other hand…  need to check out this Xiaomi Mi Square Box Speaker…
… Unless you're a podcast fanatic… then you can have it all!
Appreciate the value of excellent design? See this week's best Mi Cannon deals…
Xiaomi Mi  Cannon Bluetooth Speaker – Tech Specs
| | |
| --- | --- |
| Model | Xiaomi Mi Cannon Speaker |
| Colours Available | White & Black |
| Material | ABS / Aluminium |
| Interface | Micro-USB |
| Bluetooth Version | 4.1 |
| Headphone Jack | NO |
|  SD Card Slot | NO |
| Wattage | 5 watts |
| Dimensions | 60 x 60 x 93.3mm |
| Weight | 260 grams |
| Play Time | 7 Hours |
| Battery Size | 1200mAh / 3.7v |