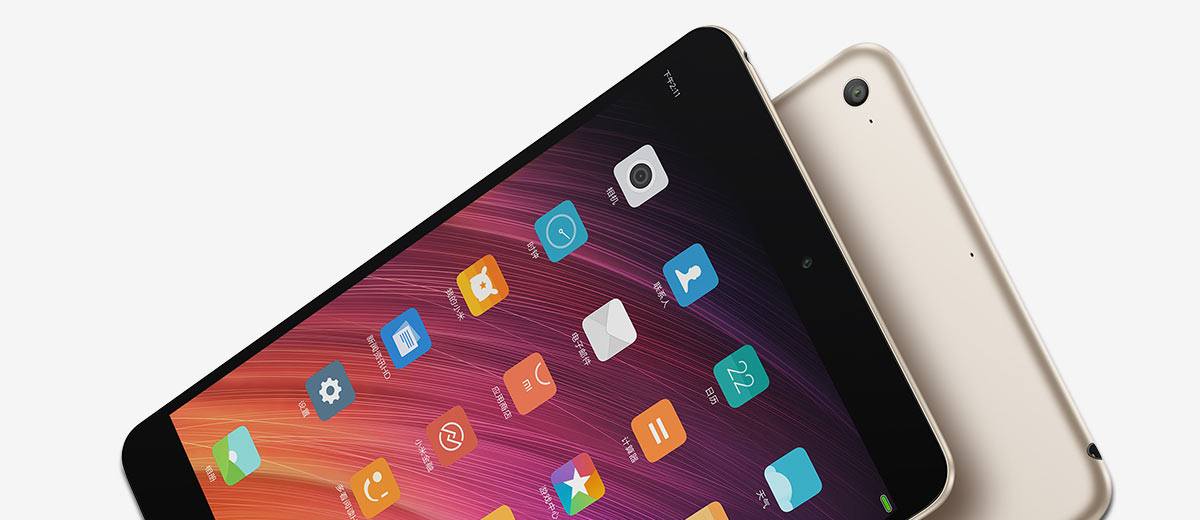 Well hello Xiaomi Mi Pad 3, you little iPad Mini clone…
Update: The Price of the Xiaomi Mi Pad 3 has dropped as low as £179 / $220 making it an absolute steal!
If you haven't heard of Xiaomi yet (or the Mi Pad 3) then you're missing out as they've been working hard to become leading innovators across the tech front-line.
Well known for manufacturing items such as Smartphones, Tablets & Wearables, more recently Xiaomi have branched out to include everything from Smart Home Devices and Electric Bikes to 360 VR Cameras & Ultrabook Laptops!
You only need to take a quick look at the Xiaomi Chinese website to see that they've got their fingers in many pies.
[column size=one_half position=first]Xiaomi truly are a progressive manufacturer of innovative products with the latest of their line-up being the new Xiaomi Mi Pad 3 and the Xiaomi MiJia 360 VR Action Camera.
With the Mi Pad 3 aiming to fill the gap in the market for design-first apple-like Android Tablets that boast a 4:3 aspect ratio that we've all come to love. The 7.9″ tablet also boasts an impressive QXGA HD (216 PPI, 2048×1536) IPS screen combined with an all metal unibody you'd be forgiven for at first thinking that the Mi Pad 3 was actually an older iPad Mini!
[/column]
[column size=one_half position=last ]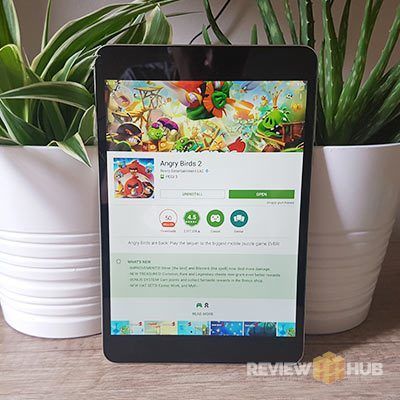 [/column]
On paper the Mi Pad 3 has everything (4GBs of Ram, 6-core processing, full metal body, USB-C, fast charging and a 7.9″ 326 PPI screen) but how does the 7.9″ tablet compare to the ubiquitous king of tablets the Apple iPad Mini? Is it worth your hard-earned cash or should you stick to the tried and tested Apple formula?
Get a sleek all metal Android Tablet for only… UK : £180 | EU : €199 | US : $220
[column size=one_half position=first ]
What we love

All Metal Unibody
Excellent Craftsmanship
Lightweight (331 grams)
High-resolution Screen
64GB Storage
4GB Ram & Great Performance
Good for Games
[/column]
[column size=one_half position=last ]
Could be better

Viewing Angles
No micro-SD card option
Speaker Bass
Maximum Brightness
[/column]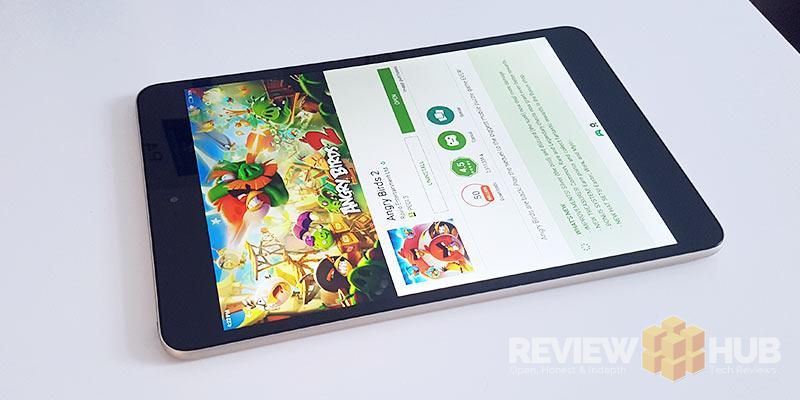 Tablet Display Quality
The most important part of any tablet is the display. You'll be staring, touching and consuming everything the tablet has to offer through the screen that's why I always start my reviews here.
The Mi Pad 3 boasts an impressive 2048×1536 resolution screen with a form factor of 4:3. Sound familiar? This is the same resolution we first saw in the iPad Mini 2 and has been popular enough to carry on in the iPad Mini 3 & 4.
The screen itself is crisp and colours pop giving a pleasing visual experience. What's not so impressive is the maximum brightness which, during the daytime, I always kept set to maximum. In terms of white balance, the display is neutral with greys looking accurate.
[column size=one_half position=first ]
Whilst head on the screen is vivid and colour accurate when you tilt the tablet both of these values change considerably with brightness being affected the most. In dark rooms, you'll also notice some light-bleed and non-uniformity from the tablet backlight, nothing too distracting though.
[/column]
[column size=one_half position=last ]
… the Mi Pad 3 display won't disappoint…
[/column]
You can see the display test I performed the Xiaomi Mi Pad 3 below. You can see which White & Black levels are visible on the tablet.

Overall when I consider the price I'm happy with the Xiaomi Mi Pad 3 display. It doesn't match the iPad mini in terms of brightness and viewing angles but it is still a crisp & enjoyable display.
Screen Tech Specs: 7.9″ Display, 2048 x 1536, 326 PPI, Blue Light Filter, Black & White Mode, 10 Point Multi-touch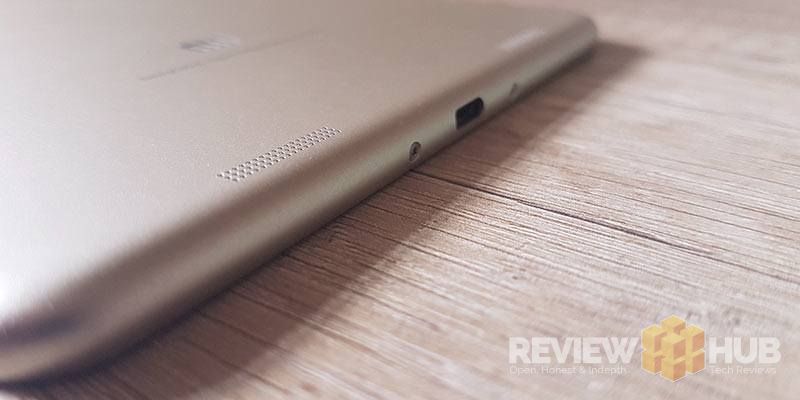 Design & Build-Quality
Whilst the Mi Pad 3 isn't rocking the most original design, the 4:3 aspect ratio and all-metal unibody create a small form factor tablet that we know, recognise and already appreciate. The bezel thickness is spot on allowing you to hold the tablet without interfering with the screen.
[column size=one_half position=first ]Upon close inspection, I didn't find any manufacturing faults or defects when looking carefully at every joint, bevel and edge. It's another example of the excellent craftsmanship I've come to expect from Xiaomi products.
In your hand, the tablet feels light weighing only 331 grams (3 grams more than advertised). This is only a few grams heavier than the iPad Mini 2 but falls short of the iPad Mini 4 which weighs in at 299 grams.
You'll also notice that the metal exterior is combined with excellent grip making the Mi Pad 3 very easy to hold one handed. If you've been looking for an Android iPad Mini alternative then the Mi Pad 3 has you pretty much covered in terms of design and build quality!
[/column]
[column size=one_half position=last ]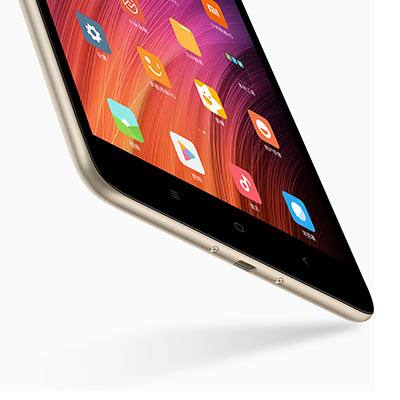 [/column]
But… if Xiaomi want top marks from Review Hub there's a couple of design elements that I'd change. The first is the side volume rocker and power button as they have a small amount of vertical movement. The second is the uniformity of the backlit capacitive buttons which don't ooze premium.
Xiaomi have really put a lot of attention into the design and build quality of the Mi Pad 3. Overall, you won't be disappointed.
Performance & Hardware
So far, we've got a 7.9″ Android Tablet that excels on craftsmanship and has high-resolution vivid screen. But how does it hold up to the competition when we look at performance?
It's good news as the Mi pad 3 is fast! Whilst it's not pushing the boundaries of what's possible in mobile processing power, it is a solid performer!
Apps load fast and multitasking is a breeze thanks to hex-core setup. The tablet runs a quad cluster of 1.7GHz CPU's and a dual-core of 2.1GHz CPU's. All on the single chip, the tablet saves power by only turning on the clusters it needs.
This is then backed up by a hefty 4GB's of RAM which is double what we see in the iPad Mini 4. Bear in mind that the iPad is a lot more efficient with its use of RAM so don't expect double the performance.
CPU: MTK8176 Hexa Core (2 x 2.1GHz Cortex A72 + 4 x 1.7GHz Cortex A53)
GPU: MG PowerVR GX6250 (600MHz )
RAM: 4GB
Storage: 64GB (57GB available) (read speed: 145MB/s , write speed: 170MB/s)
WiFi: Dual-band (a/b/g/n/ac) 2.4GHz / 5.0GHz
WiFi Modes: WiFi Display / WiFi Direct / Android Cast
WiFi Speed: Oookla Test (123Mbps Download / 13Mbps Upload)
Bluetooth: 4.0 / BT HID
Sensors: Accelerometer, Light, Orientation, Gyroscope, Magnetic
USB Type: USB-C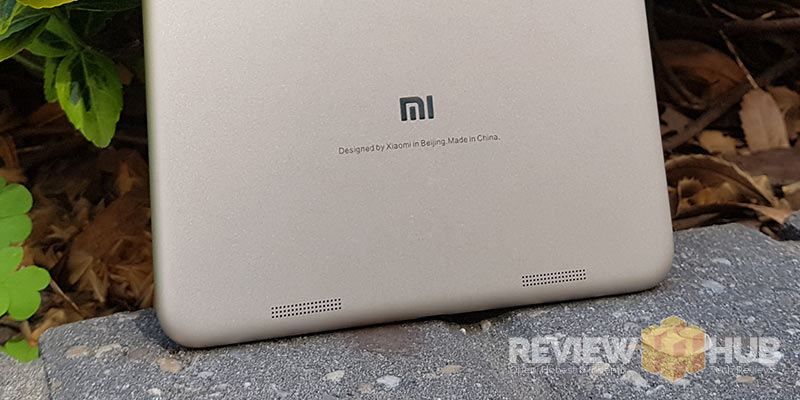 Watching TV & Movies
A test I like to perform on new tablets is the TV & Movie test. This lets me see how comfortable the tablet is to hold for extended periods, the quality of the external speakers and whether there are any software / performance bugs that arise only after prolonged use.
After 3 hours of watching Dexter on Netflix (my new favourite binge series) on the Mi Pad 3 how did it go?
First off, the tablet didn't heat up a lot during my Netflix binge, so no sweaty palms here. The playback was smooth without any issues even when switching to check emails.
To be completely honest, it's too heavy to be holding for more than an hour but resting the tablet on a cushion did the trick.
The speakers on the Mi Pad 3 tablet are okay and lean more towards the treble than bass. I wouldn't call them tinny but they don't match the full feeling soundscape of Apple devices I've used. There are two speaker grills on the back of the tablet which prevent you accidentally blocking off the sound.
So a success for the Mi Pad 3 for the Netflix challenge.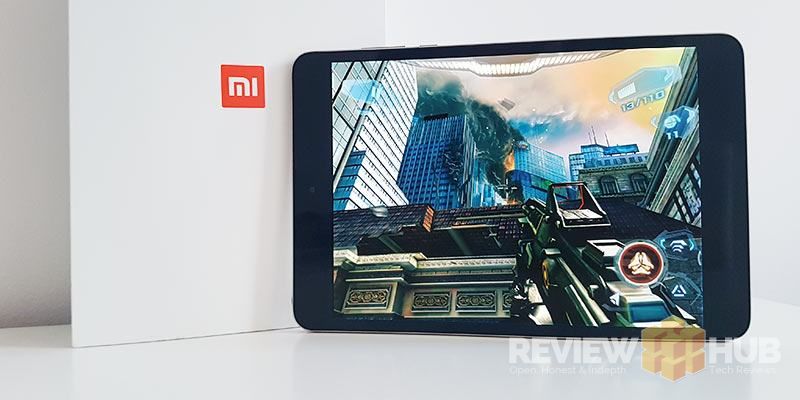 Gaming
To test the Mi Pad 3's gaming performance I downloaded a selection of popular 3D intensive games from the Google Play Store that have brought weaker hardware to their knees.
N.O.V.A 3 (non 20MB version) has always been a good gaming benchmark for me, as the slower mobile GPU's often struggle dropping frames and slowing down during cutscenes and sections with substantial amounts of SFX.
The Mi Pad 3 laughed at N.O.V.A 3, playing through the entire first level without so much as a single slowdown. Modern Combat 5 & Asphalt 8 also both ran smoothly with the graphics set to full.
Powering the graphics inside the Mi Pad 3 is the MG PowerVR GX6250 which runs at 600MHz. Whilst it isn't a top level mobile GPU it still performed excellently during my real-life game testing. I've also posted the popular benchmarks below.
[column size=one_half position=first ]
AnTuTu Benchmark V

The Xiaomi Mi Pad 3 scored: 79483
3D – 14702
UX – 32065
CPU – 26197
RAM – 6519
[/column]
[column size=one_half position=last ]
Geekbench Score:
Single Core Performance: 1569
Multi-Core Performance: 3157
[/column]
Overall the Mi Pad 3 is a good gaming tablet option.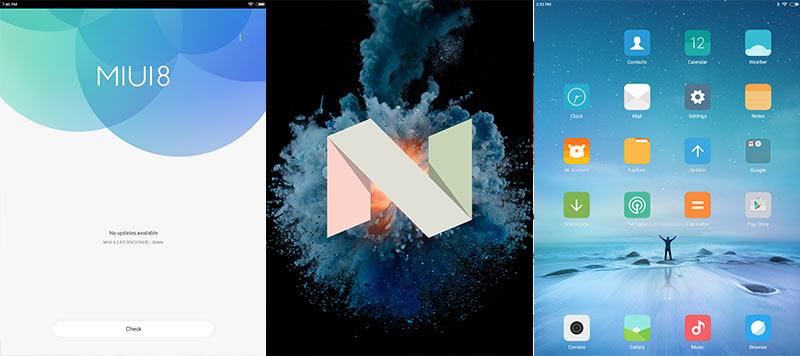 MIUI 8.2 Android Nougat 7 Software
If I hadn't been hinting about the Xiaomi Mi Pad 3 being similar to the iPad already I'm about to in a serious way!
The MIUI 8.2 software that the Mi Pad runs on is built on the latest Android software (Nougat 7). The MIUI 8 overlay changes the look and feel of the Mi Pad's layout to be very much like Apple iOS. Best of all it's fast!
[column size=one_half position=first ]
Gone is the app drawer, expect badges on app icons and even the settings resemble the iOS settings page. Some Android features have remained such as the swipe down from the top to access the quick options.
There's also a few custom software features that add to the tablet experience such as a Blue Filter & Monochrome Mode that are both aimed to improve your reading experience whilst taking the strain off your eyes.
[/column]
[column size=one_half position=last ]
… it's an iOS experience on Android…
[/column]
A nice addition is the landscape mode toggle that allows you to easily access option such as home, return and recent apps using your thumb. These landscape options can be customised to your preference via the settings.
FEAR NOT THOUGH MY FRIEND!
I can hear some of the diehard Android fans thinking they've just entered hell after hearing about the Android iPad OS MIUI Clone thingy…
It's super easy to install the Google Now Launcher for free from the Google Play Store. This will re-add the App Drawer, Add the Google Search bar and activate Google Voice Search Assistant bringing the Mi Pad 3 much closer to stock Android.
I can see the Mi Pad 3 clearly winning over Apple users who are looking for a cheaper alternative but don't want to learn the new Android Operating System.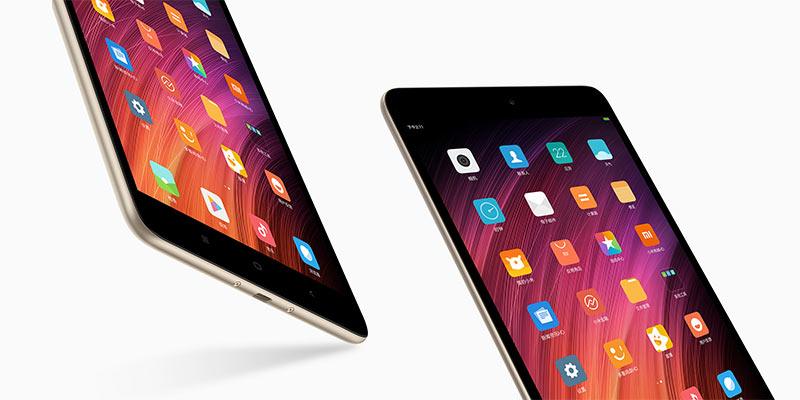 Battery Life
Battery life on the Mi Pad 3 will depend on a lot on your usage. I live in the bright sunny flat in Budapest so during most of my testing I had the brightness set to full which eats the battery fast.
This left me with around 6 hours on-screen on time. Even with the brightness set to 75%, you'll only be reaching around 8 hours. Not the 12 hours stated but still enough for most when combined with fast pump charge.
Inside you'll find a hefty 6600mAh battery that features pump-charge fast charging and uses a USB-C connector. The included 2-pin US charger is capable of 2-amp output to the tablet.
Whilst there isn't a notification LED there is a dedicated battery notification light similar to the capacitive Android buttons that will warn you that the Mi Pad needs charging.
Tablet Camera
I'm starting to see more people getting out their tablets and taking photos out in the wild. Whilst this may seem bizarre to some, with tablet cameras improving fast, it's only going to increase.
[column size=one_half position=first ]The Mi Pad 3 rear camera took some nice shots in sunny Budapest but pictures tended to become quite grainy when taken in darker indoor conditions.
The front facing camera works well for Skype and Video calls. There are also a selection Instagram-like filters available to use. You won't find beauty mode though which my wrinkles really appreciate.
You can control the brightness of shots by tapping the screen and then rotating your fingers.
[/column]
[column size=one_half position=last ]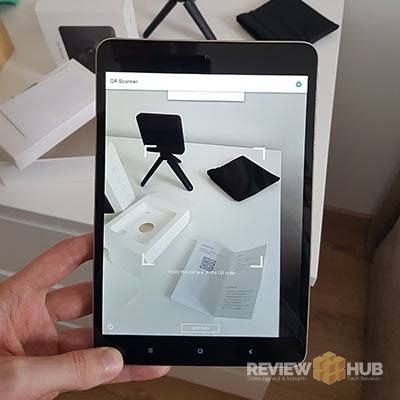 [/column]
To test the cameras out I took the Mi pad 3 into the streets of Budapest, Hungary. You can view the entire Mi Pad 3 Test Samples Album here with both HDR on & off.
[column size=one_half position=first ]
Rear Camera Tech Specs:
[/column]
[column size=one_half position=last ]
Front / Selfie Camera Specs:
[/column]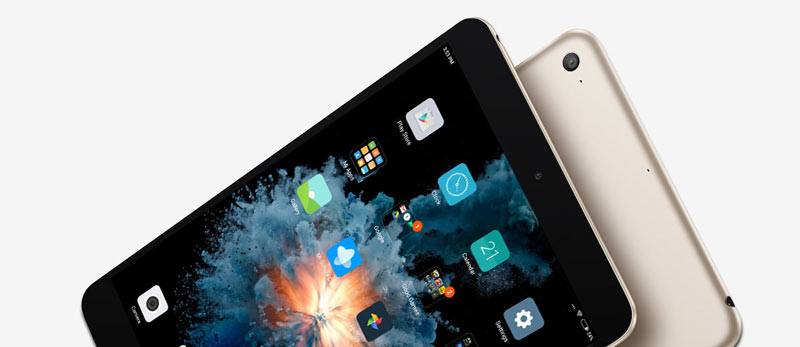 So is the Xiaomi Mi Pad 3 a winning tablet?
YES! The combination of price, performance & craftsmanship all adds up to an excellent 7.9″ Android tablet. Having the 4:3 aspect ratio makes the Mi Pad 3 a pleasure to use and in terms of pixel density the screen is ultra-sharp.
I would have liked to have seen a higher maximum brightness as the tablet is unusable is sunlight but I don't take my tablet out very often so it's not a big deal.
It should be said that there's still fierce competition from the iPad Mini which features a better screen and sound quality albeit for a sizeable chunk of extra money.
Overall, I highly recommend the Mi Pad 3 to anyone looking for a slimline all metal tablet that performs well. The best bit is, that the price will only come down, unlike the Apple tablet competitor.
Get a sleek all metal Android Tablet for only… UK : £215 | EU : €240 | US : $270
I'd love to hear your thoughts on the Xiaomi Mi Pad 3 below in the comments. Got any questions? Ask away : )