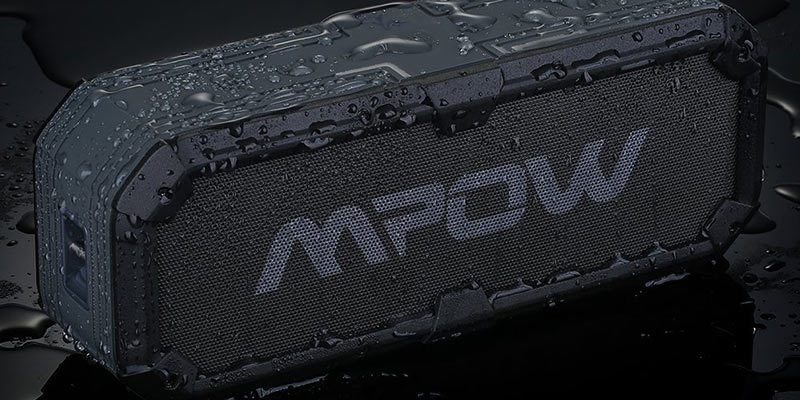 The MPOW Armour Plus is a rugged beast of a Bluetooth Speaker that doesn't disappoint!
Update: 24/05/17
After 10 months with the MPOW Armour Bluetooth Speaker, I've grown to love it even more. The battery life is still excellent, the sound quality far outweighs the price tag and now I can vouch for the longevity of the speaker which has been dropped multiple times.
Back to the Original MPOW Armour Review… (September 4th, 2016)
If you're looking to bring the party with you, on the go where-ever you might be, then you're  in for a treat! MPOW known for their range of budget orientated speakers and headphones on Amazon have released a portable speaker beast, otherwise known as the MPOW Armour Plus.
Packing in dual 8-watt drivers and with enough bass to wake your neighbours, the Armour sounds fantastic. Too often I find that portable speakers have a sweet spot where they sound best. Above & below the sweet spot they underperform often distorting the sound.
Well not so with Armour Plus which sounds fantastic and stays nearly 100% distortion-free all the way up to max volume. Which, trust me, is pretty damn loud!
Let's take a look at the Pro's & Cons before I explore in-depth the Design & Build Quality, Features, Sound Quality and Battery Life.
Get the party started for only… £55 | $73 | €67

[column size=one_half position=first ]
The Pro's
Great Max Volume
Strong Bass
IPX5 water resistant + Dustproof
Rugged Iron + Rubber Design
Reliable Bluetooth Connectivity
Sound Quality
Powerbank Functionality
[/column]
[column size=one_half position=last ]
The Cons

Quite Heavy
A little ugly
[/column]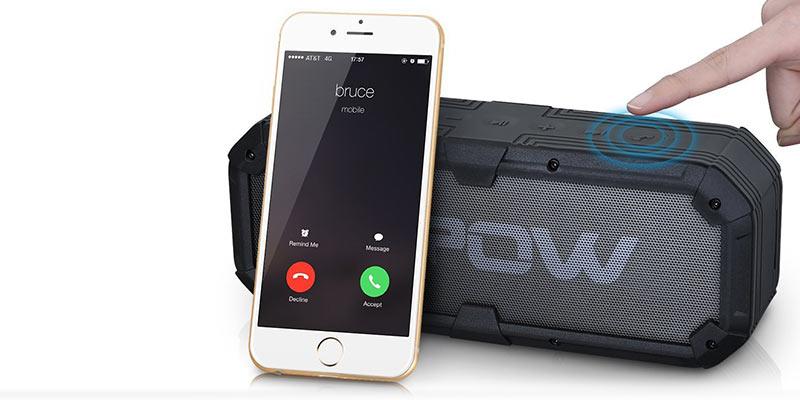 Design & Build Quality
In terms of design, the MPOW Armour Plus is what I imagine Bear Grylls carries around with him for partying in remote jungles. The outer shell is a mix of iron, heavy duty TPU rubber & metal mesh which is both IPX5 (think rainproof but don't submerge) and shock proof.
All this armour does have it's drawbacks, mainly in the form of weight. When we look at ruggedness alone the Amour Plus would be the perfect travel speaker for most situations but… the fact that it weights a pinch over 1kg means it'll certainly put a dent in your luggage allowance.
On the sides of the MPOW Armour Plus Bluetooth speaker, it's held together using 8 allen key bolts. Surrounding this iron frame MPOW have used a heavy duty grey TPU shock absorbing rubber wrap.
The Armour Plus successful survived me standing on top of the speaker as well as dropping it from waist height onto concrete with only a few battle scars to show. Full points to MPOW for durability, Bear Grylls would be proud. The only way to damage the Armour Plus would be to stab the side mesh, chuck it off a cliff or drown it.
Overall, the Armour Plus scores top points for its build-quality and durability. Where it loses a few points is by picking a rather ugly shade of grey for the rubber. It'd be great to see a few more colours available in the next version.
Features
The Armour Plus has all the features you would expect to see from a Bluetooth speaker and even a few you wouldn't be expecting.
[column size=one_half position=first]
Aux-In
If you want to save the battery on your phone by keeping Bluetooth turned off you can connect directly to the speaker through its 1.5mm headphone jack (cable included).
[/column]
[column size=one_half position=last]
Bluetooth 4.0
The Bluetooth connection works seamlessly without any loss in connection or drops between tracks. Connecting to the speaker is simple and once connected the speaker will auto-reconnect to the last device.
[/column]
[column size=one_half position=first]
Indoor / Outdoor Mode
Included in the controls is a dedicated equaliser button which switches the speaker between its indoor and outdoor modes.
[/column]
[column size=one_half position=last]
Controls
Along the top of the speaker, there are psychical buttons for: Power, Last track, Next track, Pause, Play, answer phone and Volume Up / Down.
[/column]
[column size=one_half position=first]
USB Device Charging
Inside the Armour Plus is a whopping 5200mAh battery which is enough to top up your mobile phone's battery should you need to. On the side of the speaker is a standard USB port which offers up to 2 amps of charging power.
[/column]
[column size=one_half position=last]
Dedicated call button
There comes that awkward moment at a party when the music is pumping, everyone is having a good time and then your phone rings… and you realise it's your phone that's connected to the speaker… then your Spice Girls ringtone starts playing to the whole room…
Luckily you can quickly double tap the call button to reject that incoming call and save yourself some embarrassment.
[/column]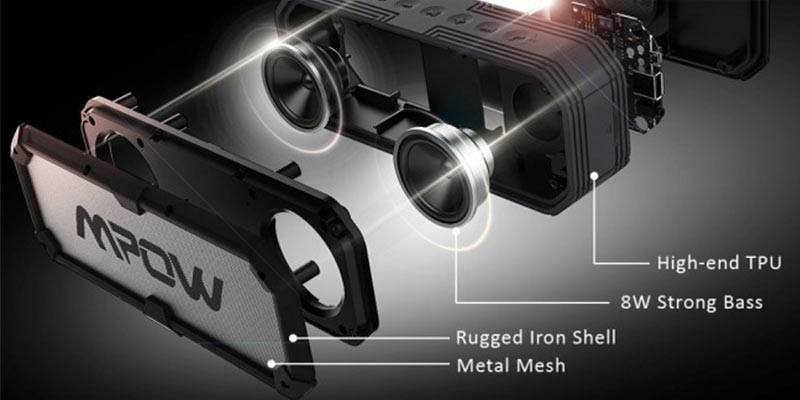 Sound Quality
If you've used portable Bluetooth speakers in the past then you'll know that they usually have a volume sweet spot where they sound best. Most seem to perform well at low volumes but can often start to distort the louder they get.
Not so with the MPOW Armour Plus which you can crank up to full volume distortion-free. The Armour Plus outperforms most other in speakers within its price range outputting clears and vibrant mids & high with some impressive bass for its size.
Yes, this speaker won't be winning the beauty pageant but it definitely makes up for it with the sound quality!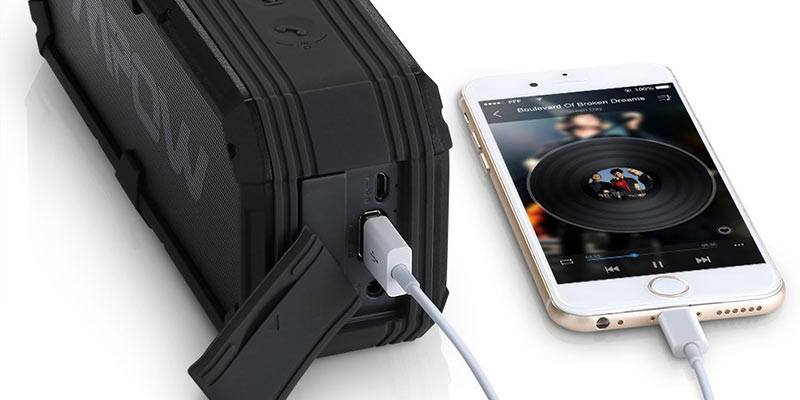 Battery Life
MPOW claim that you can get up to 22 hours battery life from a single charge. I haven't been able to verify this (gone are my 24-hour party people days) but the 5200mAh battery has been playing for around 7 hours so far and it's still going strong.
I'll update this with some more battery information once I had a chance to take it camping for a long weekend.
What's in the box?
[column size=one_half position=first]
The MPOW Armour Plus comes in frustration free recyclable cardboard packaging surrounded by a healthy layer of foam padding on the inside.
Inside the box you'll find:
1x Instruction card
1x Rope cable
1x 1.5mm cable (male-to-male)
1x USB to Micro-USB cable
1x Carry case
1x MPOW Speaker.
[/column]
[column size=one_half position=last]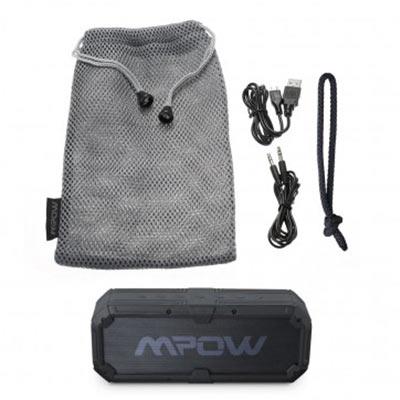 [/column]
Final thoughts on the MPOW Armour Plus
For its size and ruggedness you'll be hard pressed to find another Bluetooth speaker that can compete for around the £50 mark. It's a little on the heavy side if you're going to be lugging it around all day but for camping, the garden or most other outdoor activities it's a great choice.
The only drawback for me is that I find the design kind of boring. Yes it's rugged but couldn't it be rugged and colourful?
If you're looking for a portable speaker than impressive levels of bass and a distortion-free max volume that can wake the neighbours then the MPOW Armour Plus is a great choice!
The MPOW Armour Plus starts at… £55 | $73 | €67